What's the difference between Google and Baidu in advertising?
Reply"Dot stone", view startup information
---
Wei Tracy's death,

it's a family's dragonfly,
It's more a national pain.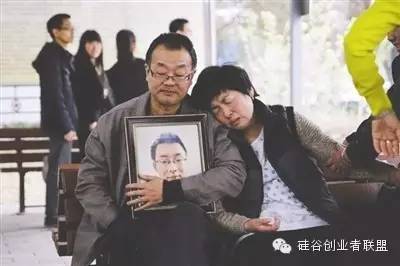 The 21-year-old,
Because of the wrong letter on Baidu's medical ads,
Misuse of treatment methods, delay of treatment time,
unfortunately passed away.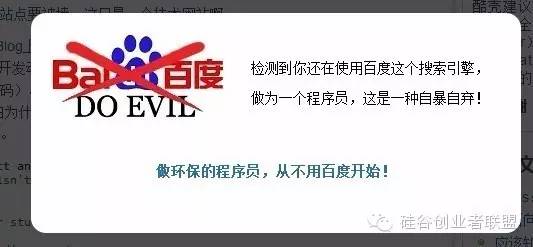 Almost all news sites are full of voices denouncing Baidu.Baidu, after sending an open letter that did not assume any responsibility and firing Wang Zhan, vice president of the search business, did not have the impression that it could take responsibility (I hope the multi-departmental investigation team can give the world an account after moving into Baidu).
It's not just Baidu that's doing evil in the whole thing, but it's the most influential of the companies involved.
People who live in the tech giant's services never thought these companies would collapse. Assuming Facebook fails, most people around the world may suddenly lose contact with family and friends, and the company may suddenly lose touch with customers. Take this example to illustrate that large Internet companies exist not entirely because they are trustworthy, but because a large number of relationships existed before such trust was established. The crisis of confidence may be an opportunity for people to re-examine and constrain this "infrastructure".You may remember Google's "Don't be evil" slogan, which is about the basic commitment of a large infrastructure provider to users and the basic ethical bottom line of a company.

Baidu is one of companies that is "untrustworthy and indispensable".
Most people can avoid armed police hospitals and military hospitals, but Baidu remains the Chinese service for 600 million Internet users looking for information over the Internet.
Advertising is the main driver of Baidu's revenue growth, bringing almost all of the company's profits. So is there a conflict between making money from advertising and balancing social responsibility?
Compare it with Google and you'll see that the two don't exactly conflict.
The best search engines actually do medical ads.
Since yesterday afternoon, Baidu has taken down a number of major diseases, especially cancer-themed advertising, but other serious diseases, such as stroke, Parkinson's disease, cerebral palsy-related medical advertising still exists (Little League today again detected these diseases of the search page has also been beautified... Dom's hands and feet are agile ah)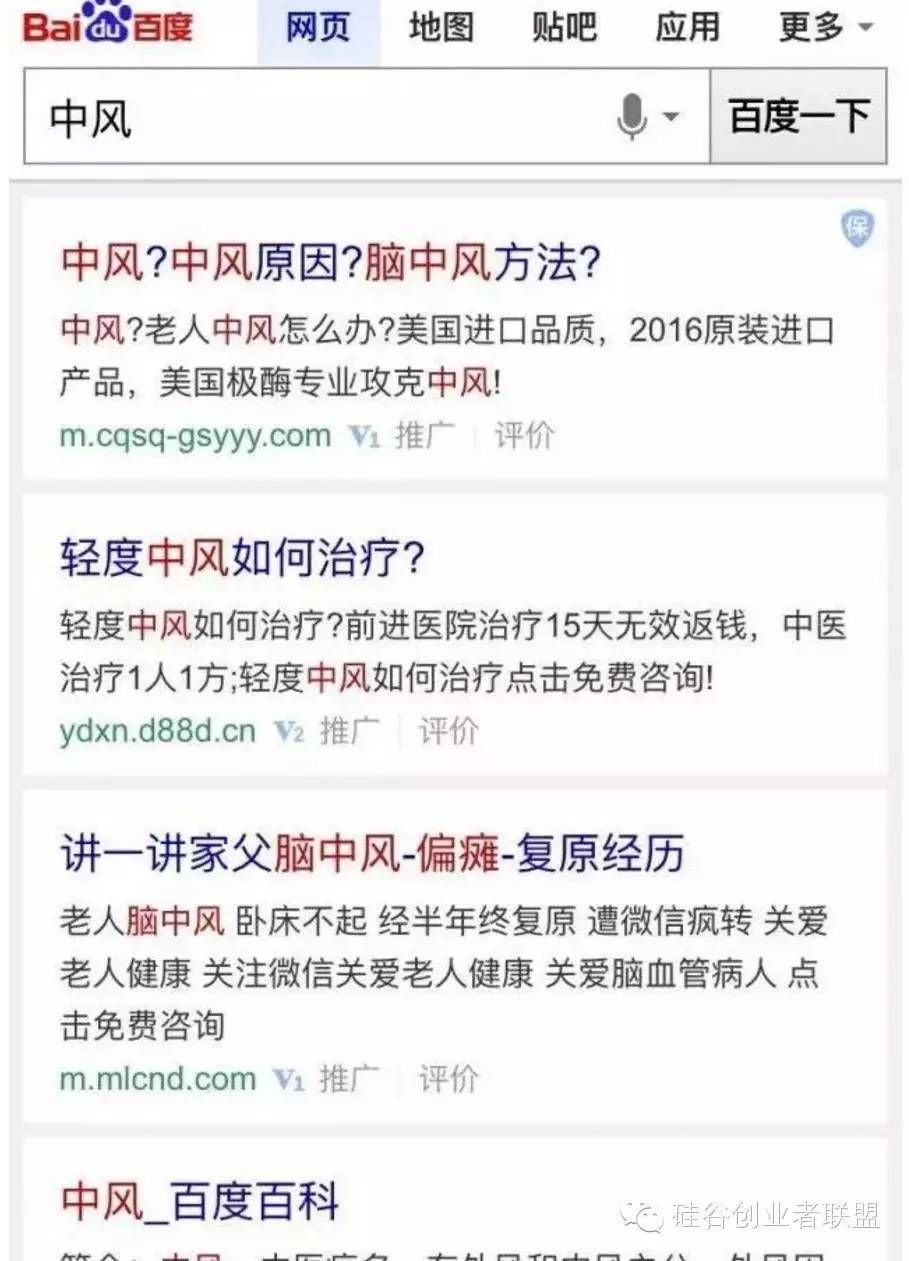 Use Baidu on your phone to search the results page for "Stroke"
Take the "stroke" search results, for example, and when we categorize content, the information is displayed as follows:

Hospital advertising
Hospital advertising
Drug advertising
Baidu Encyclodedi
Interactive Encyclodedi
Baidu Encyclodedi
Portal Health section
Baidu knows
Related terms
Drug advertising
The first three are direct ads. In addition to advertising, Baidu Encyclodedic, Baidu know that medical institutions are also allowed to participate directly or indirectly, more or less to join the commercial operation, it is difficult to ensure that there is no advertising nature of information. A similar example has happened in Baidu's post bar.
Obviously you can't believe the results from Baidu.
Look at Google again. We search the results list for "treat stroke" (treating stroke), and the first three are also advertising messages.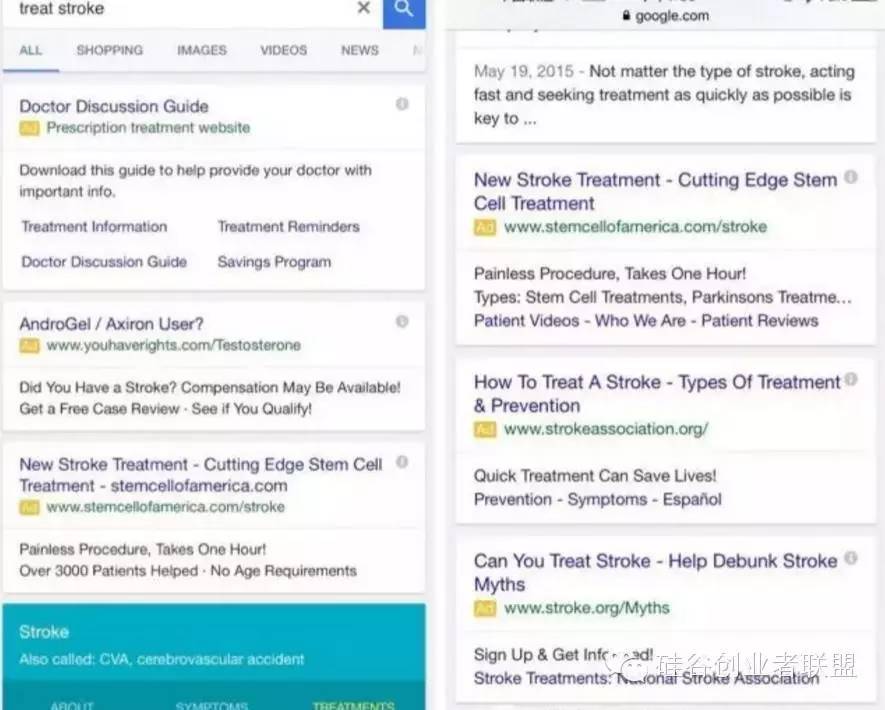 Google searches for the results of "Treatment of Stroke"
Like Baidu, Google's most direct advertising messages are at the top of search results.
In addition, Google will include ads at the end of the search page.
It's not just strokes, you can find ads for recommended medical solutions on Google for almost any major illness. These include "treat liver cancer" and "treat lung cancer".
Google also has medical ads, but why is it okay?
First search engines have to tell you exactly what advertising is.
Although the first screens are dominated by medical ads, they are displayed in a different way.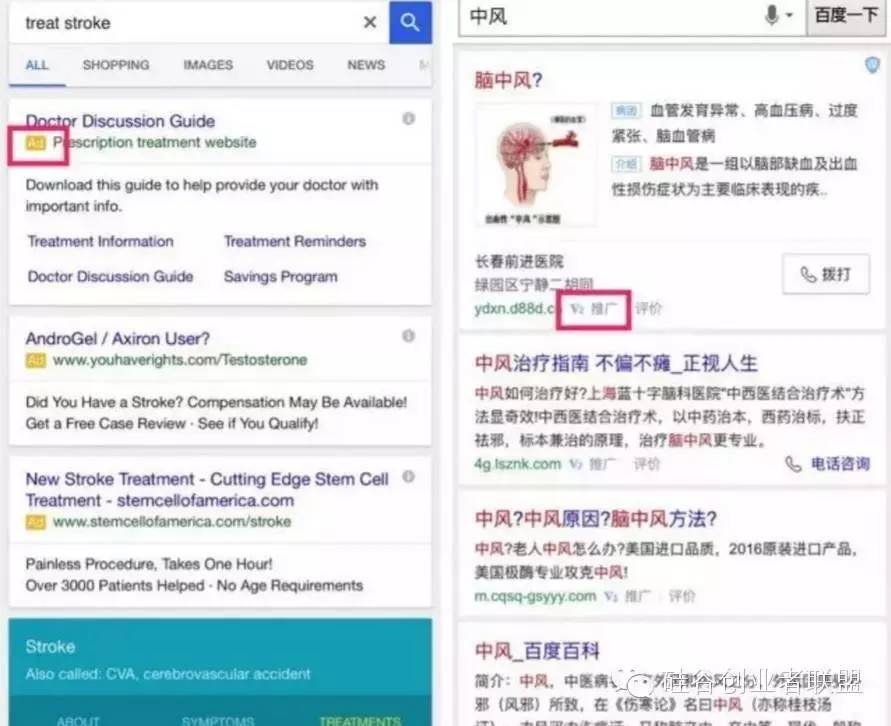 Baidu in blurring the difference between advertising and search results. The only hint is the gray word "promote", hidden to the right of the hyperlink, accompanied by blue V1 and V2 symbols - in the "plus V" times certified Chinese Internet, it's hard to see at a glance that this is an advertisement.
The V-words are non-clickable, and it's hard to understand what they mean. When you click on the "Promotion" text next to it, you'll be called to the "Baidu Promotion Help Center" page. As for its significance to ordinary users, Baidu also did not give a clear explanation.
The content of the ad on Google will clearly mark "Ad" with a yellow background to remind the user that it is an ad. The most recognizable of the entire search page is the yellow-bottomed ad label.
Beautify the version of the mother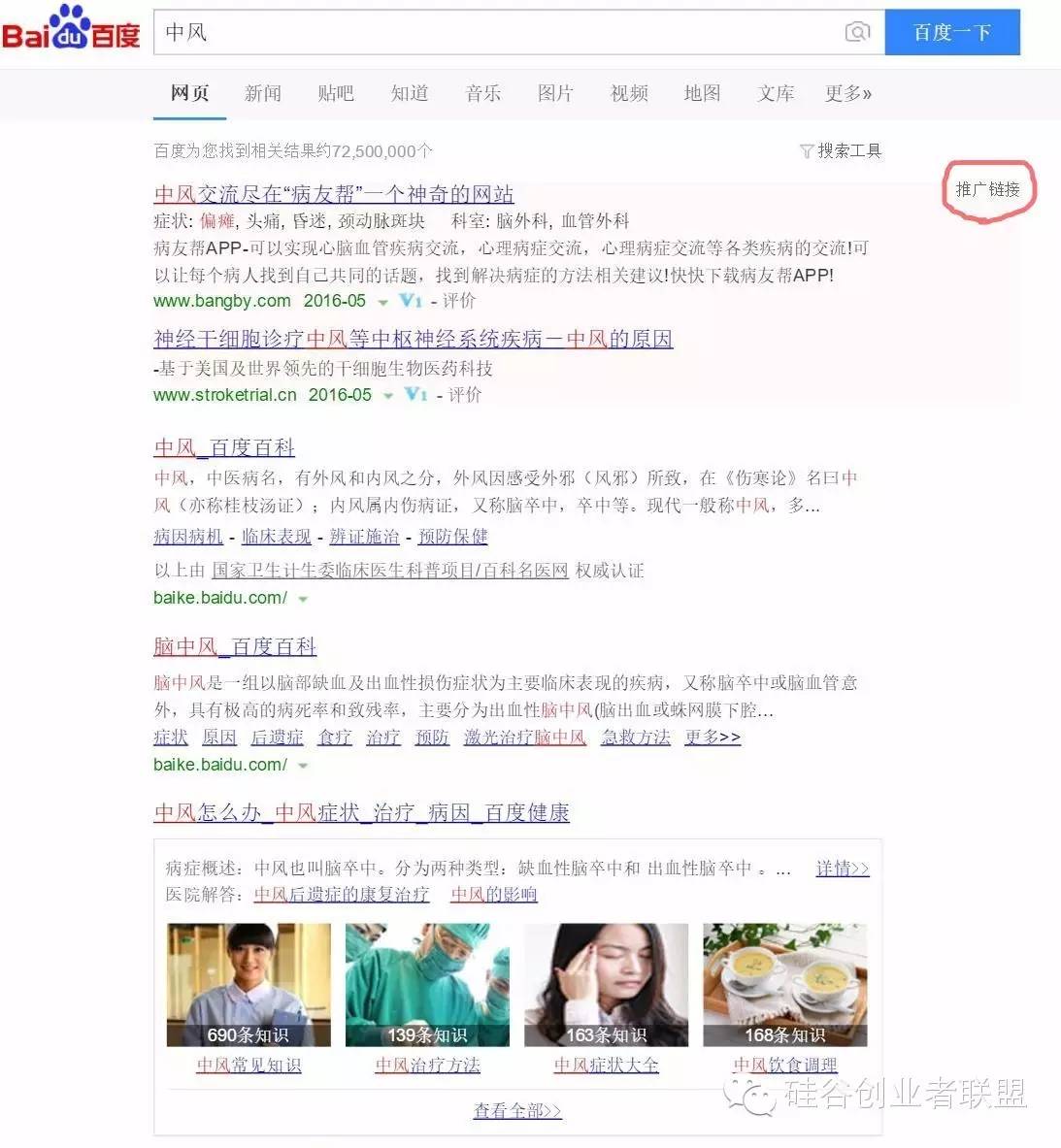 Looks like the ad logo is a little more obvious?
There has also been a marked decrease in pharmaceutical advertising
Google also has specific specifications and reviews for which medical ads appear in search results. Google reviews and cleans ads in accordance with these specifications.If you put those ads on Baidu on Google, a considerable number of ads will not have a chance to pass the review.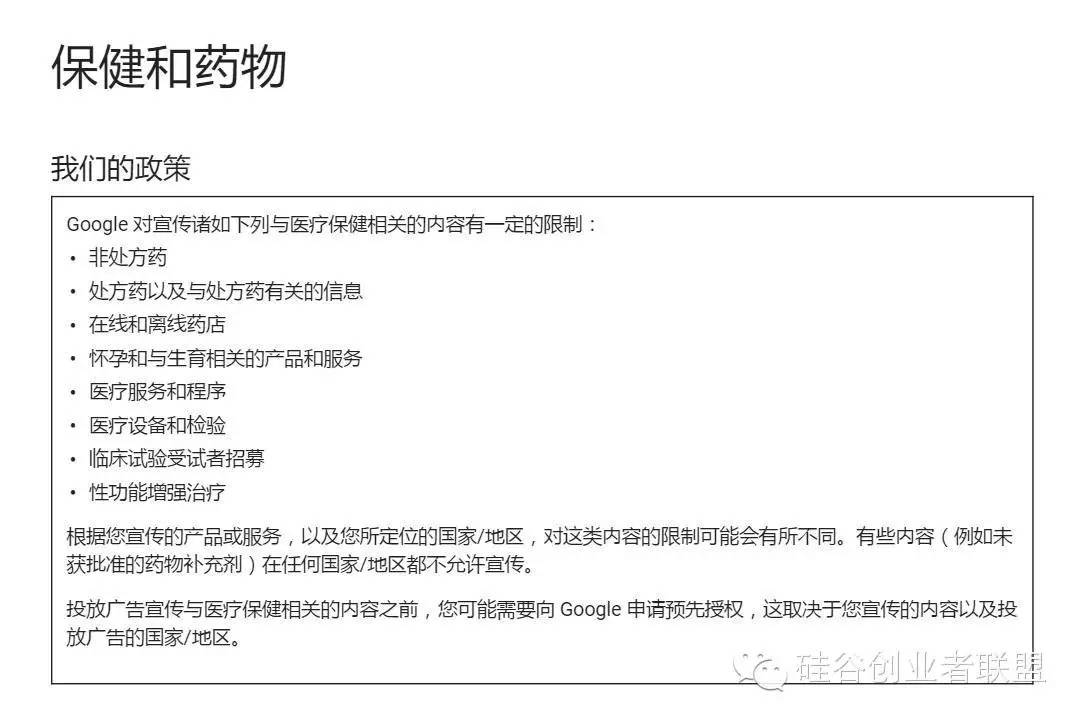 All of this is not clear from the start for Google. These are all adjustments that Google has learned from its lessons.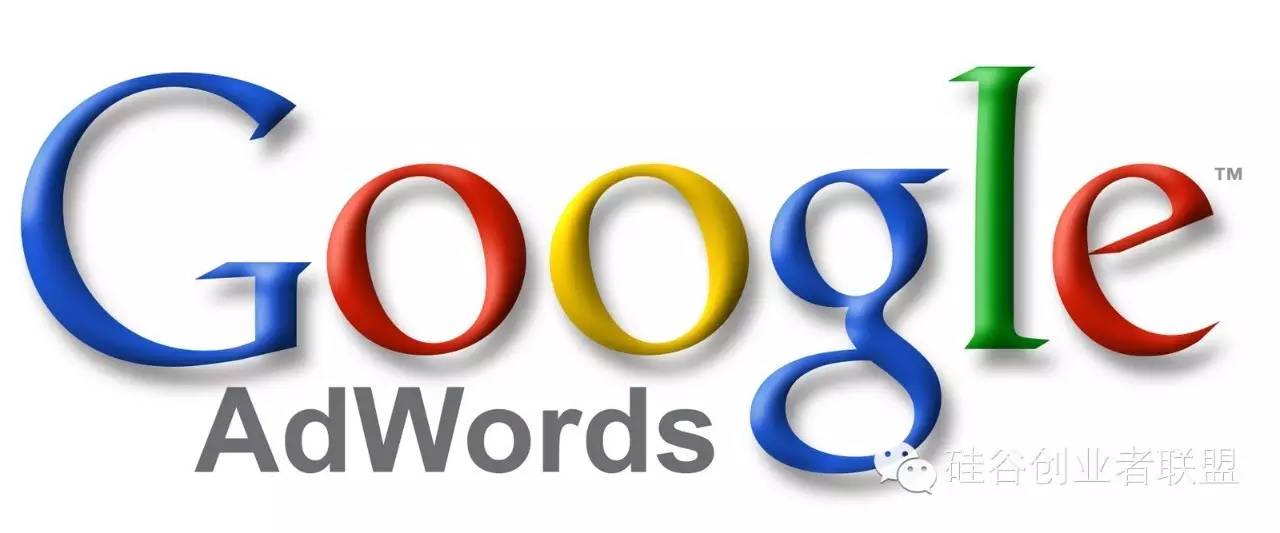 About 2010, the FBI investigated the proliferation of fake medical ads on Google's advertising system, Adwords.In 2011,The U.S. Department of Justice sued Google for failing to properly handle ads at an online pharmacy in Canada, resulting in illegal imports of over-the-counter drugs, and the case was ultimately paid for by Google$500 millionthe settlement fee is closed.Since then, Google has stepped up its monitoring and censorship of drug ads。In 2011 alone, Google removed 130 million fake ads.In 2015, more than 12.5 million drug-related ads were banned or removed by Google, often without permission or potentially misleading users. In 2014, about 9.6 million drug advertisements were processed.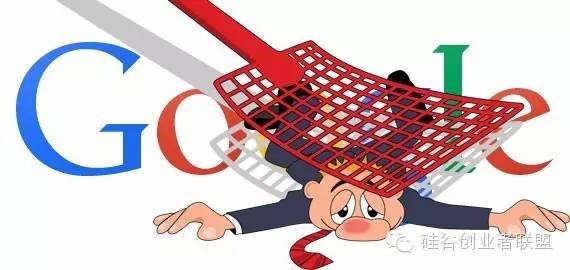 Tom Siegel, Google's vice president of trust and security, saidGoogle has developed a new algorithm to monitor and remove ads promoting certain suspicious products, primarily by searching for and advertising product-related keywords and keywords in pages linked to ads.When it is difficult for the system to determine whether an ad is malicious or not, it d's going to manually determine. In addition to identifying fake ads, Google has detected a number of "induced click" ads, such as buttons masquerading as security warnings or window-removing ads. Users are often directed to ads on other pages after clicking. Google blocked more than 17 million malicious ads last year.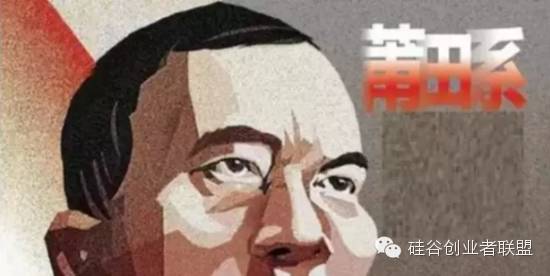 Baidu also responds quickly to fake ads, especially medical ones, but these are more like prisms.
Since 2008, Baidu's medical advertising scandal has come to light every year or two, causing a stir every time. But every time it seems like it's going to go away (hopefully this time it's going to be a thorough investigation!). )。
We can also get a glimpse of some of the advertising profits of Baidu and Google, the two largest search companies.
In the image below, we selected the top 10 industries for Internet advertising and used technology to compare the prices of Baidu and Google's CPC over a specific period of time (CPC refers to Cost Per Click, which pays per click after advertising is the main way Baidu and Google sell ads)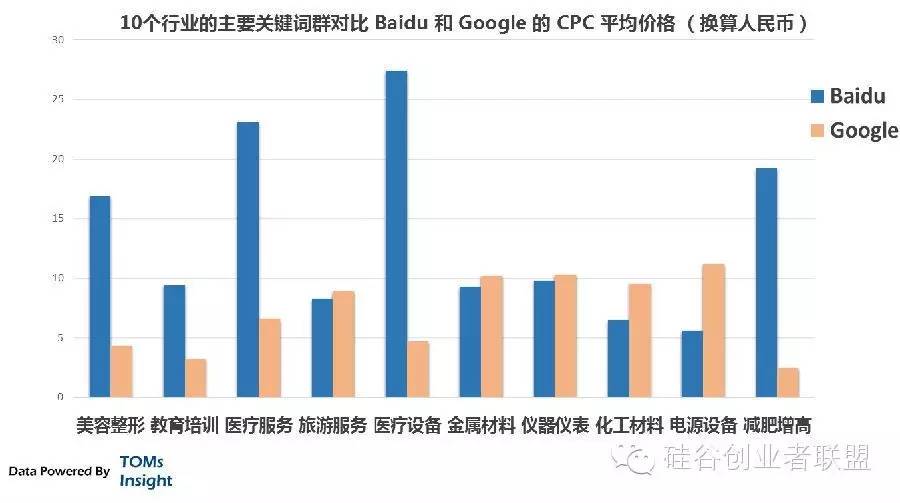 According to TomInsight's 2014 statistics, Baidu's CPC prices are much higher than Google's, especially in areas such as cosmetic plastic surgery, medical services, medical devices and weight loss. This shows how much Baidu has made a windfall in these advertising areas!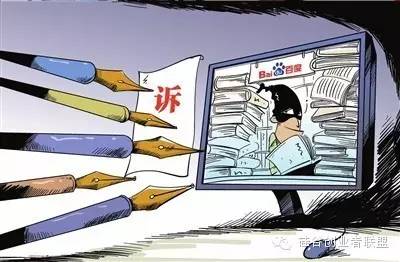 Small League saw a lot of people on the Internet for Baidu whitewashing, said that the black hand behind is not Baidu, Dom wronged, Dom just came out to block the gun. Behind the deeper interest groups online has a lot of articles to disclose, small league here do not want to discuss in depth, small league here just want to say Baidu. As the main window for Chinese people to understand information, as a monopoly of Chinese Internet search entrance enterprises, if there is no Baidu's evil, these deep-seated evil will be so "promoted"? Liang Jianyong, secretary of the Yutian Municipal Committee, once said that in 2013 Baidu's annual advertising total of 26 billion yuan, Yantian private hospital made 12 billion, so from this scale, after two years of development in 2015, at least will not be less than 12 billion.
What's the difference between Google and Baidu in advertising?

I think perhaps the most fundamental difference is the bottom line of conscience and morality
Silicon Valley Entrepreneurs Alliance, we're waiting for you in Silicon Valley!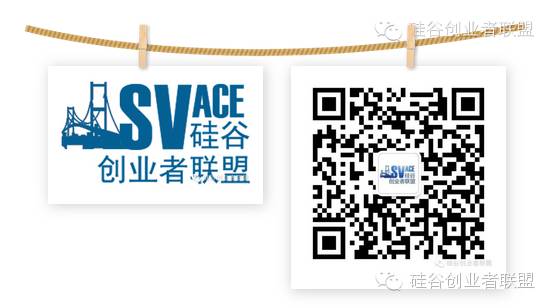 ---