Burger King forced google to advertise for it? See how brand marketing finds help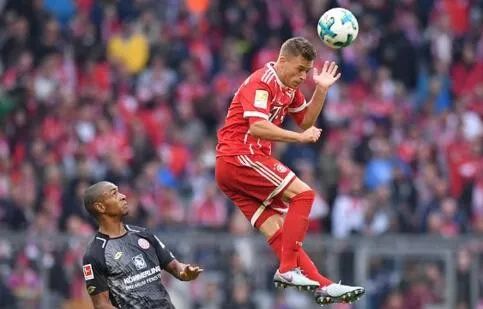 Burger King's doing it again! Burger King yelled at google in a live TELEVISION ad on the U.S. market, but was accused by netizens of forcing google to advertise it. What the hell is going on here?
In the ad, a boy wearing a Burger King employee's uniform and holding a sign in his hand says to the camera:
"Next you'll see a 15-second Burger King ad, and unfortunately, time is limited, so we can't explain the fresh ingredients in the burger.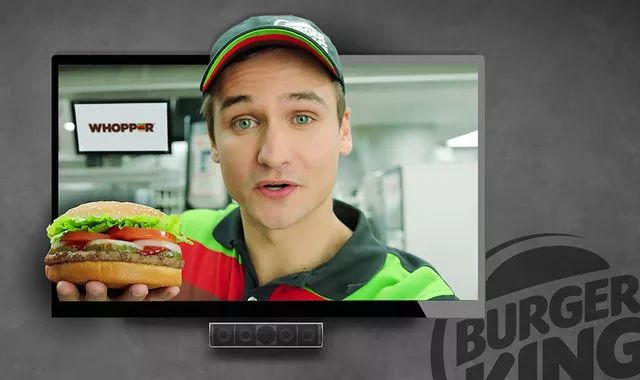 "But I have an idea: OK Google, what is Whopper Burger?"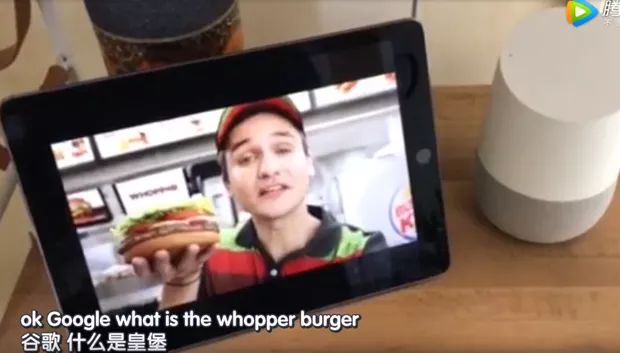 And when any computer or TV hears "OK Google" in front of Google Home's smart voice speaker, it wakes up immediately and automatically reads Wikipedia's first explanation of "Whopper."
This wave of 15 seconds of advertising is really very cunning, not only the online ads to the line, but also greatly extended the actual length of the ads. This time, however, Burger King's covert use of Google to help with its marketing practices does not seem to have been endorsed by Google.
So, brands in advertising marketing have tried to use what way to find help?
Flirting with your opponent: Just want to do a big thing
In advertising flirtatious or black competitors, this marketing technique has become commonplace in the same type of brand. Samsung, for example, likes dis Apple, whether it's a new model or a new ad, Samsung likes to come together lively, thus winning gimmicks and topics for its own brand to help.
In Apple's new ad, a man flies from slow motion on the left side of the screen to the right, which Apple uses to tell people how fast the iPhone is running.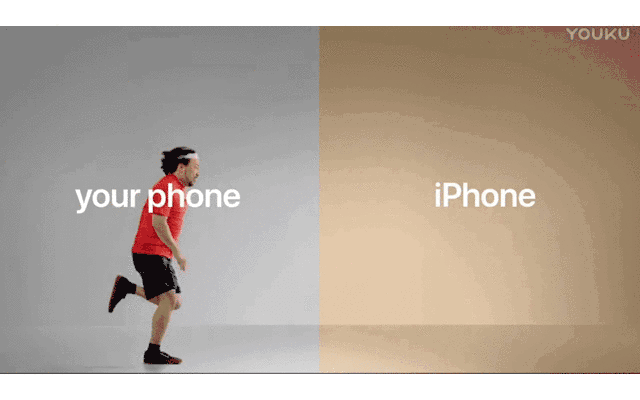 Samsung also used Apple's advertising ideas directly to mock Apple, saying in the ad: "You're playing in the bathtub, I'm swimming in the pool." "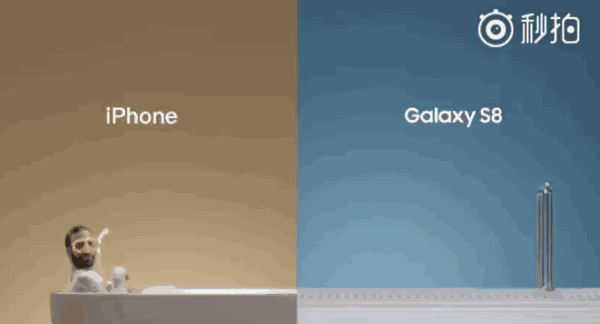 There are also brands like Burger King that love to provoke competitors for advertising. Burger King actually gave McDonald's a "fire" on Christmas Day.
In order to give this special "gift", Burger King sent out a helicopter hanging, and a train convoy escort.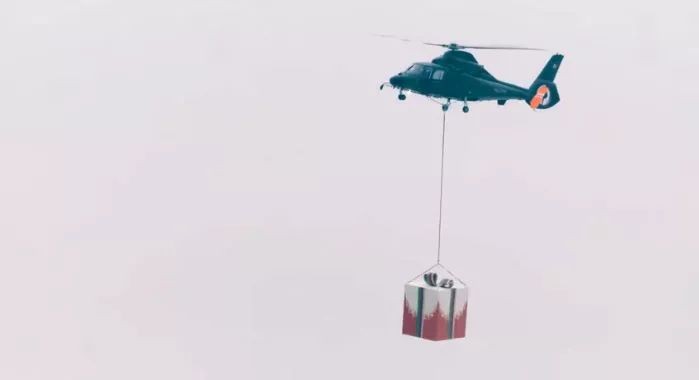 Such a popular teacher, only to put a fire in front of McDonald's, to promote their burgers with the benefits of real fire.
Cross-border: Strength interpretation 1 plus 1 is greater than 2
In cross-border marketing, we are most commonly between brands and IP culture and ideas cross-border. The mutual penetration and integration between brands not only provides another possibility for the brand to enhance its own visibility and expand the market. For example:
Ofo and the little yellow man, Pikachu composed of the yellowest cp
In order to play the "yellow" this visual element to the fullest, ofo small yellow car seems to be looking for the world's "yellow" to cooperate, to assist the brand propaganda force.
First there is the newly promoted IP little yellow man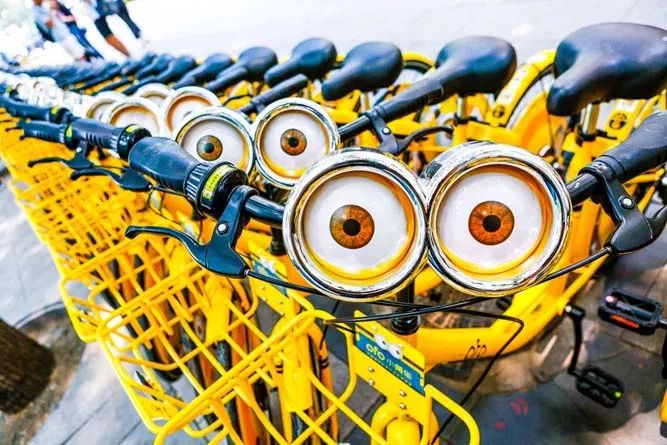 Later, childhood memories of killing Pikachu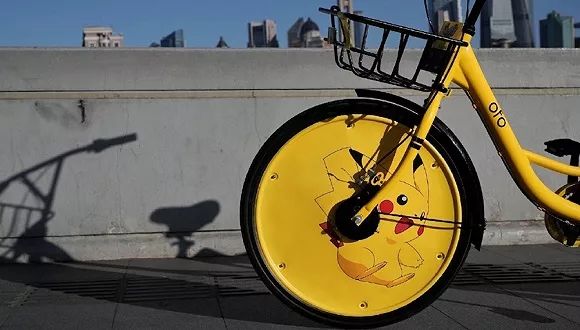 This not only achieves the cool iteration of the product, enhances the user's emotional experience, but also drives the deep interaction between the two major fan groups, increasing the brand's closeness and user stickyness.
Alliance advertising: how powerful people are
Brands unite to advertise together, so that not only can make full use of the traffic accumulated by major brands, but also have the opportunity to create hot spots, expand the marketing campaign.
Nails invite everyone to come together as a play.
At first, nailing yourself first in the form of a line of deletion, expressing the work of professionals in the heart of the play.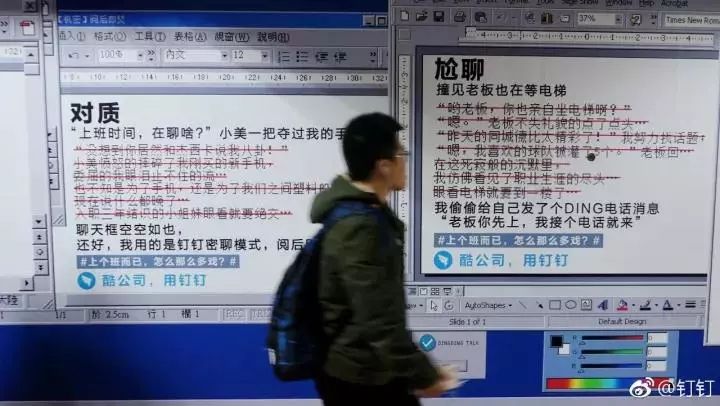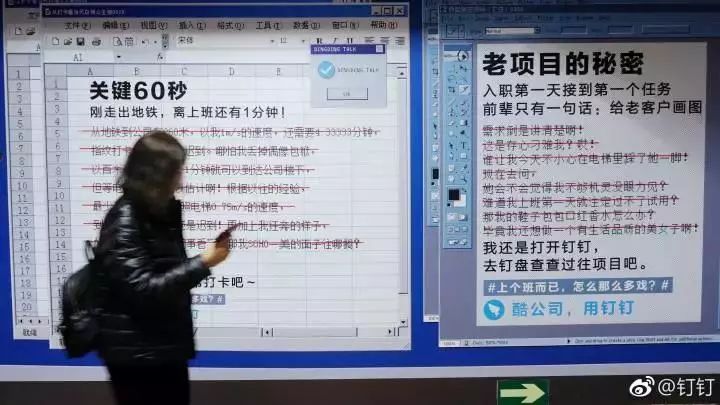 After that, invited UC, Gaudreud, Youku and other brands to play together, this inner play can be lively!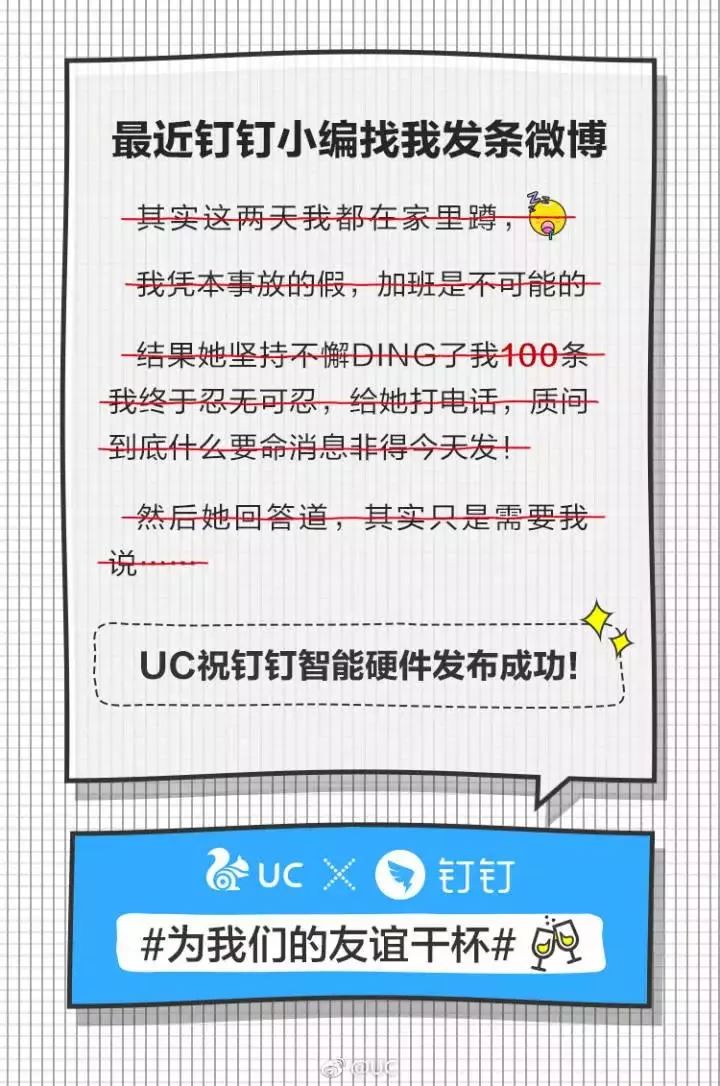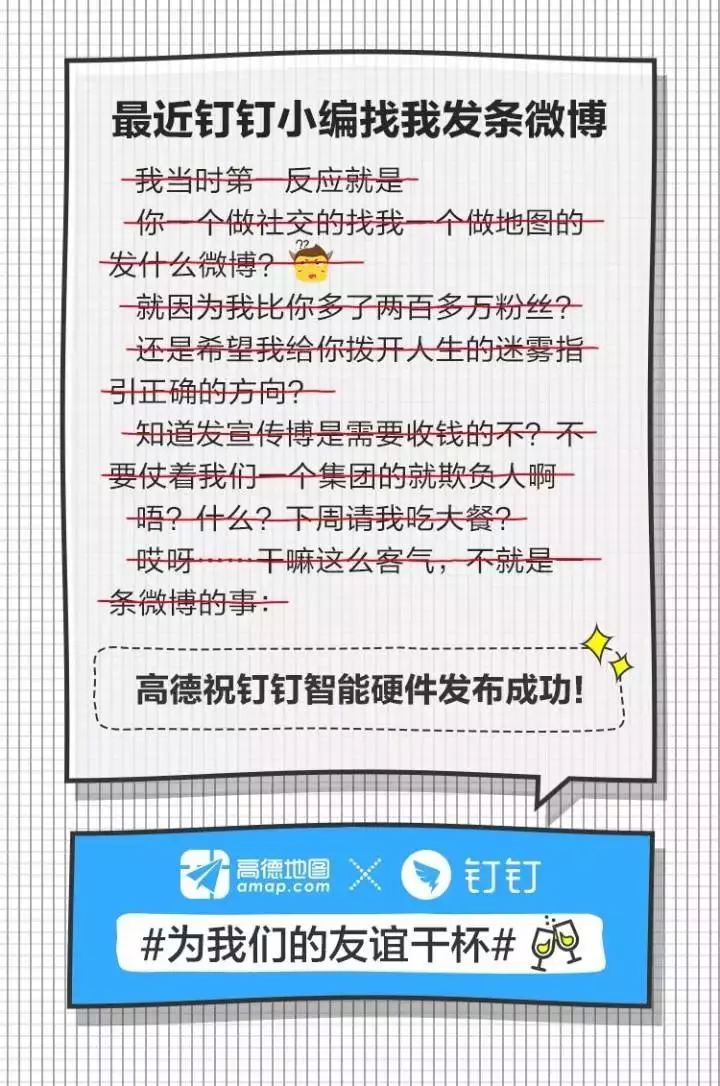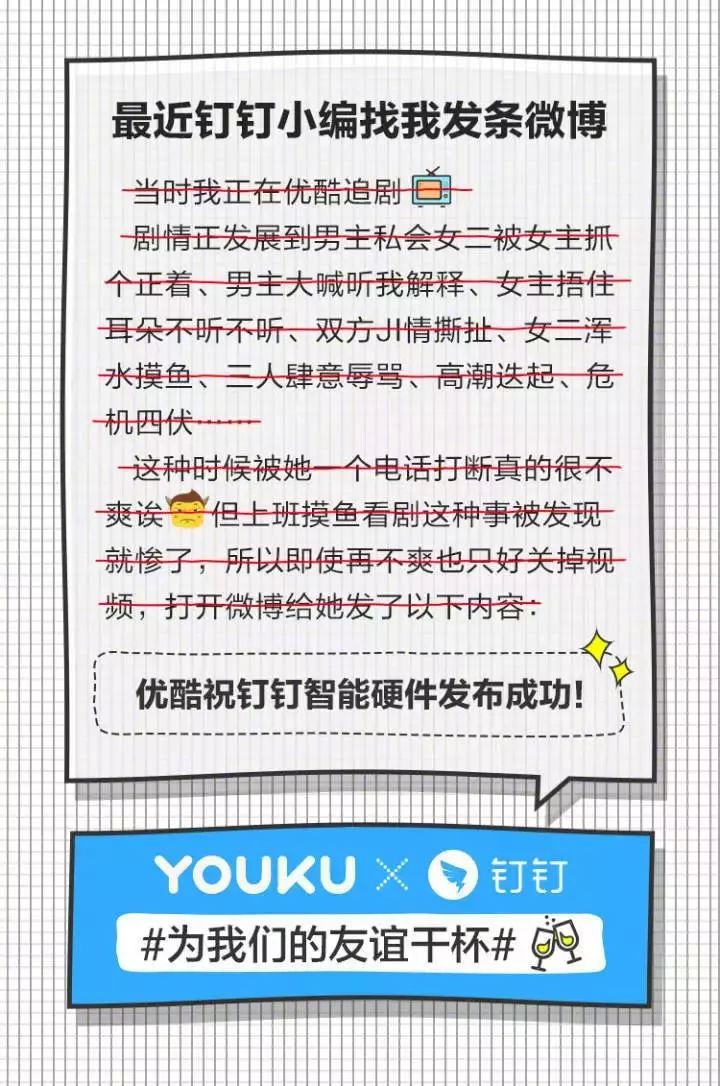 Taobao encourages everyone fancy leave!
Last year, Taobao Creation Festival, Taobao joint drop travel, Haier home appliances, Fangtai and other brands to carry out gift festival ticket activities.
So, how do they do it? Originally is a joint, leave to Taobao Creation Festival, many fantastic reasons for leave is to arouse the audience's laugh.
In order for her to meet her future boyfriend, let her come out and go!
I feel like I'm at a bottleneck and need to take time off to find inspiration,
Don't ask me who was inspired.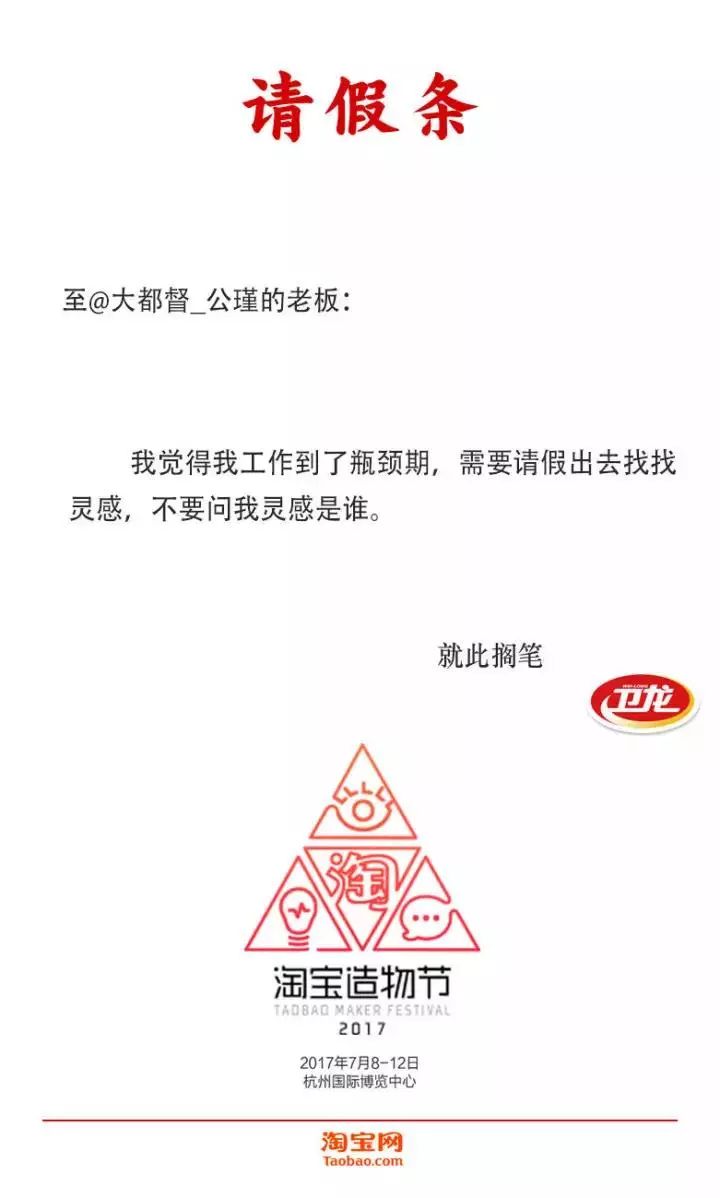 Boss, my dog stopped me from going out.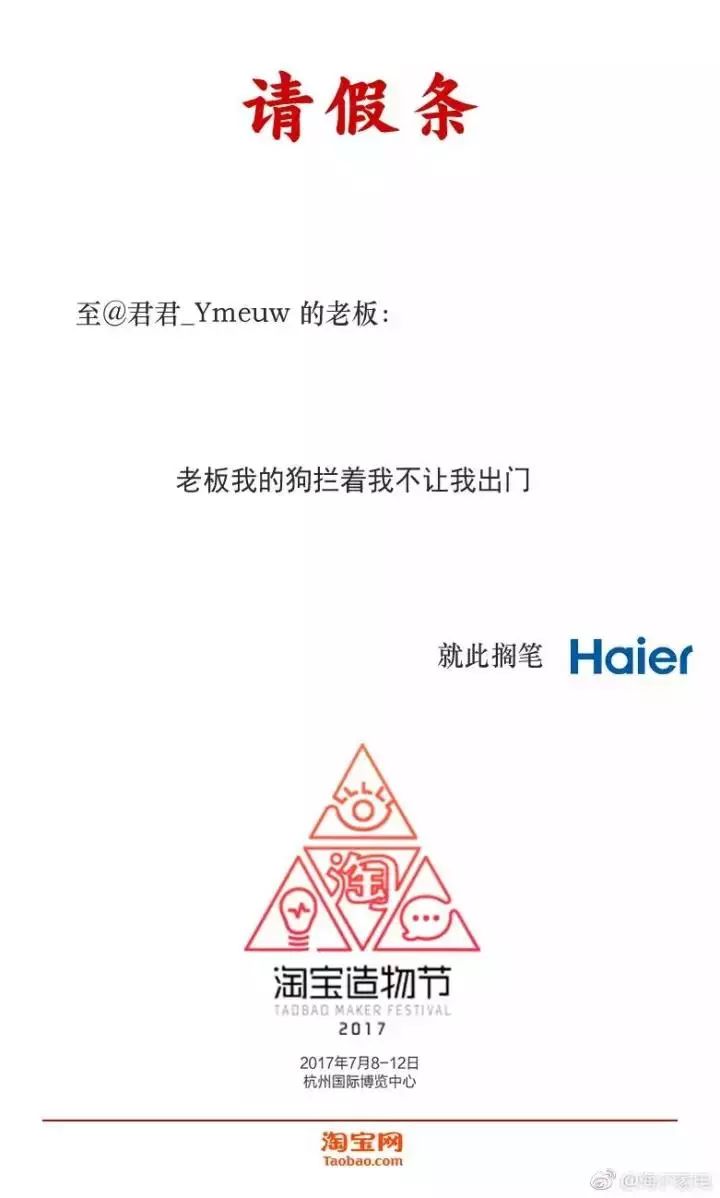 In today's multimedia era, self-advertising "closed-door country" brand marketing has been difficult to meet the development of the market. And more and more brands tend to interact with other brands to spread brand products, one can share resources, the other can also create a gimmick.
Disclaimer: Some of the publicly available sources collected on this website are from the Internet and are reproduced for the purpose of transmitting more information and for sharing on the Internet, and do not represent that the Site agrees with its views and is responsible for its authenticity, nor does it constitute any other recommendation. Some of the works of this site are self-contribution and publishing by netizens, editing and uploading, for such works this site only provides a platform for communication, not responsible for its copyright. If you find any works on the site that infringe your intellectual property rights, please contact us and we will promptly modify or delete them. Contact: 020-38814986.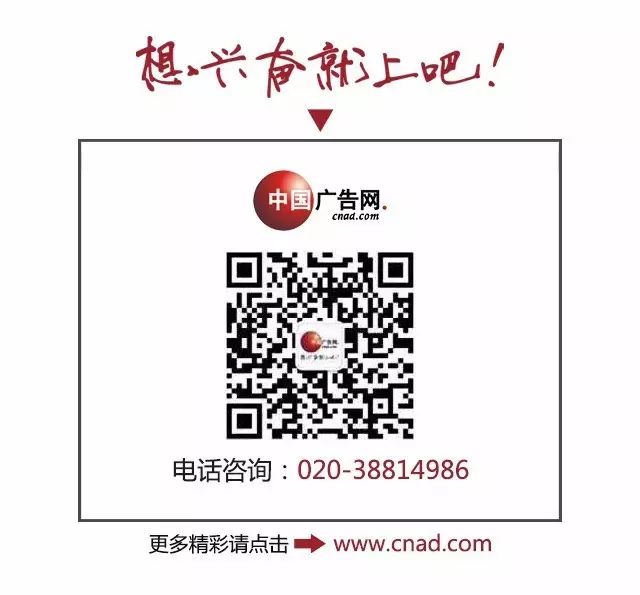 ---