How does operating Facebook's advertising benefits maximize? With 6 optimization tips, Facebook ads can run better!

Advertising performance performance, not all can bring you more sales as possible, higher conversion rate, but also because of the poor performance of advertising for many reasons, may be the wrong target audience, bid strategy mistakes, ad repetition frequency is too high, all so that many advertisers feel a headache for ad optimization.
Facebook Advertising is the most profitable platform model in the global social media trend (after Instagram was acquired by Facebook). The premise, of course, is that Facebook already has about 2.5 billion active users globally.
However, when we first invest in Facebook advertising, it's important to be clear:
Success at a lower level of spending doesn't mean you can achieve the same success for more money.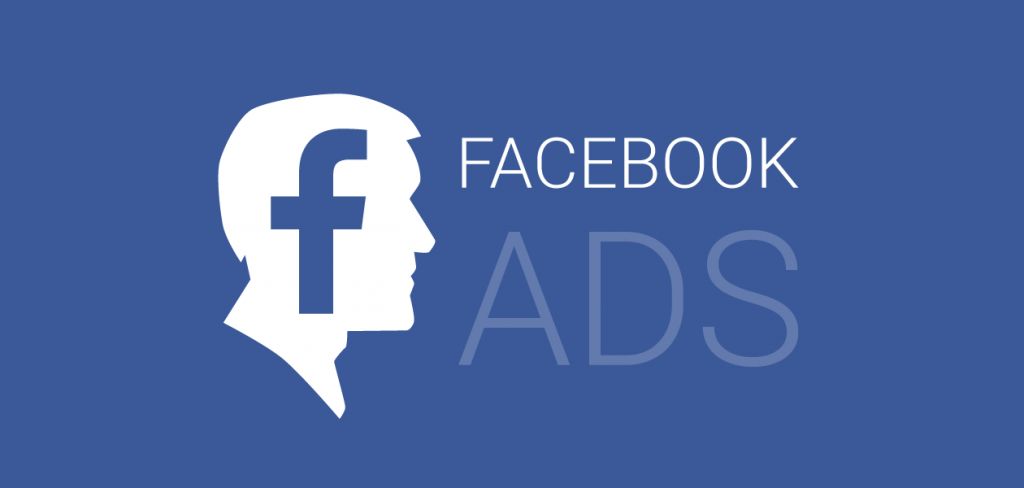 Today, teach you five Facebook advertising strategies to effectively improve Facebook Advertising's input-to-output ratio.
Increase your budget reasonably
You might think
"Yes, the more advertising budgets any platform has, the better?"
Undeniably, this is the most basic investment requirement on Facebook's ad list. Even so, you have to be careful, especially in making informed decisions about your advertising time and increasing your budget.
Google Trend, as a representative tool for product trend analysis, can not only provide a strong reference for foreign trade self-built stations, Amazon's selection, advertising on Facebook social media, still has a guiding role.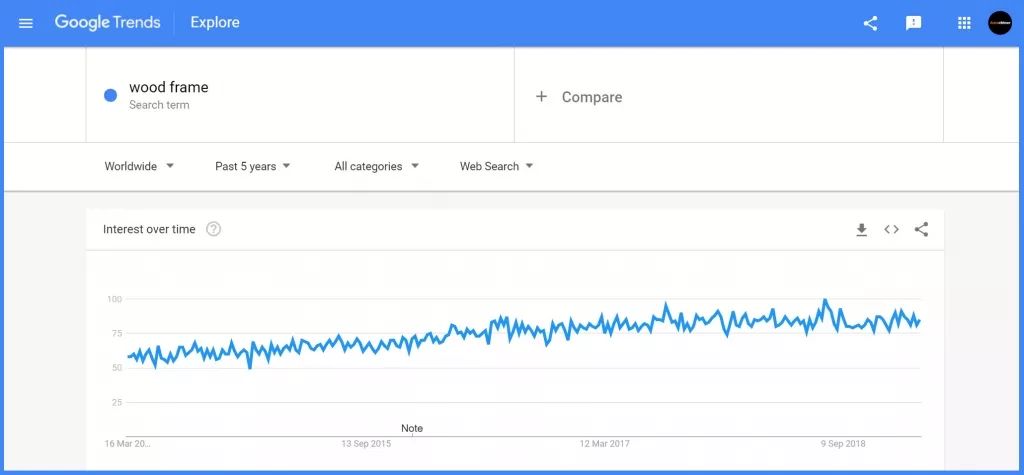 In particular, the highest coverage of product data must be ensured when using Google Trend to explore product trends. So, select Worldwide and Past 5 Years to maximize the sample space capacity of your data in order to be as reliable as possible.
At the same time, overemphasized the Compale feature to compare multiple keywords. For advertising, more attention should be paid to whether the trend of the product is stable, whether the performance is obvious in the off-peak season, rather than the search volume and competitiveness of the product.

On this basis, we are still minding the global distribution of our target users, facilitating the geographical and accurate delivery of Facebook ADS later on.
Kwfinder, as a keyword search trend analysis tool, is extremely accurate in terms of product trends and search heat. It's a good fit to use it as a trend forecast for Facebook Advertising's offerings.

A reasonable increase in the funding budget
Don't blindly invest a lot of money in an ad that expects a similar return (even if it's done well before). Facebook optimizes your ads over time, which is why ads tend to perform better over time. If you invest too much money in an ad for a short period of time, it's likely to impact the algorithm, resulting in a significant drop in your ROI.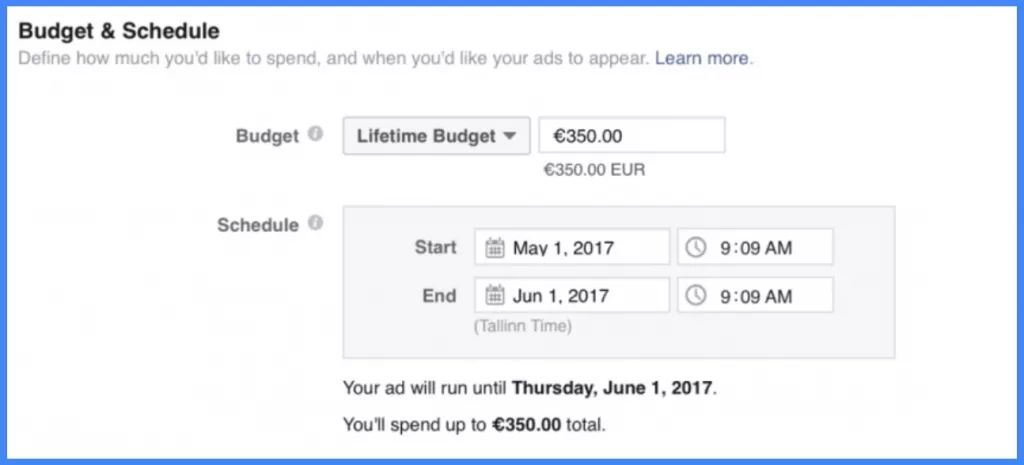 In general, through trend analysis, predict the product's hot search cycle in advance, and if you determine that May is a big search, you should selectively increase the launch of Facebook Advertising in March.
Through Ad Manager, go to the campaign you want to modify, click Edit, click Adjust Budget, and you can adjust your budget increase. In general, do not run more than 20% of your ads per day over the previous day.
使用Facebook Audience Insights
The reason Facebook has a large user base is that it knows them well.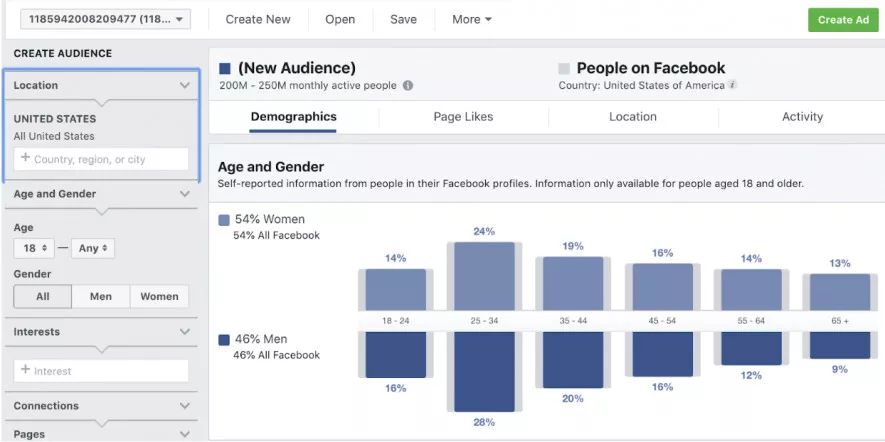 With Facebook Advertising, you can access and leverage this valuable data. With Facebook Audience Insights, you can target your potential customer base more specifically.
Create TheLookalike Audiences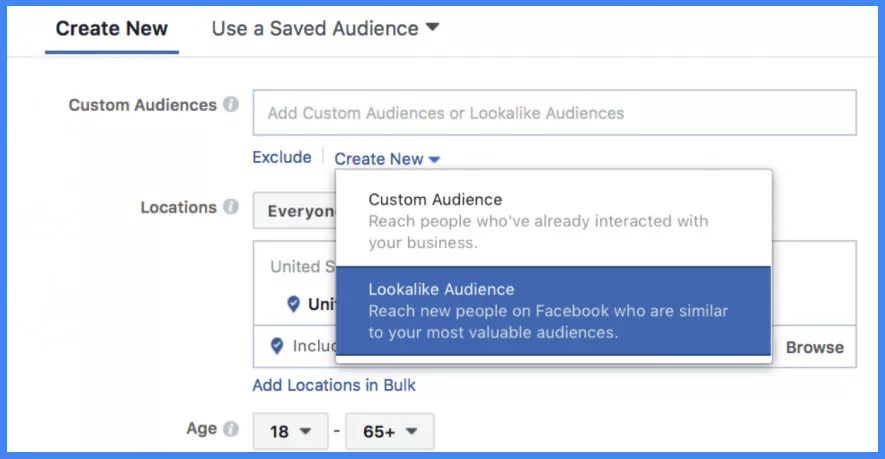 Facebook tracks SEO data on marketing metrics for foreign trade sites, targeting and targeting in depth. Facebook will automatically analyze activity data and then use these behaviors to create a broader target audience for advertisers.
From theUdience tab, click Create a Custom Audience. From picking your Logolike Audiences - it can be your customer purchase list, app download list, website visitors and more.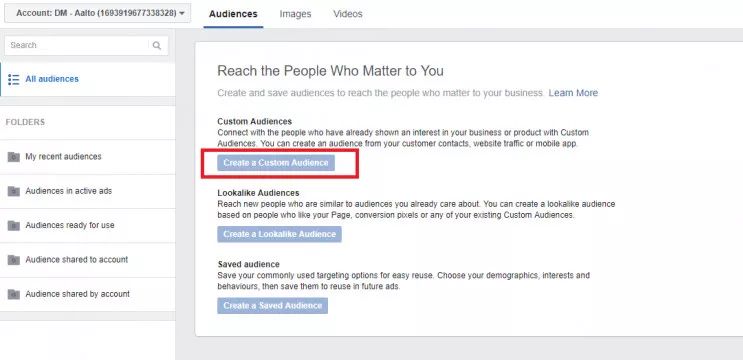 After the data is uploaded, Facebook matches it to the profile on Facebook. You need to determine the size of your audience, suggesting between 1% and 10%, which will determine the reach of your content. If your audience grows, the quality of your audience will continue to decline.
Quick inspection analysis
To optimize your Facebook ad content, you must understand the performance of your existing ad campaigns. This includes the campaign name of each ad and the details of the campaign settings, especially the primary target audience criteria, followed by a list of current daily ad budgets, cost-per-click and performance of your ad's primary goals, campaign relevance scores, and more.
Then check your ad campaign performance over the past 30 days, tell us about those particularly high-spending, peaks and troughs marked, and go back to why advertising performance was relatively good or relatively poor that day. If you find that the overall advertising performance has been "regressive", you know that your ad should be adjusted.

Mark your findings in a listed table and check to see if the frequency with which your ads appear is annoying to your primary audience. (In a unified audience, ads appear more than 3 times) If so, stop which ads appear more frequently.
After the basic ad campaign check is complete, the following three things need to be further analyzed:
(1) Ad delivery time
In The Analysis Project, you can find Impression Of Day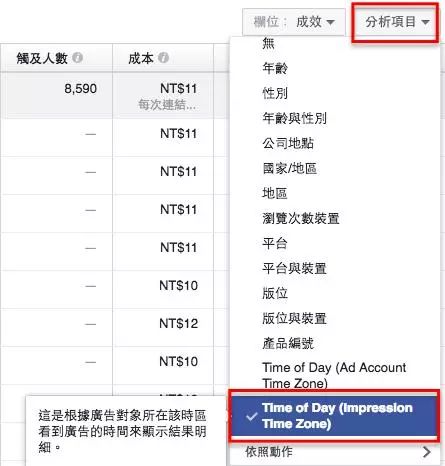 If you want to be too expensive for other time periods, a certain period of time, and the effect is not good, you can consider whether to run ads during that time period. The best advertising campaign is to use the low cost, resulting in a relatively high conversion rate. For example, you can see that ad campaigns are most expensive at 8-9 a.m. and 1-2 p.m., and ads are less effective, so you can exclude ads from appearing at this point in time.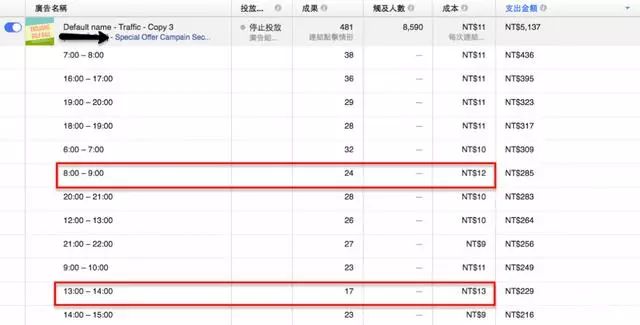 Here you can choose when your ads appear in your budget and scheduling, but the disadvantage is that you must use this feature with your overall ad budget between using a daily budget.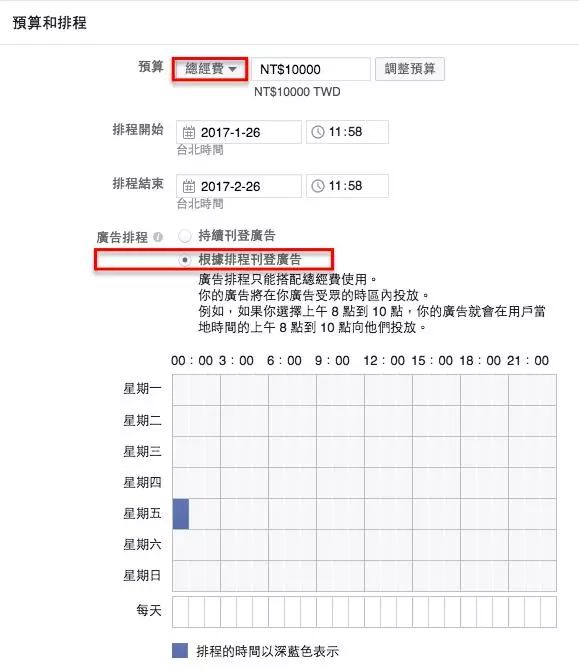 Note: If your ad is running in an audience that is not in the same time zone, remember to set the time of your ad to the right audience, the right time, the right time zone!
(1) Advertising effectiveness on different platforms and devices
In your analysis project, in addition to the time your ads are running, you can also see the effectiveness of your campaigns on different platforms and devices.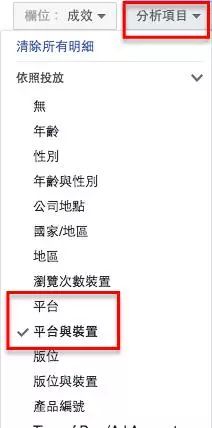 The results will be shown in the figure below, for example, in general, the majority of the audience using mobile phones, which is consistent with the current statistics on people using mobile devices to surf the Internet and social media, and you can further see the systems used by viewers (IOS/Andriod).

Since Facebook has bought Instagram, if both social media sites are in business, you can see the performance of advertising campaigns on different platforms (Facebook and Instagram) as a result.
Although for some brands, Instagram will be a good place for them to increase product exposure or return rate in the future, but you still have to consider whether your products or services are suitable for further promotion through Instagram, after all, each platform its user base and features are still slightly different, in order to make the best performance of advertising, you must be familiar with the characteristics of different platform user groups.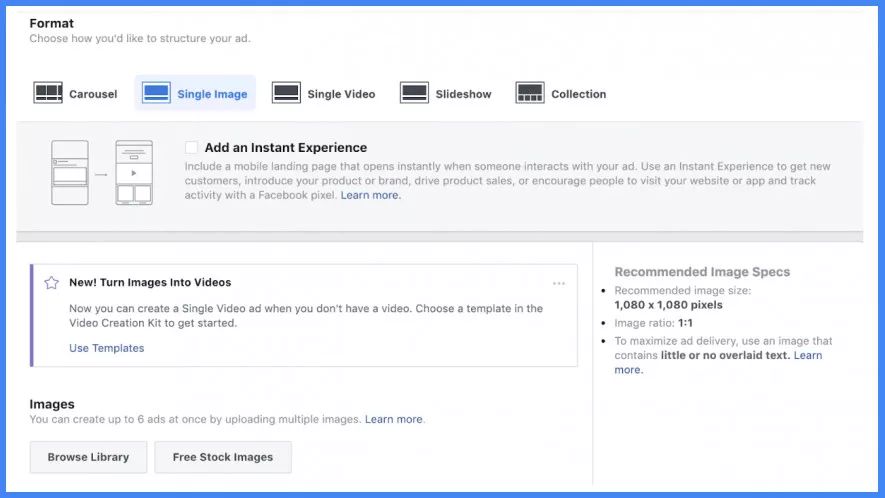 Depending on product trends, if you're determined to increase Your Facebook ad spending, and in order to get high-frequency audience ratings, you'll need to constantly optimize and update your campaign's content so that it's no longer monotonous and more expected.
Consider creating campaigns in a variety of ways, such as videos and slideshows, to increase the diversity of ad formats. Colleagues, you can also change different elements of your ad, such as adding creative titles, CTR links (high click-through links).
It's important to note that if you want to compare the actual performance of the two ad formats, you can run them at the same time without having to turn off the ads before optimizing. This allows you to clearly see your audience's preferences and tastes, facilitating targeted updates to later content.
In addition to a single photo, you can also use carousel ads to increase your interactions with your target audience. For example, they can watch your most popular goods and services in a dynamic (advertising content), or very special group collages, or even step commentary, so that the content of the ad looks more interesting, which is especially effective for viewers with mobile devices.
We've had A/B testing that emphasizes advertising before, and it's certainly not negligible in the optimization process. Because there is a control group, you know which direction to work in when optimizing, so that it is not a constant arrangement of combinations of attempts in vain.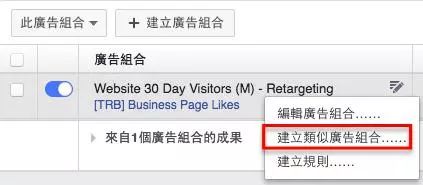 I believe you must also want to spend advertising money on the knife, and hope that through advertising for your marketing purposes to bring real benefits, I hope the above content will help you.
This article only represents personal opinions, please contact 400-8878-321 for infringements or opinions
Part of the picture source network

What better techniques do you have in off-site promotion?
Welcome to share the message with us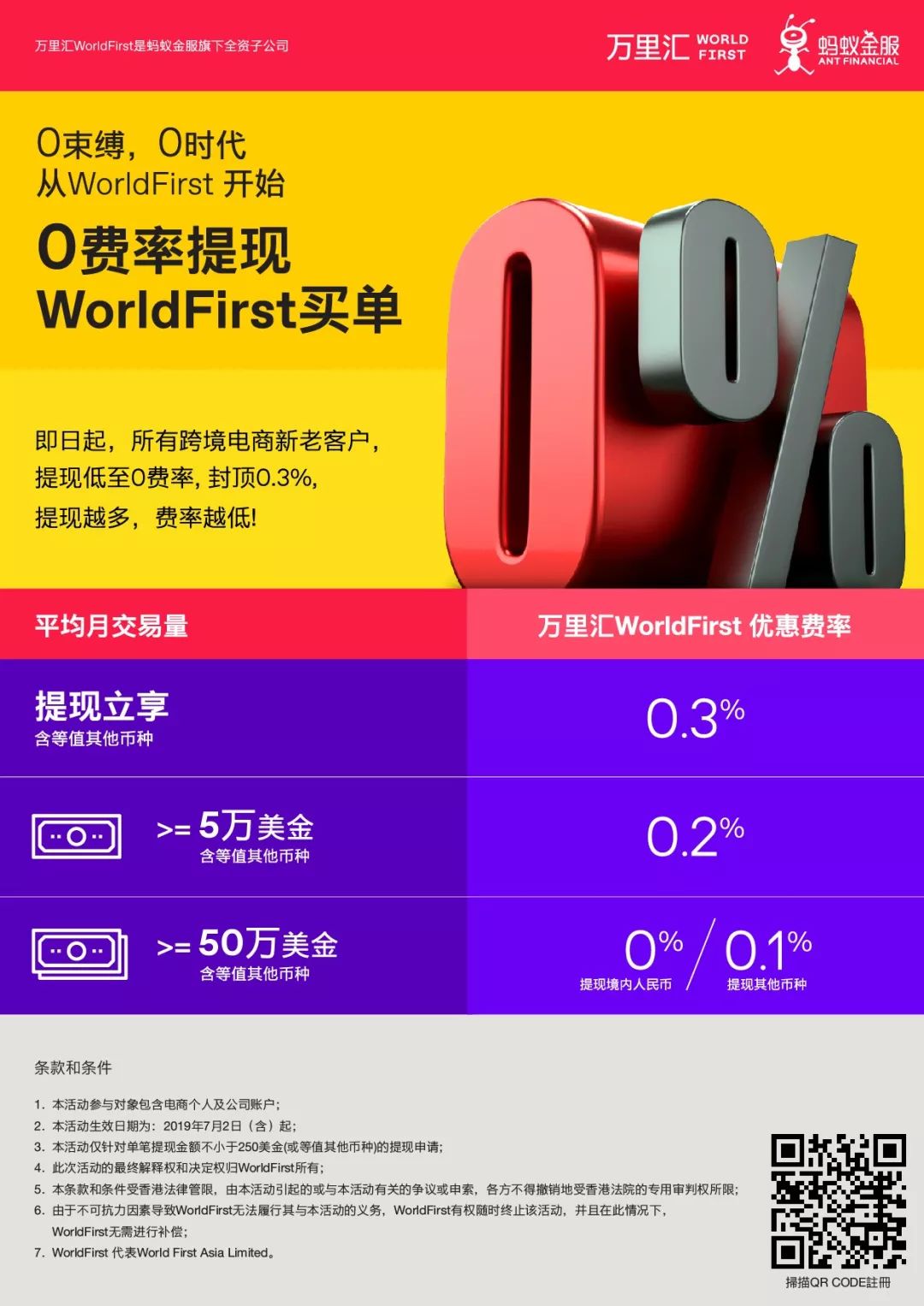 ---