How to choose the right Facebook advertising marketing goal
When we run FB ads, we will see a lot of marketing goals let us choose, for us to do foreign trade e-commerce people, those marketing goals are often used? I'll go into more detail about this article.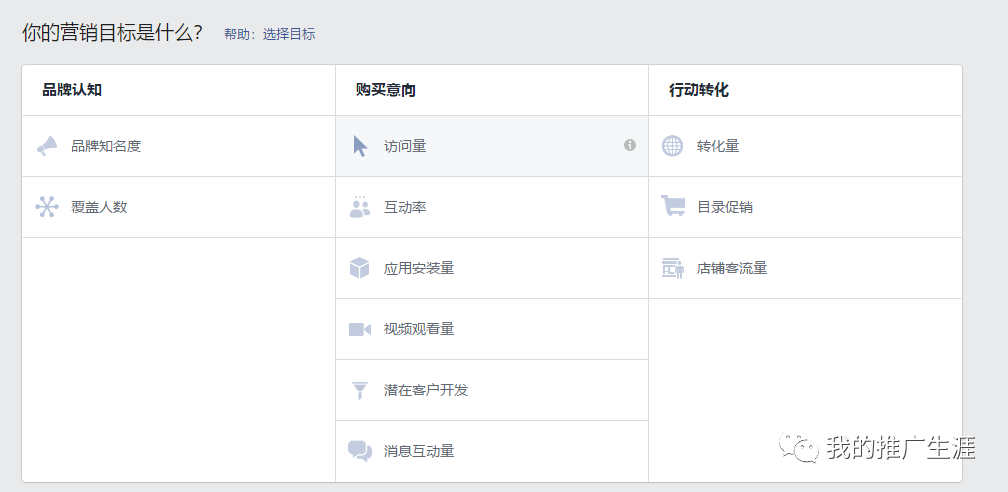 Brand awareness
Brand awareness: If you just simply expand brand awareness, do not consider the click or conversion of advertising, then you can choose this, pay attention to very money-consuming, the general use of large brands, such as Nike, McDonald's and so on.

The FB system focuses on pushing your ads to people who read your ads as completely as possible, because the longer you watch them, the easier it is to remember your brand.
The number of people covered: Show your ads to potentially interested users as much as possible, without considering clicks or conversions.

The FB system focuses on pushing your ads to as many users as possible, so you can set the frequency of ad impressions, 1 or 2 times in 7 days.
Purchase intent
The amount of access: Find more people who might visit your site for your site, but don't consider whether you'll join a shopping cart or purchase it.

If you have a good soft article (blog posts, of course, the ultimate goal is to promote your product), you can try to use "access" to promote.
Interactive rate: This is one of the types we often run, including tweets, page likes, event responses, coupon ads.

Push posts to get people to take the next step on your post, like, share, and comment.
Post interaction, basic and push post effect is the same, attract users to your post to take the next step, like, share, comment.
PS: Many people will directly use the post to run conversion ads, many times may be more difficult to pay the bill. You may want to try to use the post to run down the interaction, first "warm up" under your post, and then use the post to run conversion ads, may be a little better.

Page likes, attract people to like your Page, if you want to quickly powder your Page, then it is a good choice.
Activity Responses, you can now create an event on your Page, and then use Activity Responses to promote.
Coupon ads that attract users to receive offers and enter the website to order.
Learn more about Facebook coupon ads.
The amount of application installation: We won't say much about the type of ads for app merchants.
Video views: If your creatives are videos, it's highly recommended to run video views, and the system will reach the largest audience at the lowest cost.

The "ThruPlay" optimization option now automatically turns on, allowing you to find more accurate users for less money.

ThruPlay is an optimization and billing option for video ad based on video view goals. By purchasing with ThruPlay, advertisers can optimize the full playback rate of their ads and choose to pay only for full playback or at least 15 seconds of playback. This optimization option can be used for auctions or "overlays and frequencies" campaigns.
Learn more about Facebook video viewing ads.
Lead development: Used to collect information about customers, such as mailboxes, phone calls, and so on.

Its advantage is that most people have submitted a mailbox or mobile phone number when they sign up for FB, so when they see the ad, they only need to click to submit it, the system will automatically fill in the user's email or mobile phone number.
Generally large order sales, customers consider more, advertisers can try to first or potential users' mailbox or mobile phone number to make the next contact.
The amount of message interaction: Ads will appear in messenger, where potential users can communicate directly with you one-on-one.

Can be used to collect up-front feedback on products, many users will directly ask you a variety of questions about the product or service, you can organize to improve their shortcomings.
Action conversion
Conversions: E-commerce sites generally run this when promoting users who may take certain actions (view content, add purchases, submit payment information, purchases, etc.).

When a lot of people run conversions, they complain about less orders or too much data fluctuations every day, which is normal because your ads are in the machine learning phase of FB.

Ad groups need to bring about 50 optimization events after they start running (or make the last big adjustment) to complete the machine learning phase.

If the conversion window is 7 days after clicking, all 50 conversions you need must occur within 7 days of clicking. This means that ad groups with long conversion windows may need more time to complete the machine learning phase because they may want to promote products or services with longer screening considerations.

Catalog promotions: Ads will show your audience the items in the catalog that best match their interests, and it's recommended that you add an image of the item as creative material.

Of course you need to import all your online products into the FB system first.
Store traffic: Serve ads to audiences around brick-and-mortar stores, and if you have brick-and-mortar stores to try, there's not much to say here.
---