Bay Area Facebook, Google and Twitter CEOs attend congressional hearings at the end of the month
Focus on itSan Francisco World DailyThe only official public platform
Solemn statement in this articleTo be aliveThe daily newspaper is copyrighted and may not be reproduced, re-made or copied without permission.
     The U.S. Congress has asked the chief executives of The Bay Area's three biggest tech giants, Facebook, Google and Twitter, to attend hearings at the end of the month to explain how they control hate speech and false news.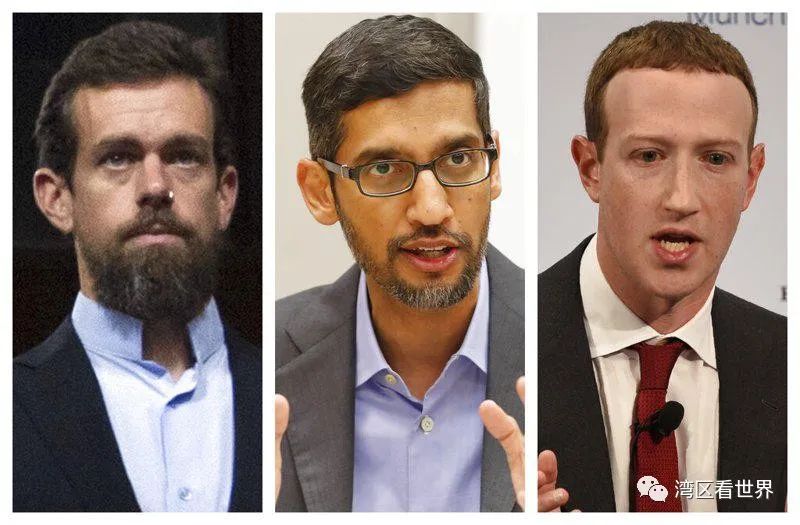 The U.S. Senate has asked Dorsey, Pice and Zuckerberg (left to right), the chief executives of the Bay Area's three largest technology companies, to testify before Congress at the end of the month. (AP)
     The Senate Commerce Committee voted last week to require itFacebookChief Executive Mark Zuckerberg, Google Chief Executive Sundar Pichai and Twitter Chief Executive Jack Dorsey went to Congress to testify that the Senate would authorize the court to issue subpoenas if they did not agree. The three companies have issued a statement on the 5th that the Chief Executive will cooperate with the attendance.
    TwitterOn its policy channel, he said the hearing must be constructive and focus on the things that matter most to the American people, such as how to unite to protect the election.
     The hearing, scheduled for October 28, a week before the election, is a new bipartisan partnership with big tech companies.
     Republican Senator Roger Wicker said:At a critical time in the country's democratic process, we need the testimony of these executives to understand how much they influence American discourse。
     Facebook has recently expanded restrictions on political advertising, such as after President Trump suggested at a debate last week that postal voting could lead to mass fraud.
     Conservative Republicans, led by Mr. Trump, have repeatedly criticized the Silicon Valley community platform without evidence, and the Justice Department has asked Congress to revoke legal protections for online platforms. Trump signed an executive order earlier this year challenging the 1996 Telecommunications Act, which protects Internet speech from restrictions.
     Democratic criticism of social media has focused on hate speech, false messages, and other content that could incite violence or prevent people from voting, arguing that the chief executives of big technology companies have failed to meet their responsibilities to monitor content, making the platform a warmbed for hate crimes and white supremacism.

It
It's not just a code
Press and hold QR codes to follow us
The official public number of the Bay Area World Daily
Daily push for the latest Bay Area news
---