How does Google's search algorithm rank medical ads?
The tragic death of young Wei Zexi has aroused the domestic public's heated discussion about the problem of false medical network advertising in search engines. When it comes to search engines, it's important to think of Google, so how does Google handle medical advertising, and the answer is to use machine learning's RankBrain algorithm.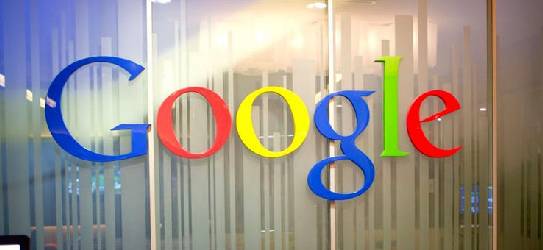 The tragic death of young Wei Zexi has aroused the domestic public's heated discussion about the problem of false medical network advertising in search engines.According to Business Value's WeChat Public Today article, "Google has also dabbled in medical advertising, how is the U.S. judiciary regulated?" 》,You can see that searching google for "slip sarcoma" also produces medical ads, but all have an obvious "Ad" logo. At the same time, compared with Baidu, Google's paid advertising does not affect the ranking.
Google's search ad for the treatment of glioblastoma has a clear advertising logo. Source: Business Value

In addition, Business Value notes that under Google's search advertising policy, drug advertising requires FDA and NABP certification. In other words, only regular online pharmacies, medicines and treatments approved by the government can advertise drugs on the site. At the same time,Google's automatic ad filtering mechanism can also effectively prevent the emergence of false medical ads to a large extent. According to a report released by Google, they pre-blocked 780 million illegal ads in 2015 and blocked 214,000 advertisers, including 12.5 million illegal medical and drug ads, for reasons such as unsaniled drugs or false and misleading advertising.
How Google ranks with algorithms
According to statistics, about 15% of queries submitted to Google every day are unseeded. Greg Corrado, the company's senior research scientist, revealed that google used RankBrain to embed a huge amount of written language into a vector that computers could understand in order to answer these questions better.
If RankBrain sees a word or phrase that it is not familiar with, it guesses its similar meaning and filters the results accordingly, effectively handling search queries that you've never seen before. Let's say RankBrain can effectively answer "What's the title of the consumer at the highest level of food chain?" (what is the title of the most senior consumer in the food chain?). such a question.
For Google's search processing mechanism, RankBrain is just one of hundreds of signals that provide input to its search algorithm, but it differs from other signals in that it learns, and the other is what others find and gain in information acquisition. Google had algorithmic engineers manually guess which page the search algorithm would choose as the number one result, with an accuracy of 70 percent, and RankBrain did the same thing, with 80 percent accuracy, more than the average engineer who did the algorithm.
Over time, RankBrain may be able to handle a growing number of signals that are currently improving Google's algorithms through handwriting analysis.Google's businesses are also growing smarter. Machine learning will be integrated into Google's search engine in a variety of meaningful ways. All of Google's moves will continue to lead its search engine.
RankBrain works by parsing
RankBrain is part of Google's hummingbird search algorithm. Hummingbirds are the whole search algorithm, like there's an engine in a car. The engine itself may consist of many components, such as oil filters, fuel pumps, radiators, etc. Similarly, hummingbirds are made up of several parts, of which RankBrain is a component.
Hummingbirds also contain other parts that are familiar to people in SEO circles, such as Panda, Penguin, and Payday for spam filtering, Pigeon for optimizing local results, Top Heavy for downgrading too many pages for ads, Mobile Friendly for giving mobile-friendly pages plus points, and Pirate for fighting copyright infringement.
What is Google's "signal" for sorting?
Google uses signals to decide how to sort pages. For example, if it reads words on a Web page, words are a signal. If some words are bold, this is another noteworthy signal. The result of the calculation is set as part of PageRank, which gives a PageRank score to a web page as a signal. If a web page is detected to be mobile-friendly, this can be a signal.All of these signals are processed by various parts of the hummingbird algorithm, which ultimately determines which pages are returned for different searches.
How many signals are there?
Google says there are about 200 primary sorting signals for evaluation, which in turn could be tens of thousands of variants or subs. If you want to have a more intuitive sort signal wizard, take a look at the Google SEO Success Factor Element Periodic Table: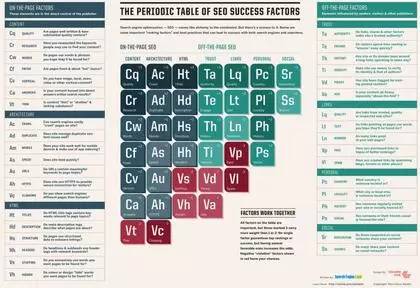 What exactly does RankBrain do?

From the e-mail with Google, RankBrain is primarily used to translate search terms that people may not know exactly what exact words to enter.
Google has long found ways not to search for pages based on specific terms. For example, many years ago, if you typed "shoe", Google might not have found pages with "shoes" because it was technically two different words, but "stemming" made Google smarter and let the engine know that the root of the shoe was shoe, just as the root of "running" was "run". Google also knows the synonyms, so if you search for "sneakers," it probably knows you're looking for "running shoes." It even has conceptual knowledge of which pages are about "apples" and which are about fruit "apples".
Resources:
http://mp.weixin.qq.com/s?__biz=MTA2MTMwNjYwMQ==&mid=2650693625&idx=1&sn=8ab532faa66e69cc447e250f58807dda&scene=1&srcid=0502LFwayyLBIMhASaZX4zrt#rd
---
Quantization.Sent.I don't knowQuantGroupIt's a familyFintech, Technology FinanceCompany.。

By.Wall Street returns to the executivesAnd.Google senior scientistCo-founded.
Quantification is a data-driven consumer fintech company that provides consumers with consumer credit lines while helping the consumer scenario to realize the realization of traffic and helping financial institutions to acquire formed assets. Headquartered in Beijing Zhongguancun Internet Financial Center Building, the company was the only financial enterprise in the fifth phase of Microsoft Venture Accelerator, and obtained Fosun Kunzhong, Gao Wei, Huacheng and other A-wheel and angel round financing.Since its establishment, he has been received by Premier Li Keqiang, the CSRC, haidian district government and Shijingshan government leaders at all levels. Has been CCTV, BTV, People's Daily, Beijing Daily, Entrepreneurs, Entrepreneurial State and other mainstream authoritative media reports.Quantify currently has more than 100 partners, including Where to Go, 58 Tongcheng, Ka Niu, Consumer Now, Bank of Beijing, Bank of North Bank, Qi Shang Bank, etc.
Business cooperation mailbox: marketing@quantgroup.cn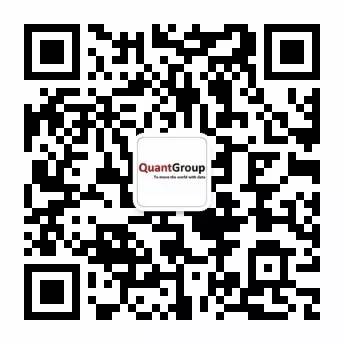 Press and hold the QR code in the identification diagram to follow us
---