It's too late to prepare for the Christmas shopping season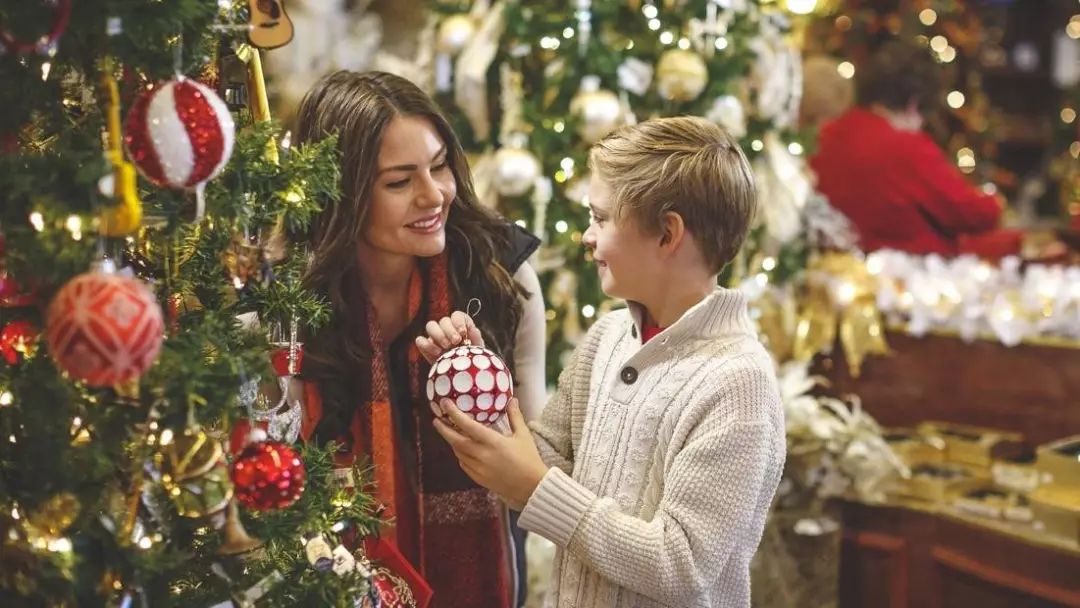 Instagram / Visual China
Author . . Chandle Tiger
On the last Monday in August, Costco opened Chinese mainland store in Shanghai, sparking a stir and public discussion.
Costco's successes and areas worth studying are many, not a few words can be said clearly, and it is more difficult to imitate replication easily. However, the opening of its Chinese mainland's first offline store did encounter a little bit of an episode, as the store was overcrowded, over-the-field traffic jams, and eventually its operations were disrupted - and, of course, the next day Costco resumed operations in a traffic-restricted manner.
The world's second-largest retailer, with a 43-year history, has yet to make its offline debut on Chinese mainland and is still experiencing a "lack of preparation" for Chinese merchants who go a sea to engage in cross-border e-commerce, especially the US "shopping season" represented by Black Friday and Cyber Monday at the end of the war.
Prepare for the "shopping season" early
In the past, Black Friday has kicked off the year-end holiday shopping season for U.S. consumers, continuing into Christmas and New Year's, the carnival season for brick-and-mortar retail sales in the United States. However, with the penetration of the Internet and the popularity of e-commerce, "Cyber Monday"(Cyber Monday)The first Monday after Thanksgiving was born in 2005. On this day, many merchants offer considerable discounts or "second kill" offers in online stores to attract customers, and this year it's December 2.
Over the past decade, the U.S. retail market has changed dramatically.
First of allA growing number of Americans are choosing to buy online, leading to rising online spending on Black Friday, which is growing rapidly。 Combining Statista, TechCrunch, Big Commerce and US Sharing data, AOL expected to spend a record $6.22 billion on Black Friday in 2018, up 24 percent from a year earlier, while Cyber Monday's online sales reached $7.8 billion, up 18 percent from a year earlier. Mobile shopping is the main driver of online sales growth, with 53% of orders coming from mobile.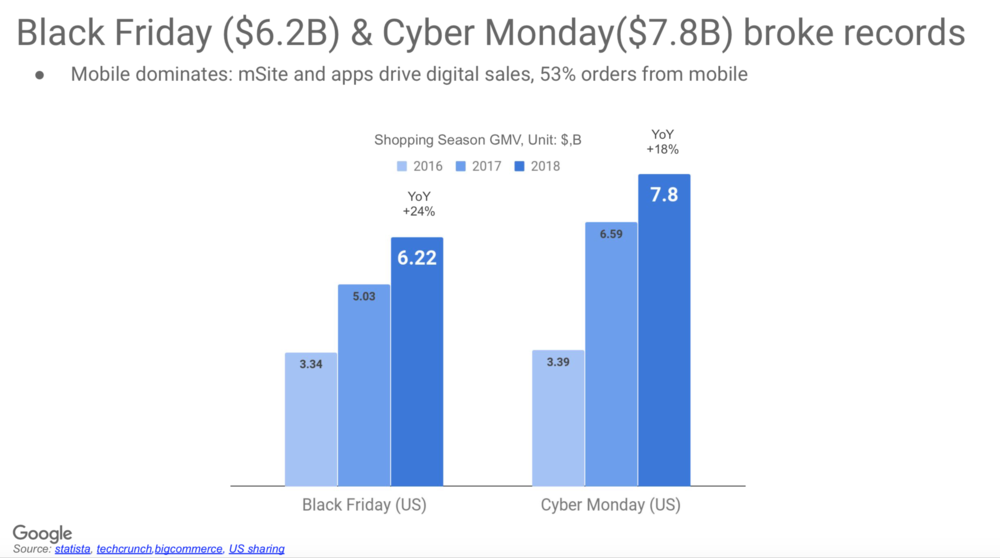 Over the past 3 years, Black Friday and Cyber Monday GMV (Total Transactions)
SecondlyTraditional U.S. retailers are pressing for across-channel sales, online and offline sales models are accelerating convergence, and the boundaries between Black Friday and Cyber Monday are blurring.During the 2018 holiday season, 61% of online shopping takes place on smartphones. Even when shopping in stores, U.S. consumers use digital platforms to help make purchase decisions, and half of all U.S. retail sales are digitally affected.
In addition, a more like-like trend is thatInternet users in the United States are preparing for Black Friday and Cyber Monday sooner and later.According to Google's internal search data, former U.S. Internet users used "days" and "weeks" as time units for searching for shopping festivals.But now, a few months before the start of the shopping season, they have launched a search.
In 2018, for example, U.S. consumers have been searching for Halloween and Christmas since September, with each holiday planned one to two months in advance, about 10 days earlier than in 2017, and Cyber Monday 50 days earlier, 22 days earlier than the same period last year. In other words, the entire fourth quarter should be included in the "shopping season" schedule.
Of course, there are still plenty of consumers who choose to continue shopping in the run-up to or after the holiday season. Sixty-seven per cent of holiday shoppers admitted they were still shopping in the week before Christmas, while 86 per cent searched for Christmas-related items on digital platforms after Christmas week.[1]
Therefore, it is important for Chinese cross-border e-commerce players to prepare in advance. At the same time, close to the festival and a few days after the holiday business opportunities can not be missed, with "day up" and other efficient keywords, can help merchants to attract consumers to place orders.
Targeted.
In addition to strategically preparing for war early and avoiding miss aircraft, tactically it is also necessary to gain insight into consumers at major festivals(Halloween, Black Friday, Cyber Monday, Thanksgiving, Christmas)Before and after shopping habits, to ensure that the strategy of landing.
Halloween.
Before shopping decisions, U.S. Internet users were usuallyTend to use search and watch ads on YouTube on Google's Google platform for shopping inspiration and promotions.
In 2018, Halloween-related merchandise sales reached $3.2 billion. Household accessories and food are the most searched categories. When searching for Halloween costumes, consumers typically search for people, adjectives, people, features, and brands, and animal and movie character costumes often top the Halloween search list.
In terms of crowds, adult-related items have the highest number of searches; adjectives have the most searches for sexy, followed by comfort and funny; and characters, Sean White(Shaun White)Kim Kardashian(Kim Kardashian)Top two; Wal-Mart has the highest brand search; and in other search categories, creativity, masks, and last minute(The last "hands-on" moment)Top three from highest to th.
Based on these data insights,Expand or optimize keywords, buy shopping information flow, do a good job of relevant advertising ideas, can contribute to the brand to improve sales.After all, consumers tend to use Google Search and YouTube videos for inspiration and promotions. Here's a video on YouTube with "Black Friday 2018" that attracted 1 million hits. Net-a-Go's Niki and Gabi's Black Friday Shopping Strategy 2018 attracted 2.2 million hits.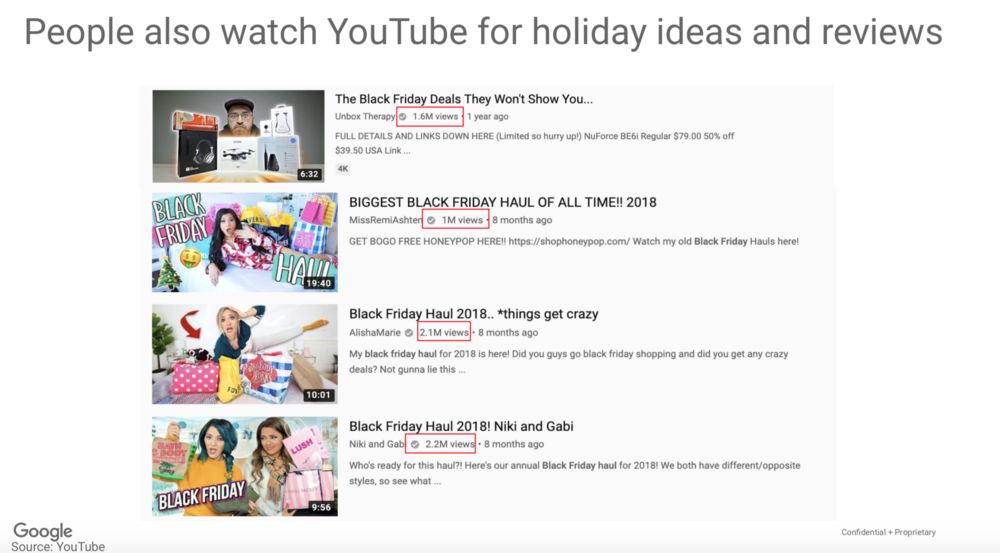 People like to look for holiday ideas and discussions on YouTube
Black Friday and Cyber Monday
"Black Friday" is the traditional feature of the U.S. end-of-year shopping season, with commercials starting in October. In the past, Black Friday was always more closely associated with offline discounts, but now 68% of consumers shop online on Black Friday, with the penetration of e-commerce and the across-channel layout of traditional offline retailers. On Black Friday and Cyber Monday, searches in key categories grew 1.3 to 2.3 times as much as usual, with electronics searches peaking on Black Friday and clothing the highest searches on Cyber Monday, according to Google.
As a result, running online ads by November can increase brand awareness and attract more consumer attention to Black Friday and Cyber Monday, resulting in purchase conversions.
Thanksgiving and Christmas
In terms of retail sales, Thanksgiving and Christmas are the third and fourth largest shopping holidays in the United States in 2018, respectively. Thanksgiving is the most popular shopping holiday in the United States. Even in Asia, Christmas is popular, with 70 per cent of Filipinos, 47 per cent of Malaysians and 49 per cent of Singaporeans celebrating. Therefore, for businesses, there is a need for a clear insight into these two holiday consumption characteristics.
For example, 30 percent of U.S. consumers bought christmas items during the discount season in November, and 92 percent said "discounts" were one of the most important factors in Christmas shopping. When buying, price-sensitive people typically set $5, $10, $20, and $50 as their purchase budget.
In both festivals, popular search keywords are usually aroundProduct/category, with the search for Thanksgiving offers, Christmas deals launched. During the Christmas period,The highest search list is for jewelry and apparel-related items.Category search leaderboard Top3 isFootwear, toys and electronics.
Judging by the time distribution of searches, consumers went online in October or even earlier to search for inspiration and start preparing for the upcoming Christmas. By Dec.Gifts, toys, jewelrySearches for keywords have increased significantly.
In addition to these groups of holiday-related user habits, Google google also found that in the fourth quarter of 2018, youTube searches for gifts were 58 percent higher than in the same year; More than 40% of consumers end up buying products they've explored on YouTube.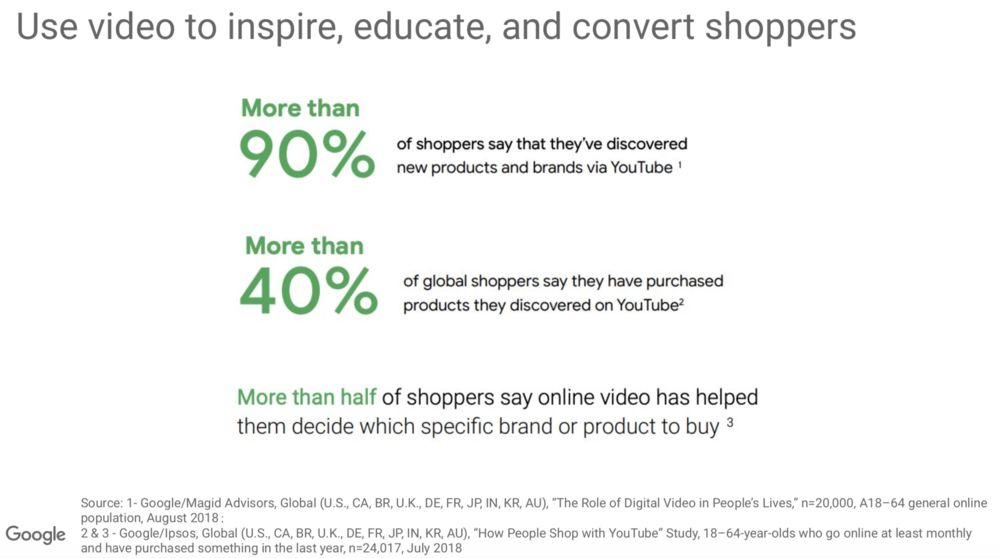 Use video to motivate, educate, and influence consumer shopping season behavior
That is, through YouTube ads, merchants can let more consumers know about brands and products, as well as offers.
Conclusion.
The rise of online shopping, offline and online consumption boundaries are increasingly blurred, competition between merchants is more intense, and consumers are preparing to shop earlier and earlier, the shopping season consumption timeline is longer, so that the "shopping season" covers almost the entire fourth quarter, its overall retail size is bound to expand further. Therefore, it is particularly important for China's cross-border e-commerce players to prepare in advance and create a preparedness plan that is as complete as possible.
Based on these insights, Cross-border e-commerce brands in China can take the following action plans and prepare for the 2020 program with reference to the 2019 Global Key Holiday Calendar.
Event plan
·Businesses are advised to prepare for Halloween, Black Friday, Christmas and other holiday warm-up activities from September;




·In mid-to-late October, Black Friday ads began running, and by the day before Black Friday and Cyber Monday, promotion-related search terms would peak;




·Products can be combined with gifts for activities such as:Clothing is the preferred gift for teenagers, while toy jewelry and gifts are highly correlated;




·A coalition of festivals and promotions, such as:Black Friday X Thanksgiving Promotion, Black Friday X Christmas Promotion, Black Friday X Gifts, Cyber Monday X Christmas Promotion and more;




·Seize the business opportunities in the days after the holidays and festivals, such as using "delivery of the day" and other activities to attract consumers to order.
Advertising solutions
·YouTube advertising lets more consumers know about your brand and products;




·Use Google search and shopping campaigns;




·Use Google Discovery campaigns, smart display ads, and Trueview for Action to promote purchases.
Ad optimization
·Add and optimize product ad search keywords, shopping ad feeds, ad ideas and website navigation and pages, such as connecting clothes, audiences, adjectives, brands, personalities, or brand, product category names, and promotional terms in Black Friday and Cyber Monday marketing on Halloween;




·Apply for and use crowd targeting in your ad settings(Black Friday, Christmas)。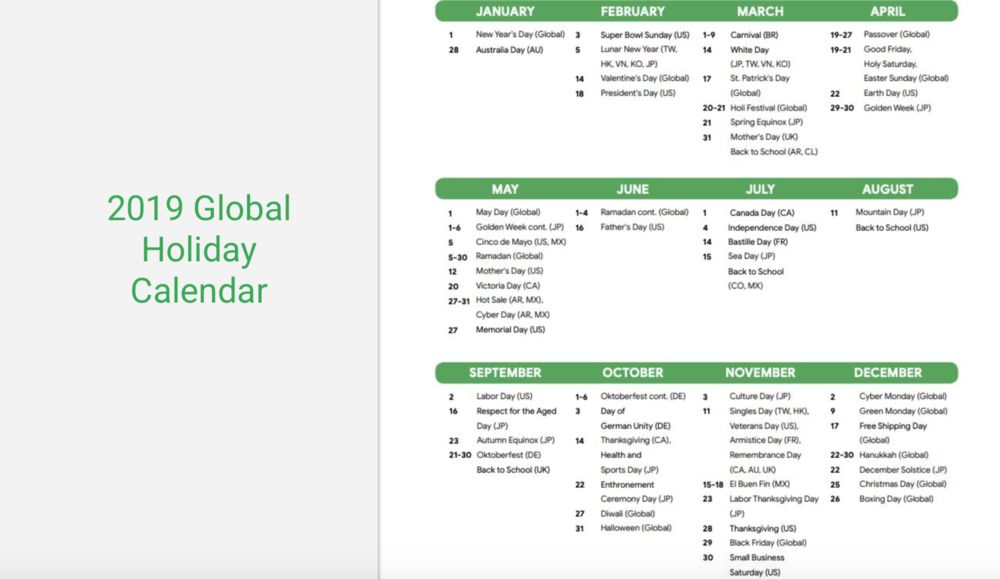 Global Holiday Calendar 2019
For more information on how to prioritize shopping activities in different markets and how to market during the shopping season,Please click on the original text to book a Google Marketing Specialist.
Source:
Mastercard Advisors, Google Google/Ipsos Omnary Retail Research Report for U.S. Holidays From November 2018 to January 2019; Forrester Analytics Digital ImpactEd Retail Industry Outlook Report 2018-2023
This content is the author's independent point of view, does not represent the tiger sniffing position.
No reprints may be made without permission, please contact hezuo@huxiu.com
Go out to sea
Special planning
---