Mr. Li is said to have made $168 million a year, the company responded
Journalist Unmasking the book
Mr Li denies claims that his annual income is 168 million yuan.
On January 9th Hangzhou Micron Technology Co., Ltd., the company of Li Zixuan, a traditional Chinese food blogger, told the news agency (www.thepaper.cn) that reports that "Li Zixuan's annual income is about 168 million yuan" were false, and that the publisher had already apologized and deleted the article.
"Li Zixuan annual income of 168 million" this data originally from an Internet information blogger published "Li Zixuan can make a year how much money, the data quantified to show you" article. The article simply calculated Li's YouTube share and Tmall's sales, and then put 49% as her draw ratio, and finally concluded that Li Zixuan's annual income is about 168 million yuan.
However, as early as the evening of December 17, 2019, the blogger who published the above article has issued an apology on Weibo for the false reporting of Li Zixuan's income data, and said that the calculation method is not rigorous and does not deduct all taxes, company operating costs, video production costs and promotion costs.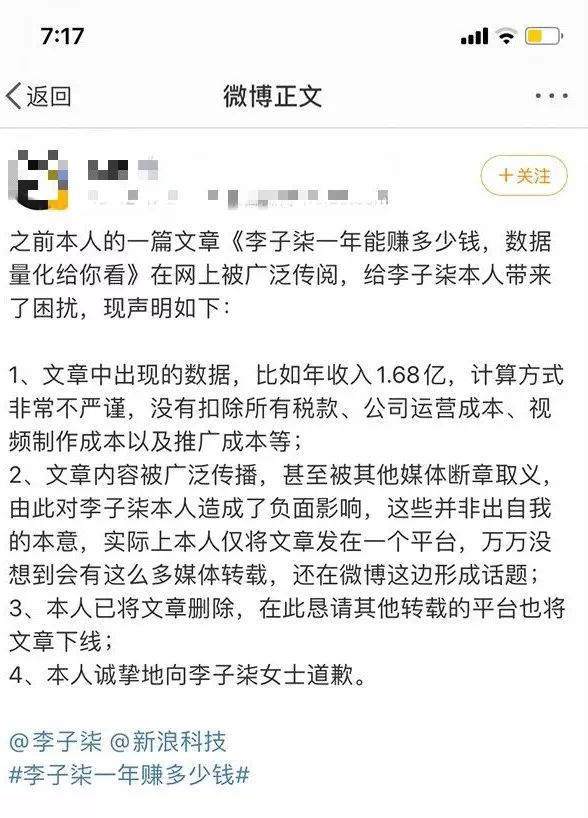 Source: Screenshot of Sina Weibo
Correspondents note that Mr. Li's revenue comes mainly from advertising revenue from Tmall's flagship store and YouTube, an overseas video platform.
Regarding the "168 million yuan" statement, for the calculation of the revenue of Li Zixuan Tmall flagship store, Micron Technology related people said: "First, the estimated product sales volume in this article does not match the actual number of stores displayed, at the same time, confusing the price of multiple bottles and single bottles, brand activity discount price and the original price." Second, profits in the food sector are generally lower, with three squirrels, for example, making a profit of 4%. "
Third, micro-read technology related personnel said that the e-commerce platform brand launch activities are relatively large, sales are not equal to real income. "Take double eleven as an example, Li Zixuan fans sun out a few yuan to buy sauce, a dozen yuan to buy bird's nest and other screenshots, but also to show that the activity during the brand activities of great strength; Micro-read science and technology related personnel said.
Mr. Li will also earn a fortune on YouTube, an overseas video platform.
Reporters noted that Li's videos on YouTube were streaming millions less, and more than 40 million. On December 27, 2019, according to Noinfluencer, a global online red marketing service, Mr. Li's advertising revenue on YouTube alone was between 1,945.5 million yuan and 3.907 million yuan. Based on this calculation, Mr. Li and his team earn between $23.34 million and $46.88 million a year on YouTube.
However, micro-read technology related personnel said that Li Zixuan's overseas income is not so high, "because overseas income to the platform, and we have previously defended a variety of rights, there are costs." "
In addition, there have been fans pointed out that the Li Zixuan brand has a brand creative line, design fusion of four-hour gas and non-relict elements to launch different peripheral products.
In this regard, micro-technology said that these peripheral products, mainly to give back to brand fans, only send not sell, and these costs, "168 million" is not counted.
Recently, Li Zixuan also won the "China's rural youth rich leader promotion ambassador" and other awards, the topic of Li Zixuan's income continued to arouse concern.
---
Editor chang in this issue
---