How do Google, Facebook and Amazon play cards when digital ads are "land grab owners"?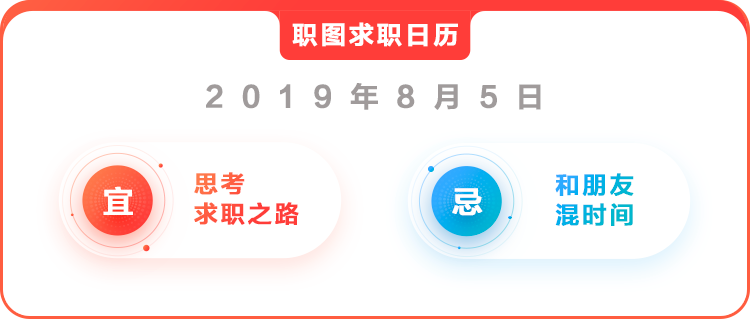 August 7Machine learningTry the class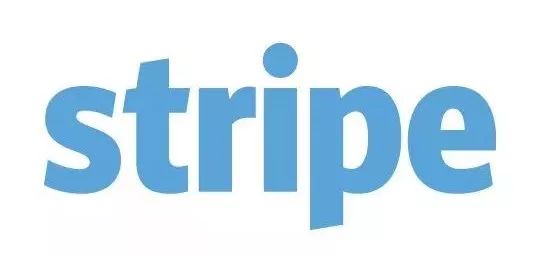 Sign it today

Free tickets are broadcast live in August
NotesML 0】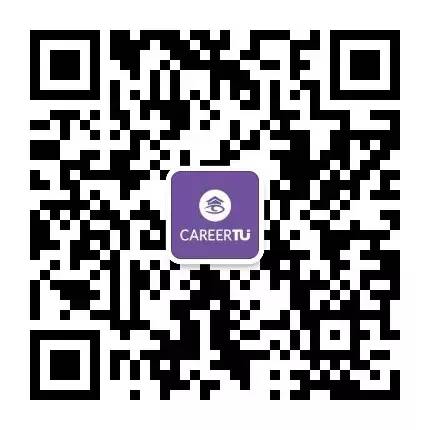 Digital Media's share of advertising spending in the US rose 19.1 per cent to $12.9bn in 2019, surpassing the $10.9bn 2018 traditional media spending, according to eMarker.Digital media is expected to account for two-thirds of total advertising spending in the United States by 2023.
While traditional media advertising will still account for a corner of advertising spending, the growth of digital media advertising is already unstoppable.In the near future, digital media advertising will account for the majority of U.S. advertising spending market share.Nothing is eternal in an undercurrent market.Even the two oligarchs, Google and Facebook, who now make up half of America's digital media advertising, must keep pushing back and watch out for the impact of the rising star.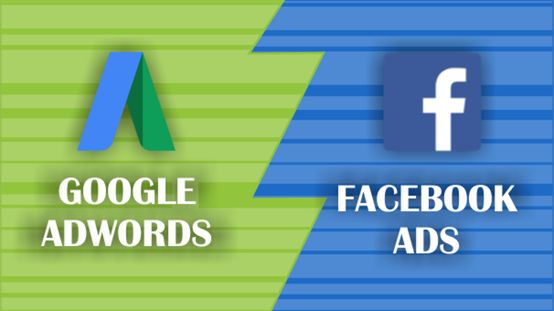 Source: Google
With Amazon entering the advertising market with outstanding e-commerce achievements, a battle began quietly.As a good Digital Marketer, you need to keep an eye on new developments in the media market to make Budget more effective.Let's take a look at the top three Google, Facebook and Amazon ads in the U.S. digital media.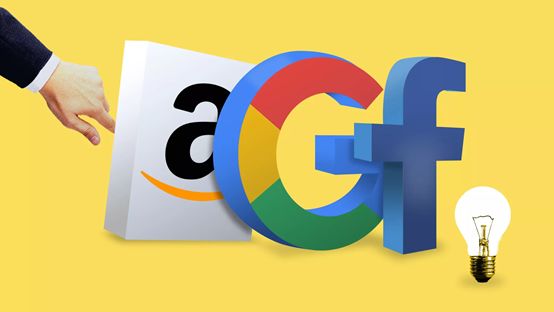 Source: Google

  Google: Take the top position and get rid of arrogence and irritability
Google remains the leader in digital media in the United States, with a market share of 38.2%.Compared to 2018, the share for 2019 is down slightly by 1%.Google's search engine still tops the list of advertising positions, and despite last year's attempt to enter China, it has not been successful.YouTube, another big business in Google's advertising business, fell 20 percent in the first five months of 2019.Compared to the same period last year, only 26 retail advertisers increased their advertising on YouTube.
There are three main reasons for the decline in advertising in the retail industry:
1)
The retail industry has been hit by direct-brand e-commerce and Amazon, and offline brick-and-mortar stores continue to be depressed, with 7,000 offline stores expected to close in the U.S. over the next 19 years.
In the still-depressed retail sector, only low-cost convenience stores and Dolor Store, as well as high-end luxury stores with an experience-oriented focus, still have room to live, while other retail stores continue to be squeezed, facing huge challenges.
Naturally, advertising budgets have been reduced.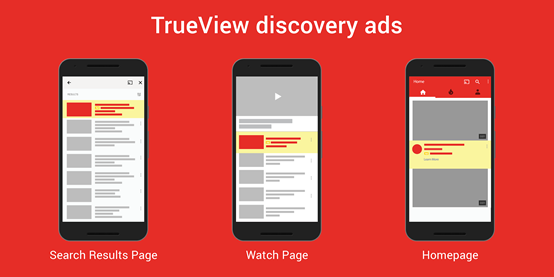 2)The security of content on YouTube remains one of advertisers' biggest concerns.If YouTube can't rule out the possibility that brand ads appear before vulgar, bad video content, many brands and advertisers will suspend ads on YouTube because of concerns about maintaining brand image and security.YouTube content censorship will be a daunting task, not damaging the user experience, but also ensuring that it meets the requirements of advertisers.
3)With the diversity and visual advantages of Instagram's advertising forms (detailed later) and the rise of Amazon ads, YouTube's advertising business is facing a fierce rise from competitors.But at the same time, we can see an increase in advertising spending for Media and Entertainment.YouTube's use of video and content to engage users is more in line with the media and entertainment industry's target audience.So it's time for YouTube to look for a more self-styled form of advertising.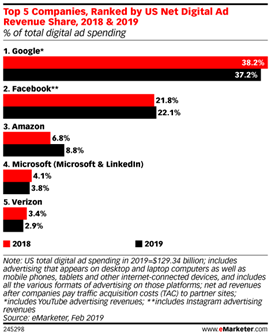 Source: eMarketer


Facebook:Go beyond yourself and seek metamorphosis
As Facebook's active users slowly fade away, Instagram, acquired by Facebook, has become a new platform that not only attracts and preserves existing Facebook users, but also grows to attract new potential users.Instagram claims to have more than 1 billion monthly active users and has made $9 billion for Facebook in 2018.eMarkter predicts that Instagram's user and ad revenue will continue to grow over the next few years and become one of Facebook's main revenue streams.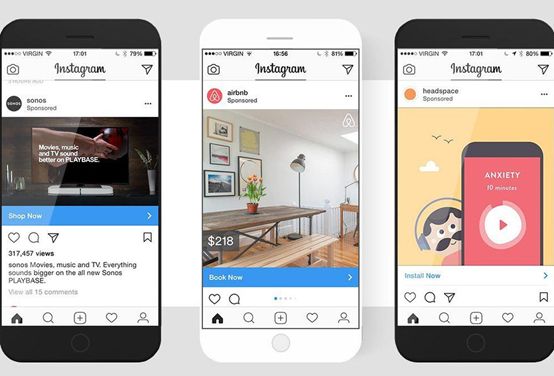 Source: Google
After Snapchat proudly turned down Facebook's Offer, Instagram has been changing Instagram's original single social content model, which is dominated by photos, over the past two years.In 2016, Instagram introduced Stories, which combines Snapchat's post-incineration and short-video models to increase the platform's interactivity, and the top-of-the-range interaction makes Stories stand out from the crowded Instagram feed and become more interactive.So far, Stories has more than 400 million active users.In the survey, 80 percent of participants said they would useStories for marketing and promotion.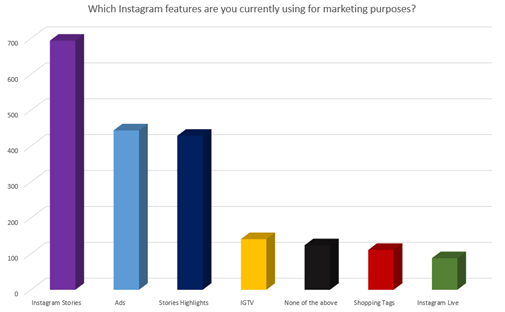 Source: SocialMediaToday

In 2019, Instagram will also launch The Shop feature, which allows users to make purchases directly within the app while browsing.This feature allows users to purchase without leaving the app, and also addresses the ultimate conversion of the lead stream that advertisers are most concerned about.Instagram, as a visual-driven social platform, has attracted brands and promoted Influencer marketing as the best interactive platform for brands, Influencers and consumers/fans.At the same time, Message's features facilitate interaction and communication between users, allowing more features to be done within the same social platform.
At the same time, Instagram also had Live, which, although used by fewer people, was highly interactive, providing real-time opportunities for future brands, Influencer and fans to interact in real time.IGTV's feature is to allow users to upload longer video content.Meanwhile, Instagram is developing a feature to e-design recommended ads in the Explorer interface to catch the user's eye during the user exploration phase.On Instagram, you can see the shadow of Snapchat, discover elements of YouTube and live platforms, and even Pinterest's positioning.While many people will say that Instagram is simply a good copy of the world, at the same time we must admit that Instagram is copying itself.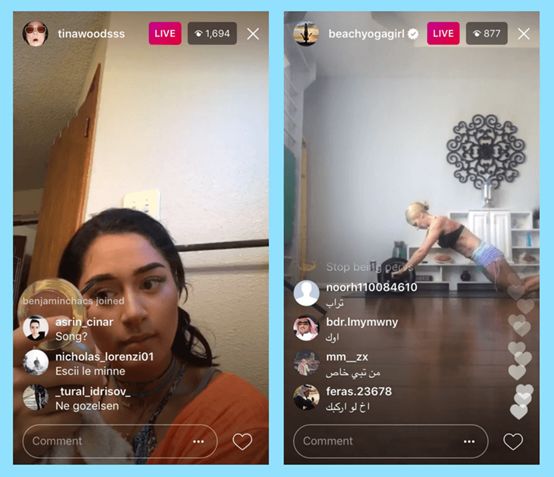 Source: Google

Amazon:Newborn calves are not afraid of tigers
In the electric business world, everyone has to look forward to Amazon.com.But in digital media advertising, Amazon is a real nover.Although Amazon's advertising business will account for only 6.8 percent of the market in 2018, Amazon's digital media advertising market share in the U.S. is growing and is expected to grow 470 percent by 2023.First, there is an objective reason for Amazon's advertising revenue growth:Starting in January 2018, the advertising business will be divided into revenue rather than expenses in the company's financial structure.This financial restructuring led directly to Amazon's first-quarter revenue growth of $560 million.Although not specifically specified, this institutional adjustment may be a sign that Amazon may be making a big business in digital media advertising.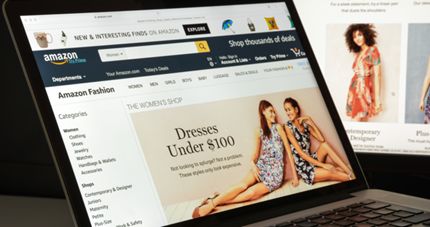 Source: Google
Since Amazon becomes the first stop for many consumers to get to know their products before they buy them, it's the equivalent of a shopping search engine.As a result, ads on Amazon tend to affect consumers who want to buy.Between 70 and 90 per cent of display ads on Amazon drive sales on non-Amazon pages.
Meanwhile, Amazon's supermarkets Whole Foods, content providers Kindle and Prime Video, as well as platforms such as Fire, Kindle and Echo, will all be called Amazon's potential advertising inventory.If you look closely at Amazon's ad format, you'll be surprised that IMDB is also Amazon's ad space, and that the merchant landing page on Amazon can also serve ads.Amazon's advertising is more directed at e-commerce than YouTube and Instagram, and even has a relatively rare B2B ad channel.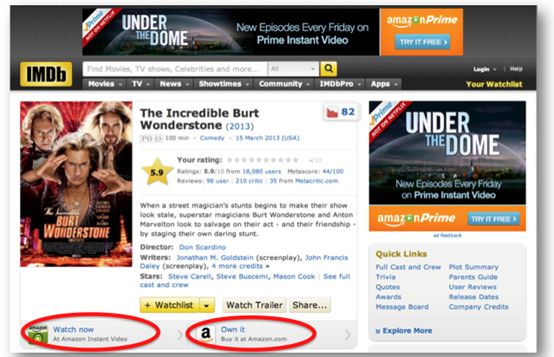 As brands and businesses increasingly focus on Digital Marketing, marketing spending is on itGoogle, Facebook and Amazon are also getting a higher share, and platforms like Linkedin and Snapchat want a piece of the pie.The competition for digital advertising supremacy is getting more and more intense!
And for students who want to enter the Digital Marketing industry, it is definitely a blessing, because the more participants in the industry, the higher the demand for core talent!Moreover, more and more Party A, set up an internal marketing team, combined with the platform's data, independent advertising.That is to say, compared to graduation to go to Party B "tea delivery" two or three years of the old era, graduation directly into Party A work is no longer a dream.
Autumn is coming, join the DigitalMarketing PaulOffer project, quickly improve their ability to become a good Digital Marketer (digital marketer)!
Job map to protect the Offer project
Learn more about the course Long press the picture to add a sister QR code!

Interested in the above courses?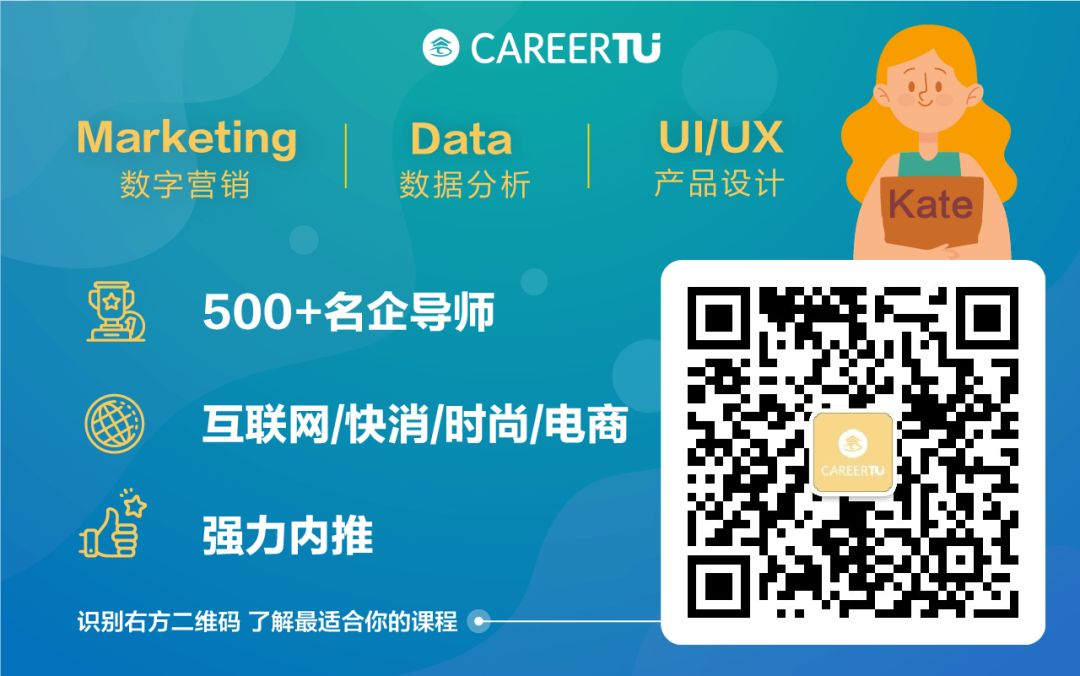 Science Curriculum s 500 Mentors One-on-One



=
Ultra-high Offer rate





Every "look" you order, I seriously take it as a favorite
---