Google switched to a down-price auction mechanism; byte-beating layout search ads; and 28 million two-day streams, OLAY Women's Day Marketing 23 issue of Morketing Weekly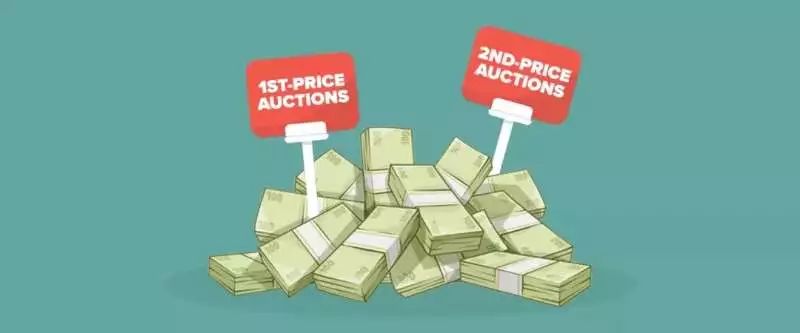 Google switched to a down-price auction mechanism
Google has announced that it will apply the First-Price Auction mechanism to Google Ad Manager, Google's media trading platform and advertising services by the end of 2019. At that point, it will also run a separate and unified bidding mechanism and remove the last-look privilege, which gives up a key advantage Google has in the second-price market.
Under Google's existing rules, higher bidders sometimes don't win because they may be in the first round, not necessarily the last. Under the second price mechanism, the buyer who bids 7 yuan competes with the buyer who bids 3 yuan and settles at 3.01 yuan, which seems good. However, the winner may lose out to a buyer who bids $4 in a bid on Google's trading platform. In addition, bidders compete with the floor price set by the trading platform or media provider. Buyers also don't know how much money goes to the media or becomes a hidden expense.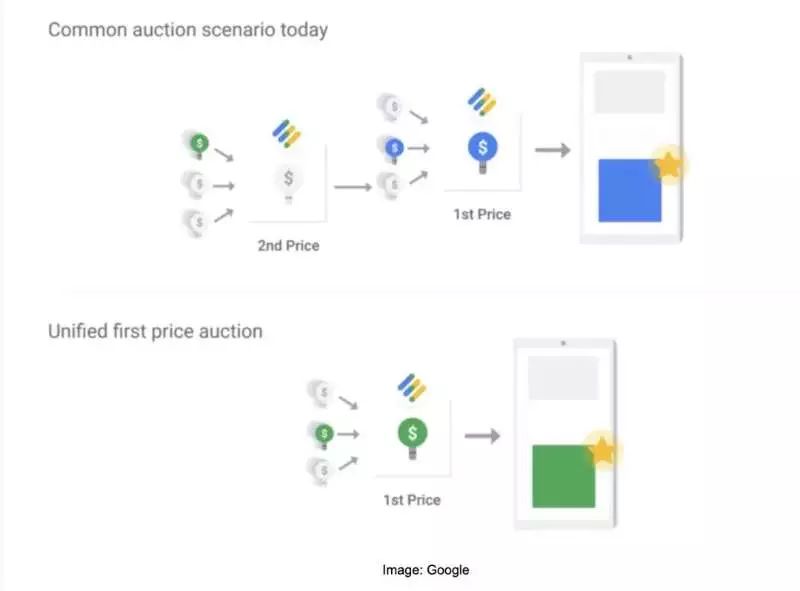 In the initial auction mechanism, the highest bidder wins. Buyers who bid 7 yuan pay 7 yuan to remove other fees, which is simple and transparent.
As part of the change, Google will unify its multiple bids. In the down-price auction mechanism, all program buyers will compete with direct advertisers in a one-time bid. Bids are not shared with other buyers before the auction, nor are prices set for other buyers.
Google's choice of a one-price bid means that "last look" will no longer exist. This is not compatible with the down-price auction mechanism.
"last look" ostensibly makes it easier for buyers to get stock, but it's also a privilege given to it by Google. After the auction, Google claimed "the right to spend a penny more" to win ad inventory, allowing its AdWords and DSP buyers to increase their winning margins and get valuable inventory at a discounted price. This privilege has long plagued media publishers, who want to prioritize themselves in the advertising stack.
Using a down-price bid also means publishers will no longer have to invest in complex floor-price strategies. Procedural bidding, some advertising inventory lack of bidding, media advertising prices can not be raised, in order to avoid selling cheap, the media usually use the bottom price strategy to maintain their own earnings.
"Since the change from the second price to the first price will require both buyers and sellers to make changes to their program strategy, we will give everyone time to prepare in the next few months before we begin testing." In the meantime, media and APP developers will need to rethink how they use the floor price, and technology partners will need to adjust how they bid on Google's AdManager ad inventory," Google said.
Google's move to a first-price bid will only affect display and video ad stocks through Google Ad Manager. It does not affect bids for youTube, AdSense search ads, or other Google products. Display and Video 360 advertisers also don't need to take any action.
Google said it would begin transforming its media advertising inventory into a unified initial auction model in the coming month, which is expected to be completed by the end of the year.
RELATED LINKS http://www.scots

Byte-beating layout search is commercialized and not satisfied with just doing content distribution
"Kick Baidu, dry Tencent, engage in microblogging", today's headline parent company byte beat action constantly, micro-headlines attack micro-blogging, flash social face Tencent, byte beat constantly stir the Internet circle.
On the afternoon of March 6th, Morketing asked byte-beating insiders that byte-beating was accelerating into the search space, and Wu Kai, the former head of 360 search products, had joined Byte-beating at the end of 2018 as head of the search business.
In response, byte beat said: Search is already online, which is an extension of today's headline "Information creates value" concept. Users can try it out through the search box above today's headlines. The product is still in the testing phase.
In fact, the byte-beating search business has been around for nearly two years, and in today's headline search box, you can already search for content off-site.
Morketing in today's headline search box to retrieve Xiaomi mobile phone as a keyword, the first is Xiaomi mobile phone 9 ads, can be directly linked to the mall to buy, followed by the display of small programs, but also from 360 off-site content, but now most of today's headlines from the media production of content."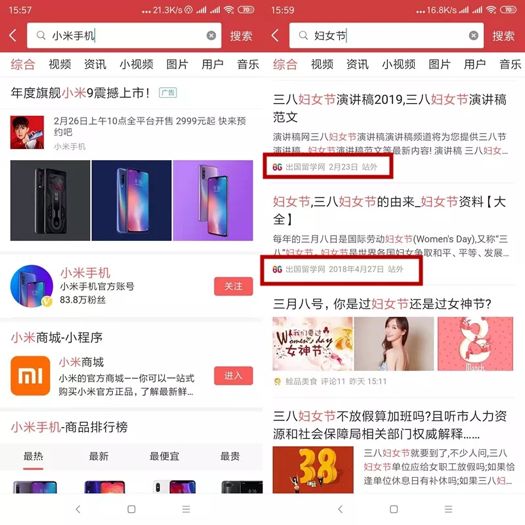 At the moment, there is no distribution logic in today's headline search results. It can be expected that with the addition of more off-site content, headline search and Baidu, 360 and other search engines converged, but the headlines with interest tag recommendations will play a big role in the foundation.
According to media reports, the search distribution logic of the headlines is not the same as other search engines, Baidu as the representative is the bidding ranking model, the higher the keyword price, the higher the search results ranking, but the headline is based on the ad and the user's interest match to set, the higher the price, the greater the probability of the ad being brushed by interested users.
However, there are also people in the industry expressed another view: it is well known that the headlines to recommend content of interest, in the form of advertising to take the information flow of the advertising model, the advantage of this model is to break the traditional bidding ranking method, to label the reach of the user in the form of advertising more natural, relatively high conversion rate.
However, with the user's familiarity with the information flow products, directly ignore the ads to produce "immune" effect, or even skip the ads directly, reduce the frequency of clicks, thereby reducing the advertiser ROI, resulting in a decrease in advertising performance, which may also lead to the drop in the cost of information flow advertising, perhaps byte beat is feeling the shortcomings of the information flow ads, is a comprehensive layout search engine.
RELATED LINKS http://www.scotsman.the following

With 28 million broadcasts in two days, what does OLAY bring to Women's Day marketing?

As Women's Day approaches, OLAY has gone online with two commercials, How Old Are You This Year, calling on women to break through the age bondage, and your numbers are not age, but achievement.
It is reported that these two advertising films, in just two days on-line, the total video broadcast volume of up to 28 million, and triggered the network's follow-up discussion.
So why does OLOY resonate with users?
Capture a new generation of women who are eager to achieve their own aspirations. Marketers know that the core of the brand is the core value of the brand. The core value of the brand is divided into three main value themes: rational value, emotional value, and symbolic value (brand personality).
The original traditional sense of female advertising is to "beauty" to start, many and women are closely related to the brand advertising will choose the female external image as the main selling point, with my products will become beautiful, change age, change fashion.
This time, the OLAY ad begins with a video of women being asked the question "How old are you this year", but the film's protagonists change the physiological age of traditional thinking and use numbers to sum up their achievements.
According to Baidu Big Data Insight, the rise of a new generation of women's self-meaning is generally divided into three levels: material pursuit of the ultimate beauty and enjoyment of quality of life;
This time OLAY, out of the habitual age eternal thinking, as a new era of women, age is not the criterion for judging everything. In transmitting their own brand core, essentially using a more advanced approach, the brand personality and value proposition, to the emotional spiritual level, rather than functional demand level.
Second, the correct label match. Label matching is about brand positioning, brand stories to be closely related to their own products, if you spread the brand story with your products, your users have nothing to do with, is tantamount to wasting resources.
At the same time, tell the "good" story. Most of OLAY's advertising content comes from consumer stories. For example, "Dreams, Fearless Age", which went live at the end of the 18th year, brings together the stories of girls chasing dreams in 11 cities.
And most of these true stories come from the message area of each article on OLOY WeChat Public. OLAY's emotional resonance with users has made the message area under its WeChat public number a unique platform for many users to tell their stories.
So often users will spontaneously write a long paragraph of their own true story in the message area under the OLOY WeChat public article. OLAY these true stories one by one "collection", after carefully crafted, as the dissemination of material, with story ads presented to everyone.
This kind of content creation based on the user's real, is one of the key to impress the user, because the real UGC story content, often easier to bring the audience into the scene, let the audience feel, "I am the master of advertising."
RELATED LINKS http://www.scotsman.the following

PubMatic: Global Digital Advertising Trends Report 2019

Recently, PubMatic released its Global Digital Advertising Trends Report 2019, which predicts that growth in the global advertising budget will be spent almost exclusively on digital channels, with most of it going to be programmed, which will account for two-thirds of global digital display advertising spending in 2019.
In the North American market, outdoor advertising will be the only traditional media type that is expected to grow in 19 years.
Among them, U.S. digital advertising spending is growing strongly, accounting for more than half of U.S. media spending for the first time in 2019 and is expected to reach nearly two-thirds by 2022. Mobile devices will grow more than PCs, accounting for two-thirds of U.S. programd transactions in 2019.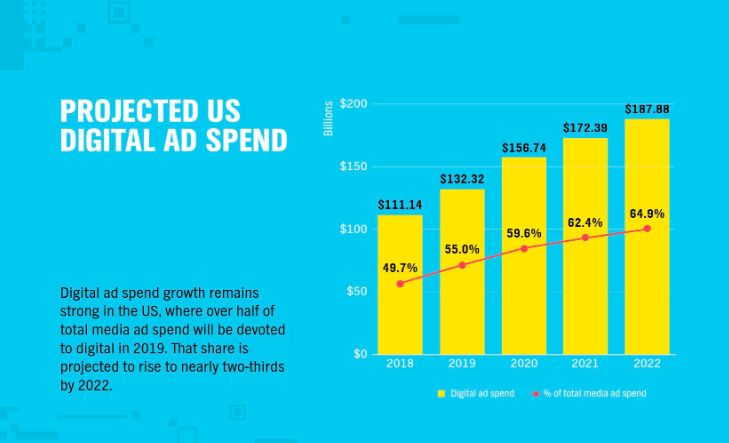 It's worth noting that efficiency, measurement and attribution will be the best direction for U.S. advertisers to consider in 2019.
China, which is also growing at the same strong rate as the U.S., is the only country expected to see double-digit growth in digital advertising spending of more than $10 billion in 2019.
Indonesia is the world's fastest growing digital advertising market, followed by India. They all have a large number of growing digital and mobile users.
On the other hand, the global mobile advertising market will exceed $200 billion, accounting for 71% of digital advertising spending. Growth will remain in the double-digit range by 2020, with mobile advertising accounting for more than three-quarters of global digital advertising spending.
The U.S. is expected to see big growth in mobile advertising spending, while China is expected to be the largest of the top five mobile advertising markets.
Indonesia and Russia are expected to be the fastest growing countries for mobile advertising in 2019. Russia, Germany, Mexico and Canada are expected to spend more than $1 billion on mobile advertising for the first time in 2019.

A little information second change handsome, after the completion of financing, Ren Xuyang resigned, Yang Yuxiang took over

On March 4, Ren Xuyang, founder and CEO of Little Information, sent an internal email saying, "I have completed my phased mission and the new CEO has been confirmed to be succeeded by Yang Yuxiang, chairman and CEO of Ping An Securities." "
This is the third internal e-mail released since Ren Xuyang announced in early 2019 that he is also the CEO of a little information, and behind this seemingly ordinary internal e-mail, the overall context of a major strategic adjustment of information has largely surfaced.
As a news aggregation platform similar to today's headlines, the main driving force behind a bit of information is Phoenix New Media. In 2019, a little bit of information has completed a series of big moves. Whether it's phoenix new media transfer part of the equity, a little information to complete a new $500 million financing, or the company's CEO change, these moves are partly for the ultimate goal, that is, to seek a listing.
Before the Spring Festival in 2019, a CEO battle broke out. At that time (January 21), the company sent an internal letter saying that CEO Li Ya had been removed from his post and that Ren Xuyang, Baidu's elder entrepreneur and founder of Little Information, would take over as CEO. But then Li Ya said: "The appointment and removal of mail is not compliant, does not have legal significance." "
January 28, Ren Xuyang revealed that in the interim CEO of 1-2 months, in addition to fully promoting the completion of financing, it will also help a little information combing the overall strategic direction of the future, and organizational restructuring. He will then return to the board of directors to participate in the selection and support of future CEOs as a founder.
A month later, Ren Xuyang again sent an internal e-mail on February 25 announcing that a little information had initially completed a major capital operation involving nearly $500 million. After the capital operation, Phoenix Network gave up most of its shares, fully supporting a little information optimization of the equity structure, the dismantling of the VIE structure, for a little information back to the domestic A-shares or the listing of the Company's board to create conditions. Ren Xuyang stressed, "With this round of capital operation, a new round of large-scale financing is also in the process of intensive promotion, the new investment institutions have strong financial strength, rich experience in the operation of domestic capital markets and Internet industry investment experience." "
"A new round of large-scale financing is also under way," the email said. Ren Xuyang said in the e-mail, with the restructuring of equity and the entry of new funds, its shareholder-commissioned phased mission has been basically completed, has formally resigned from the board of directors ceo, by the former Ping An Securities Chairman and CEO Yang Yuxiang to take over.
From the three internal e-mails can be seen, in a short period of more than a month, a little information has basically completed a major strategic deployment, including equity structure optimization, major capital operation, organizational structure adjustment, and Yang Yuxiang's immediate appointment, or will mean a little information officially become "IPO reserve" company.
A selection of cases for the week
Nike: How wonderful can unsettling girls be?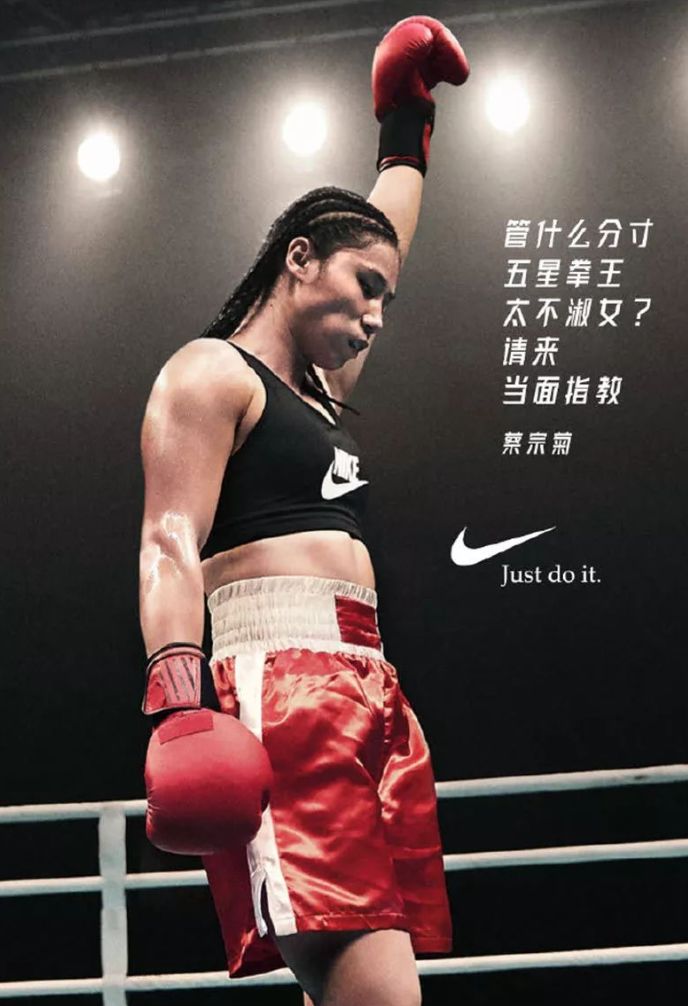 Since February 21, Nike has released female-themed posters and videos telling the stories of five "regardless" girls, and launched the Just Do It Girls Sports Festival.
Vivo's new sub-brand iQOO promotional film is actually an anime series
It is reported that vivo's new sub-brand iQOO mobile phone launch will be held in Shenzhen on March 1 at 7 p.m. With three hours to go until the launch, vivo's official account posted a trailer to spark a heat wave.

Wouldn't the boy who loves to eat be too bad luck? Is it poisonous to be hungry...
How did the workplace white-collar workers who order takeaways in the office every day get to the top of their lives?
The Forbidden City is selling clothes again!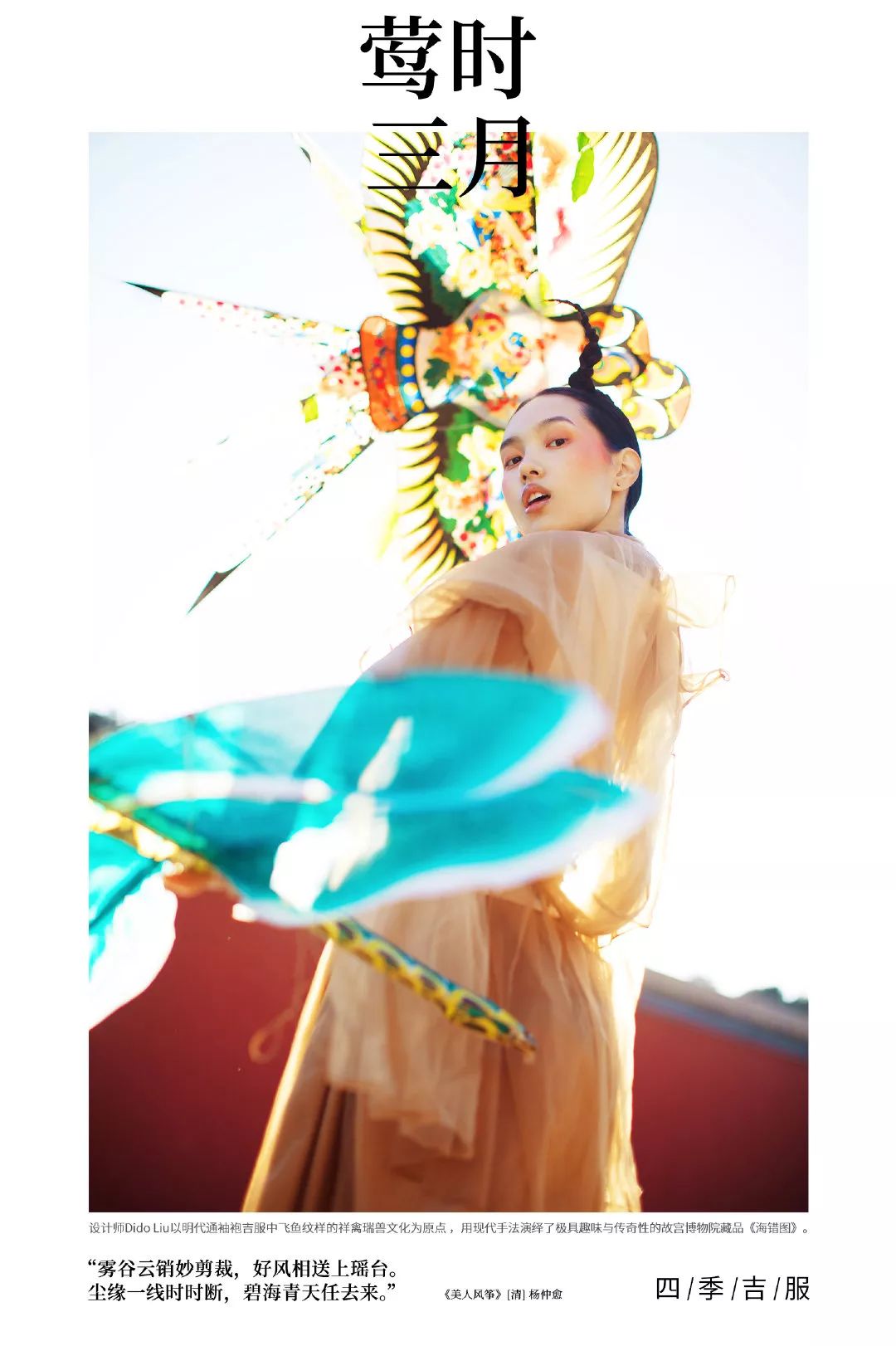 After the Palace pyjamas, makeup, coffee, hot pot, another derivative around the "Palace IP" was born. By five Chinese designer brands and the Palace Palace palace culture cooperation launched by the "Gi-suit return" series officially launched.
Alibaba's "amazing her" women's posters, one by one with a blast shed "women's power"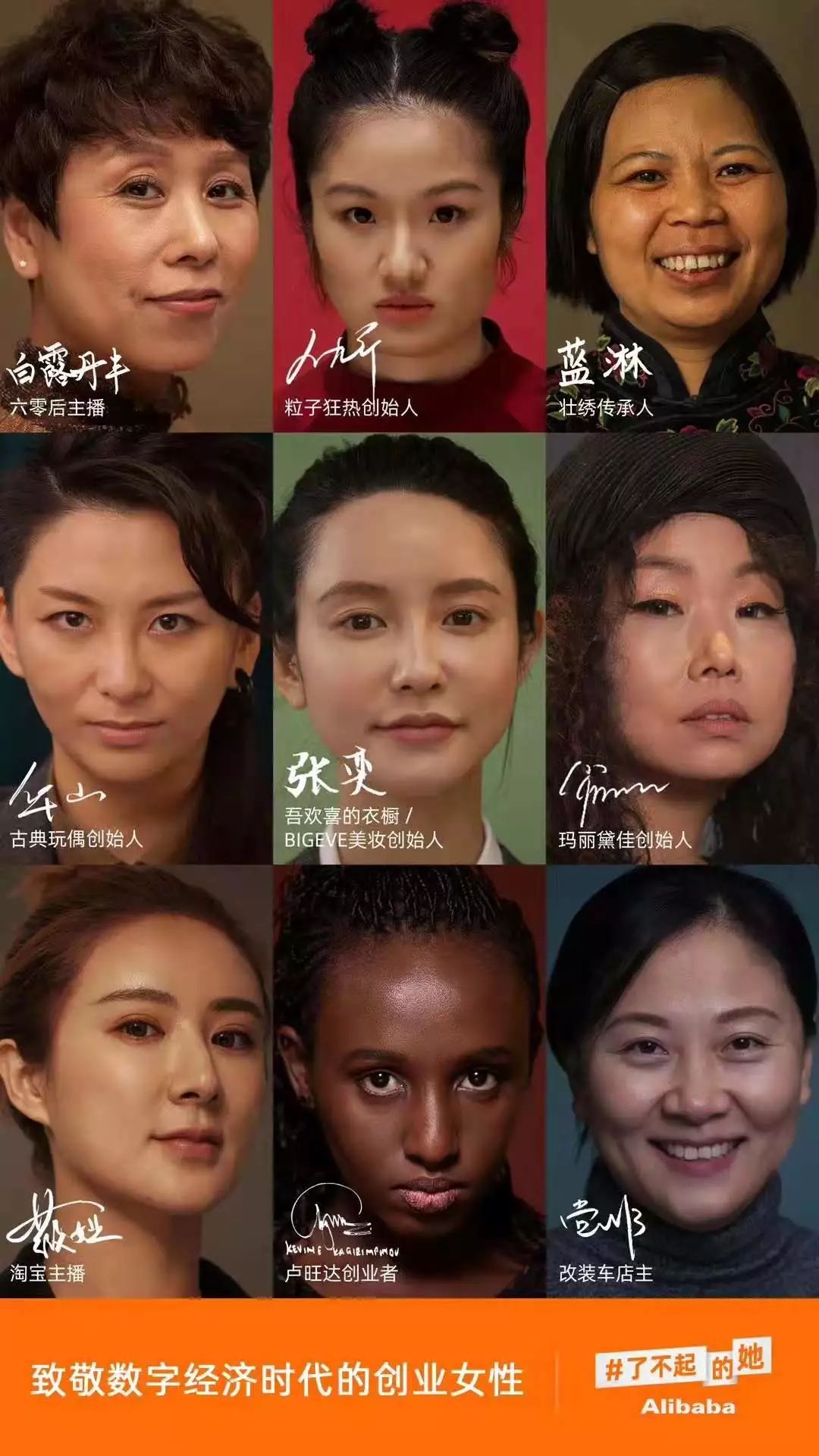 #为啥要过妇女节Ma teacher once said: "Men feel that 'we created a world', the world is not necessarily beautiful, and women's minds are about how to make life, make the world a better place."
A week to smell the courier
Instagram has launched a new form of advertising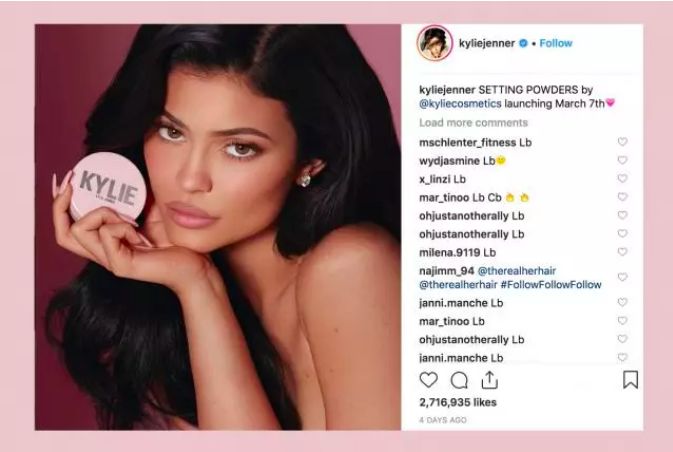 Instagram is developing a new form of advertising that allows brand owners to directly become sponsors of content pushed by KOL or Agency. This way of delivering pushed content directly as ad content is also one of the solutions for creating more collaboration models for advertisers and creators.
Facebook-owned platform Instagram pushed this new form of advertising at Tuesday's breakfast for KOL, which has a large fan base on the platform.
Byte beats 2018 or loses $1.2 billion, or pushes Lark overseas
According to The Information, people familiar with the matter said the company lost nearly $1.2 billion in 2018 after the launch of TikTok overseas. Despite the heavy losses, Bytebe is in the process of an ambitious expansion plan that is laying the groundwork for the launch of a collaborative and efficient APP in overseas markets, including the US, which poses a potential challenge for companies such as Slack, Microsoft and Google.
The media asked for proof of the news, the other side said no comment.
Related article connections
2019: 7 Trends in Digital Marketing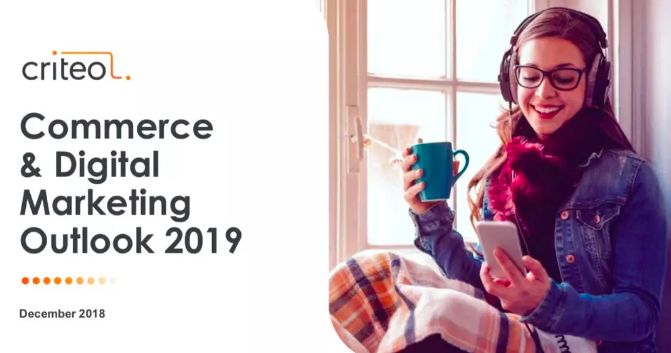 In 2018, the digital marketing and business sectors will continue to grow at a strong rate in the context of data regulations and diversification of consumer shopping channels.
Based on the experience of more than 19,000 advertisers and thousands of publishers, Criteo predicts a huge change in the market in 2019:
1, GDPR to promote data protection regulations to the world;

2. Walled Gardens will be subject to rigorous scrutiny ("Walledgarden of Walledgarden" is an environment that controls user access to apps, web pages and services). Walled Gardens restricts users to a specific range, allows users to access or enjoy specified content, apps, or services only, and prohibits or restricts users from accessing or enjoying other things that are not allowed. );

3, PMP market, driven by video advertising spending increased sharply;

4. Brands and retailers make joint use of 3D data;

5, the field of digital marketing AI technology popularization;

6, digital advertising will be from the agency to in-house;

7, the digital marketing field of voice and vision technology usage increased.
RELATED LINKS http://www.scots
Facebook officials proclaim that they want to transform into communications? Maybe it can be with WeChat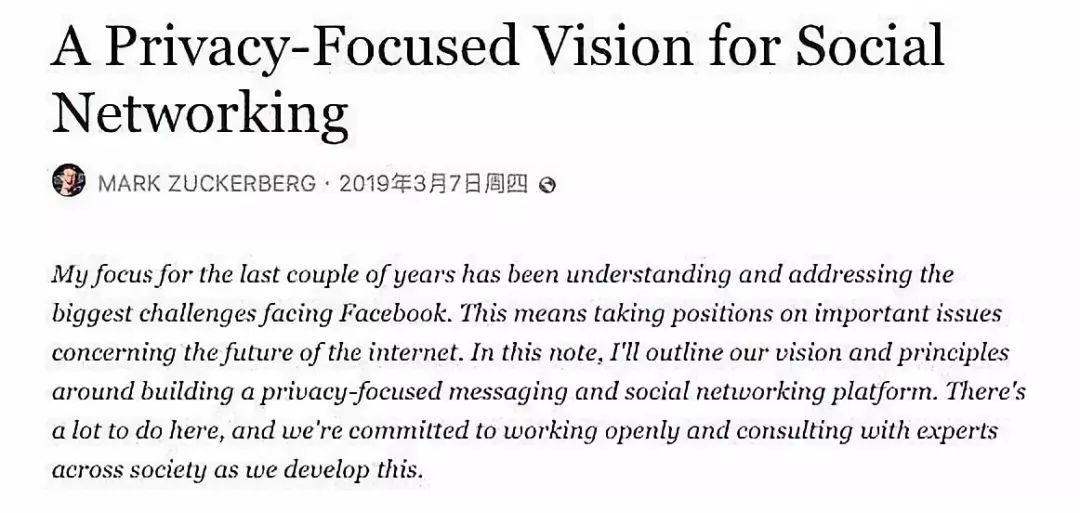 Under pressure to protect personal information, Facebook founder and CEO Mark Zuckerberg has announced a major strategic transformation and published a 3,000-word message that reads "OfficialLy" about his future direction. Facebook's Facebook will shift from an open platform to a "privacy-conscious communications platform," the article said.
GroupM: Global Advertising Forecast Report 2019
This week, groups released their latest advertising investment forecasts for 2018 and 2019. The report slightly lowered its forecast for advertising investment growth in 2018 to 4.3 percent from a previous forecast of 4.5 percent. Growth forecasts for 2019 have been revised down to 3.6 per cent from the mid-year forecast of 3.9 per cent, with total new advertising investment expected to reach $19 billion (previously forecast at $23 billion).
Google submits 73-page report denying monopoly on Australia's search and advertising market
Google today provided Australian regulators with a 73-page report denying a monopoly in areas such as online search, digital advertising and news indexing, the Financial Times reported. The Australian Competition and Consumer Commission (ACCC) reported in December that Google was in a "near monopoly" in Australia's internet search market. In Australia, $47 of every $100 400 40 40 in digital advertising spending is taken by Google.
Yangshi merges elite media and breaks through the global network media business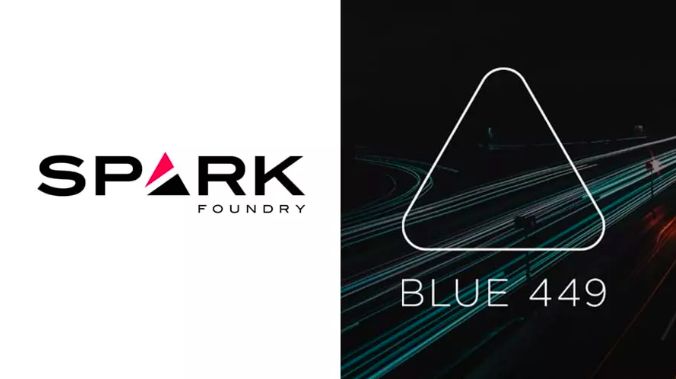 Yang Lion Group Media announced the merger of Blue 449 and Spark Foundry to create a company that serves customers around the world.
The two companies' current customers include Mondelez, Campbell's, Marriott, Southwest Airlines and others.
The merger of Blue 449 and Spark Foundry is an important step in restructuring and consolidating the holding company, but the existing operations of the two companies will not be eliminated. Blue 449 retains its original brand in the three main markets of the United States, the United Kingdom and France. CEO David Elhers and Simon Davis and Pascal Crifo will manage the affairs of each of the three regions and work with Spark Foundry.
RELATED LINKS http://www.scots
TikTok's total ad delivery has fallen sharply
Tik Tok has fallen significantly in the nearly half-year and three-month list of ads placed on Facebook channels by mobile app advertisers from SocialPeta, a data analytics platform owned by SmartLine, and has fallen outside top 10 in the last two months. It is also not difficult to see from Tik Tok's channel launch trends over the past six months, particularly as it enters Q4 2018.
What are the four major trends in content in the 2019 social hive era?
Whether it's Twitter, Facebook or China's Weibo and WeChat, they've all created social media dividends by sparking a new era of social sharing. Today, however, they have to face the dilemma of not turning around easily from their size, and the severe test of the decline in the frequency with which bees share information.
Four trends:
 

First, the large social hive bonus cap, small social hive needs to form a content flow closed loop in order to long-term survival

Second, the content marketing model tends to mature and process

Third, "content is advertising" era has come, will continue to burst into strength

Fourth, the content payment initial, IP led the trend to open up the market, content payment midfield began, high-quality content will break the IP limitations
WPP's share price has rebounded in 2018 in an attempt to address customer churn by using technology to wake up creativity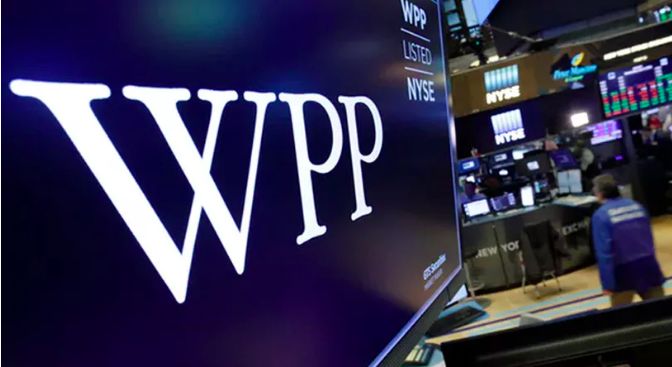 WPP finally began to recover in 2018 after two years of falling share prices.
U.S. time on Friday, WPP reported a 1.3 percent drop in revenue to $2 billion in 2018 and a 0.4 percent increase in revenue to $7.4 billion. Shares rose 8 percent after the news. Although WPP's share price began to rise, the company lost many key customers in 2018, such as Ford Motor Co., PepsiCo and American Express. CEO Mark Read told investors on a conference call that with so many big customers lost in 2018, we need time to recover in 2019.
Among them, WPP's North American business lost customers and Q4 revenue, minus pass-through costs, fell 5.7 per cent year-on-year and 4.2 per cent for the full year. In addition to facing shrinking budgets, WPP also faces challenges in creative agencies and healthcare businesses.
Google will test ads in image searches, but will not override search results
Google is testing shopping ads in image searches, a feature that applies only to sponsored ads, according to U.S. technology media Engadget. Currently, the test is only visible to users who search for a "small number" of broader topics, such as home offices and abstract art. Google will decide whether to promote the feature based on preliminary test results.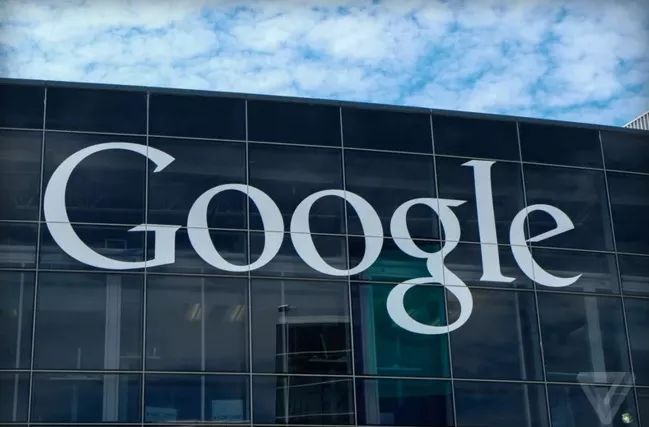 Procter and Gamble announced its withdrawal from Euronext Paris
According to Reuters, Procter and Gamble (PG. N) announced its withdrawal from Euronext Paris because of cost and management needs and low volume. The de-listing process will allow shareholders who hold shares in Euronext-listed Procter and Gamble to sell their holdings on the NYSE.
WeChat original "shopping list" named "good circle" online: can directly recommend collectibles
Originally embedded in the small program search bar under the "shopping list" today changed its name to "good circle", as a collection of order management, favorites, products recommended in one of the information management platform. The current note for "The Good Thing Circle" reads: "Here you can recommend good things to your friends that you think are worth having." "In this feature, some friends recommended items are specifically marked "recommended" or "recommended after purchase", indicating that users do not need to purchase to recommend, can directly recommend the collection of goods.
---