How are the global media giants doing under the impact of the outbreak?
Media owners with diverse sources of income are in the best position at a time of crisis caused by the new crown outbreak.
The second-quarter financial report shows the extent of the slump in the advertising market, with many media owners reporting double-digit declines in revenue.At the same time, subscriptions have grown as consumers seek to continue the trend for original news and streaming content. The current macroeconomic environment is difficult to predict.But the good news is,Revenue for most media owners has shown signs of rebounding since July.

Digiday tracks different categories of media companies, including news publishers, television media and large media companies.Analysis of the companies' latest quarterly earnings reports, conference calls and public statements to assess how they are weathering the current crisis.
 News Corporation of the Press and Publications:
Advertising revenue fell
The second quarter has been another challenging period for News Corp. Recent.,News Corp. released data that showed the new crown outbreak cost it about $330 million and revenue fell 13 percent. Another $63m (7 per cent) came from the divestiture of News America's marketing business.The company reported a net loss of $401 million for the quarter, compared with a loss of $42 million a year earlier.
For the first time, News Corp. reported a separate Dow Jones result: revenue fell 4 percent in segments including the Wall Street Journal and Barron's. Circulation and subscription revenue grew 6 percent, with the Wall Street Journal's subscription revenue up 15 percent to nearly 3 million, while advertising revenue fell 28 percent. In addition, revenue from news media businesses , including the New York Post and the London Times , fell 41% .
In May, News Corp. said it was converting more than 100 local and regional newspapers into digital-only newspapers, or shutting them down al.In late July, James Murdoch resigned from News Corp's board because of "disagreements with some editorial content published by the company's news organizations and other strategic decisions". "
The New York Times:
Digital revenue exceeds print revenue
At the end of July,The New York Times announced that Meredith Kopit Levien, chief operating officer, will succeed Mark Thompson as chief executive.These two executives helped The New York Times complete its digital transformation.In the second quarter of this year, revenue from the company's online channels exceeded distribution revenue for the first time. Subscription revenue rose 8.4 percent, with digital subscribers up 669,000, the highest quarterly increase on record.
The New York Times, which currently has 6.5 million paying subscribers, expects subscription revenue to grow by about 10% in the next quarter. But total revenue fell 7.5 percent in the quarter, while advertising revenue fell 44 percent. The company expects advertising revenue to fall another 35 to 40 percent in the third quarter. ButThe New York Times has been busy expanding its "other" business segments, including live events, Facebook News and its authorized revenue for television and film production.
TV Media Discovery Channel :
The worst is over
Like many other television media,Discovery Channel's second-quarter results were also affected by the sharp decline in the advertising market.Its advertising revenue fell 21% year-on-year in the April-June period, and the 2% increase in distribution revenue was almost negligible in the face of the decline. Overall, Discovery Channel's revenue fell by about 12%. But.Zaslav, the chief executive, is optimistic about the rest of the year, he saidWhile the recovery in the advertising market remains limited, "the worst is over".
The Weekend Entertainment section of the Discovery Channel is very popular
"In the U.S. market, April was a trough and there were good signs of recovery in May and June," he added. Some regions, such as Latin America, have yet to bottom out, while markets such as Poland and Germany are recovering significantly faster than expected, he said.
Low-cost, international and long-lasting content production models help Discovery Channel still produce content at shorter production cycles and lower costs at the height of the new crown outbreakto take the lead in the competition."Since Covid-19, we've brought more than 1,000 hours of fresh and original content," Zaslav reveals. "Furthermore, in the U.S., Discovery Channel's programming is priced 25% higher than in the first quarter of last year.
Fox on TV Media :
Expect a rebound from the sports business
Since the outbreak,Fox's revenue fell 4 percent and its advertising revenue fell 22 percent.However, value-added costs for cable networks and broadcasting services have increased.The company is optimistic about the return of live sports. The opening ceremony of the baseball game, which aired on Fox on July 23, is already 20 percent above last year's MLB prime-time average.
Lachlan Murdoch, Fox's executive chairman and chief executive, also praised Fox News on its earnings conference call: Since June 2020, Fox News has been the prime-time leader in all television programs, not just news programs.Fox News' ad revenue rose in the second quarter, but the company did not specify how much."Audiences are getting younger, too, which actually brings in new advertisers who haven't advertised on the channel before. The other good news is thatIn the news and sports sectors, budgets are continuing to grow steadily. "
Viacom Group of Television Media:
Streaming is the highlight
By contrast, the weak advertising market has hit Viacom hard.The company reported a 27 percent drop in advertising revenue and a 12 percent drop in total revenue in the second quarter, and Paramount Studios, which is also affected by the theater's closure.
Bob Bakish, Viacom's chief executive, said the second quarter should be the bottom of the advertising business, in line with Discovery Channel's judgment. "We expect continued improvement in the third and fourth quarters," he said. "Streaming was Viacom's highlight of the quarter, adding nearly 3 million new users to more than 16 million and revenue of $489 million, up 25% year-over-year.Viacom CBS plans to rebrand and introduce more content in the coming months, the Wall Street Journal reported.
Alphabet, the internet giant:
Revenue fell in the first quarter
Alphabet, Google's parent company, reported its first-year year-on-year decline in quarterly revenue.The reason is that advertisers, especially travel advertisers, who typically spend heavily on search, control spending。Alphabet's ad revenue fell 8 percent to $29.9 billion in the second quarter.
Alphabet executives have taken a cautious tone in light of the current macroeconomic uncertainty. Chief Financial Officer Ruth Porat said: "Throughout the second quarter, advertising revenue for Search, YouTube and the web improved. She said,Revenues in these three areas also showed "moderate" month-on-month growth in July.In addition to advertising, Alphabet said its "other revenue" section, which includes Google Play and YouTube, grew 26% year-on-yearreached $5.1 billion. In addition, revenue from its cloud business grew 43% in the quarter.
Amazon, the internet giant:
A money printing machine that never stops
Unsurprisingly, the new crown epidemic is a boon for Amazon's sales, as consumers can avoid brick-and-mortar stores and order items directly from home.Amazon's net sales surged 40 percent to $88.9 billion in the second quarter, and the company made a record quarterly profit.
Still, Amazon paid $4 billion in costs related to the new crown outbreak, such as personal protective equipment and bonuses for front-line employees and couriers. The company expects sales to grow 24 to 33 percent in the next quarter from a year earlier. Amazon's "other" portion, which includes ad revenue, rose 41 percent to $4.2 billion.
Amazon also plans to hold prime-day shopping in the fourth quarter of this year, rather than the third, to avoid affecting its services to customers who have relied on Amazon's services during the long new crown outbreak.
Web giant Facebook:
Resist? Boycott what?
In June of this year, several civil rights groups called on large advertisers to withdraw funds from Facebook after it was found to have been weak in controlling hate speech and false information on its platform. However, this divestment does not appear to have affected its revenue for the quarter to 30 June. The companyAdvertising revenue rose 10 percent to $18.3 billion in the second quarter, and nearly 2.5 billion people used its apps in June, up 15 percent from the previous year.
Revenue in the first three weeks of July was up about 10 percent from a year earlier, according to Facebook, and is expected to be about the same as in previous weeks. ButThere are two major disadvantages that may arise in the futureSuch as changes to Apple's iOS 14 privacy policy, released in mid-September, and the california Consumer Privacy Act.Both of these situations may affect the effectiveness of Facebook's ad targeting and metrics.
"Our view is that Facebook and targeted advertising are the lifelines of small businesses, especially during the Covid-19 outbreak," said Dave Wehner, chief financial officer.At a time when small business growth and recovery are critical, we fear that aggressive platform policies will cut off this lifeline. "
Snap, the internet giant:
Revenues continue to soar
Snap, one of the few platforms not to be significantly hit, posted a 17 percent increase in revenue to $454 million in the second quarter, exceeding analysts' expectations。 The platform's user base also grew by 17%, reaching an average of 238 million daily active users. Jeremi Gordon, Snap's chief commercial officer, said it was "difficult to determine how the boycott of Facebook would affect Snap's revenue."
Snap held its annual "Partner Summit" in the second quarter, which showcased a number of new products, including getting third-party developers to develop mini-apps inside the Snapchat platform. "Uncertainties such as school returns, theater re-openings and the return of sporting events make it difficult to predict advertiser demand in the third quarter," howeverSnap expects revenue growth of about 20% in the third quarter.
Internet giant Twitter:
User growth has been massive but revenue has fallen sharply
While Twitter managed to grow its user base (measured as "average daily active users") by 34% to 186 million in the second quarter, its total revenue fell 19% year-on-year due to the decline in the advertising market.Twitter completed a rebuild of its ad server in the second quarterThe move will benefit the growth of its advertising business, which the company plans to accelerate in the future, with growth expected to be significant in direct response to advertising.
In terms of new product development,Twitter said it was exploring other revenue streams to compensate for the decline in its advertising business, which could include content subscriptions.
Comcast of large media groups :
Tough quarter, but still a little starlight
Comcast's broadband customers continue to rise under the new crown, with a record number of people staying at home to watch TV and surf the Internet. In the second quarter, the rest of the media group's business remained depressed, many theme parks remained closed, the number of cable TV users who did not renew continued to increase, advertising revenue declined, and many movie release dates remained pending.OverallRevenue fell 11.7% in the quarter.To be sure,Peacock, the advertising-backed streaming service it launched to Comcast customers in April, has attracted customers, the company said 10 millionUser.


The company then launched the service nationwide in July. Despite the pull of this new business,In the second quarter, the company's advertising revenue remained at local cable, national cable, radio and television, and sky television networksDown 30.4%。
Disney of large media groups :
Direct consumer-facing business is better
Disney reported its first quarterly loss in nearly 20 years in the second quarter as the new crown outbreak continued to affect the opening of its theme parks and cruise lines, as well as the revival of its television and film businesses.Revenue for the April-June period was down 42% from a year earlier, with a loss of more than $4.7 billion, compared with a profit of $1.4 billion a year earlier.With much of the world still under lockdown, its direct-to-consumer business is doing better. Disney had more than 60.5 million users as of August 3.
As of the end of June, Hulu had 35.5 million subscribers (up from 25.7 million in the same period last year) and ESPN Plus had 8.5 million subscribers (up from 2.4 million last year).With many theaters still open, Disney plans to launch a delayed live version of "Flower Magnolia" on Disney Plus in September, offering downloads to subscribers in the U.S. and other markets for $30 (still available in open-market cinemas).Disney also plans to launch a new global direct-to-consumer service under its star brand next year.
Warner Media: The Max Effect
In May, Warner Media launched subscription-based streaming service HBO Max, priced at $14.99 a month for new subscribers, as part of existing HBO Now and pay-TV subscriptions. The company said about 4.1 million users had activated their Max accounts by the end of June.
But the new crown outbreak continues to hit its production business, film distribution, sports and advertising revenues.Revenue losses for the quarter were estimated at $1.5 billion.Overall,Warner Media's revenue for the quarter was down 22.9% from a year earlier. In August, Warner Media began laying off hundreds of people.
Multiple reports indicate that about 600 employees will be affected, including executives such as HBO Max's chief content officer and president of TNT, TBS and truTV, Kevin Reilly, Chairman of Warner Media Entertainment and Direct Consumer Business Bob Greenblatt, and Jeffrey Schlesinger, President of Warner Bros. Global Television Distribution.
(Note: This article image comes from the network, if there is infringement please contact delete)
More details,Please go through it
International Brand Watch 9Monthly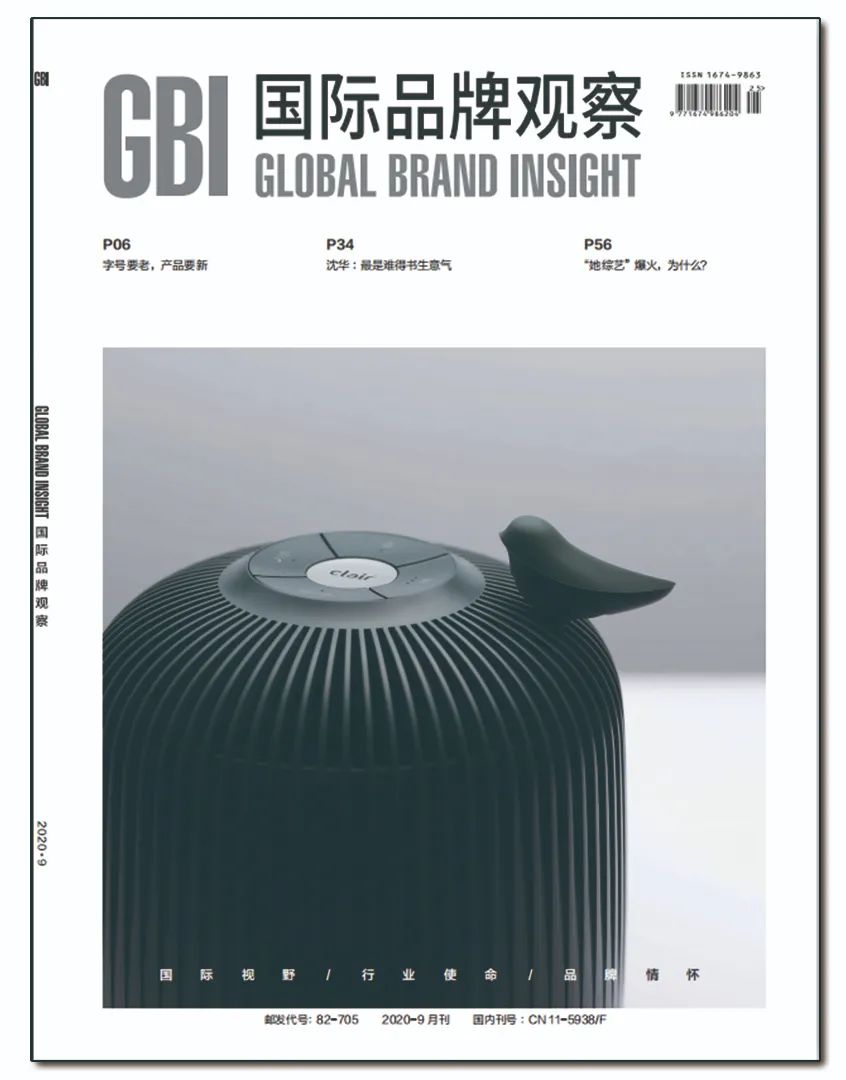 Welcome to enjoy the chapter to the circle of friends
Text . .  Lara O'Reilly
Translation Yue Yu
Brand drives everything, brand good life
A wonderful review of the past

National post offices are available for subscription, postal code: 82-705
Subscribe at 010-65683492
---