Perfect Diary, MAIA ACTIVE have pushed for new products; WeChat Video has launched live streaming; Google is turning YouTube into a shopping platform... Knife brand hot news
The Women's Knife Research Institute is an enabling platform dedicated to focusing on new consumption and marketing, and we gain insight into new consumer brands, summarize marketing methodo practices, and achieve good Chinese brands.
"Knife law brand hot news" will select new consumption and new marketing dynamics at home and abroad, grasp the latest industry trends and marketing play, this issue we focus on we will bring new domestic consumer brand dynamics, overseas market trends dynamics, brand and platform dynamics, the latest marketing playing observation.
\Domestic new consumer brand dynamics\

1、Perfect Diary Push New: "Little Heel" lipstick inspired by high heels
On Oct. 10, Perfect Diary released a new "Little Heel" lipstick on its official micro. Its design is inspired by the girls' high heels, the promotion emphasizes "just soft collision." On October 9th Perfect Diary also launched a new mascara product, "EYEMAX" slim mascara, which emphasizes collaboration with Japanese laboratories and features a long, slender effect. The two new products will go on sale at Tmall's flagship store on October 21.
2、MAIA ACTIVE x SHORT SENTENCE introduces a new line of "Sports and Fashion All Eugenics"
On October 9th MAIA announced on its website that it was launching a new collection of "Sports and Fashion All Eugenics" in association with SHORT SENTENCE. The new collection continues the theme of "fashioning sportswear", designed by the designer of the independent designer brand SHORT SENTENCE, in the hope of conveying the idea of seamlessly integrating sportswear with everyday wear. New products will be available online and offline and online stores.
3、The offer price range is $16.50-$18.50 per share
The company recently updated its prospectus to offer 30.4 million ADS shares, with a price range of $16.50-$18.50 per share and a maximum of $562.4 million. In addition, the company granted the underwriters the right to over-alload 4.56 million ADS shares, underwriting Goldman Sachs and Bank of America Securities.
4、Pidan was awarded the GOOD DESIGN AWARD Design Award in Japan, and the Pet's Nest Dry Mountain and Water Award
In October, the winners of the International Design Awards Japan GOOD DESIGN AWARD 2020 Design Awards were announced, and pidan's pet shelter was selected from 4,772 entries from 28 countries. Pidan was recognized by the GDA jury for the second year in a row after winning the 2019 Entourage Cup.
The award-winning metal kennel is an exclusive cooling nest designed for cats, designed with easy-to-heat aluminum alloy for the round shape of the cat's crouching and the bottom of the dry mountain water bump that accelerates air circulation, while this cat's nest can be used all seasons.
5, perfect diary X China Aerospace launched the jade rabbit disk, in station B to carry out promotion
Recently, the perfect diary jointly named China Aerospace launched the animal series eye shadow disk - jade rabbit disk. At the same time, a series of promotional activities were carried out on Station B, including a series of related videos, including KOL combined with aerospace science and technology, linked food area, fashion area, etc. as an extension of the event. And carried out the "new life - create your cosmic color" manuscript collection and sweepstakes.
\Trends in overseas markets are dynamic\

1、U.S. mineral water brand Oxigen Water received $15 million in round B financing
U.S. mineral water brand Oxigen Water raised $15 million in round B financing from investors including Bryan Ezralow, chief executive of The Ezralow Company, Jonathan Glaser, head of JMG Capital, record artist Brett Eldredge and professional basketball player Kevin Love, according to foreign media source FoodBev. Oxigen Water said it would use the financing to increase brand awareness through increased marketing and would expand further to reach the country. According to reports, Oxigen Water produces and sells a range of oxygen-containing, electrolyte-containing, pH-balanced high-quality aquatic products. Oxigen said in the filing that the brand "has grown by 300-400% year-on-year over the past few years".
2、Kagome introduces plant-based dietary fiber lactic acid bacteria beverages
Kagome has launched a plant-based dietary fiber lactic acid drink, according to the Japan Food News Agency. According to reports, this product is low in sugar, low in calories (13kcal per 80 ml bottle), does not contain milk fat, while having a refreshing taste of yogurt. The retail price is 3.165 yen (excluding tax) per bottle.
3、Danni's new range of casual wear products comes from recycled plastic bottles
On October 9th Danni, the Danish fashion brand, made her first foray into casual clothing, launching the "Ganni Softwear" collection, which includes 11 items, including sweaters, hoodies and other comfort essentials. All products are made entirely of recycled materials, so they are very friendly to environmentally friendly consumers. The blended yarn of the materials used in clothing comes from 50% of the recycled polyester fiber (from PET plastic bottles) and 50% of the recycled cotton, so the comfort level is better. Prices range from $85 to $165, with classic neutral tones in black, grey and beige. The new series will be available on the website on October 14.
4、e.l.f 2020 beauty design competition Beautyscape corner out the last three winners
Beautyscape is the annual beauty design competition held by e.l.f., in which beauty lovers can participate in the design of future cosmetics. The campaign brings together the e.l.f. community to boost the ups and ups and the focus is on giving back. This year's competition, with the theme "ReMIX", takes the form of virtualization, and contestants must create a music-inspired look and post it on Instagram. The e.l.f. jury selected nine semi-finalists, with a majority on Instagram determining the top three winners: Carol Rodriguez, Emily Anne Carden and Michael Brooks.
5、French skincare brand 4.5.6 Skin received $820,000 in seed round financing
On October 10, foreign media reported that France's "4.56 Skin" completed 700,000 euros (about $820,000) in seed round financing, funded by angel investors and French entrepreneurs. At the same time, the company will launch the first skin care products series. 4.5.6 Skin is a skincare brand founded in 2019 by Noelly Michoux and headquartered in Jelanville, France, to provide customized skincare products to its users. Consumers only need to conduct a three-minute online consultation on the 4.5.6 Skin website, and the proprietary algorithm will match the results of the consultation and tailor the skincare treatment to the user's personal health, lifestyle and skincare needs.
6, Uniqiq China direct stores for the first time anti-Japanese
Uniqlo has reopened a large number of stores in China, with the number of its Chinese stores (directly) outnumbsting Japan for the first time, as the outbreak of China's new crown has largely subsided, according to Japan Economic News on Oct. 10. Liu Jingzheng, president and president of Xunsi, said more stores would be opened in China, with an estimated Chinese,000 on a Chinese-port basis. At the end of August, the number of Uniqiqian stores in China reached 767, surpassing Japan's domestic direct stores (764) for the first time, according to the data.
\Platform and channel dynamics\

1, WeChat video number test live and long video function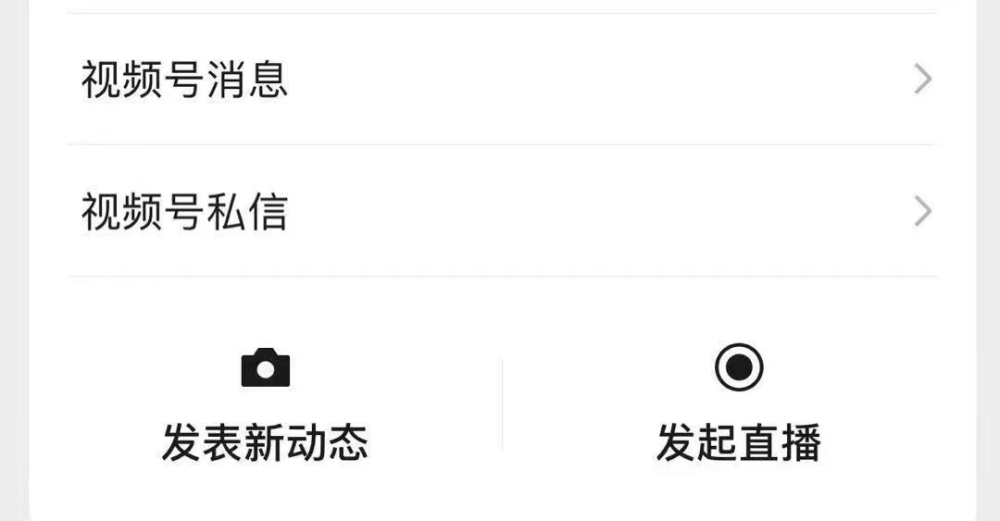 WeChat Video Number is testing live and long video features, and a new WeChat store entrance has been added to the settings bar.
In the new version of the video number, "Start Live" and the original "Publish New Dynamics" function are displayed side by side. Click "Start Live" will appear "Live" and "Live Trailer" options, after creating a live trailer, the live announcement message will be pushed on the video number home page, including the start time, number of appointments, etc., the created live announcement can also be revoked at the click of a button.
In addition to live streaming, the video number also measures the video function internally. When a new video number is published, the full video option is added to the publishing method. Users can post a full video for 1 to 30 minutes and play a preview of the first 1 minute. There are also users who display full videos that can be posted for 1 to 15 minutes.
At the same time, the video number opened the entrance to WeChat's small shop.Once the video number opens a small store, it can be reached with the click of a small program "small store assistant", indicating that the small program and video number are further opened.
2、Google has announced it is turning YouTube into a shopping platform to challenge Amazon and Ali
Google is turning its video site, YouTube, into a major shopping destination, making it a rival to Amazon and Alibaba.
YouTube recently began asking creators to use YouTube software to tag and track products in their videos. This data will be linked to Google's analytics and shopping tools. People familiar with the matter said Google's move was aimed at turning a large number of videos on YouTube into a vast catalog where viewers could browse, click and buy directly. In addition, YouTube is testing further integration with e-commerce company Shopify, which sells goods through YouTube.
3、Tencent advertises the launch of a new product called "Any Door for Goods", which allows you to jump Taobao
On October 9th, at the launch ceremony of Tencent's "People's New National Goods Program" in cooperation with the People's Daily Digital Communications, Tencent advertised two new advertising products, "The Product Dealer Through train" and "The Product's Arbitrary Door". Among them, "product through train" allows users to click on WeChat ads to jump to JD.com, Suning, product-only will and other e-commerce app, "product any door" allows users to click on WeChat ads, first jump to the middle product page, and then jump to Tmall, Taobao.
4、Baidu launched baidu look at the video APP
On October 7th Baidu launched an app called "Baidu Look", which is a comprehensive video recommendation and video search platform for sharing life and exploring the world. Baidu look at most of the video content from the hundred number and good-looking video. Compared with mobile phone Baidu, Baidu look at the same search function, mainly focusing on video information search. In addition, Baidu to see no advertising content for the time being. Baidu's previous video products are mainly "good-looking video", in September this year, 30 million daily live, users per capita use of more than 70 minutes.
\Marketing methodology sharing\
1、How does the new beauty brand break through the mid-to-high-end market? EXACTING Jiang Zheng: Industry chain co-creation is the only opportunity
In the past two years, beauty has become one of the fastest growing categories of consumer goods. But behind the prosperity of Chinese beauty, but has not been rid of the "flat" label, the high-end market is still the world of international brands. The size of this block is getting closer to the mass market, from the value chain and growth space point of view, is the brand must compete for the high ground.
How does the new beauty brand break through the mid-to-high-end market? Let's hear itEXACTING Global CEOAnd, at the same timeMember of the Women's Knife Lawof theJiang Zheng,How to provide methodology with ACTING as an example.
(Originally shared from the public number "Wave Of New Consumption")
1. What are the rigid needs of new middle-class women?
In the view of Jiang Zheng's team,Middle-class women are at the heart of their need for makeupJust two points:
The first isSafety.。 The facial skin status of many Chinese young female consumers has reached the point where they can't stand tossing, because some improper practices in their beauty habits can potentially damage the skin barrier, causing skin sensitivity.
Therefore, EXACTING proposed the concept of "make-up care in one", so that make-up is like applying maintenance products to make consumers feel happy. In addition to the care and makeup effect ingredients, EXACTING also adds an active substance that activates the pleasure of nerve cells under the skin's layer, increasing the skin's luster.
The second isSceneization。 With the improvement of quality of life and the diversification of life scenes, high-end female users need the overall image of harmonious beauty, different scenes need different clothing, jewelry, perfume, in theory also need different makeup. EXACTING is different from the traditional dividing method in the market at the product level, but emphasizes the precise matching of the product with the skin features and life scenes.
2, channel symbation: how to turn the game relationship into a win-win situation?
ExactING's second keyword isChannel symbdies。 Essentially, it is a problem of benefit distribution and incentive mechanism, which seems simple, but it is the key to whether the whole industrial chain co-creation can be truly established.
Jiang Zheng designed a unique brand channel model by studying the business channel between Japan's centennial channel and the brand side:
Take a percentage of the equity in the early stages of the venture to invite head agents to participate, such as Yifei Group (China's leading e-commerce 4-channel beauty brand sales company), and channels to share the brand's long-term benefits.
On the one hand, the game relationship between brand and channel is transformed into symbly win-win situation. Through this design, the value of the equity obtained by the channel provider is greater than the value of the difference between purchase and sale, ensuring that it has sufficient incentive to do healthy business.
On the other hand, retailers and brands are essentially looking to cultivate consumer re-purchases in their own channels. Now the 100-channel purchase method, for offline retail, a big loss is that part of the re-purchase will go online. And in the price control of many measures to ensure the health of the 100-channel price order, will not be because of the low-cost promotion of individual channels led to the loss of offline retail enterprises.
Authors of this issue . . Xiao Hui
  Edit the . .  Mammon
 Member of the Women's Knife Law 
In recent years, the rapid rise of new consumer brands is expected to appear in China's Procter and Gamble and Shiseido. The women's knife method, which has 100 companies, found that the brand needed it most on the road to growth for new consumer goods companies"High-quality industry information exchange", "high-quality network of traders", "precise industry resource docking" and "systematic marketing methodology"。
To this end, the women's knife method hopes to gather and empower the new consumer industry brand traders and first-line business leaders, to join the current wave of the rise of new consumer goods, the achievement of China's good brand. In the future the company's high-speed development and personal excellence in the road of growth, I hope that the women's knife method with you.
If you are also a new marketer and want to learn new marketing gameplay, welcomePress and hold to identify the QR code below and add 10000 plusBrand trader's new marketing/new consumer industry club
Be a brand, find a knife!
Sweep code add knife sister assistant Bella, learn more about the women's knife law industry information and membership activities
Contact us/
Little assistant WeChat: herdao6666
Business contact: yaochuxin_2
If you like, let me know you're watching
---