Heavy! Tencent announces 2016 Spring Festival Red Pack social advertising insights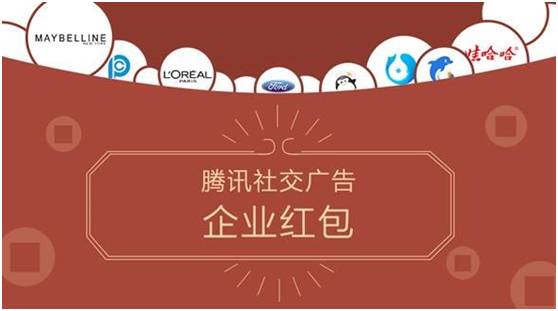 "Click - click", the Year of the Monkey Chinese New Year's Eve night, WeChat "shake a shake" red envelope of the iconic sound from one to the next, replacing the sound of firecrackers in the past, listening to the joy. This is a very busy Spring Festival - did not expect to learn to "shake a shake" parents a shake addiction, 00 after the little niece busy with a picture of love to decorate their QQ red envelope, even friends in the circle of uncles are quietly rummaged through their mobile phone album, want to find out "stunning" photos hair a "hair glass."

For users, the red envelope is a battleground for Internet companies. The Year of the Monkey red envelope a battle dust settled, Alipay, WeChat, QQ in the two main battlegrounds are attributed to Tencent, the intuitive number is quite bright - 8.08 billion! This is the goose factory officially released the total amount of WeChat red envelopes sent and received, and only Chinese New Year's Eve the same day data, and QQ red envelopes also reached 4.2 billion.

Just out of the "WeChat, QQ2016 Spring Festival Red Packet Social Advertising Insights Report", the social red envelope momentum, the brand's social advertising dividend signal has been very obvious.


After 90 northern sister paper can shake the most, 00 after doubling the surge, users love to understand the social red envelope


Overview of Tencent Red Pack three play, on the one hand, WeChat and Tencent social advertising out of the Spring Festival before and after 10 days of friends circle advertising revenue through the Chinese New Year's Eve "shake a shake" red envelope rain round bombing, Chinese New Year's Eve days, 180 million users shook out a total of 182 Billions of red envelopes, data is quite bright; on the other hand, mobile QQ new generation social potential can finally break out, "password red envelope", "personality red envelope" and other seemingly deep small fresh meat heart, "brush a brush" to send out more than 200 million yuan in cash red envelopes and a large number of merchant gift certificates, 308 million users swiped 2,234 million red envelopes, and this year's biggest innovation was WeChat's Chinese New Year's Eve "red envelope photos" that once again raided the brush-screen circle of friends, sharing 29 million photos.

These tens of thousands, hundreds of millions of figures, you and I are one of them, the weight of such a huge red envelope to whom?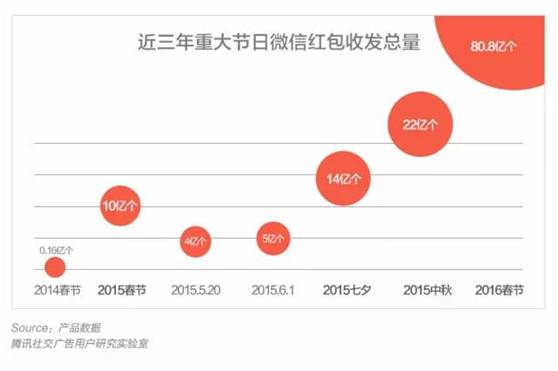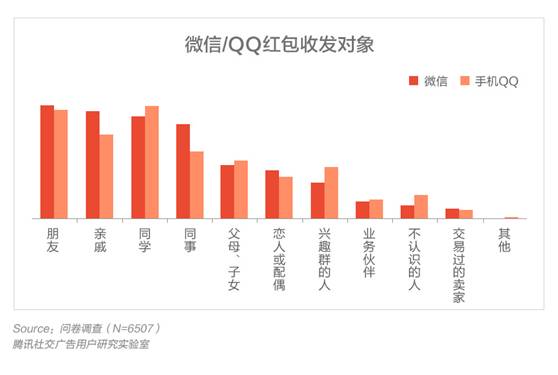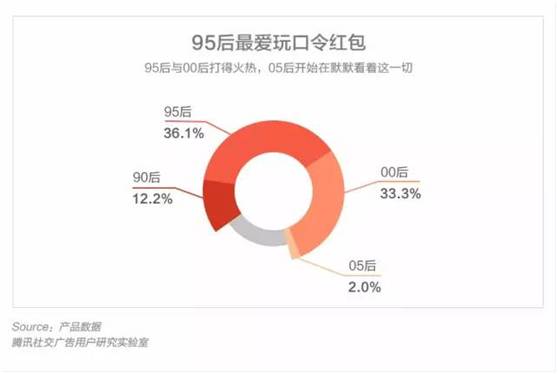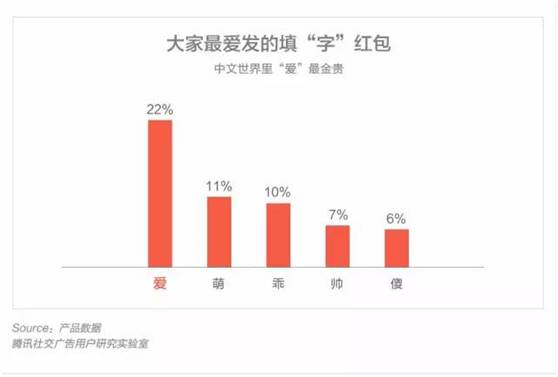 If the top 20% of users who participate in the red envelope the most are called fanatical users, weChat "shake a shake" as an example, women than men obviously show greater enthusiasm;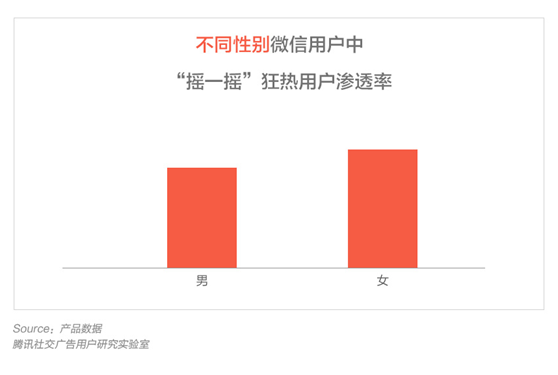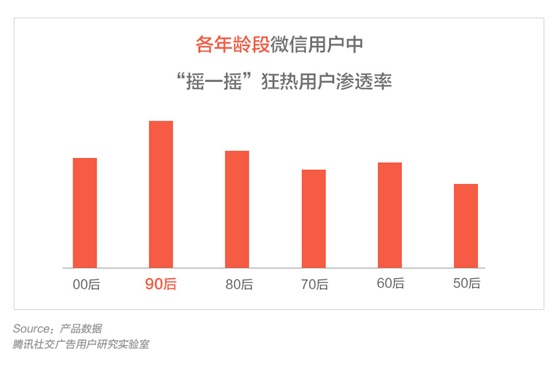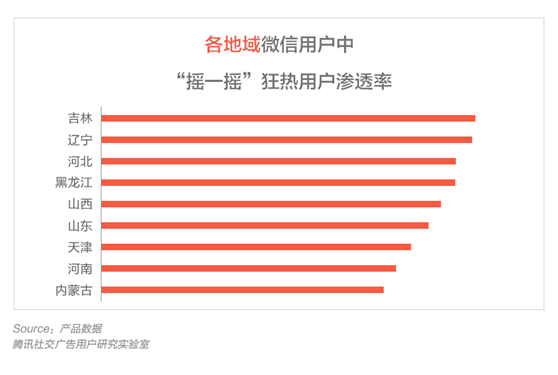 Compared with last year, the number of post-90 and post-00 users who participated in WeChat's "shake-up" surged in 2016, with the number of post-00 users nearly double that of last year, followed by the Red Pack fanatics, a new force that represents China's future consumer boom, growing rapidly.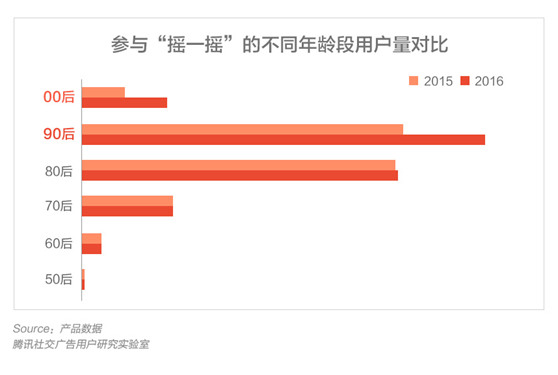 How effective is the interaction beyond the huge user volume? 192 million times, which is the total number of interactions Chinese New Year's Eve red envelope photos and nights. Social play must be at a glance to understand, farewell to redundant, so that users feel interesting, simple, fruitful.

For example, this year's QQ red envelope by virtue of "brush a brush", password red envelope, personality red envelope under the young market, personality red envelope users 95 and 00 accounted for 36.1% and 33.3%, respectively, personality red envelope 22% of users chose the word "love" as a red envelope fill, to cater to 90, 00, secondary groups of social interest to get a new generation of buy.

From insight into people, to interaction with people, good red envelope products can really play happily with users, become a natural carrier of social behavior itself. What is the core of the red envelope? It's social. This also explains why a penny of red envelopes is often accompanied by surprises, because in the social touch of the catalytic, people have a taste of the outside of the money. Red envelopes with social genes not only connect mass users and generate positive interactions, but also allow social advertising on them to find the possibility of breaking through in a huge amount of information.


Play the scene marketing hard, the gold master of money is a lot sweeter


Red envelope is a connector, one end is the red envelope is not happy users, one end is covering the financial, automotive, consumer goods, Internet and other industries to join forces with the advertiser camp - Pacific Insurance, Changan Ford, micro-tickets, Tencent Financial Pass, good to buy wealth, micro-banking, East Pengt drink, Yida, Yunnan white ointment toothpaste, Lenovo, drip travel and other brands in the "shake a shake" under the red envelope rain, and use the red envelope photo to form exposure, mining wealth, public comments, Ctrip, Paris L'Oreal, Mei Baolian New York, Wow haha and other brands in QQ brush a brush to send benefits, after the war gold owners harvest how?

According to the report, on the same day as Chinese New Year's Eve alone, Pacific Insurance sent 3.27 billion New Year greetings to 154 million users via WeChat, while brushing the "red envelope photos" of its circle of friends reached 39 million users, significantly better than traditional marketing methods.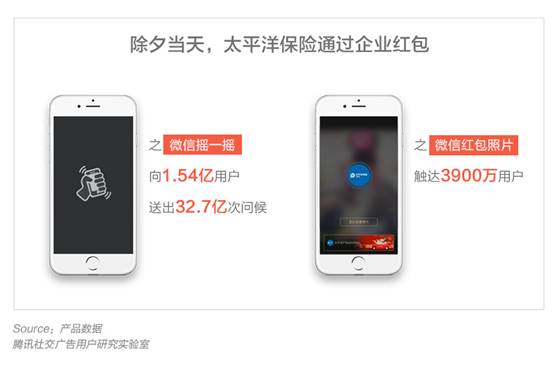 The survey found that QQ red envelope, for example, after the event, the cooperative enterprise's prompt brand mention rate can even be as high as 40%, such as the public review of the brand mention rate of 43%, financial reference rate of 40%, it can be seen that the brand carrying the red envelope from the audience into the audience's mind.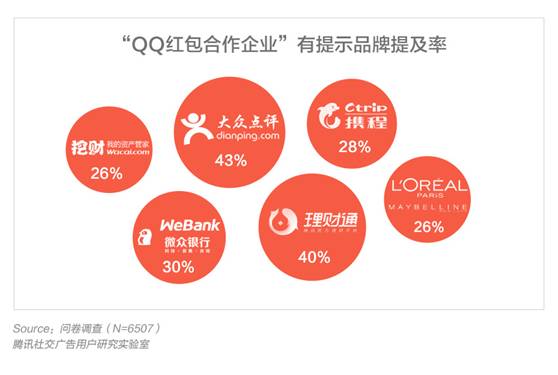 Discussion heat data show that the "WeChat Red Pack" social sound volume continues to rise, "QQ Red Pack" social sound volume in Chinese New Year's Eve and the first peak, some users said "business and star gimmicks full!" "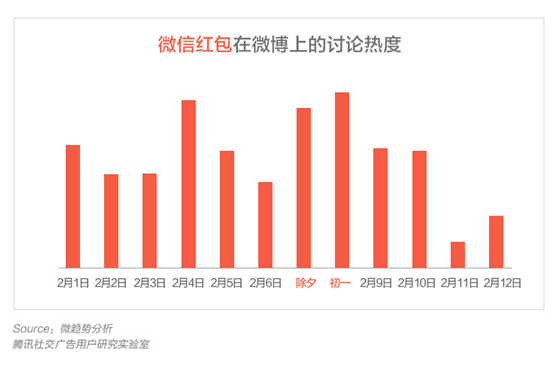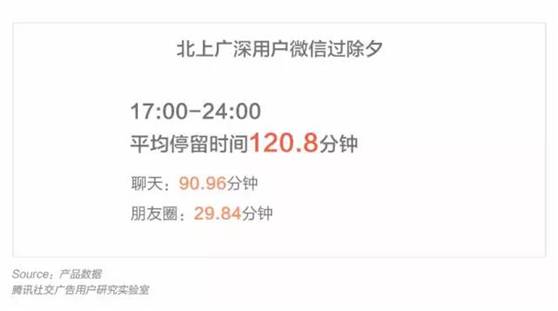 Brands in the Internet, consumer goods, automobiles, finance and other industries have tasted the sweetness in red envelope marketing. About 40% of users reported that after receiving the merchant red envelope, the brand's good feeling increased, while 30% to 40% of users said that the future of the brand buying intention to improve, such an effect in the information explosion of the New Year marketing node is not easy.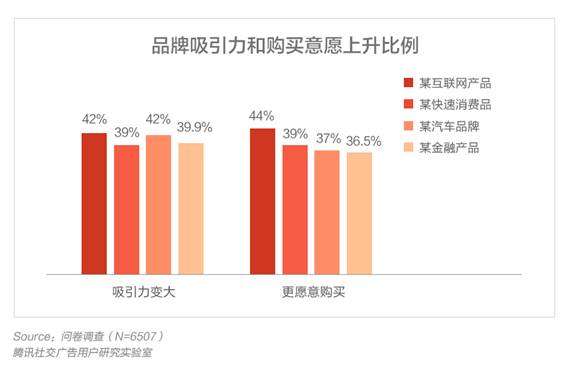 Advertisers are well aware of what a huge amount of social user resources means to them, huge space for brand awareness, O2O sales transformation, fresh market opportunities... However, how do I touch the finger across the screen and make a value connection? What forces are supporting the happy numbers in Tencent's report? "Scene" is a key word.

Just as it's definitely a good idea to go after a girl and join her club, scene marketing immerses advertisers and target audiences in the same social environment, which naturally interacts, and advertising messages naturally blend in, along with social behavior. How do I complete scene marketing in a social context? Tencent social advertising covers 800 million users, more than 90% of Chinese netizens, DMP can achieve detailed user portraits, industry label customization, complete cross-screen recognition, data module from the basic attributes, media environment, user environment, user behavior, interests to user status and other six aspects of targeting, which means that advertisers can use Tencent social advertising overall solutions, in the social field naturally reach a precise target audience, in the two-way interaction to enhance brand awareness and pathy, so that the sales path is smoother. Using social interactions and fans to maintain deeper relationships means a wider profit margin.

Red envelope is only one of thousands of predictable, to be created scenes, red envelope user data mapping information must be far beyond the Spring Festival red envelope itself, 2016 even in the foreseeable future years, social skills and scene marketing tricks may become the focus of the brand's secret struggle.
Click for more from the original text


The ups and downs of an industry
www.adquan.com
▼
Wesyn adquan_2012 Posts news@adquan.com
---