Growth Engineering: How do I study digital advertising strategies? (Part1)
Haven't seen you for a long time, the growth black box has not sent a message for a month, and even some fans in the background began to write blood book messages.

We're all right.Only because of the business to reduce the frequency of updates~
But the good news is that we've had a few new little buddies recently!New research articles will come out soon, or let'sDirect.Get into the right question!
Objective.
Growth Black Box is committed to building replicable growth systems for Growth Engineering.

The first step in growth engineering is defined by us as reverse engineering, whose core is to reduce overall trial and error costs and improve decision-making by studying Market Intelligence's opportunities for growth and growth strategies worth trying.
The growth black box study is also based on this principle, and we use a lot of public data and intelligence to restore how growth occurs to identify new growth points and market trends.

Starting today, we'll be conducting a series on how to obtain and analyze market intelligence.

This series begins with the methods and tools of digital advertising research. (Long text series)
1. The size of digital advertising
In 2018, China's digital advertising reached $65 billion.
Although market growth is expected to slow, there is no doubt that it is still a place to visitCompetition in the marketimportant field.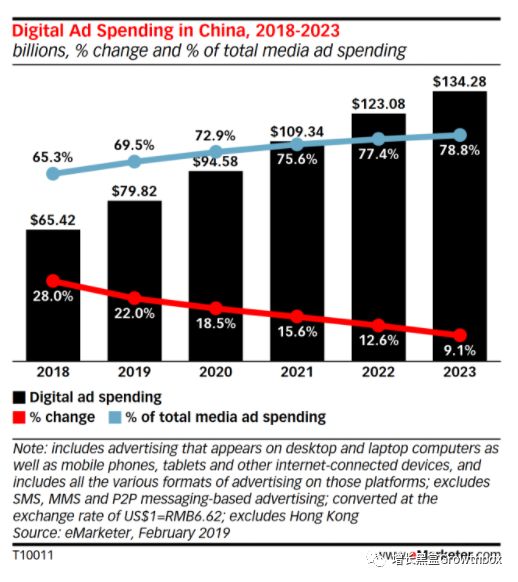 (Image from www.emarketer.com)
Not only that, digital advertising is also the Internet company's most mature means of large-scale profitability,BAT together is estimated to account for 60% of the digital advertising market.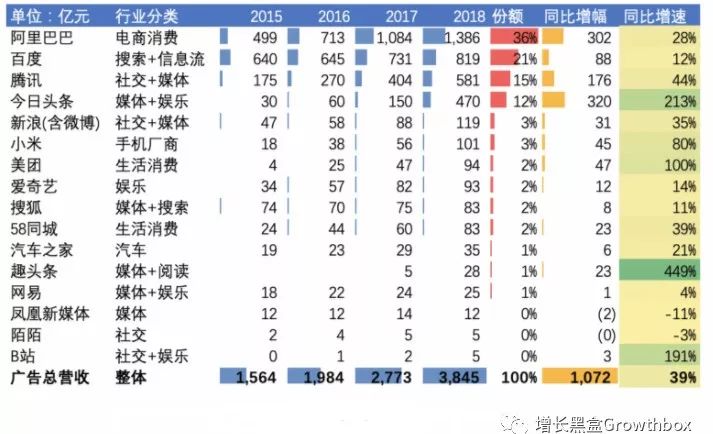 (Image from 199IT.com: Internet Company Advertising Revenue and Trends 2018)

2. Digital advertising research tools
Researching digital advertising requires a lot of ad data and information, but digital advertising is usually targeted and run over a period of time.
We need a lot of robots to help me keep an eye on ads on various platforms 24 hours a day, so this work is usually done by reptiles.
But their own writing reptiles in fact very high cost, after all, there are dozens of advertising platforms, and you have to prepare a large number of platform accounts 24 hours monitoring, it is possible to exhaust the platform advertising inventory, how is not economical.
The good news is that resourceful engineers have developed tools to meet everyone's needs, and we don't need to repeat the wheels, so we often use three-way tools to get ad data and information.
For example, for pan-industry research, we often use third-party advertising research tools such as App Growing and ADBUG.
If it's the gaming industry, there's a hot cloud ADI or ADX to try in addition to App Growing.

If we study foreign objects, there are countless tools, and we'll cover them in more detail later.
In this paper, we mainly use the data provided by App Growing as a research reference to study some domestic goals.
3. Digital advertising research case
3.1 Advertising research in the gaming industry
The game industry is very competitive,We recommend subscribing to the app Growing WeChat Public, which publishes monthly reports on game buying research that deserve attention.
"Market Analysis of Hand Purchases in May 2019"
Visit: https://mp.weixin.qq.com/s/6uiLnigFVy1Ftw2jK31xVw
3.2 Case study of the education industry
Fluent in English is an app that learns spoken English, and its parent company listed on the New York Stock Exchange last year.
As we can see from the financial results, fluent English says it will cost $700 million in marketing and sales in 2018.

I often see ads that speak English fluently on social platforms such as Knowledge, qq and Weibo.
But what is the size and strategy of advertising, which is fluent in English?
At this point, we can use App Growing to study it.
According to App Grow, fluent English says it has run 5,786 ads in 180 days, and the number of ads is growing dramatically, which shows that it has further strengthened its popularity since its launch.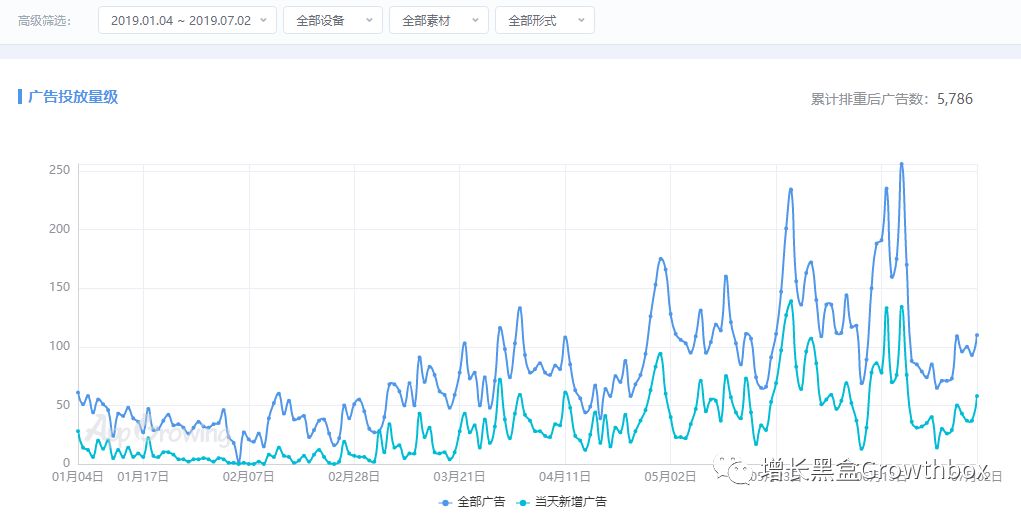 Ad monitoring platforms like App Growing may not be able to capture the full amount of ads, but there is no problem looking at trends.
At the same time, we selected The Shanghai River and vipkid as references, searched the two-day brand in the same period of 180 days of advertising, we found:
The Shanghai-Jiang brand is expected to run 156 ads

Vipkid's number of ads is expected to be 86
It can be seen that the number of ads running fluently in English is still quite staggering. (Note: This value is for informational purposes only and does not measure the gap between companies)

So what's the advertising strategy when you're fluent in English?
First of all, the form of advertising is video-based:
Most of the video drama is cute foreign little brother, little sister in China encountered a variety of daily problems, and our video protagonist in fluent English to help foreign small partners solve the problem. The main character in the deep-pocketed merit and name at the same time, took out fluent English said APP began Amly to the side to cast envy of the eyes of the small partner.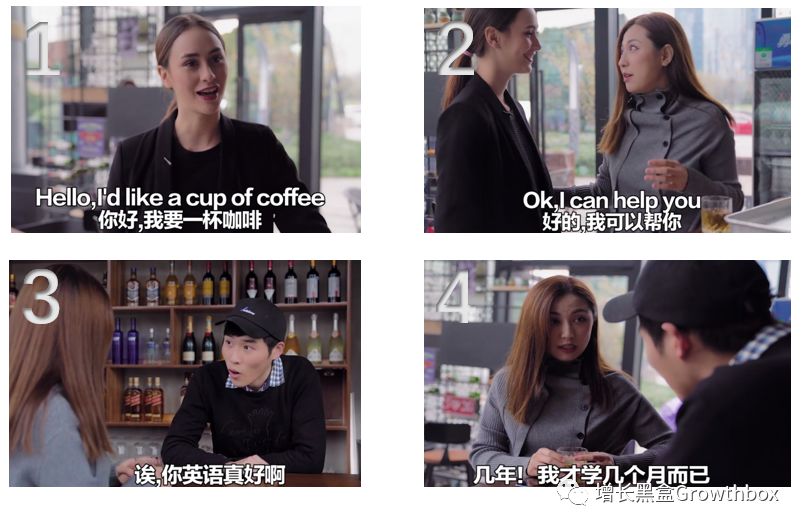 In the choice of platform, it is dominated by headline ads and Tencent ads. And know, understand the ball emperor, Xiaomi and other platforms are also in a small amount of delivery.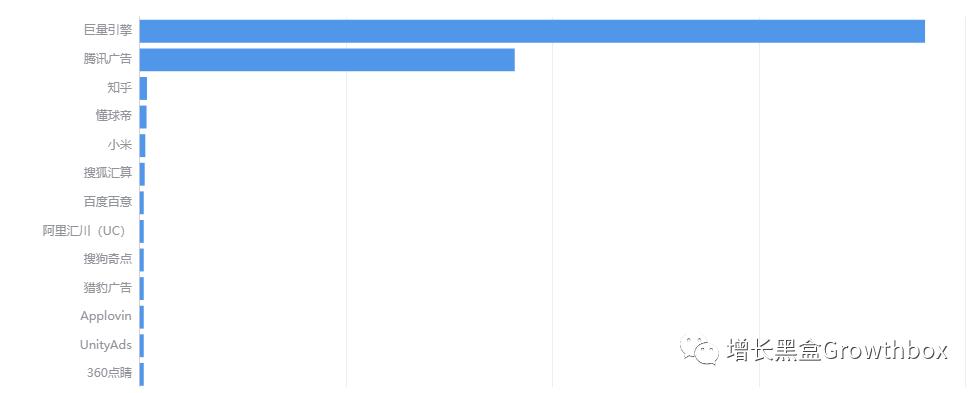 After the ad file generates the word cloud, there are the following keywords:

3.3 Case study of the social industry
If we want to understand the features and operational strategies of a social product, it's also a great choice to watch ads, because one of the characteristics of advertising is the infinite amplification of the benefits of a product.
Here we useINSTANT APPTo give an example
Instant APP video ads are always showing off their features: interactive, comment-friendly, whether it's looking for someone to watch a movie, or dynamic, you can get the feedback users want.
Of course, this is not the only feature of the moment, but also includes: a variety of circles, pet cat people, anonymous chat rooms and so on.
Choose different ad styles and documents instantly, depending on the platform.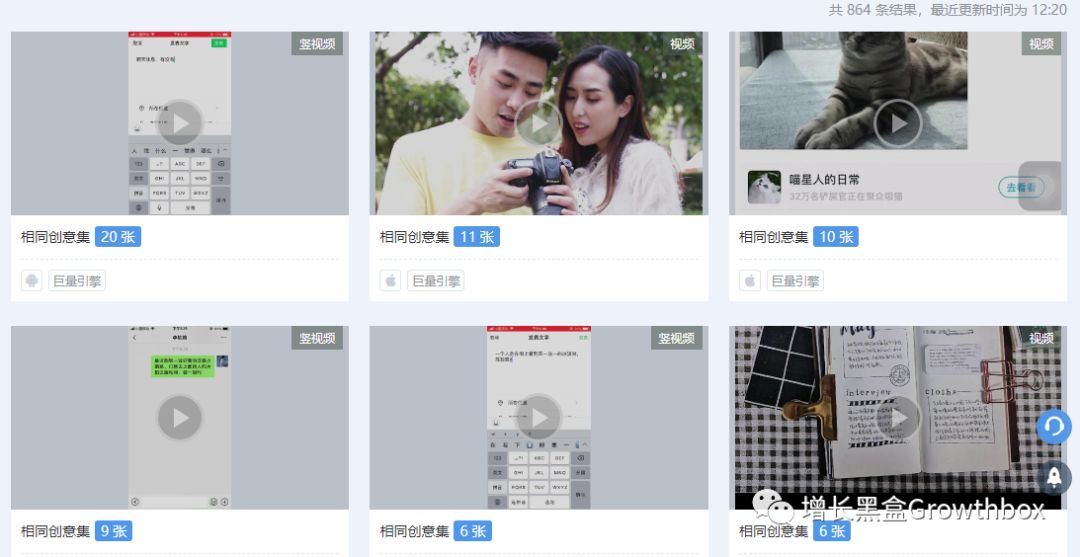 At the same time, when you advertise on a beep, you'll immediately attract younger users with titles such as pretending to be a couple and your love skills.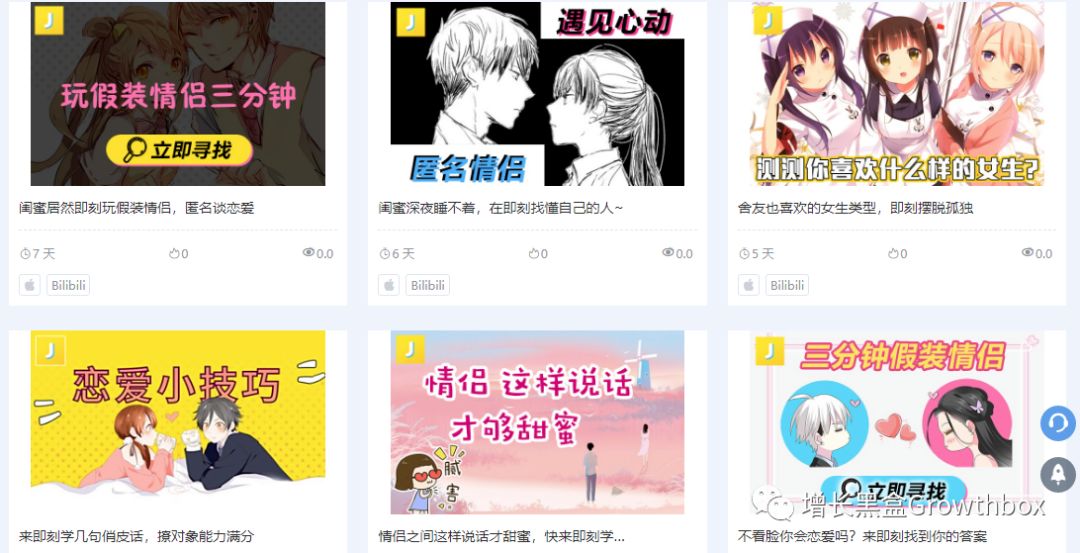 And in the knowledge, immediately selected a purely paper-based advertising. To be lonely, meet new people as the point, through the question-style paper to attract users.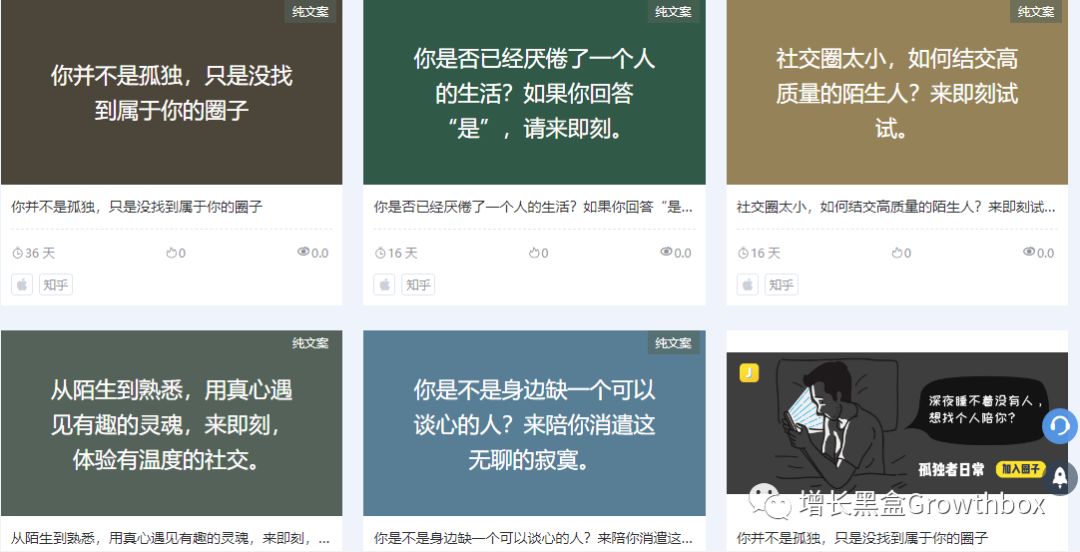 And the use of advertising word frequency analysis will also find that "chat", "couples", "loneliness", "sweet", "goddess" and other words to attract potential users, although immediately interested in social products, but in advertising, immediately or more believe in solving user loneliness, find chat objects to poke users.

Here, we can simply judge the immediate advertising strategy is based on the user's lonely state, by fleeing the circle of friends, a strong sense of interaction, meet new people to attract users. This strategy differs from the immediate characteristics of various circles of interest, but is consistent with the user's intuitive feelings about the new social product.
Users come alone, but stay because of interest, which is probably what instant advertising wants to convey.
3.4 Financial industry case study
You can also use App Growing to research ad delivery for financial products.
For example, Rong 360, which is also a public company, and spent 1.5 billion yuan on marketing and sales in 2018, we can grab ads from the past year to do research.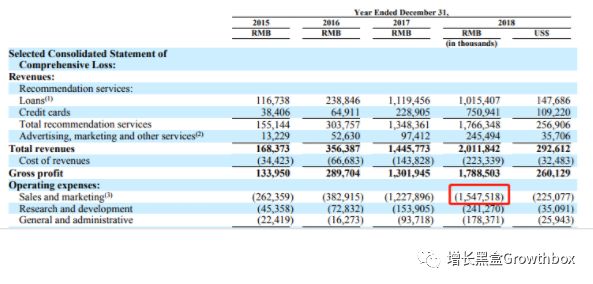 App Growing not only collects ads, but also estimates when, how many clicks, and exposures each ad will appear, or even how much it will run.
Based on this, there is still a lot of digging space, whether it is to study tactics, strategy or to do secondary market research has analytical value.

At the same time, we can also study the text of these ads, generate word clouds, and judge the advertising method, which is very helpful to run the operation.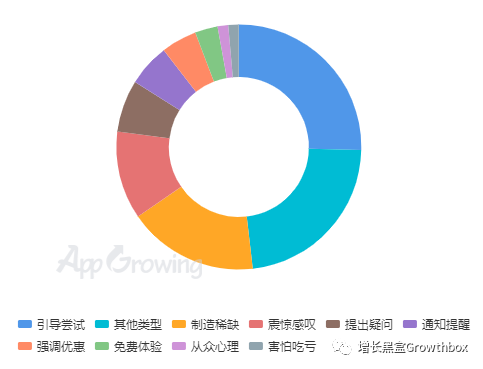 Here we also recommend app Growing's official website, now registration can have 3 days trial permissions - interested friends more, we can also group a group purchase
https://appgrowing.cn/
3.5 E-commerce industry case study
E-commerce advertising volume is also very large, such as like Dodo, after the listing, from 18 years Q4 began to smash ads:



There is also a big research direction is the second category of e-commerce advertising, this part of my decision to put in the next article to talk about, we will find a few more tools to compare.
4. Bottlenecks encountered in the study of advertising data
4.1 It is difficult to obtain full data

For ads with very little exposure, the difficulty of collecting is very high.
Similarly, when doing case studies, if the target is a small and medium-sized company, his advertising data may be small. If your ad is directed to a city for delivery, you'll also see an out-of-count situation.
As a result, we typically use multiple ad monitoring platforms at the same time to enrich data and cross-verify.

4.2 Less understanding of the quality and statistical calibre of the data
The solution is to spend more time researching, both from peers and from tool parties.
At the same time, if companies want to better understand the quality of advertising data, they can use their own company's delivery data as a reference (and the volume can not be too small) to correct third-party data.
5. Growth Engineering Series Subscriptions

The Growth Black Box focuses on growth cases, tools, and methodoology.
The growth engineering we're building is dedicated to connecting the tools of enterprise automated marketing (MarTech) to create an efficient, replicable growth engine for businesses.
If you are interested in "growth engineering" you can scan the code to fill out the form to subscribe to our push service, we will send you tool recommendations, trial links or coupons.
The machine can not be lost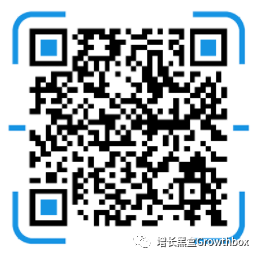 The article has been publishedModify.
---