Google still wants you to see more ads on your desktop
Author: Zhao Saipo
Source: Titanium Media
This week, a move by Google drew attention. According to a user who used Chromebook on Reddit, in the latest version of Chrome OS v51, there's a check box in the system settings menu that says "Enable Android apps to run on your Chromebook (which lets your Chromebook run the Android app).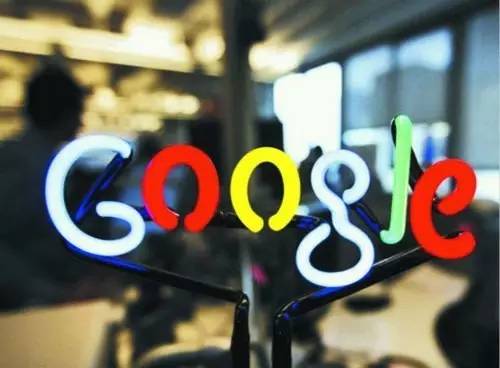 Although the current feature alert only occurs on TheVeloper Channel, and developers say that when they launch the feature, the system offers only one tutorial and will automatically shut down soon, the move reveals Google's determination to integrate Chrome OS with Android.
But it's clear that Google is not only doing so with rapid growth in revenue from its cloud computing business, but also with its core business, advertising revenue. According to the first quarter 2016 Digital Marketing Report from advertising giant Merkle, the U.S. mobile search advertising market is growing rapidly, with the share of ad clicks from smartphones rising from 33% in the fourth quarter of last year to 39% this year. Google accounts for 95% of all mobile search ad clicks in the U.S., up from 86% a year earlier. Microsoft's Bing Search has only 3% of clicks on the smartphone side.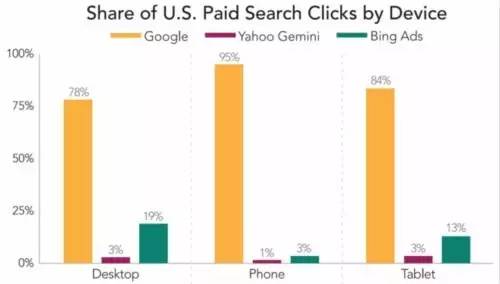 The percentage of search ads on different devices in the United States 
Now the battle for operating systems in smartphones is over. Back in 2014, iOS and Android accounted for 96% of smartphones worldwide, according to Strategy Analytics, a market research firm. Among them, iOS has a market share of 12.3%, while Android has 83.6%. But in terms of profits, iOS is undoubtedly the absolute leader.  
Such a monopoly is also curious about its revenue, even though Google has never released detailed figures, but in a lawsuit between Oracle and Google in January, Oracle's lawyers publicly stated that Google had earned $36 billion from the Android epidemic, mainly through advertising and the division of its own mobile software stores.
According to Canaccord Genuity, an analytics firm, Apple's profits in the handset industry account for 72 per cent of the entire smartphone market, while more than a dozen global Android makers will compete for less than 30 per cent of the remaining profits, not including some regional shanzhai makers.
However, Google's advertising model on Android has a number of concerns. Fundamentally, the app economy on mobile devices conflicts with Google's original model. Although Google has developed a number of native apps in Android, from text messages and emails to music, books and even fitness apps, most of them run independently, in contrast to the link jump between Google's web pages and services on desktop browsers.
Imagine how we use our phones now. Many users unlock the phone after the first reaction is to open a certain kind of applications, such as watching the news to open the news client, send and receive mail to open the mail app, go out to eat and shop when using maps or group shopping and other apps, these apps and Google search, mobile Chrome browser relationship is not big (especially in China). Even if you use Gmail to send and receive messages, these apps are essentially an island of information.
Second, globally, chat-based, geo-location-based mobile apps are growing into so-called super apps. For example, WeChat, it almost meets the needs of an ordinary Chinese life, whether online or offline, not long ago WeChat also launched the enterprise WeChat, which also makes WeChat become a user's life, work necessities. A similar situation includes the chat software Line.
Since early April, Microsoft and Facebook have launched a series of chat-based Bot development kits that encourage developers to develop Bots for Skype and Facebook Messeger, all seeking to become Silicon Valley's WeChat.
When a chat app becomes the entrance to user needs, which means that the chat app becomes a "suspended" new system above the mobile OS, WeChat, Microsoft, FB can set aside Google and create their own advertising model in Android's chat app.
The threat is a direct threat to Google's core business model, and transforming the desktop market has a bit of a feel for Mr. Wei. In fact, Google has been trying to get through both operating systems. Brian Leksky, Google's vice president of product management for Android, also told the media: "Android and Chrome platform teams work more closely together, but that doesn't mean it's going to change completely, at least not now." 」
In 2014, Google first let a batch of Android software, including Vive, Evernote, and Duolingo, run on Chrome OS. In May 2015, Google expanded its support by releasing an app called ARC For Chrome Welder that lets users switch directly to android apps.
Chromebook sales, on the other hand, are encouraging against the backdrop of a decline across the PC industry. Google released its first Chromebook in 2011 and it didn't get much of a boost until 2013, when sales of the series rose. Chromebooks accounted for 2.8 percent of global PC shipments in the first three quarters of 2015, compared with 1.9 percent for the whole of 2014.
On the desktop side, Google has a business model that sweeps the army - search advertising. In a sense, Google is the gate-taker of the desktop Internet, addressing the pain points that users are looking for information and merchants are looking for users. That year, Google teamed up with PC vendors to pre-install Google Toolbar (Google Search Toolbar) on the PCs it sells to get traffic. It went on to work with several browser manufacturers, such as Firefox and Opera, to become its exclusive search engine.
As the desktop Internet continues to grow, Google has followed the trend, launching Chrome in 2008 and using 58% of its desktop web browsers worldwide as of December 2015.
But now that the desktop browser market has reached the ceiling, it is urgent to enter the operating system market. Chromebooks have been on the market for the past few years, but as the figures cited above demonstrate, they have had a big impact on the mid- to low-end PC market. In addition to the symbolic Chromebook Pixel Series, which sells for as much as $1,000, the vast majority of manufacturers have Chromebooks for less than $500, so that the popular version does sell for a lot of mild or even moderate PC users.
Of course, there are two uncertainties ahead of Google: how to ensure a seamless user experience on the desktop and how to open up China's huge market. The latter, it seems, is more difficult than all the technical problems.
---