Google Advertising Solutions (Text Edition)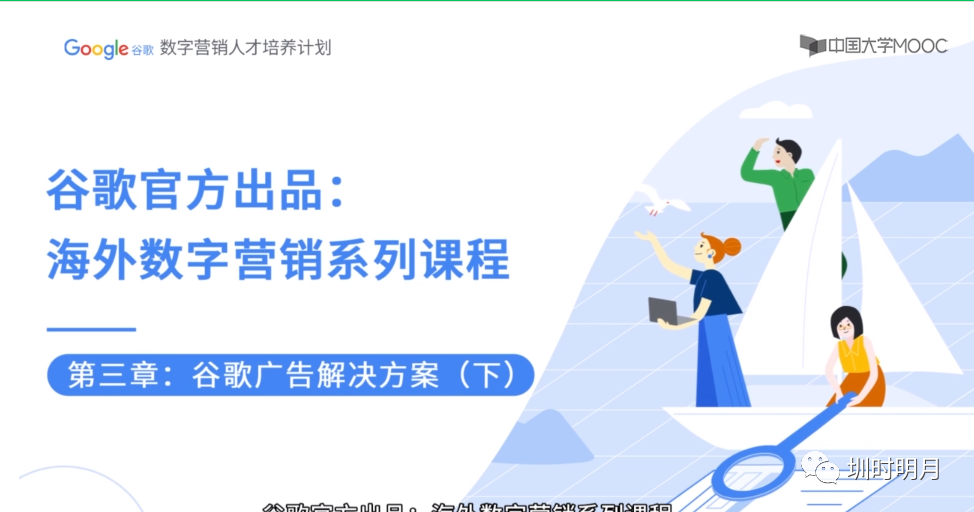 Why do I need to show ads first? You can think about it, assuming you're a seller, what bottlenecks would you encounter if you only run search and shopping ads?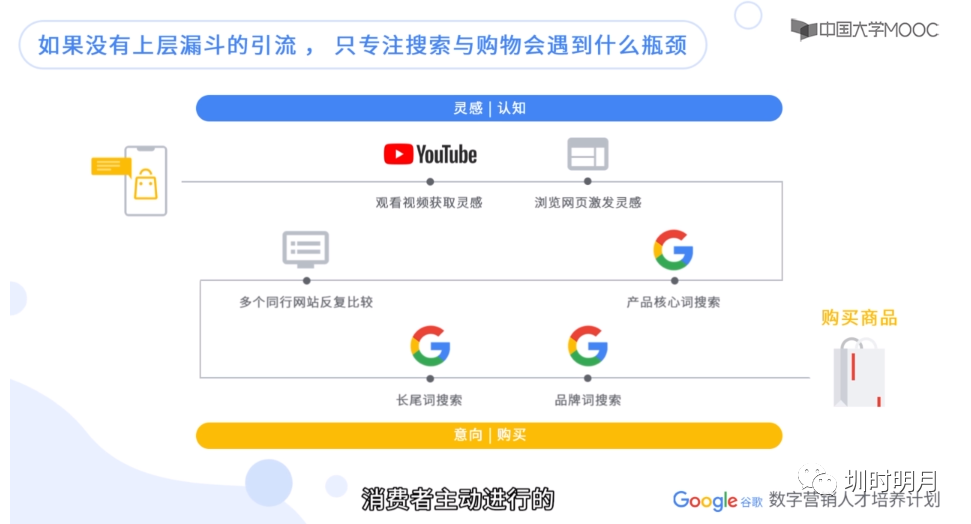 Remember the example we had in the previous lesson when we bought a Google pixel phone? Consumers are in the process of continuous search and comparison to narrow the choice, and finally through the search for brand terms to complete the purchase, the entire purchase process is almost all consumer initiative, they actively search for product information, active search brand name, then the problem comes, if you are operating a brand-new brand, or a relatively small group of products, how to help consumers find your products or understand your products, and then let consumers search for your products or brands, which require you to take the initiative, Show your ads to potential consumers.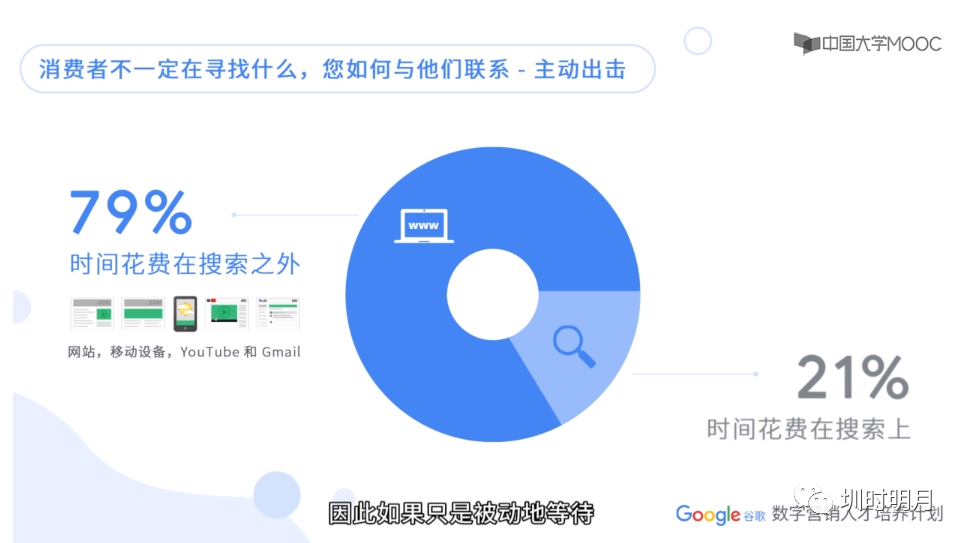 For consumers, they don't all have a clear intention to buy when they go online, they may just browse the content of articles of interest, just like we usually spend free time browsing small red books, Google's internal data show that only 21% of users will spend their time searching, 79% of users will spend their time browsing the site, watching YouTube videos, sending and receiving e-mail. So if you're just passively waiting for consumers to search for your product, the number of consumers you can reach and the exposure of your product is limited.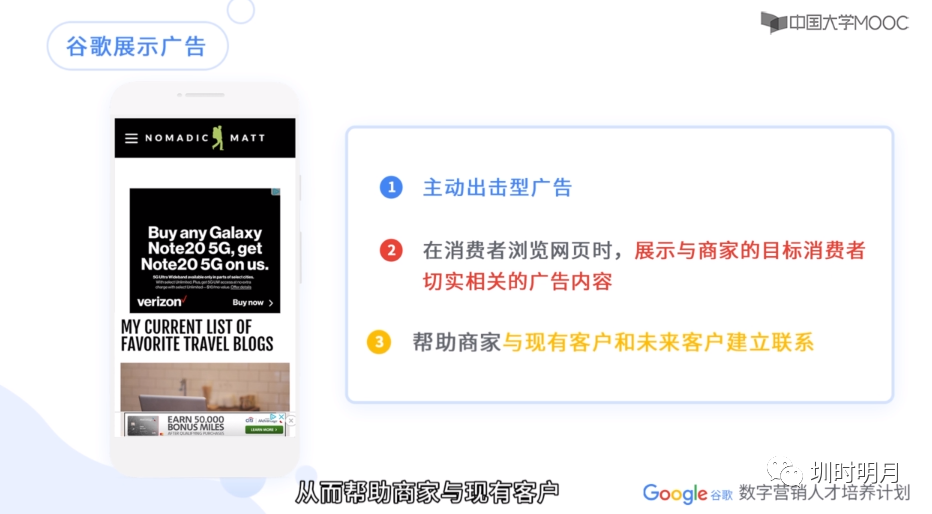 So how to turn passive waiting into active attack? One answer is to use display ads, which help merchants connect with existing and future customers by showing ad content that is actually relevant to the merchant's target consumer when they browse the web. Since display ads are proactive ads, where can ads appear to have better performance? There are two ways to target display ads, the first is content-based targeting, content targeting mainly has keyword targeting and topic targeting, keyword targeting will be based on the keyword settings of the business, the merchant's ads will be displayed on the site containing these keywords, the theme targeting is in accordance with Google's internal theme classification of individual sites to target.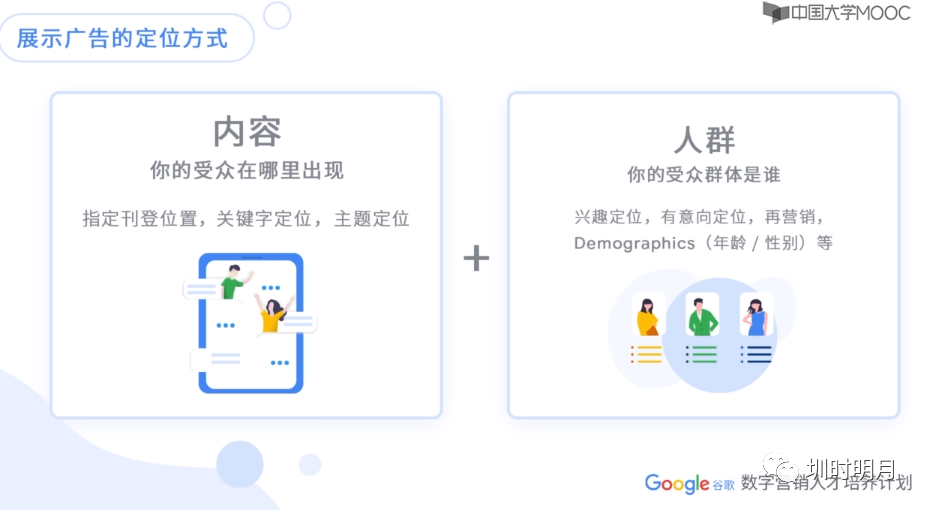 The second is audience targeting, targeting only user groups with specific interests and demographic information.
Regarding the content targeting of display ads, let's take a look at, let's take a look at, let's start by saying that if you're an advertiser for the Zara brand and want to advertise your clothing on fashion-themed websites, such as Marie Claire, you can add Marie Claire's URL directly when you set up your ad's location, and go back to the back-office interface of Google ads. When you add a specified ad place, you only need to specify it in the places, which is the display area. The site's YouTube channels, YouTube videos, and APP apps are all available for selection. There are two major options for targeting display ads: targeting, targeting, and observation.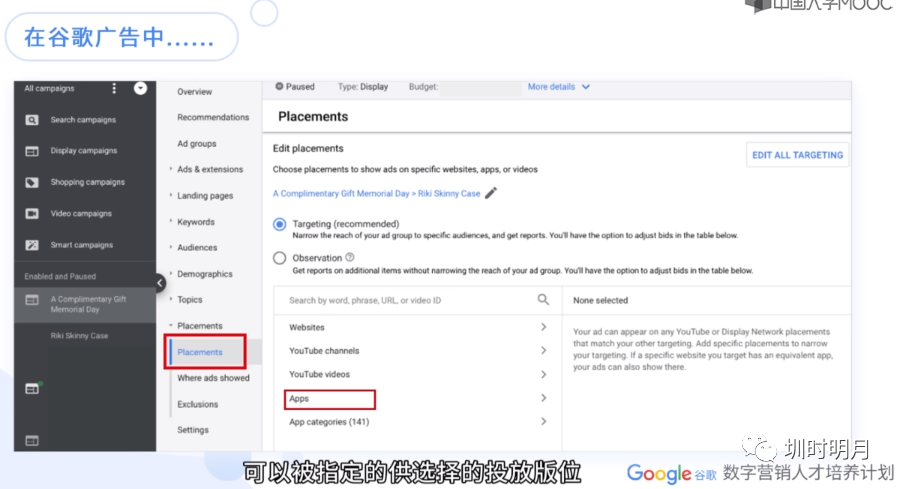 Here you can read the courseware in the interpretation of these two nouns, positioning is used under what circumstances?
If you want to narrow the reach of your ads so that they appear only to specific audiences, or only in specific content of your choice, you can enable the targeting option to see when it's used?
If you don't want to further narrow your ad's targeting, but you want to check the impact of certain targeting conditions on your ad's performance, you can choose to observe this option.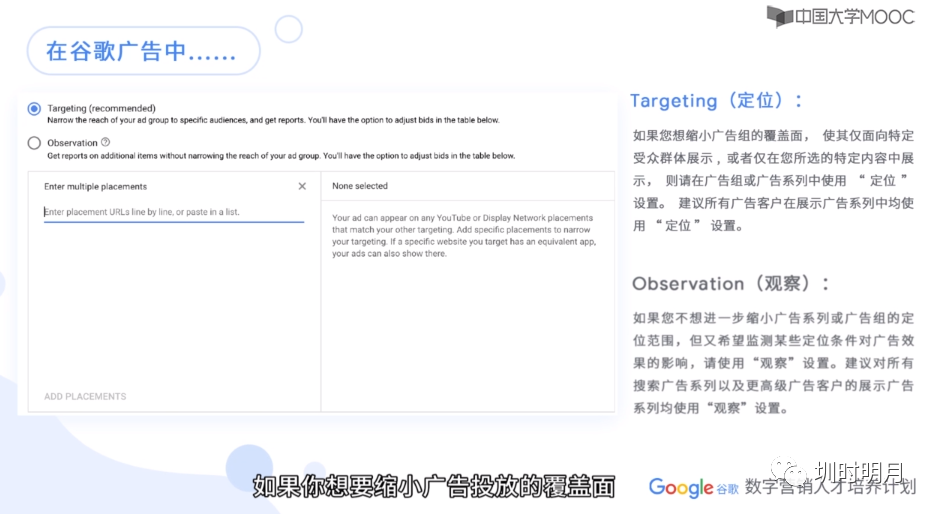 Back to content targeting, let's talk about topic targeting, topic targeting refers to the ads placed on the page categories related to its theme, the system will be based on the ads themselves to recommend some related specific topics, such as ads for the Zara brand, the system recommended beauty and fitness, people and shopping and other topic sites, you just need to select the appropriate theme in the system recommendation list, select the topic you want to serve, Ads can appear on YouTube pages and websites on selected topics. In Google's ad back-office interface, the settings for theme targeting are also intuitive.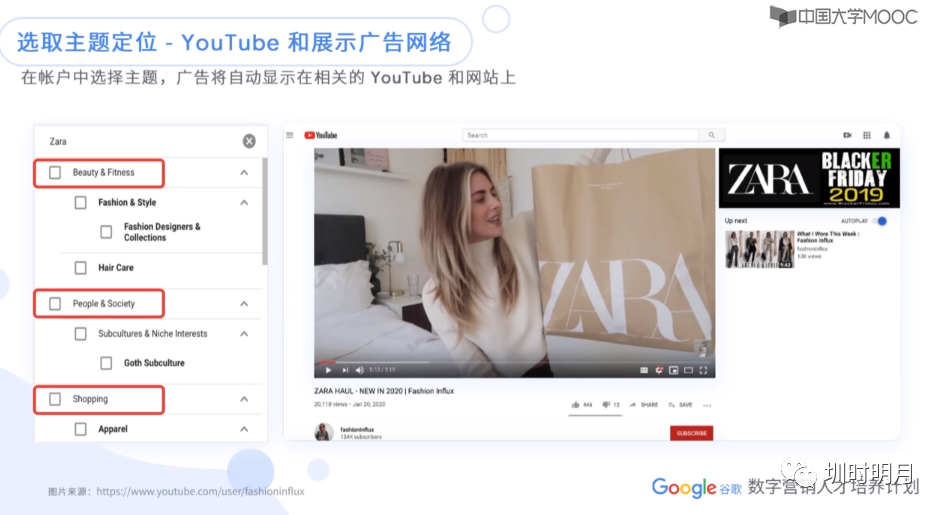 Let's look at our courseware, point open the topics this column, you can according to their own product attribute characteristics and so on to choose the right theme on it. After watching the content targeting of display ads.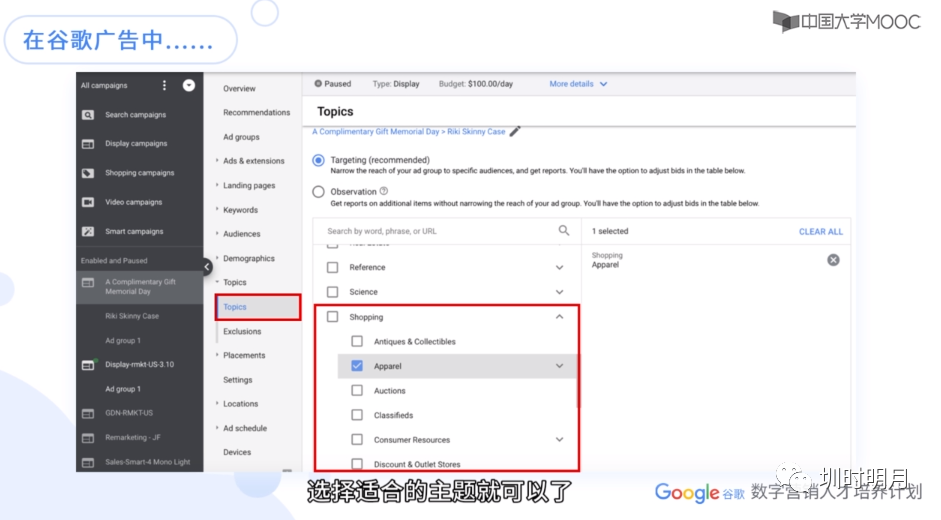 Let's take a look at crowd positioning. Let's first look at the overall classification of Google ads for the crowd, we take a closer look at courseware, the population can be classified according to demographic characteristics, interests and habits, intentions and actions of the three dimensions. Population characteristics are mainly from the age, gender, family income and so on to make a broad division. Interests and habits are the google system based on users often browse the page, watch videos or pictures and other information to judge their interests and preferences, so as to correspond to the group division. Intent and action is that Google's system lists users as people with a specific product or service intent based on their specific behavior over a period of time, such as searching for a brand's name.
Of course, there are more detailed divisions of crowd targeting, such as in marketing lookalike audience customer matching, which we will explain specifically in the subsequent advanced courses.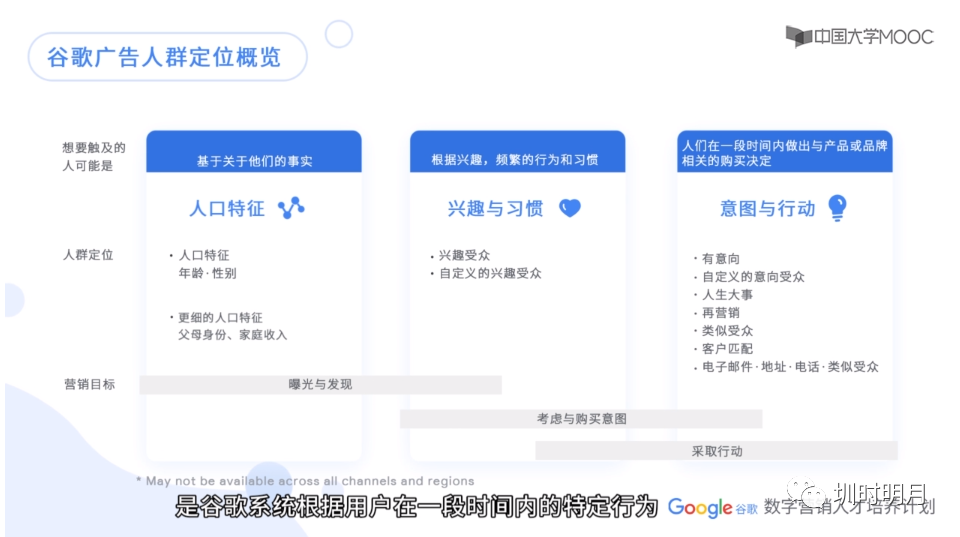 About the interest habits of interest audience settings, in fact, Google system has helped us to do a good job of the relevant classification, courseware shows how to target interest audience, with our previous example Zara how to target the theme site is similar, we only need to choose in the relevant settings column to serve ads, want to reach the user on it.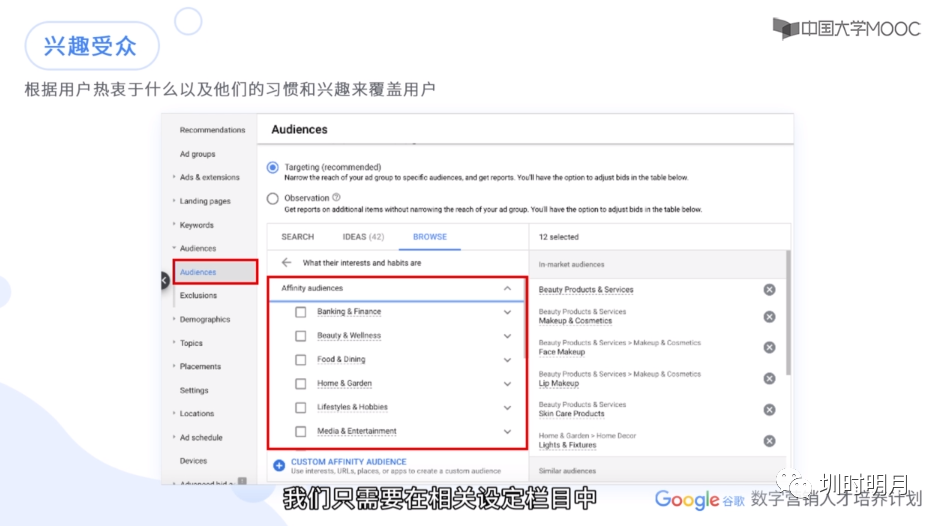 When we need more precise targeting of our interests and habitual audiences, we can also customize our interest audience, imagine if you were a business looking to promote VR glasses, which interest audience would you choose to target? You might think of an interest audience in games or technology first, but have you noticed that without the most critical elements of VR, you can't reach audiences that are potentially interested in VR with precision. In this case, a better way to target people is to set up a custom interest audience than to select a ready-made interest category within the system. You can enter many keywords related to the VR industry, URLs, APPS, etc. in the column to form a relevant custom interest audience.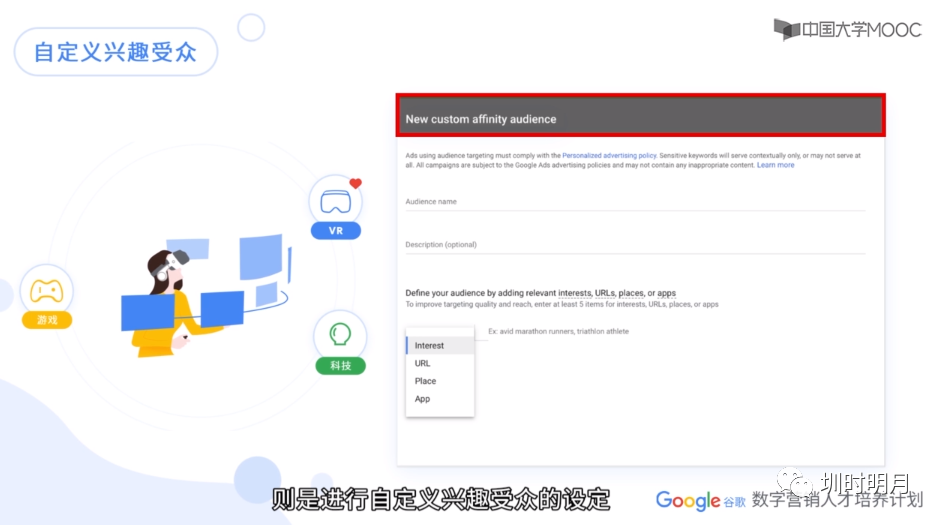 Let's take a look at the meaning of the intended audience, the intended audience is based on the user's recent purchase intention to divide the audience, when the user wants to buy a product or service in the near future, they will have the corresponding search behavior, the system can be based on these behaviors for the corresponding image audience classification.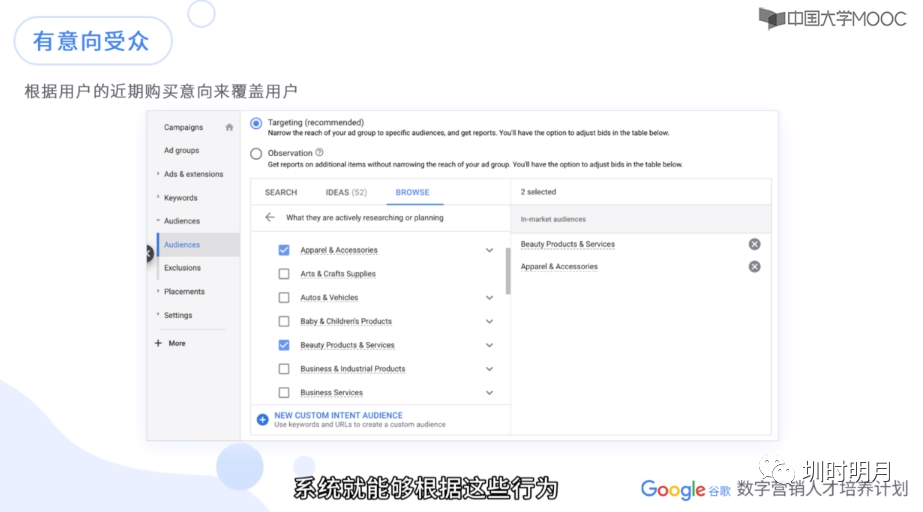 In Google accounts, the user category is also set up in a simple way, advertisers can directly choose the classification provided by the system. In addition to selecting the intent grouping for the county, we can also customize the intended audience. In the above lesson, we learned that when choosing an intended audience as a way to target a crowd, they may choose a clothing-related targeting group as the audience for advertising, but such targeting is not the most accurate. We can add body shaping-related phrases to the system to customize a more accurate intended audience. All of the above are about targeting display ads.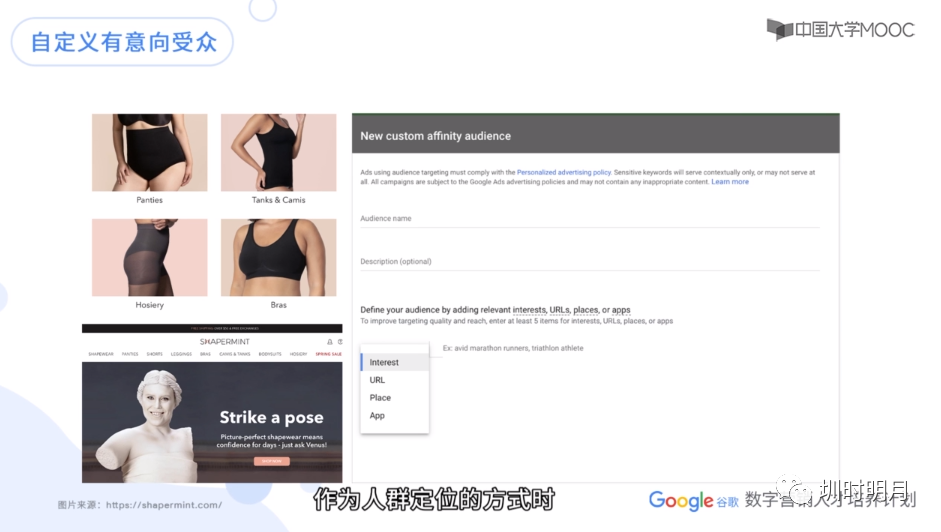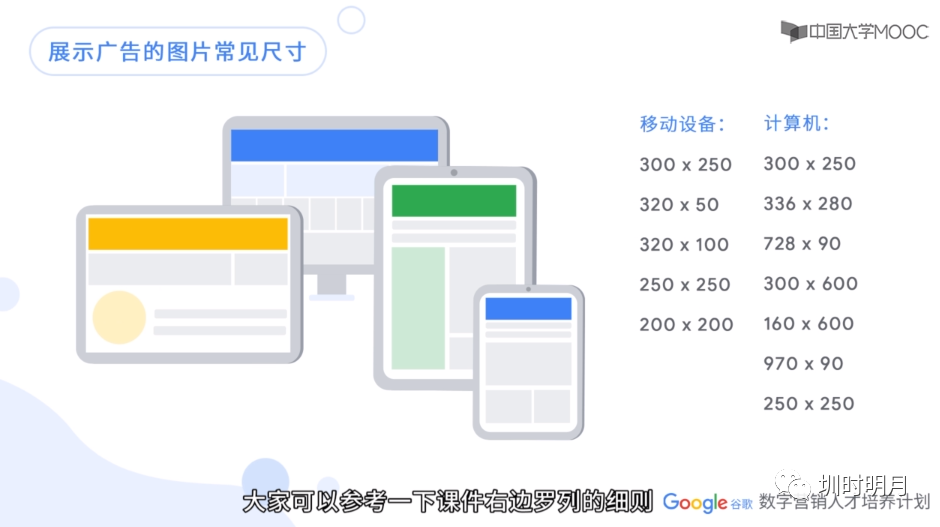 Next, let's learn the material part of the display advertisement, talk about the specific picture size of the display advertisement, mobile and computer end have different requirements, we can refer to the courseware on the right side of the detailed rules, for a more detailed understanding. Here are some of the more commonly used advertising image sizes, in the past ready to display creatives, we not only to produce a lot of different sizes of pictures, but also to test the combination of various elements of material, consuming considerable time and effort. The ad for Google's adaptive display solves this problem by uploading a variety of creative components required by the system, such as images, titles, logos, videos, ad content descriptions, and so on.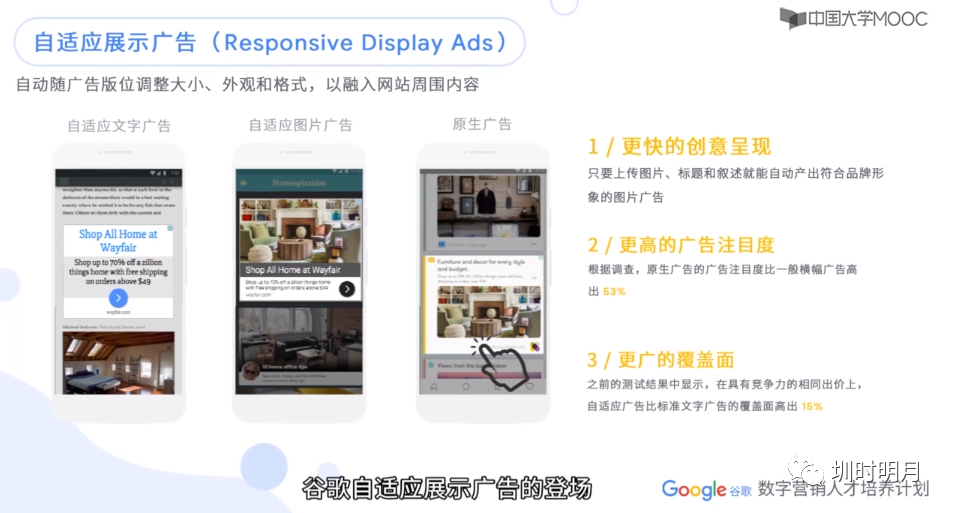 Google's machine learning technology automatically adjusts their size, look and format based on predictive data recorded by historical performance, and results in the best combination of display materials for different ad positions that match the brand image.
Adaptive display ads can fit into almost any available ad space. For example, on one website, its presentation can be adaptive text ads, while on another site can be presented as adaptive image ads and native ads, adaptive display ads, etc. , adaptive display ads adjustability, but also can directly affect the audience's attention to him. According to the survey, the ad attention of acoustic ads is 53% higher than that of regular banner ads. Adaptive display ads can also help you maximize the reach of your ads. Previous tests have shown that adaptive display ads have 15 percent more coverage than standard text ads at the same price, and adaptive display ads can be used for standard display campaigns and smart display campaigns, making it the default ad type in Google Display campaigns.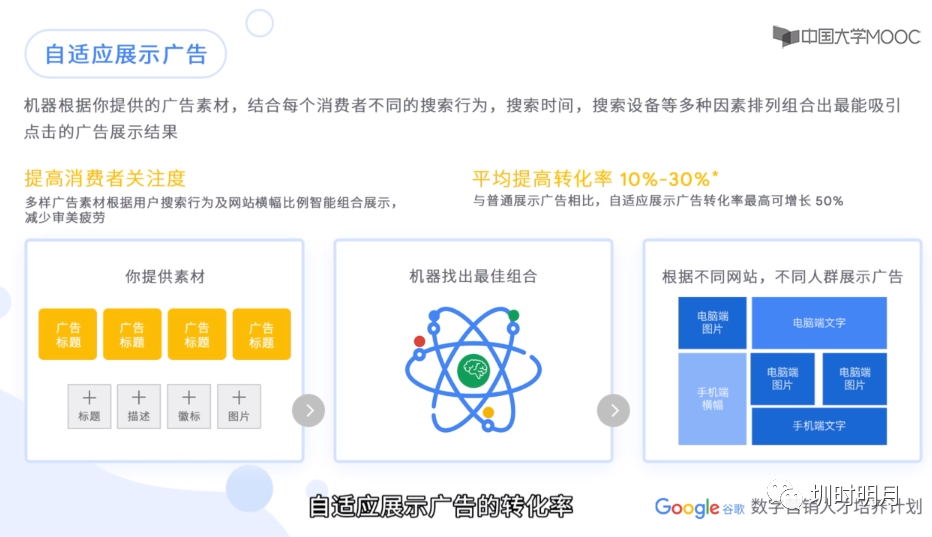 Adaptive display ads not only increase consumer attention, but also increase ad conversion rates. According to statistics, the conversion rate of adaptive display ads is as high as 10% to 30% higher than that of ordinary display ads, and can be increased by up to 50%. Adaptive display ads can also be displayed across devices on the computer side, mobile phone, and other devices. Now the courseware presents is to set up adaptive display ads background operation interface, the right part of the courseware is the simulation of the performance of the ads, the left is the ad landing page and creative components of the setup part. After we submit the material elements for the adaptive display ad, the system displays a rating of the effectiveness of the ad.
Through the evaluation of advertising effectiveness, we can understand the allocation of creatives we provide in comparison with best practices in the system, according to the recommendations of the system to make subsequent adjustments to improve advertising efficiency, thereby maximizing the effectiveness of our ads.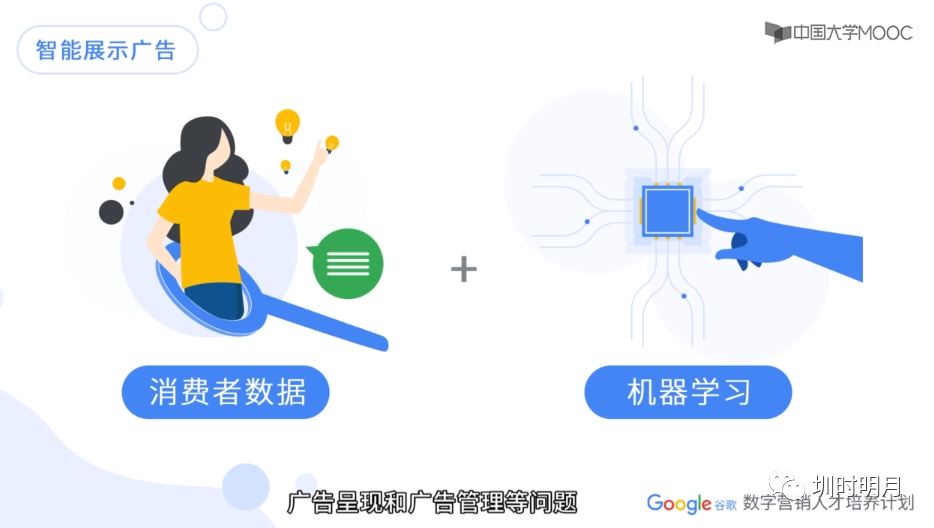 In recent years, Google has also launched smart display ads, smart display ads can make full use of Google's major data sources, combined with Google's machine learning for advertisers more intelligent and automated solutions to advertising production, advertising presentation and advertising management and other issues. Smart Display ads can be automatically targeted, bid automatically, and automatically combine ads. Smart display ads have a 20% higher conversion rate than regular display ads at the same conversion cost. At present, smart display ads have become the first choice of many advertisers, display advertising form. When you create smart display ads, you only need to provide three very basic information, starting with home strategies, such as choosing target, CPA target cost-per-conversion bid, or target r o a s bidding with the target return on ad spend.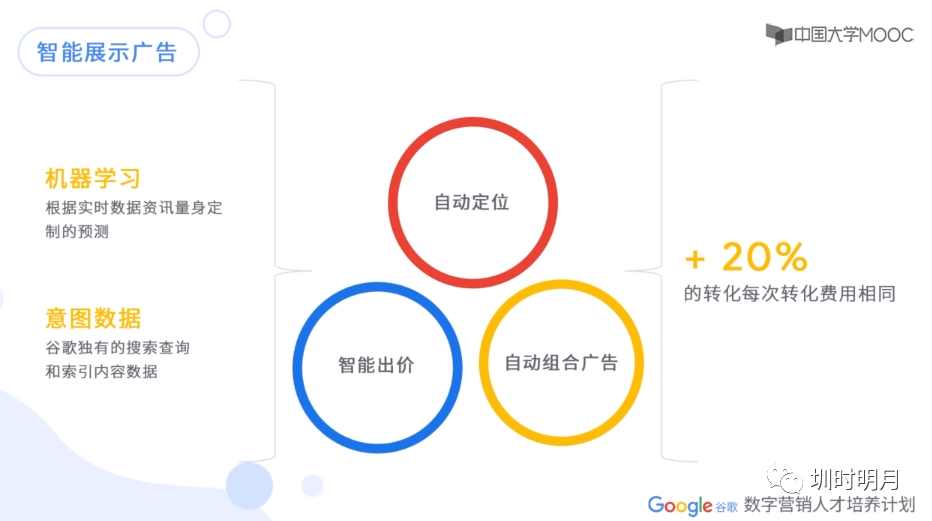 The second is the budget of the campaign, and finally the elements needed for creatives, sum up the advantages of Google Smart Display Ads, it can help advertisers unlock more display boards, but also for different audiences to bid for the corresponding, generate the right materials, smart display ads and adaptive display ads set up very similar.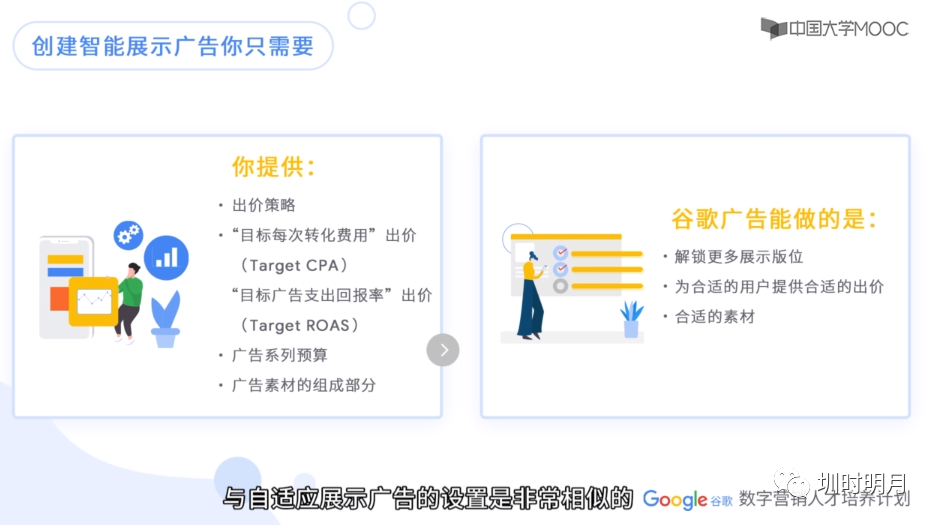 Advertisers only need to upload all kinds of material elements specified by the system, material elements need to cover up to 5 text titles, 5 text description lines, 15 marketing pictures and 5 commercial logos, need to remind everyone that these materials must be completely matched with each other, the product or service interpretation. For example, any of these titles can match any description and do not appear abrupt. Machine learning then uses the elements of these creatives uploaded to automatically generate display ads in different combinations, helping advertisers reach the most appropriate audience in real time.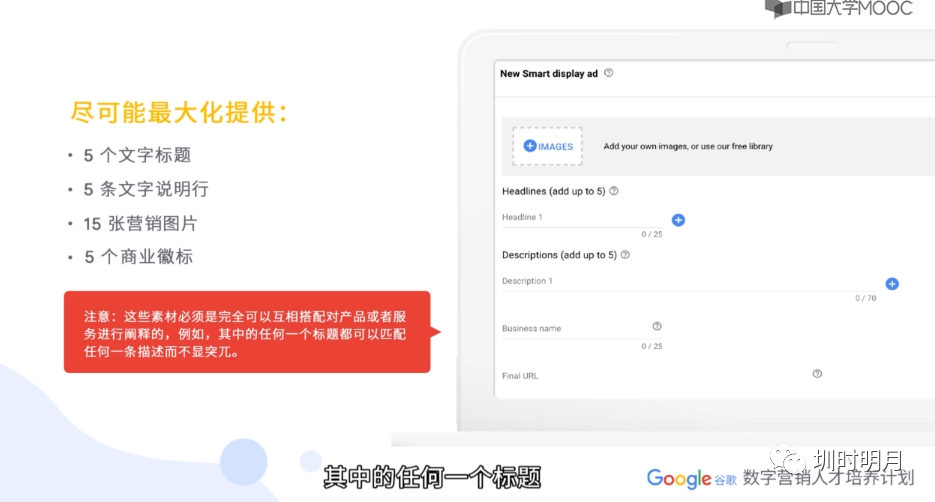 For smart display ads, we need to understand 4 points, first, the budget of a single series of smart ads, the daily budget should be greater than the target, 20 times the cost per conversion bid, because the budget is sufficient, the machine will be better with data to optimize. The second is to bid, which requires the expected bid amount, based on the amount you are willing to pay for a conversion.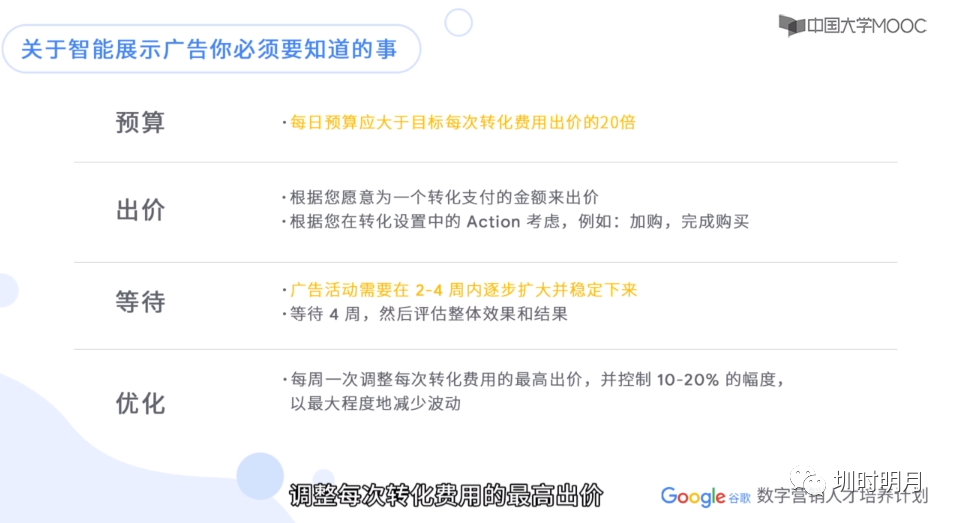 The third is to wait for smart display campaigns, through machine learning to help advertisers achieve their goals, usually take 2 to 4 weeks to gradually expand and stabilize. So be patient when doing smart display ads, and don't easily change or adjust your ads during machine learning.
Finally, at the end of the learning cycle, if you want to further maximize the effectiveness of your ads, it is recommended to adjust once a week, the maximum bid per conversion fee, the adjustment range should not exceed 20%, to minimize fluctuations, creatives can be reviewed weekly or every two weeks, to ensure that the poor performance of the material resources can be replaced in a timely manner. In this lesson, we learned the basics of display advertising, adaptive display advertising, and smart display advertising.
---