Google AdWords' top hit ad text rely on these 9 "watch machines"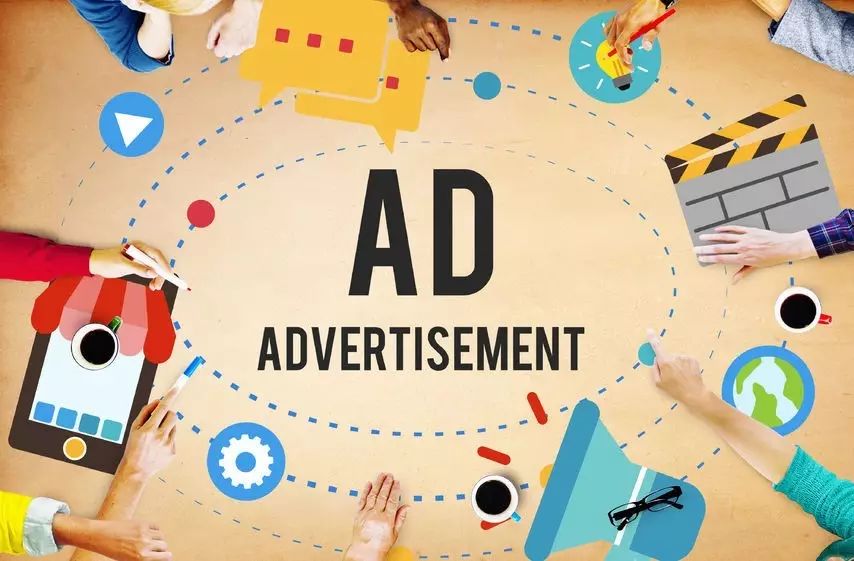 Photo Credit 123rf.com.cn
How can advertising papers be written to maximize the effectiveness of advertising marketing?
Which words in AdWords' best-performing ads yield super-high CTR (click-through rate)? How do numbers and punctuation affect advertising? What is the best CTA word? Google AdWords is the best performinggoodIs the ad negative or positive? Is the content going to be built with keywords or more creative?
WordStream, a market research firm, has looked at the best-performing ad texts in AdWords over the past year and summed up nine factors they all have.
WordStream checks each account with the free AdWordsPerformance Grader to get a report and decide on the best ads for that account (and the worst ads), as shown in the following image: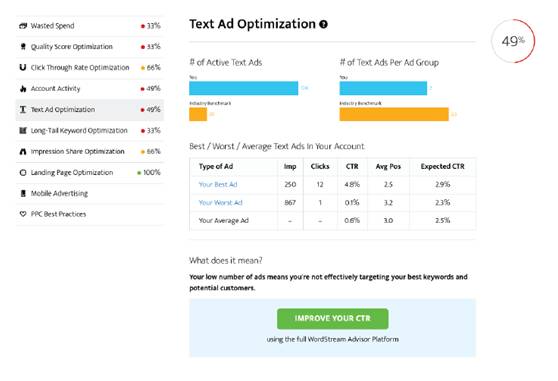 WordStream used data collected by Graler between August 1, 2016 and April 30, 2017, and looked at the top 15 percent of ads performed during the period, resulting in 612 ads for analysis.
In the study, the research firm looked only at bids from advertisers USD, AUD, CAD and ZAR, excluding non-English and bilingual ads. It also divides advertising into brand and non-brand (335 brand ads, 227 non-brand ads). Here are nine conclusions from the study:
1, what is the most popular word
Back in 2016, Google launched ThexedText Ads, which doubled the number of characters in text ads. For some, filling in extra characters can be painful, while for others, there are opportunities.
No matter what category you belong to, it's undeniable that writing more words means that it's more important to find the right word in your ad, but what's the right word?
To find the right advertising keywords, WordStream studied some of the good ad text and split it into separate words, excluding verbs (and, or), crowns (a, the), and finally found out10 most popular words:
According to the data, of the 335 brand advertising texts, the most common words appear in order are:Your、Free、Now、Get、Online、Our、Save、Best、Shipping、You。
 "You," "Free," "Now" may seem obvious, but the emergence of "Shipping" (which may appear with "Free") is surprising, and good-performing ads tend to favor e-commerce rather than direct consumer registration.
In fact, the verbs "Get" and "Save" in the list seem to illustrate this, as they are used in B2B and B2C text ads.
There are "Free" and "Save" on the list, so you can guess that shoppers care about the price, and "Now" and "Get" indicate that they want to get the product as soon as possible.
It's also important to use the second person "You" and "You" at the same time, which ensures that your ad text is about the user, not you.
2, what kind of CTA vocabulary is the most appealing?
The CTA is perhaps the most important part of the advertising case. It is not wise not to use a CTA word in the title. Also, it's best for businesses to use CTA in descriptions or URL paths.
CTA is a language in which you tell searchers what you want them to do (how/when). Given an ad, it's important to know which CTA is appropriate.
WordStream now excludes brand ads when analyzing CTA ads, because advertisers often fail to show explicit CTA behavior in brand ads. The goal of many brand advertisers is not to direct consumers to click and spend. Non-brand advertising is often more commercial.
While CTA phrases vary slightly depending on the situation, there are fairly few verbs available when a business wants potential users to take action. After analyzing the most popular non-brand text ads, the results show that the most popular CTA word rankings are (by the number of verbs appearing in the ad):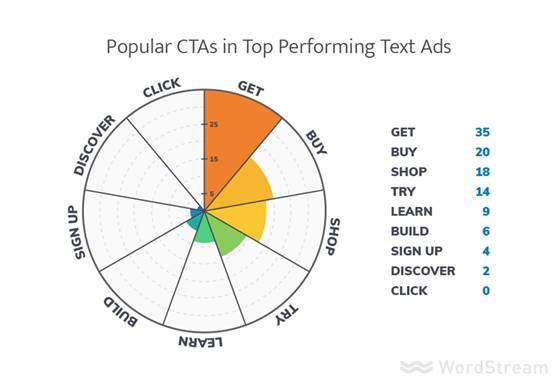 If you sell a product, the CTA word used is obviously "Buy" or "Shop" (and perhaps "Get"). Conversely, if your goal is to guide people to register, your CTA text can use verbs such as "Learn" or "Discover" or "SignUp." However, the data collected by WordStream indicates that the most commonly used verb in CTA is "Get".
Few of the best-performing ads use verbs such as "Click" or "Clickhere."
3, the best advertising is positive or negative?
The emotions triggered in the advertising case play an important role in how consumers view or interact with the advertisement.
Use Vader's emotion analysis tools and Python's NLTK Library to determine the emotions (positive, negative, or neutral) in the best ads.
It turned out that 45 per cent of ad text conveyed positive emotions, 53 per cent passed neutral emotions and only 2 per cent conveyed negative emotions.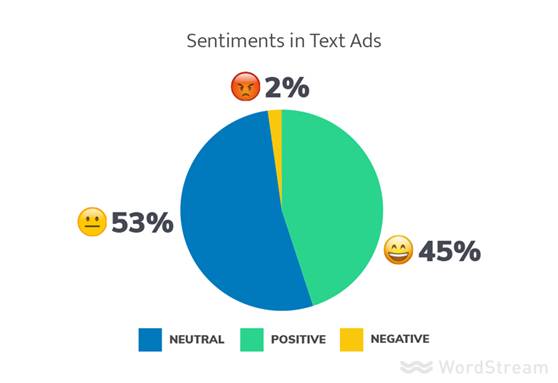 If you study the brand advertising paper, the results may be the same, after all, the brand is very avoiding negative content.

Personally, WordStream analysts say he will use inflammatory (even negative) advertising to make potential users feel that your ad is sad, scary or sarcastic than not being noticed, and help search engines rank.
4, how to diversify the advertising vocabulary?
You might ask, "What is vocabulary diversity?" "It refers to the ratio of the unique word in a given library to all the words in the text. When it comes to analyzing and optimizing text ads, vocabulary diversity is a key indicator of whether ad text stacks keywords. It is important to understand how often keywords are used in advertising cases, too little may pull down the quality score, too much and can not keep consumers.
The data show thatIn the best-performing ads, words are often repeated only once.As shown in the following image, "Widget" is used only twice:

Obviously better than in the image below, the word "widget" is used several times:

The diversity of words in advertising essays is crucial. Stacking ad text with the keywords you're bidding for may improve your search ranking, but for consumers, text may not be attractive. And don't forget, it's the consumer who clicks on the ad and buys the product.

5. What are the common punctuation marks?
Compare: Let'seatma! and "Let'seat, grandma! "Do you think punctuation is important at this time?"
In fact, a punctuation can have a big impact on the meaning and intonation of text ads.
Therefore, looking at how punctuation is used in the best advertising documents can provide some advice for corporate advertising, instructing them on what type of punctuation to use in advertising cases and, more importantly, how often.
Punctuation in brand ad text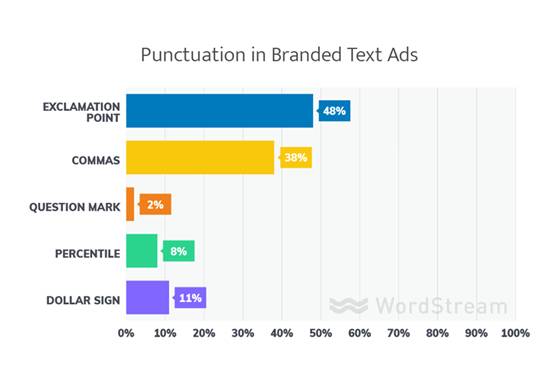 Shockingly, the exclamation point is over! If you look at the location of the exclamation point in the next ad text (brand or non-brand), you'll find that most advertisers put the exclamation point on the last line.

In brand advertising cases, the use of currency symbols is relatively low, because meaningful brand advertising may just want to hit the brand. Here's how many symbols are used:

Exclamation point: 48%
Comma: 38%
Question mark: 2%
Percentage: 8%
Currency symbol: 11%
The location of question marks in brand advertising documents is interesting. Of the 335 brand ads, only 2% asked questions.
Businesses can try to test different punctuation effects in ad essays. Even if most of the best-performing ads don't use question marks to get a higher CTR, it might make the ad stand out. Breaking the pattern is likely to have amazing results.
Punctuation in non-brand ad text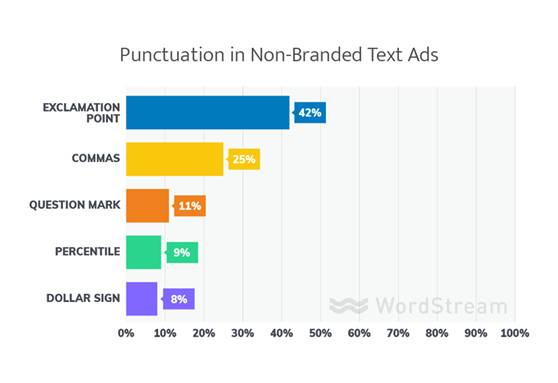 The use of punctuation in non-brand advertising documents is very similar to brand advertising, with many exclamation points and commas.
Interestingly, the use of currency symbols in non-brand advertising cases is about 3 per cent lower than in brand advertising. The usage of punctuation in non-brand advertising is as follows:
Exclamation point: 42%;
Comma: 25%;
Question mark: 11%;
Percent sign: 9%;
Currency symbol: 8%.
How often punctuation is used is better
It's easy to see from the data that many successful advertisers don't ask questions in their ads or use currency symbols. If you can find the right way to communicate with potential customers, your ads will stand out! However, one thing is clear: use an exclamation point!
6, the best ads using keywords dynamic insertion?
Do you know DKI? It's a tool that lets custom ads match a user's search terms. It lets you create more specific, targeted ads. All you need to do is create a generic ad template that you can dynamically insert keywords into.
But the data suggest that the best performing text ads, whether brand or non-brand, tend to avoid DKI.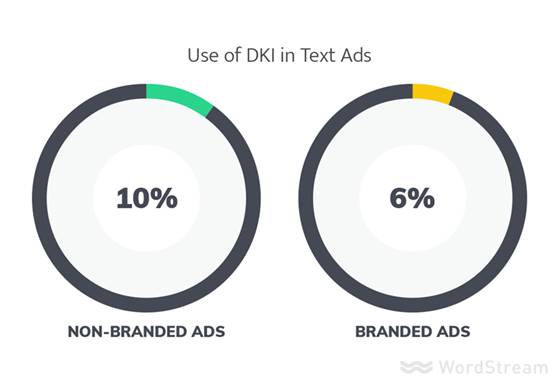 When asked if they used DKI, only 10% of non-brand ads and 6% of brand ads were used.
While this is a bit surprising (because many accounts use DKI to some extent), the data confirm that DKI is a stopgap measure, not a solution, to write an ad copy. Relying on keyword dynamic insertion can kill creativity, which is why some people don't use DKI to write ads.
7. Will I use trademarks or other brand logos?
Simply looking at whether a good-performing ad contains a brand doesn't give others much insight.
We already know that advertisers will bid for their brand-related keywords and use the same keywords in their ad essays, which makes sense. Brand search ads are no longer just a choice but a necessity.
One of the easiest ways to communicate authenticity is to use a trademark mark (TM) or other means to communicate official nature in order to beat your competitors.In the past, studies have even found that using logos in ads may increase conversion rates. Interestingly, only 28 per cent of good-performing ads and 6 per cent of non-brand ads do so.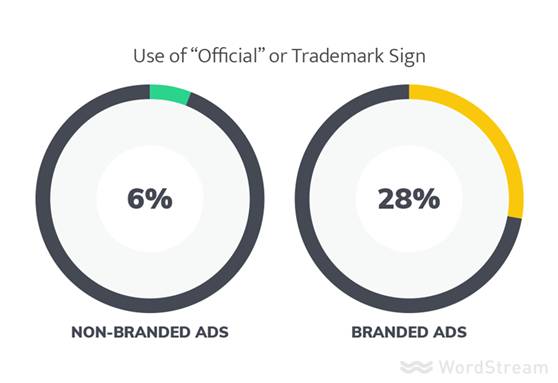 This shows that many small and medium-sized enterprises lack the brand value of multinational companies such as Nike or Coca-Cola: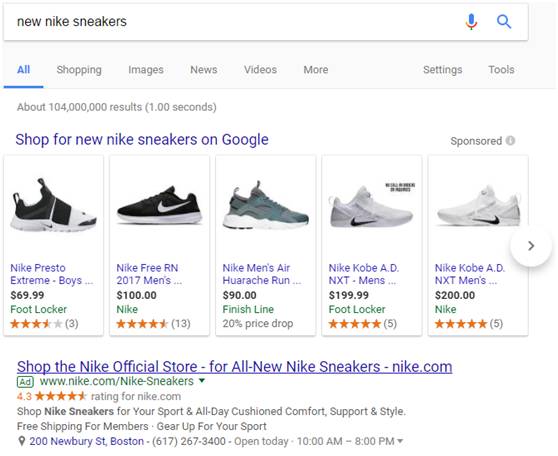 Search for any big brand and you'll find advertisers trying a variety of ways (whether through words like ™ or "Official") to let consumers know that it's the real "wukong". If big brands do it, so should you.
But TMs or logos aren't a must-have in good ads, but companies can try testing them to see if they'll work for your CTR and conversion rates.
8. Will good-performing ads use numbers?
According to research data, only 40% of the best performing brand ads and 37% of non-brand ads contain numbers.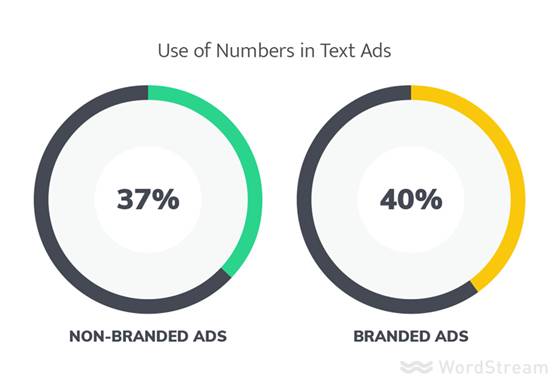 The relatively low usage of currency symbols and percentages indicates that numbers are not used much in the best performing text ads.
But that's not to say that numbers aren't useful, it's instead a reminder that advertisers' potential customers are concerned about more than just the price of goods or services. Businesses can communicate product value in text ads that don't have numbers.
The best ad book uses numbers (not just to show better prices and discounts), but research shows that more than 60% of the best text ads are written using only words.
9. What is the average reading level of the audience?
The study found that some of the best-performing ad essays had an average reading level of 14 years. So, if you want a good CTR, think of the ad as someone with only 9th grade English!
Interestingly, many best-selling authors are doing the same thing. Contently's Shane Snow found that best-selling authors read at or below level 9: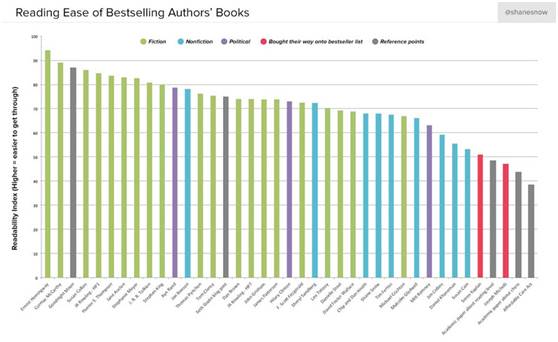 By synthing all the data together, we can conclude that the best performing ads generally:
Use the best performing words (your, free, get, our, save, etc.);
Use the best performing CTA word (get);
Trigger positive emotions;
The vocabulary used is diverse;
Use exclamation points;
Do not use DKI;
No trademarks/brand marks;
Write for people with reading level 9;
The description uses a number.
Wen/Hugo.com Fang Xiaoling
Please indicate the source of the reprint Hugo.com

To know more cross-border e-commerce do dry goods
Get dry PPT at APP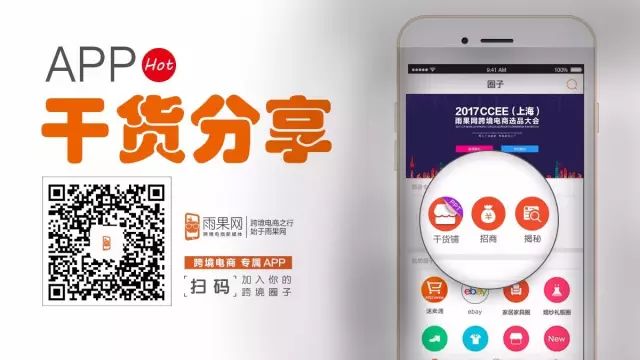 Click "Read the original" to download the APP 
---