Foreign Trade B2B Google Advertising Guide for 1 plus 1 2

The use of the Internet by Chinese companies is now a huge opportunity, and we know that the two biggest platforms for overseas advertising are Google and Facebook. For B2B businesses, Google is the best choice for launching. However, it is not easy to put in, groping is long, a little careless, may have to pay huge tuition fees.
Bring up Google ads, I believe that many newbies to Google Adwords, Admob, Adsense these platforms are a face circle, do not know the difference between these platforms and which is their own needs, the following small editor to give everyone a popular. 

Google Adwords is where advertisers spend money on ads.
Google Admob is where Mobile developers make money by using apps to display advertisers' ads.
Google Adsense is where PC and Mobile web sites make money by displaying ads on the site.
Nutshell.
对开发商 : Google AdMob ( In-APP-Ads )、Google Adsense ( Sites Display Ads )
对 B2B : Google Adwords
Google Ads, formerly google AdWords, was released on October 23, 2000 and is Google's primary advertising service product and a major source of revenue for Google. Google Ads allows advertisers to serve ads in Google search results, YouTube, Google Search Partners, or the Google Display Network, between text, images, videos, and more.
Google is the world's largest search engine with a market share of about 78%. And the quickest way to make a website appear on Google and its partners is to run Google Ads.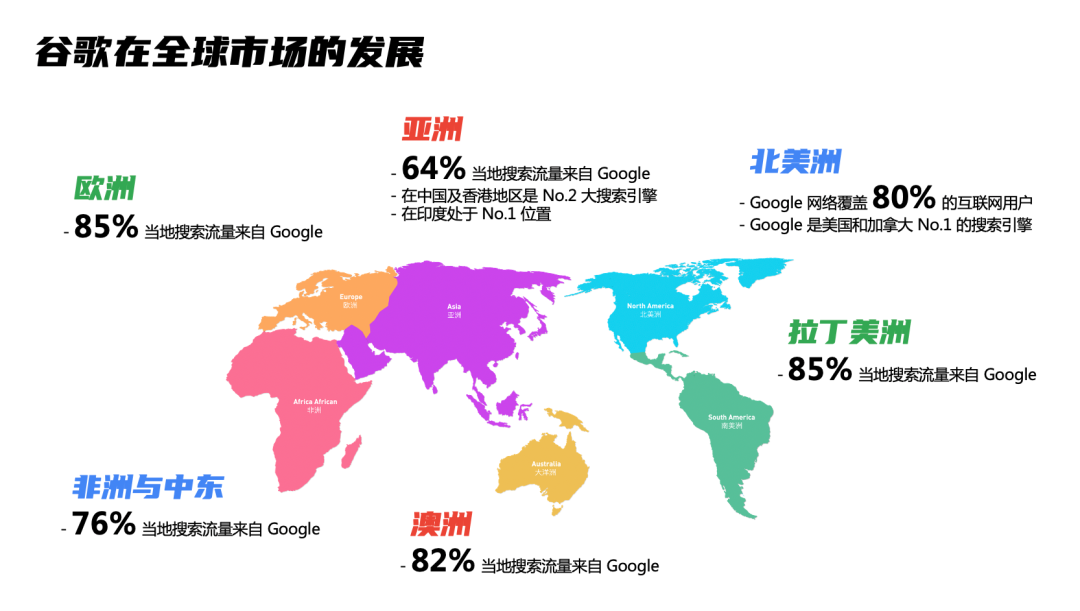 How do I distinguish between Google ad types?
Google Ads offers B2B a variety of online advertising options.
For example, search ads, display ads, video ads, and Gmail ads.
So how do advertisers choose the right ad?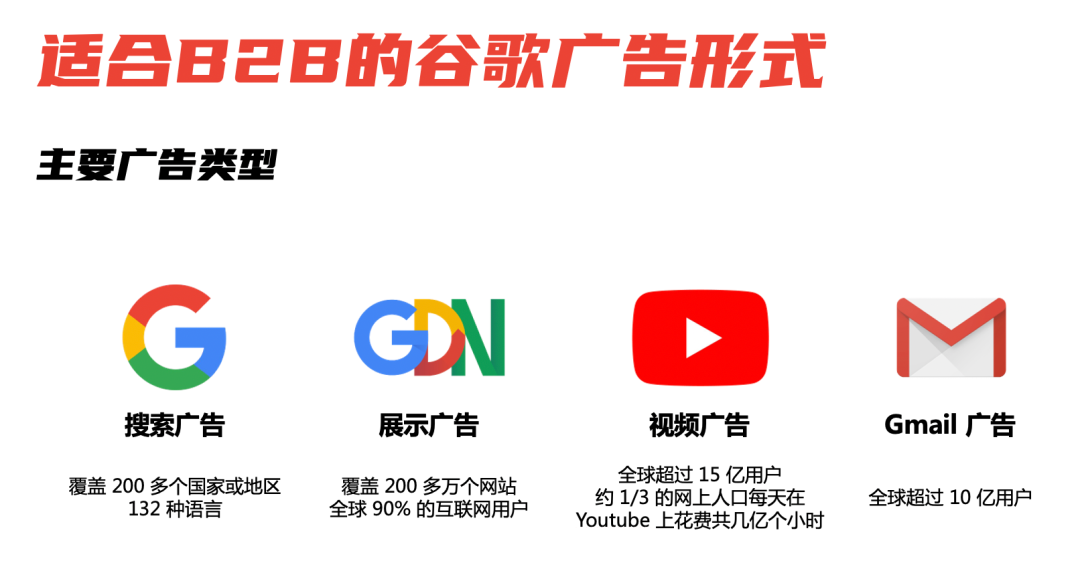 Reach more potential customers with ads


Encourage your customers to leave contact details

Push visitors to your site
Engage customers to click, browse and watch your products
Active.Find and reach a wider range of potential customers

Increase brand awareness

Expand your reach when you launch new products or enter new markets
Match keywords in message content with precision delivery

High-quality advertising audience

The user experience is good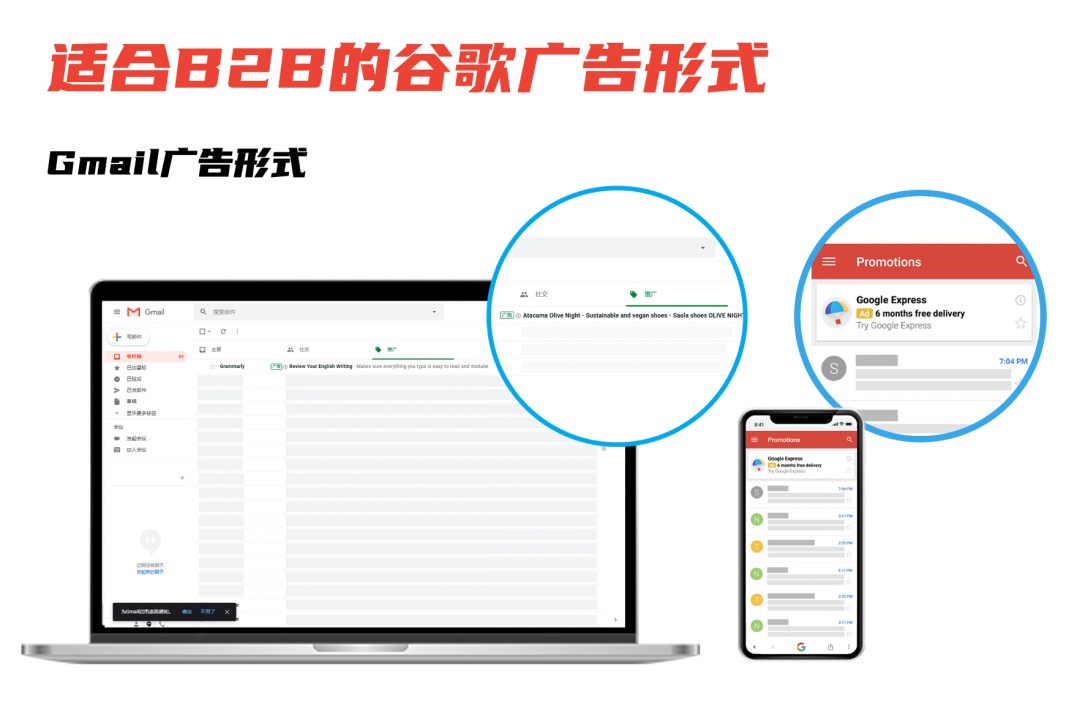 Search ads are for B2B businesses that want to explore Google search traffic opportunities;
Youtube ads and display ads are suitable for B2B companies that need branding and product attention;
Gmail is suitable for precision re-marketing, so that your potential customers continue to see you and your products, repeated exposure;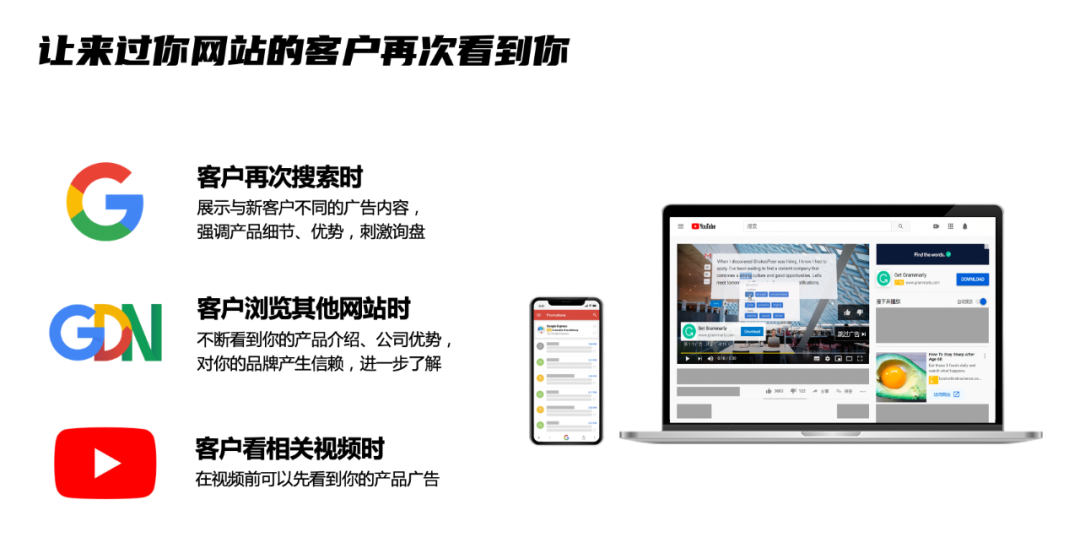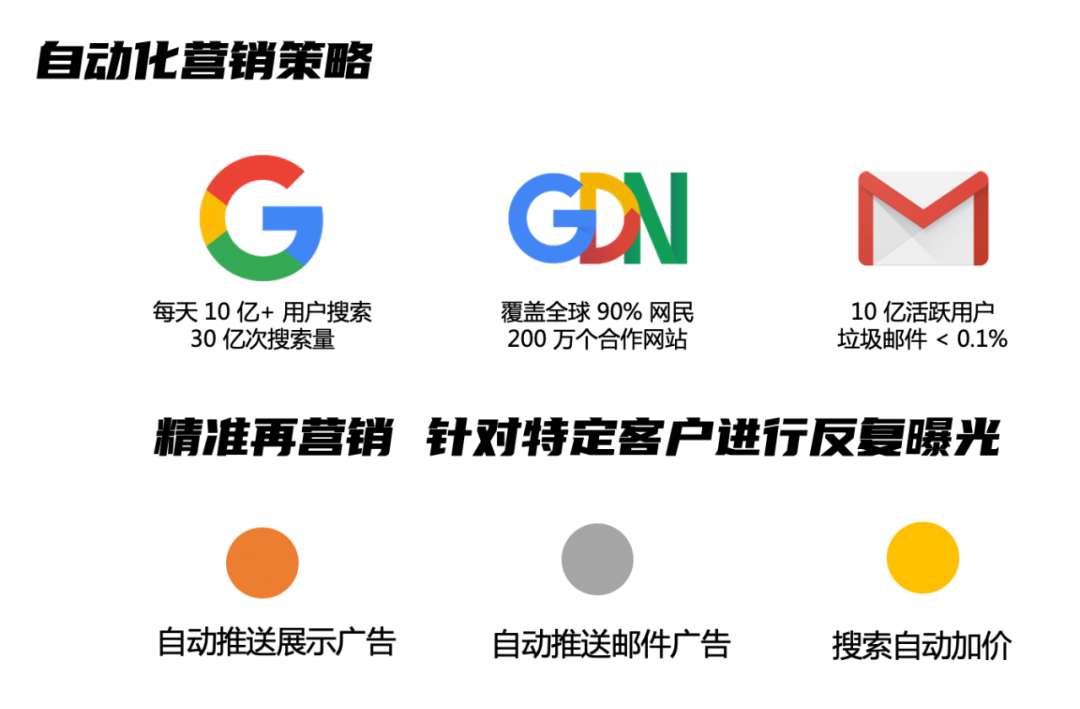 To run Google ads, you need to have a Google Ads ad account and create campaigns based on your business needs. Note that with just one Google Ads account, you can use all of Google's products, including Gmail, Google Ads, and more.
Sign in to Google Ads backstage and click "plus" in the campaign bar to select the campaign for your needs. "Campaigns" is the largest ad tier under the Google Ads account, and in order to better manage our ad accounts, we can create different campaigns based on our region, product line, keyword type, promotion target, etc., in order to create different ideas for different needs to achieve better promotional results.
Once you've created your campaign, you can upload different keywords and write different creative ideas based on the characteristics of each campaign.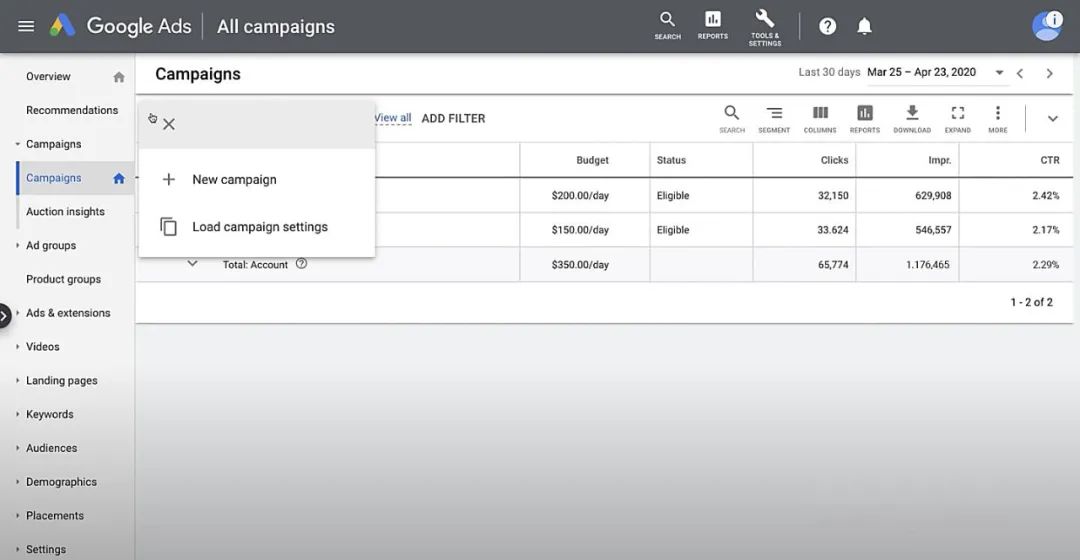 Select the type of ad you want to create
Create a campaign, and the next step is to select the type of ad you want to create. We need to determine the type of ads we want to run based on our promotional goals, industries, and product features, and Google Ads currently divides the types of ads into search, display, shopping, video, smart, and the foreign trade industry generally recommends starting with search ads, which is Google keyword ads.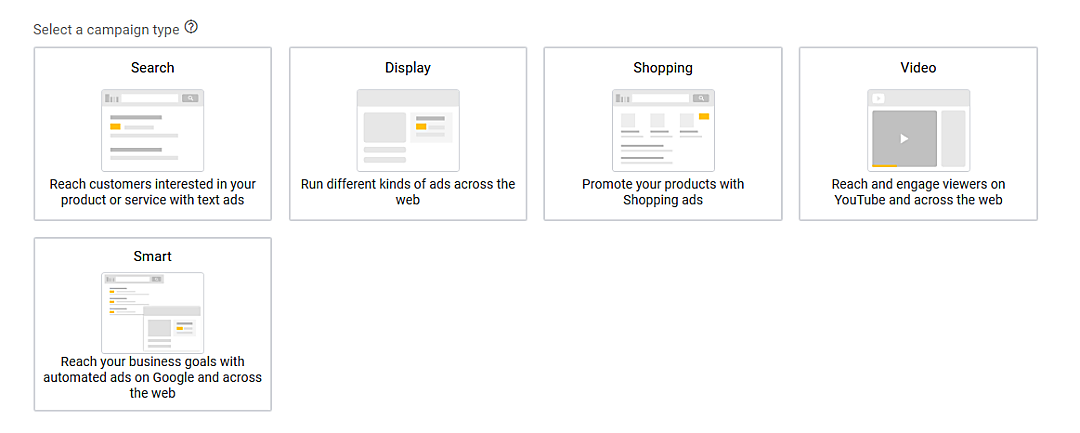 Users who use Google Search have a strong "purpose", when the need for clear users to actively search for products, their ads will be more accurate, so as a foreign trade, starting with Google keyword ads is the most secure choice.
Select what you want to achieve
Most people run ads, always dazzid by Google Ads' cumbersome settings, and target choices are often overlooked, as everyone uses Google Ads with different goals, some to increase website traffic, exposure, and some to increase the number of calls. Therefore, choosing the right goal is especially important, and Google will try to help achieve the goals we set!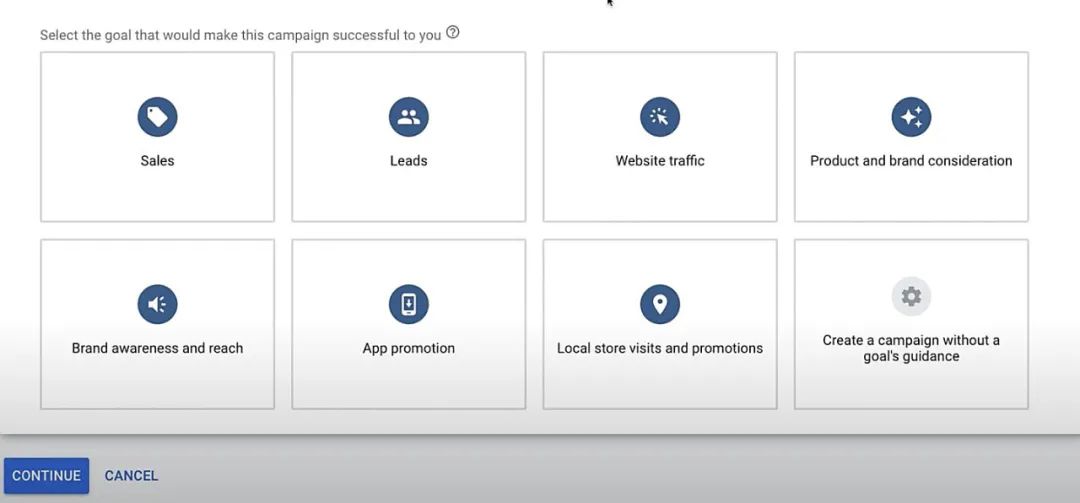 For example, when we select a "lead" target and a sub-target is "number of calls" and create an advertising campaign, we will see features such as "phone numbers" that will help achieve this goal.
Before you run your ad, you need to set the following options:
1. Region: Set the region we want to serve, or set the area we want to exclude, and Google Ads will automatically launch the region based on the settings.
2, language : The corresponding selection can be made according to the language of the target regional market.
3, budget : You can set your ad account's daily budget and your campaign's daily budget based on your campaign needs.
4, bid : There are three options for bidding, if you don't have too much experience running Google Ads ads, you can use click-to-price when you run, and if you're worried about spending money too fast, you can also set a limit on single-click bids to avoid spending too much on your account because your bid is too high.
For example, if we set a maximum of $5 per click, Google Ads will not charge more than $5 per click.
Since the level of competition is different and the click-through price for each keyword is different, we can use the keyword planning tool to refer to the system to make bids for our bid suggestions.
5, start and end dates : We need to set an end date for our ad, or it will run all the time. If not required, you can also not set it.
6, audience : Choose the right group to meetShow our ads to the right people, increase your ad accuracy, and increase your ad conversion rate.
After the basic settings are completed, you need to fill in the ad extension, you can choose to fill in as needed, provide more information to customers, used to increase the click-through rate of ads.
The basic settings for your ad

Complete.

After that, you need to select the keywords you want us to serve. Before you can select keywords, you need to create different ad groups and write different ideas based on different ad groups.

Create a new ad group by clicking on the "plus" symbol in the ad group column. Special attention is needed
, don't put keywords in the same ad group, which results in all ad ideas that are consistent, and then

This can result in low click-through rates for your ads and even affect your keyword's quality score

。 We should set up many different ad ideas through different ad groups.
In the "Search for ad keywords" section in the background of your account, add the keywords we need to promote,

Click on the "plus" to enter the Add Keywords interface

。 The way keywords are matched here requires special attention; the matching method is too narrow, resulting in too few clicks; and the matching method is too wide, resulting in inaccurate ad presentation, resulting in a lot of waste of advertising costs.
So how do keywords match?
There are three ways to match keywords: broad matches, phrase matches, and exact matches.
The so-called broad match is that ads are displayed as long as Google determines that the keywords it's setting up are relevant. Google also displays our ads in keyword-related but product-related searches, which wastes our advertising money. By default, Google keywords are widely matched, so we need to adjust before we start serving.
Phrase matching shows our ads when people search for keywords we've purchased and related keywords.
A perfect match is an ad that appears only when a user searches for the full name of the keyword we set.
Design different ideas for different ads
Attractive ad titles are easier for potential customers to click on.

Ads will not appear immediately after the release of Google search results page, Google will be reviewed, the review is completed before the ads can be displayed, this time we search to see our ads!
Why are you looking for an agent?
Agents are more professional in audience targeting and creative production. And professional agents will have a lot of hard-to-find optimization Tips to help advertisers run better.
Platform E helps Google Ads serve ads
Stand-alone sites are a prerequisite for B2B enterprises to expand their market by running Google Ads ads. Special Information provides station construction services to B2B enterprises,

Google

Ads ads at the same time, "E Platform" will be in the data, retention, communication and other aspects of the full stage of advertising, to provide unique support and help:
With a 16-year service base in the foreign trade industry, B2B canAnalyze transaction data in the E Platform for more accurate, procurement cycles, low season, product keywords, target countries, and more.This effectively reduces the cost and cycle of testing water and more effectively delivers a limited advertising budget to your target market, allowing it to be converted into your order more quickly.
At the same time,When a potential customer enters the inquiry phase through Google Streaming, you can obtain the business data of the lead through the D.B. Hoovers, learn the expected volume of the lead and the range of the regular transaction amount from the transaction data, and perform a secondary analysis of its needsTo achieve the purpose of advance prediction, to facilitate more effective and accurate communication and discussion in subsequent communication.
Third, Internet ads are running at a rate of 2%-5%, which is a huge waste of your ad budget.Easy-to-identify information-based big data precipitation enables tracking and conversion of 95% of anonymous visitors under the iceberg, enhancing business performance in Google ads and reducing B2B access costs.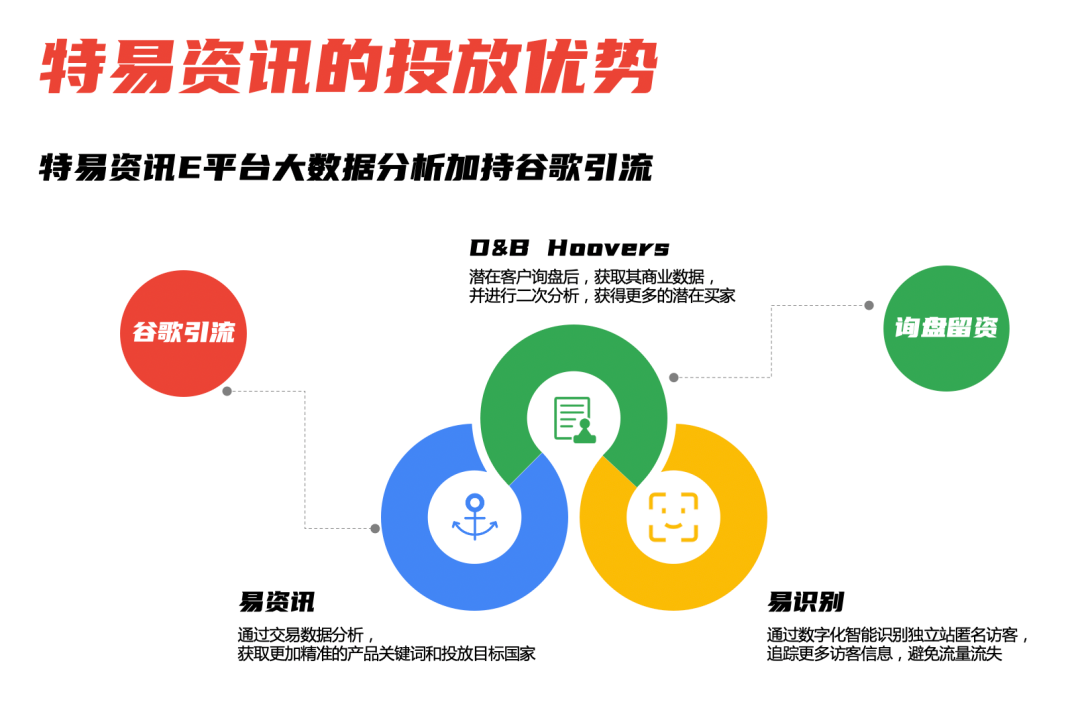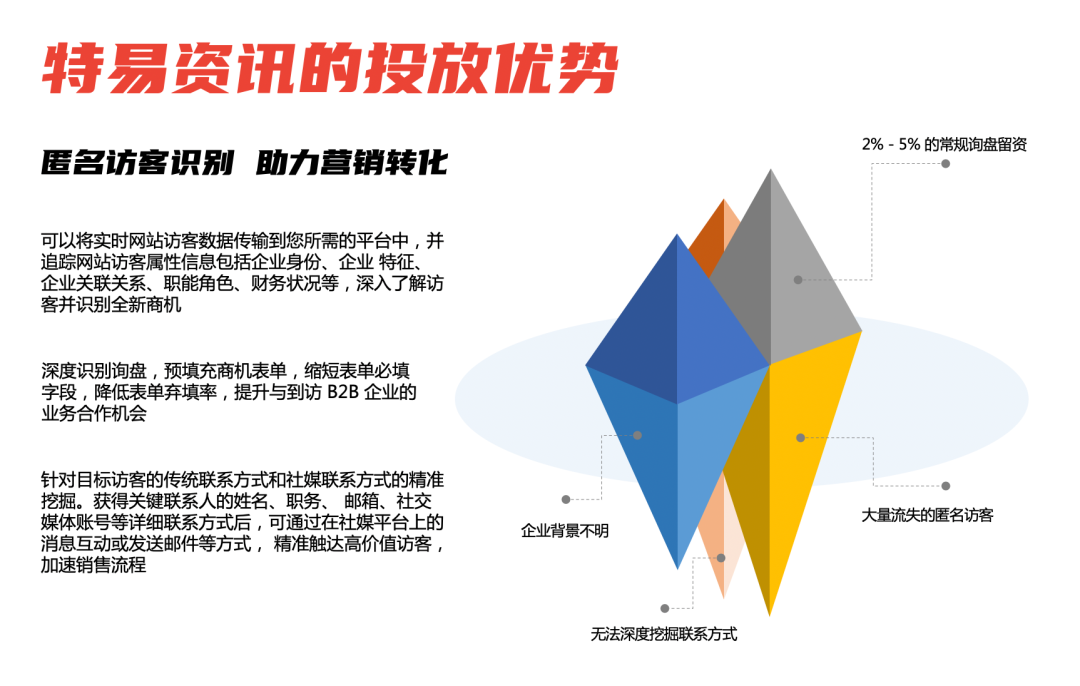 If you want to do good, you must first use the best. In the full phase of Google Ads advertising, The E Platform provides diverse support in data, site building, promotion, streaming, communication, and more, making B2B investments more direct and effective. E platform" hold 

Google

Ads, a combination of 1 and 1 2, allows brand value to increase more quickly and advertising to reach more directly.
    For more "Google Ads ad serving," check with special advisors from all over the world    
- THE END -

Long down figure QR code follow "Easy Information"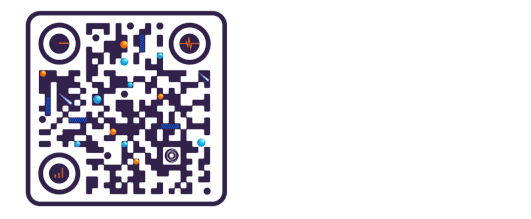 ---