Facebook's ad copypage ideas boost conversion rates by 30%
Click on the blue character above.
The average daily active user on the social media platform is 1.09 billion. Social platforms are on the rise, and many believe Facebook is waning, but the following figure shows that people love Facebook more than ever - 70 percent of Facebook users in the U.S. log in to Facebook every day, compared with Instagram - 59 percent, Twitter - 38 percent, Pinterest - 27 percent, and LinkedIn 22 percent a day.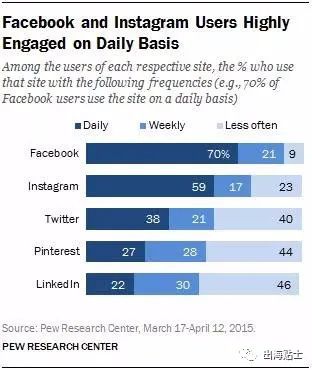 With this huge potential for all of these users for marketers, Facebook has become one of the best advertising platforms for the B2B and B2C businesses. Over the past few years, as Facebook's natural coverage has declined, savvy marketers have made a lot of money from Facebook ads by constantly optimizing their advertising strategies.
The success of Facebook ads needs to be made up of many parts -- For example: accurate audience targeting, wonderful images or videos, as well as eye-catching advertising copy.This article will answer questions about why you run ads on Facebook and give examples of how to write better Facebook ad copy to achieve conversions.
Why is Facebook ads so effective?
Facebook has a lot of users, but if you put your ads in front of so many people, you don't have to convert a lot.
The key to Facebook ads is targeting! Facebook has the best ad targeting system than any website. This targeting feature allows advertisers to segment the audiences involved in their ads.
If you're selling garden hoses, you can contact people who are interested in garden and home improvement. If you're selling a Software-as-a-Service (SaaS) tool, you can target people who have visited your site or ad landing page.
Here are some ways to target ads that you can use on Facebook:
Custom Audiences - Allows you to target existing or potential customers.
Location - Audience targeting is allowed by location (city, state, country).
Gender - location by sex (male or female) is allowed.
Interests - Allows positioning by interest (e.g. fitness, entrepreneurship, fashion, literature)

Behavior - Allows you to target people who have visited your website based on the behavior spent/done by users.
Connection - Allows targeting of people who have accessed and followed an advertiser's Page or who have already interacted.

Two Types of Facebook Ads.
There are two main types of Facebook ads available to marketers:
1. Sponsored ads (new posts)
The posts appear directly on Facebook Newsfeed. Users can see them when they swipe through their circle of friends, and ads like posts from close friends stand out.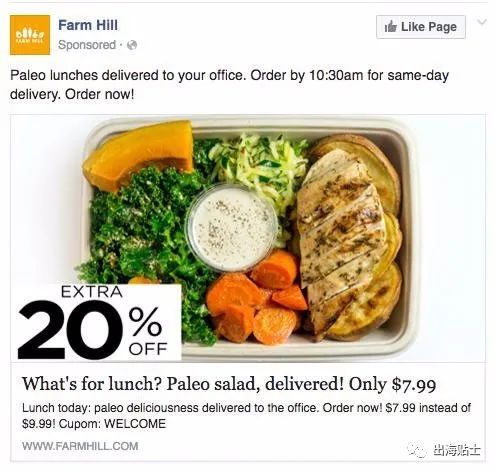 2. Right column ad.
The other is the right-hand column ad, which appears in the right-hand section of the Facebook page. These ads are small, but they don't scroll through pages like new ad posts. Marketers use the main purpose of right-hand column ads to reposition audiences.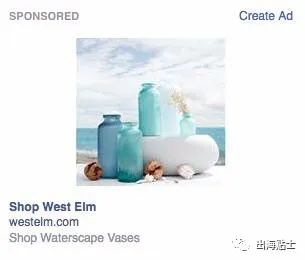 Note: Ad posts contain more types of ads, so this article will focus on writing copy writing of such ad posts, although these tips can also be applied to right-field ads.
Write a good copy of the advertisement, guide the user to achieve conversion.
When it comes to Facebook ads, most people's first impression is that they're a big ad image. Images are important in Facebook ads, but copywriting is also important!
If you've invested some money in Facebook, you want to make sure it does its job and delivers you the advertising benefits. A good ad copy can help you convince your audience to click on your landing page. A good copy can be a guide - it clearly shows the audience where they need to go.
Great ad copy can be persuasive, inspired and entertaining. It helps you connect with your audience, cut off excess information, and make your ads more selective. This is an important part of successful advertising.
How to do such ad copy, you may want to try using the following principles to write advertising content.
1. Accurate targetaudience, for "TA" to write a copy.
When it comes to online sales, you might want copywriting to showcase the benefits of a full range of products. However, an effective ad copy, before writing a copy, needs to be precisely located to whom the product will be promoted, for this person to write an ad copy - even for a specific person.
This person is the goal of product promotion, is the person you need to attract and convince. Just as you are a face-to-face salesperson, you need to focus all your attention on the person and their needs.
On your site, ad copy may be a conversation for all potential customers and may be in a different role. But on Facebook, you can target your audience more precisely. For example, you can target ads to women, 30, who live in the United States, and know that they are fitness. You can then write targeted ads that talk to specific audiences. Remember! Catching the needs of their customers and writing an ad copy for their needs is more appealing to them than introducing all product features.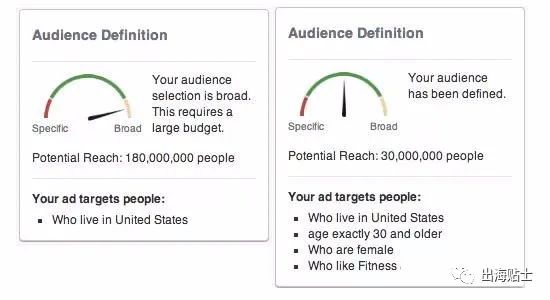 2. Write different copy cases for different audiences.
This is also in line with the idea of audience targeting. Your customers need you for a variety of reasons, so why choose to use an ad for all users? Facebook's strength is its ability to position itself, so don't think of Facebook ads as billboards on the road.
For example, suppose you are a clothing retailer. You sell men's and women's clothing, as well as shoes, accessories, sportswear, underwear, and even bathroom and body products. Many customers may be interested in some of your products, but most will only be most interested in one area. In short, women are of course more interested in women's clothing.
This video from Old Navy advertises its sportswear. The ad is aimed at people who list fitness as an interest.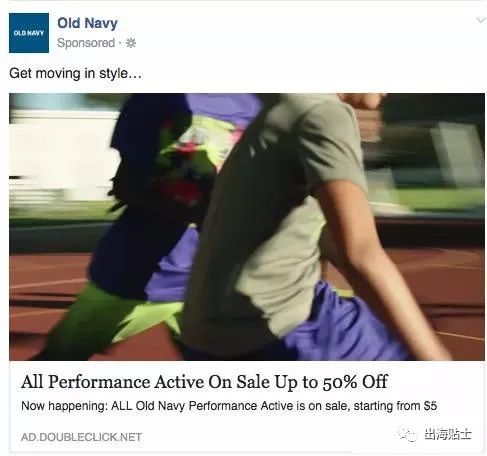 3. Make sure that the graphics match and convey the advertising information accurately.
Many B2B small and medium-sized enterprises, and even many large enterprises have such a problem, they do not have a large number of high-quality pictures on hand, or even for specific activities to create the corresponding advertising pictures. When advertising is needed, they are always scrambling to make all their existing picture resources available.
This is likely to be the fact that the image content does nissythese with the copy, and such ad gives Facebook users a very poor sensory experience. If the copy is seriously inconsistent with the image, the user can't even understand what the ad is actually promoting. Not to mention clicking on its ad page, such an advertisement is a waste.
Starbucks stitched together three images to create a powerful visual effect for its "world's largest " Starbucks Date" campaign. The paper refers to "French News Coffee Verona and Chocolate Brownie" and is also visualized in the photo. In this way, Starbucks is very clear about what Starbucks Date will get when it comes to their coffee shop, generating effective advertising benefits.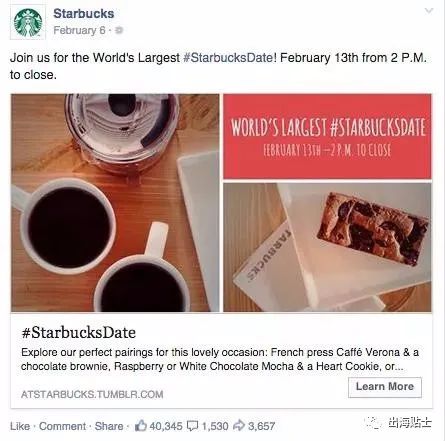 If you're trying to create an image of your Facebook ad, you can use image tools such as Canva, PicMonkey and Pablo by Buffer to create your own ad map.
In addition, marketers must be careful to avoid these "Facebook advertising policy minefields" when making advertising graphics, otherwise the material is rejected, the ad unit price increases, thereby increasing delivery costs, thus affecting the delivery strategy;
4. Use guided vocabulary to improve advertising conversion.
The best Facebook ads have a clear goal. Whether it's trying to increase brand awareness, gain industry leadership, or sell a product? In any case, there should be clear guiding language in the advertising copy. Without it, Facebook users see your ads when they don't know where to click or do.
The following image shows Society6's advertisement for the iPhone's phone case, which shows its products in addition to its products - it also has a directed user button, Shop Now, to encourage users to browse, shop and end up making deals.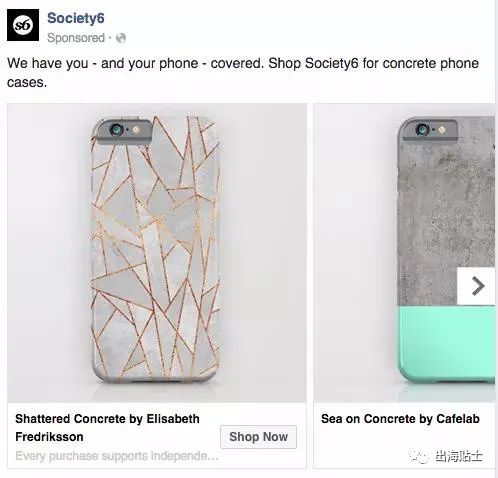 Society6 Facebook ads to guide users to the next step.
5. Keep it short and show value.
When you're budgeting for an ad, you'll want to show as much value as you can about your product, perhaps with a lot of space to advertise to make it appealing. After all, you have to explain your product to the consumer. However, when making Facebook ads, remember! You need to keep it short and bring higher value with brief copy.
What do customers get from using your product? What is the special use of this product for them? These are the issues that should be concerned when writing an ad copy, and these points should be grasped in a clear and concise manner in the process of writing an ad.
For example, TaskRabbit provides services for customers to hire others to do housework, the value of which is that the user can help you with all the housework in a timely manner when you are busy and overwhelmed. In the following ad, TaskRabbit's copy shares this value: "It's easier to do everything than you think," "Hire a taskman," and "We've done housework." "Only three sentences completely explain its value and service.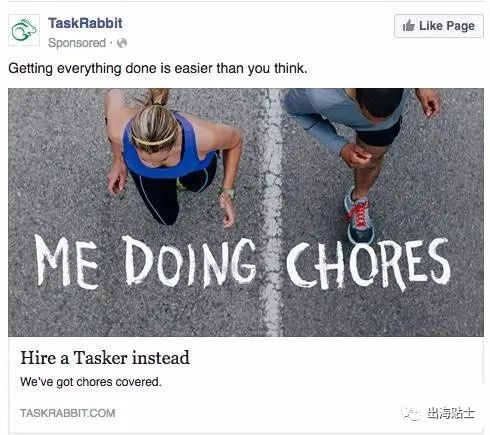 6. Easy to understand, accurate dissemination of product information.
The requirements for copywriting are not high. You may be a college poet, but too flamboyant rhetoric may confuse your advertising message. So it's time to cut back on those long advertising copy.
The first task of writing ad copy is to write an easy-to-understand Facebook ad for anyone, even for fifth graders. When they see your ads, they know right away:
What products/services this advertiser offers.
How this offer benefits the user.
If the user is interested in the content of this ad, what to do next.
That's why SoFi's advertising stands out, and its main service is refinancing student loans. In this Facebook ad, the text is plain and simple: pay off your loan faster. SoFi explains what it offers (loan refinancing), earnings (repayment of loans faster), and what to do next (apply now).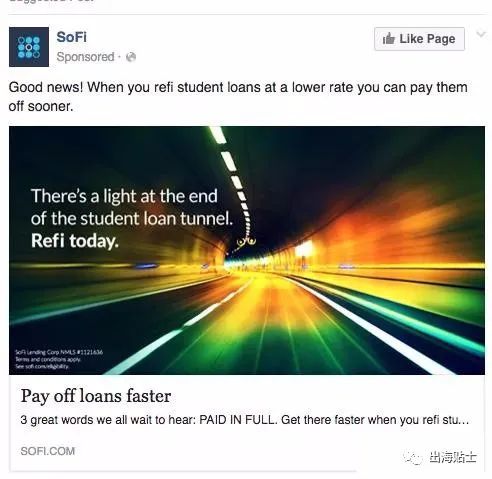 7. Directly highlight the numbers.
If you're selling a physical product, people want to know the price of it. If you're promoting, users will want to know how much their discounts are going and how much the price has fallen. Effective copying strategy: numbers are the first.
For example, a Facebook ad for Ball Honda, a San Diego-based car dealer, makes it clear that users know how much it costs to buy a car. What benefits will be gained if the user chooses to try out CRV installments and provide a date for the end of the promotion. Advertisers aren't serving the ad to everyone in San Diego -- their target audience is people who have already visited their site.
The ad may not seem particularly provocative, but it's useful to effectively alert users when they're ready to buy a car and can come to their dealership.
8. Multi-party input.
If you're trying to market your brand every day, it can be difficult to take a step back and make sure that Facebook's ad copy resonates with users. You may need to take a look at your Facebook news and view your ads. Which ads do you want to click on? Which ads don't appeal to you?
It might be a good idea to get some reference information from someone else. You can hire a freelance writer or editor to write an ad for you, or help you brainstorm. You can also test your ad performance from some colleagues, especially those outside the marketing department, to see if they think your ad is working. Friends and Family - People outside the business can also provide you with ideas that are closer to your audience.
9. Repeated tests to arrive at the optimal copy.
The only way to optimize your Facebook ad copy is to run the test.
Facebook can easily spend a small amount of money to try. Finally, the only way to test the merits of advertising documents is to pass the test and accumulate experience.
Try running two different ads -- each with the same image, but a different copy - to see which one resonates with a wider audience. Which version gets the most likes, comments, and conversions?
For example, Post Planner once posted the same ad, but changed the copy. In one advertisement, they question edified as a copy of the advertisement. In the second ad, they talk to the audience in a friend's voice. This is a subtle copy change, but its end result is sure to contrast with that copy that resonates more with users.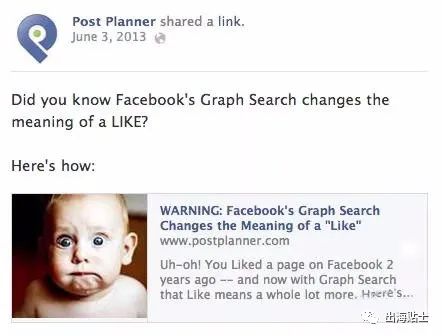 Good ads on Facebook end up with sales.As a marketer, you need to make sure that you combine strong copywriting, quality images and precise targeting to create complete ads, and that powerful copyis is an important part of good Facebook advertising, and don't overlook the importance of copywriting!
Temporarily share so much, want to put the ads to do a good thing is not overnight, through continuous practical operation and experience to reach a high level, I hope this article can help you, pay attention to us, more dry goods to share to you !!!

Press and hold the QR code.
Sweep the code to follow us.
Our professional team is not only advertising, but also for you to plan a comprehensive online content marketing, covering.Microsoft Ads, Facebook, Tiktok, Google, Yahoo, Line, YouTube, Pinterest, ins.Areas, so that you have a double or even triple suction channels, multi-pronged, the effect is more comprehensive! Performance improvement is more robust!
Our team has many years of experience in online advertising (see our other media ads)
We have website building, graphic design capabilities and overseas big data.
We have a team of expert consultants.
If you spend more than ten thousand yuan a month on online advertising fees, but not effective, you are welcome to talk to us!
!
Sweep the code and make friends.
Take you to Facebook.
Highlights of the past:

How does TikTok get millions of hits and build its own brand?

From Yahoo, how should native ads be promoted, how effective is the delivery?
Rub edge e-commerce mode black five categories, foreign black five categories of products how to play?
Dry Share: How can I increase Your Facebook ad conversion rate?

Why has my personal Facebook account been blocked so often? What the hell should I do?
Black Five Case: Black Five Products can still have a good fun to go on?
Google AdWords imitation ads to improve the effectiveness of a few tips!

TikTok describes operations and how to sell masks.
What is LINE? How to open line advertising account promotion operations?

What is COD? All you want to know is here!
TIK TOK Operating Dry Goods: TIK TOK With Cargo Dividends and Operations Analysis.
Five ways to make money with Pinterest, quickly collect !!!
How to use Instagram to promote marketing?
Shallow chat on COD some views, do not like not spray!
How can Pinterest quickly attract precise fans?

How can you get better and better when you run LINE friend ads?!

Twitter account signed up and promoted marketing.

How do I find the best time to post video marketing on TikTok? It's a simple 4-step operation!
How Snapchat Is Promoting Operations (Junior)

---