Facebook's Atlas advertising platform, the new giant of mobile advertising?
Wen/Morketing exclusive finishing.
(i)
Such as.Today, there are two differences in the market for cross-screen data applications.One is to put "eggs" in a basket of cookies and DMPs, using third-party data as the key to targeting. The other is "people-based marketing", represented by Facebook's Atlas platform, which uses first-party data as a basis for targeting。
AtlasIt is the Hercules of Greek mythology, and Westerners have always imagined Atlas as a giant with a back to earth, representing great power. Just before National Day, Facebook launched its new Atlas advertising platform, perhaps using the mythical figure's name, to support Facebook's advertising backbone in the age of mobile connectivity. Unlike previous platforms, Atlas will introduce new technologies to replace already troubled cookies and provide a new and more reliable ad tracking mechanism for the mobile age.
Facebook"After years of excellent advertising services, Atlas has under-reorganized, this time giving advertisers and agents new insights to create new influences," he said.AtlasUse the power of real people to help advertisers target, serve, and manage their advertising campaigns based on accurate results with unparalleled ease of use."
A new user tracking mechanism
FacebookUsers often log into their accounts on different devices, and Atlas uses this to support a new sustainable tracking mechanism.FacebookThe new Identification ID removes all miscellaneous messages that retain only the most basic information about the user and provides login information as the basis for ad serving and management.Many internet giants such as Google, Yahoo and Twitter have wanted to do so, but Facebook has been at the forefront.
The cross-screen management technology will allow advertisers to rely on real user information to deliver mobile ad impressions, track ad campaigns, pinpoint consumers and integrate the brand's overall experience across devices, and Facebook says "Atlas will eliminate the fragmentation of past ads between desktop and mobile."
"The trump card in our hands is the mobile Internet。 David Jakubowski said. The person in charge recently joined Facebook, which is responsible for the nascent Atlas ad platform and the Facebook Audience Network. "When you put an ad on Facebook, everyone else will know because you're on our platform. We work extensively with mainstream apps, ad networks and bidding platforms, especially the mobile Internet, to ensure that Atlas receives information about advertising campaigns. When ads run on other platforms, we can also associate him with all channels. "
With the new cross-screen management solution, Atlas will implement more new features, such as redirection and data consolidation from multiple sources that were used to be held by specialized vendors such as DMP and DSP.
In addition, Atlas will provide data results analysis services. Facebook said in its campaign that nearly 94 percent of retail purchases still occur in-store. Today's consumers have many contacts between the digital advertising experience and real-world buying, and traditional advertising tools no longer have insight into key aspects of the buying process.AtlasPeople-oriented measurement method, will go beyond the use of cookie measurement of a single way, reveal the consumer in the online experience, mobile experience and in-store purchase between the link, people as the key to marketing success, so that advertisers see the real and important consumer contact points in the customer purchase journey, from the process of display to conversion, the overall evaluation of advertising marketing results, understand their audience needs, optimize the overall marketing strategy, to achieve strong conversion results。
But the new Atlas has its limitations, most notably that advertisers will not be allowed to mix first- and third-party data from other external platforms with Facebook's cross-screen data, such as with Acciom, the world's largest provider of customer and information management solutions. Simply:"Facebook's new tracking standards provide ready-made data for the multiscreen era, but you can't "take him away."
New management standards for the future of multi-screen
In.In a blog post on Monday, Facebook said Atlas would be re-launched with a new look, including a new code base and user interface.
FacebookClaims that Atlas can deliver display, video and mobile ads where you want are clearly aimed at Atlas' rival, Google's DoubleClick For Advertisers (DFA).More crucially, Atlas has the advantage of providing accurate identification and advertising services to cross-screen users compared to DFA. The cross-screen recognition technology can be used not only by Facebook itself, Facebook.com, Facebook mobile apps and Instagram, but also by hundreds of third-party websites and apps.
How to achieve this is very clever. Because not all apps and websites use Facebook's social login portal.On the desktop side, Atlas integrates cookies and Facebook IDs for user identification, and on the mobile side, it integrates Facebook IDs and Facebook SDKs (app and mobile device markers for identifying users, such as Apple's IDFA and Android IDs) as identification tools.
FacebookYou can match any user with a device marker, whether they're using a Facebook account to sign in to a phone or tablet, or someone who's not using a Facebook account to sign in to an app.
AtlasSearch ad platforms, such as Marine, are also integrated, allowing marketers to get important impressions through their search campaigns while tracking display and video ads.
Cooperation with Omnicom
This.More than 20 big advertisers are using Atlas' service, but that doesn't satisfy Facebook.Facebook has built a partnership with the Omnicom Group to grow faster. Atlas will be applied to Annalect, Omnicom's data and analytics division, which is widely used in Omnicom's agency.
OmnicomJonathan Nelson, chief executive of the digital division, said it remained up to advertisers whether to opt for Atlas.
"Annalect's experience is undoubtedly very rich when it comes to data and advertising services. We make recommendations for our customers, but it's still up to them which advertising service to use. "
This sends a clear signal to advertisers that you can still use DFA for your marketing campaigns, but with Atlas, you'll be able to get more data for you. Nelson adds that Atlas is not an all-or-nothing proposition for customers: "We're going to mix channels, some running here, some on the other side." "
Turn Facebook into a data platform
FacebookIt is hoped that the new Atlas and cross-screen ID tracking solutions will go beyond the so-called "probability" user recognition model. The model was originally developed by several data vendors, including Drawbridge, Tapad and AdTruth/41st Parameter. Probability model relies on special labeling of device attributes to achieve desktop-to-mobile user matching, according to some data, this model can achieve 60% to 80% accuracy.
It's not just that.FacebookAtlas is also positioned as a separate DMP (data-management platform: data management platform). Jakubowski said Atlas will be able to absorb and organize a wide range of data, including first-party data, and use it for bidding, services, tracking and advertising。
With Atlas's help, he says, "you can bring your first-party data, offline data, CRM (customer relationship management) data into the system and use them to target media resources more precisely." "
(ii)
Atlasshort board
FacebookThere are limits to the use of cross-screen advertising services.Crucially, Atlas will not allow cross-screen data to be taken out of Facebook's hands, which undoubtedly limits his play as an ad-tracking standard.
Even if advertisers can import their data into Atlas' systems, serve and track marketing campaigns, target their users through real-time bidding, advertisers still have no way to take cross-screen user data out of their activities and integrate it with data outside the platform.
FacebookThe most immediate cause is still user privacy issues.Allowing advertisers to take cross-screen tracking information from Atlas from Facebook's system and pair it with other potential audience pools doesn't work. For outside participants, "we don't offer a conversion layer of service," Jakubowski said. Within the Atlas system and its interfaces, you can get data reports at all population levels.
But what advertisers want most is to centrally manage their audience and consumer data, no matter what point of contact they go through. That's what advertisers insist on most. Matt Spiegel, senior vice president of MediaLink, a consulting firm that advises advertisers and other businesses on digital marketing strategies, said: "To me, Atlas is like Acxiom, where they can design marketing ID systems and user identification clients for their customers, but fundamentally advertisers don't need that. They need to absorb Facebook ID data, they need to absorb Google ID data, they need to access third-party cookies, they need to absorb first-party cookies. In summary, it's data consolidation. "
Facebook has long believed that Facebook IDs will solve the long-standing problem of ID data transfer. This includes exploring ways to allow advertisers and external platform data to access Atlas, just as business-first-market developers can take advantage of Facebook's advertising API. But how such an API model will be used remains unclear.
Another problem is that Atlas does not have a 100% matching integration with his "out-of-wall" media inventory.
FacebookEfforts are being made to extend cross-screen ID partnerships to any part of the industry that can be reached. According to Facebook, its platform has more than 50 percent coverage in the mobile market. Including Facebook and Instagram, that number is growing. It will be a very large user base, but not all of them.
This makes facebook ID's path to replacing third-party cookies bumpy and long.
Privacy issues
AtlasNot only can advertisers target Facebook users, but they can also advertise to all users in the WEB and app ecosystems. Once a user logs on to Facebook on a device, Atlas can find him and provide him with a customized advertising service.
It's certainly an attractive profit point for advertisers, but it also makes them pay more attention to Atlas, a platform for privacy regulators. A protracted war between Facebook and privacy advocates is inevitable.
The biggest concern is thatAtlasUsers' Facebook identity data will be used outside of Facebook. Facebook's cross-screen identity begins with identifying a known specific user and then anonyming him, and his specific preferences on Facebook will follow that anonymous user to be targeted on the desktop and mobile Internet.
Cookies, by contrast, are not reliable in the mobile world, starting with an anonymous user and then building a user portrait around the user. And cookies can be cleaned up, and Facebook IDs won't.
That's why Atlas "breaks the previously unbreakable barrier and provides such a great treasure trove of data that every logged-in user can be reached." Jay Friedman of Goodway Group COO, an advertising networking company, said.
Advertisers can get the information they want from Facebook, which is undoubtedly more valuable than it was previously obtained from third parties, because Facebook itself is a company that provides user-facing services.
AtlasCurrently, only age, gender and demographics are targeted, which is a far from the deep targeting features offered on Facebook.com, but a Facebook spokesman said more attribution analysis, such as political background, credit card use and relationship status, would be targeted through Atlas in the future.
Clearly Facebook understands that too many features will cause panic among users, so more atlas features will be rolled out slowly in the future, like the "like" button launched by Facebook four years ago, and will not be applied to Facebook's advertising service until June this year, when the information is uploaded to Facebook's servers.
Although Facebook users can learn how they are targeted and which ads will be shown, they cannot opt out of Facebook's data crawling mechanism, either for advertising purposes or for Facebook's own data collection purposes.
FacebookIn the future, atlas will provide users with enough transparency to know who is running ads and why, the spokesman said. But that's not enough for privacy activists. They say it's not just a matter of transparency, Facebook should give consumers the right to know and change the way their data is used, and choose whether to stop the service.
Facebookadvertising technology ambitions
AtlasThe re-release of the platform, coupled with the recent acquisition of video SSP LiveRail, has made Facebook's ambitions in the digital advertising world clear.
"We're not just talking to advertisers about advertising, we're investigating the market so they can see the inner changes in the market faster. Audience-based ad management is being more and more important, and the next question they're asking is whether you can help me take action to get better into this era," Jakubowski said.
The simplest answer is to help them build DSPs, DMP and trading platforms. But Facebook sees much more than that.
JakubowskiGo on, "Advertising technology is still a new area for Facebook, and we need to get a deeper understanding of our attitude to advertising technology. What are our partners like in this ecosystem? How do we build the right platform for participants to take fewer detours?"
FacebookUltimately, the focus is on advertising services, taking into account its position in audience management and marketing campaigns, as the starting point for Facebook's new vision of "people-oriented marketing." The establishment of DMP and DSP capabilities, whether self-built, acquired or cooperative, will be a matter for future consideration.
Jakubowski"Facebook plays a fundamental role in the advertising services industry, where you can solve the problem of cross-screen data, address the limitations of cookies, and you can be more proactive in leaning toward people-oriented management," he said. You are breaking through these industry 'pain points' and creating a new tool collection platform here. That's our priority. "
———— Morketing Split Line————
Mobile Marketing
China's first professional mobile marketing media
morketing.cn
Follow 1: Click "View Public Account" in the upper right corner

Follow 2: Click on "Share articles to a circle of friends," "Share to Tencent Weibo," "Send to a circle of friends" in the upper right corner
Focus 3: Scan the following QR codes.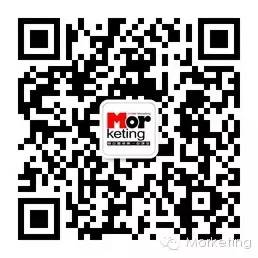 ---