Facebook marketing, an opportunity or a trap?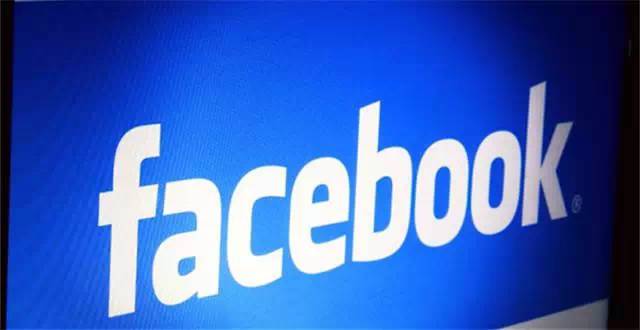 The public number reprinted the Hugo's article, please indicate the source
If you do have this question, you really don't know enough about Facebook marketing. The answer is clear, the opportunity is far greater than the trap. Why do you say that? I answer in three ways:
1. The diversion is the hard truth
What's the most expensive thing in the 21st century? Talent. What's the most expensive talent? For e-commerce companies, marketing talent is the most expensive. Why is marketing talent the most expensive? Because the traffic is very expensive, can get the traffic of people, naturally is also very expensive. People who can get cheap traffic will be more expensive because it's more cost-effective. Now where there is cheap traffic ah, this really has, on Facebook, but you are not familiar with it. Don't believe it? Let's start with a set of data: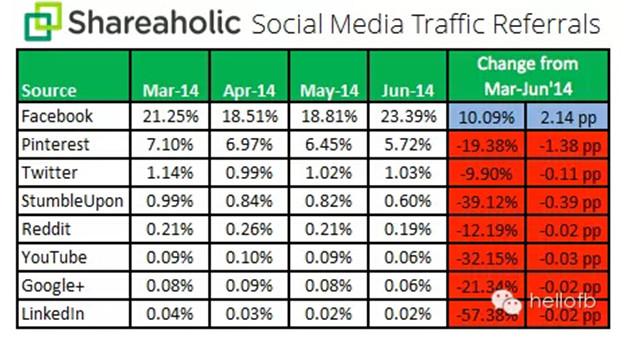 This is the leading statistics for the major social networking platforms from March to June 2014, with Facebook alone bucking the trend and accounting for one-half of social traffic. Another trend chart would be even more obvious: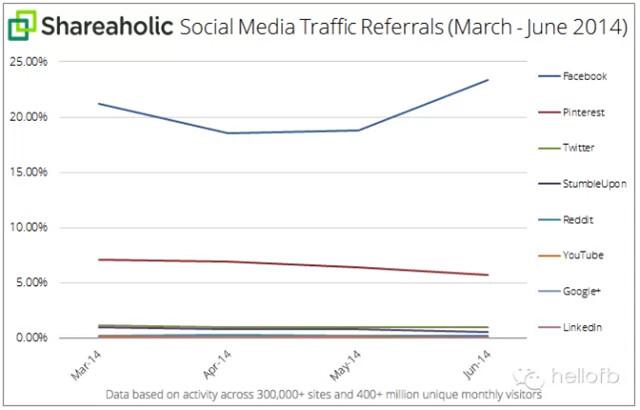 Source: https://blog.shareaholic.com/social-media-traffic-trends-07-2014/
Are dry e-commerce, are playing data, there is a picture here, what channels should be allocated how much energy, I believe we will have their own judgment.
2. Foreign e-commerce companies have begun to stream on Facebook
The Internet industry is really like a wave, a wave can not catch up, will catch up with the next wave. Early foreigners play SEO, and then gradually into the domestic, until now the domestic SEO practitioners as much as cow hair (of course, really master is still scarce). We'll always play behind the foreigner's ass, but that's not bad. As long as you follow tightly, there is still food to eat. Now do Facebook, like the early SEO guys in the country, have a chance to enjoy the market dividend. The market dividend period, will be like the current SEO, casually grab a person to come over, can tell you about a chain strategy, keyword layout, the importance of original content and so on, ask the expected salary, 3500 yuan can? Haha, it's a little expensive, how about 3000? The above when the joke to listen to, I would like to say that we have to judge the future of vision, when the discovery of a new wave, to pounce in time. The so-called good wind by force, send me on the green clouds. Foreign e-commerce in the marketing of this piece is always ahead of us, due to cultural, language, professionalism and other aspects of the differences, this gap is difficult to narrow at once, we can do is to keep up. By the way, after half a day, you didn't say which foreign e-commerce companies started advertising on Facebook? Well, if the specific name is not representative, look at Facebook's earnings report. According to Facebook's second-quarter 2014 results, Facebook's revenue reached $2.91 billion in the second quarter, up 61% from $1,813 million a year earlier, and net profit reached $791 million, up 138 percent from $333 million a year earlier. Where's the growth? Sell ads, sell them to whom? Sold to most foreign merchants, domestic overseas APP promotion of merchants, and a small number of our foreign trade e-commerce.
3. Competitors have a hard time finding your ads
Google era, if you do the same product, then so some keywords, search results page so many locations, you go up I was squeezed down. Who cast what landing page, advertising paper, choose what keywords, competitors see clearly. Even GDN display ads scattered all over the web have tools to collect them in bulk. How does this make a new player play? I haven't played with my leggings yet. But Facebook ads are different, and the core of Facebook ads is crowd targeting. You just signed up for a bunch of trumpes, and if it doesn't match my behavior characteristics of targeting people, I'm sorry, you don't want to see what my ads look like. Even if it meets the characteristics, you'll have to keep an eye on Baba's news feed update to see if you can get lucky hitting my ad. Want to copy? Don't bother. However, there are exceptions to everything, and I have a tool on hand to capture competitors' Facebook ads, including RHS and News Feed ads on the right, provided they're running enough ads to be more comprehensive. Come on, the Black Hat's tactics are still less said, so as not to mislead everyone. In case the competitor is also a groping rookie, you collect their ads, will bring themselves into the ditch, do not look at it.
Conclusion:
Written so much, just want to argue a little, to use a vulgar to scum sentence: now is not a problem not to do Facebook marketing, now is how to do Facebook marketing well. HelloFB from today, jump out of the foreign trade e-commerce media circle impetuous, focus on Facebook marketing, adhere to the silk tone to contribute original content.

Hugo.com (www.cifnews.com) - Cross-border e-commerce new media, focusing on cross-border export e-commerce, cross-border import e-commerce, traditional foreign trade, international market news reports, is currently China's cross-border e-commerce industry's most influential new media.

What's wrong with your fb drain? So if today's teenagers abroad are as enthusiastic about FB as they were before, click below

---