Facebook ads for shopify promotion methods
Shopify focus is on promotion, this no longer need to say more, the domestic advertising market is Tencent's wide point, WeChat; Baidu's search display ads, Ali's mother Ali, headline ads, god horse search and so on, but do foreign trade, we do not need to know too many advertising channels, because the world's online advertising market 60-70% has been google and Facebook occupied, and Facebook's mobile share is still rising, But I don't mention google here, why? Because google ads bid too high, keywords are basically dominated by some big merchants, any product cap can reach a few dollars, the most important thing is that it does not have Facebook this kind of social diffusion function, before we talked about other shoppingify promotion methods, today we will go into detail about the Facebook ads in the shopify promotion method.
Note that Facebook may not be good at home now, because a lot of software has failed, we think of their own way.
Facebook ad payment method
Very happy to tell you, can support Alipay, domestic on two payment methods: credit card and Alipay, Alipay we certainly have, but one thing to remind you, Facebook usually log in must fix an ip, do not this time is Japan ip, the next U.S. ip, such an account hang up at any time, it is important if your account is blocked and the appeal is not successful, no consumption of advertising balance will not be returned to you, I just did when I sent Facebook several times Heartache!!!
What do you need to do before you create a Facebook ad?
Before you create Facebook, you need to create a home page with a good name, say your shopify store is selling pet products, you can name pet lover or something like that, click on the lower right corner - create a home page - brand or business. This creates a home page that belongs to you.
Why create a Page doesn't create ads directly?
First, the home page can suck powder for you, if you plan to do your store well in the long run, you definitely need to create a home page to post some news every day.
Second, directly promote your Page's posts, advertising cpc will be much lower, but also easy to interact.
Third, more secure, Facebook will detect your ads from time to time, but generally for post ads will be a little more relaxed.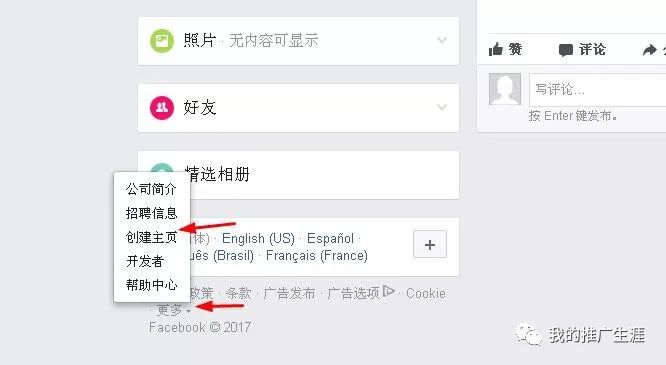 How do I create a Facebook ad?
As shown in the top right corner of your Facebook account, you can see the creation of ads, before you create ads, you need to read the next Facebook advertising policy, can not post dating sites, pornography, violence, firearms, alcohol and other products.



Many people on pppe ads and wc ads are not clear, look at the following image, participate in interaction is pppe ads, conversion volume is wc ads, generally my running method is to first on pppe ads, to test how the interactive rate of posts, in general, the interactive rate can reach 5 More than %even pass, reach 10% or so is very good, a pppe ads run for three days, and then delete some interactive bad posts, interactive posts on wc ads, and then three days to continue to delete, and constantly repeat the process.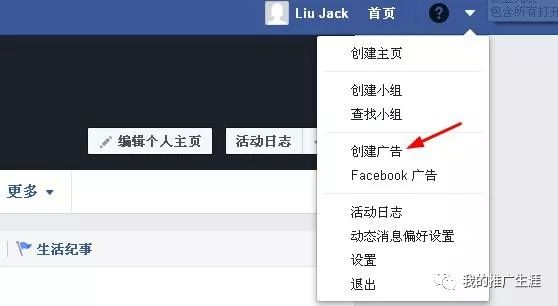 You can see that this is a post on my Page, choose - use existing posts, ads inside the site is not my ha.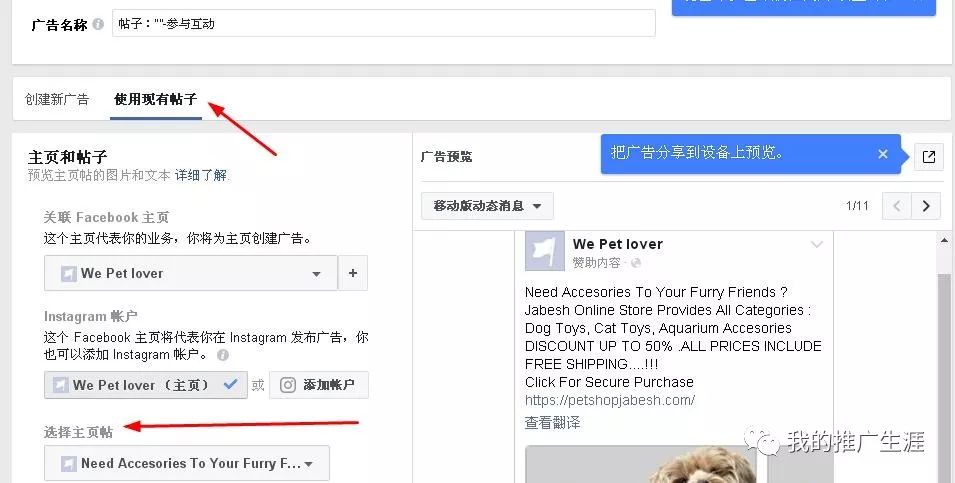 How does Facebook target a precise audience?
When a lot of people target their audiences, they tend to end up with millions or tens of millions of people, and I can only say that the probability of success is small. I generally target the last no more than 500,000 people, but more than 200,000, often a lot of page or interest Facebook ads backstage is target less than, which requires your own brain and hands-on, with a variety of ways to find those precise audience.
Summary: Probably described Facebook ads, to know the most important or test, otherwise the theory can not do a good job, from the actual experience, out of their own way of promotion, if you have any questions, you can comment below, I see will reply.
---