Facebook Dynamic Ads: Ad features, delivery tips
Click on the top to topHugo.com, don't be across the border e-commerce big and small things
Facebook's dynamic ads, also known as Dynamic Facebook Ads or DPA, help by automating the entire ad delivery process. Instead of creating each ad individually, you can effortlessly promote the entire catalog on the Facebook network.
Once set up, Facebook will deliver personalized product ads to people who are more likely to be interested in your product at the right time and in the right place.
▲Here are some other features of dynamic ads:
1. Reposition previous visitors
Dynamic ads show ads to people interested in your business by doing things on your website, app, or Facebook page.
Moreover, Facebook is a powerful marketer because of its targeting capabilities and large amounts of user information.
2, attract new audiences
In addition to real-time marketing, you can use dynamic ads for other targets.
By using broad audience redirects, you can also attract people who have never interacted with your brand. That way, you can expand your good campaigns to a wider audience while maintaining (and even improving) your ad relevance.
Importantly, dynamic advertising allows you to advertise more relevant products.
3, exclude, upsell and cross-sell past visitors
When someone buys an item from you, those users no longer receive ads for the product. That way, you can save valuable advertising by excluding large past audiences.
Dynamic advertising, on the other hand, allows you to cross-sell and upsell past shoppers, increasing average orders and lifetime customer value.
What formats does dynamic ads support?
Dynamic campaigns support carned ads, individual ads, or boutique column ads.
From the face of it, Facebook Dynamics ads look exactly like other Facebook ads, such as wheeled ads, as shown in the screenshot below.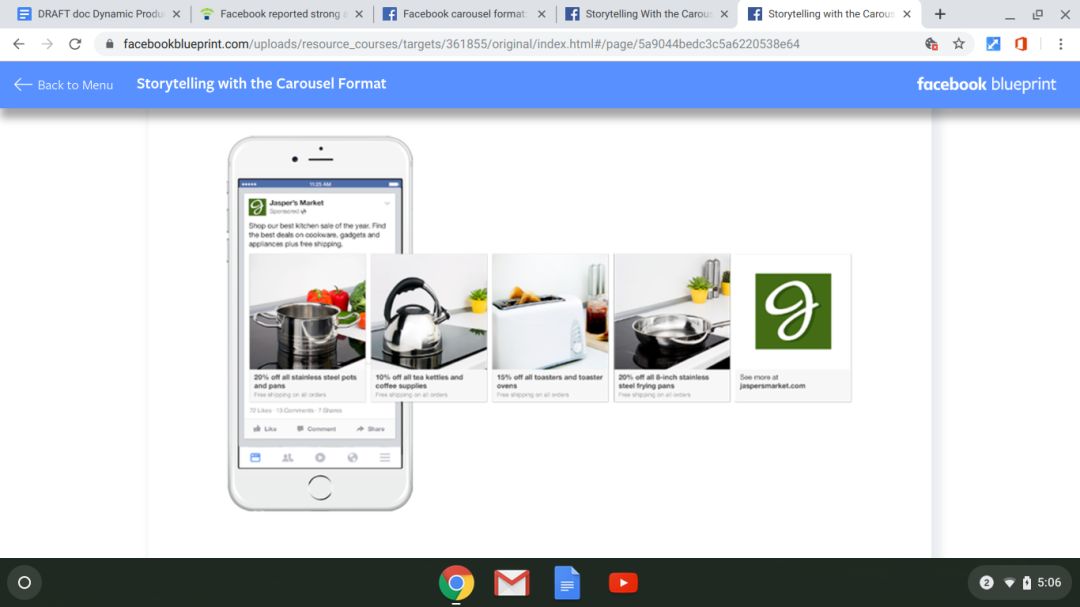 Dynamic wheeled ads allow you to automatically show up to 30 products in a single ad unit on your mobile device (up to 5 products on your desktop).
Where do dynamic ads appear?
Dynamic ads have several location options:
Dynamic ads can appear on Facebook feeds, Instagram, and audience networks, where you can extend your campaigns to mobile apps, mobile sites, and videos outside of Facebook.
How do I get started with dynamic ads on Facebook?
There are three things you need to do to start making dynamic product ads.
1, create a Facebook Pixel
First, you'll need to install a Facebook Pixel on websites and mobile sites, or a Facebook SDK on a mobile app.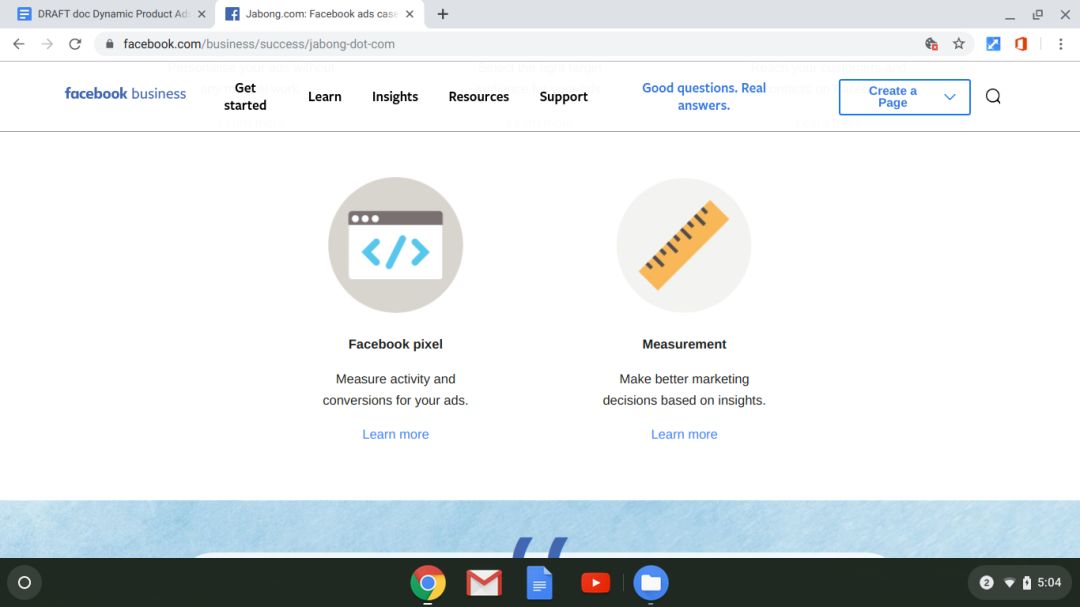 Once you've installed Pixel, you can start evaluating, optimizing, and building your dynamic campaign audience. You'll be able to see how people use your site on a variety of devices to track, target, and optimize accurately.
2, add "events" to the Web and mobile pages
In addition to adding Pixel to all pages, you also need to select the events to evaluate.
Events are specific actions that people take on your website or application, such as purchasing or filling out a registry form. By setting up events, you can ensure that Pixel captures events related to your business.
▲Facebook recommends adding at least the following events:
Viewing content events on all product pages;
Events added to the shopping cart;
The purchase event.
These are just some of the basic things Facebook itself recommends you track, and you'll find that you're generally tracking more events than these three.
3, set up the product catalog
To set up dynamic ads, you need to have a catalog of products. Here are the steps to sort the directories:
First, navigate to the Facebook Business Manager, and then click the "new look" ad manager. Then select "Catalog sales" as the target.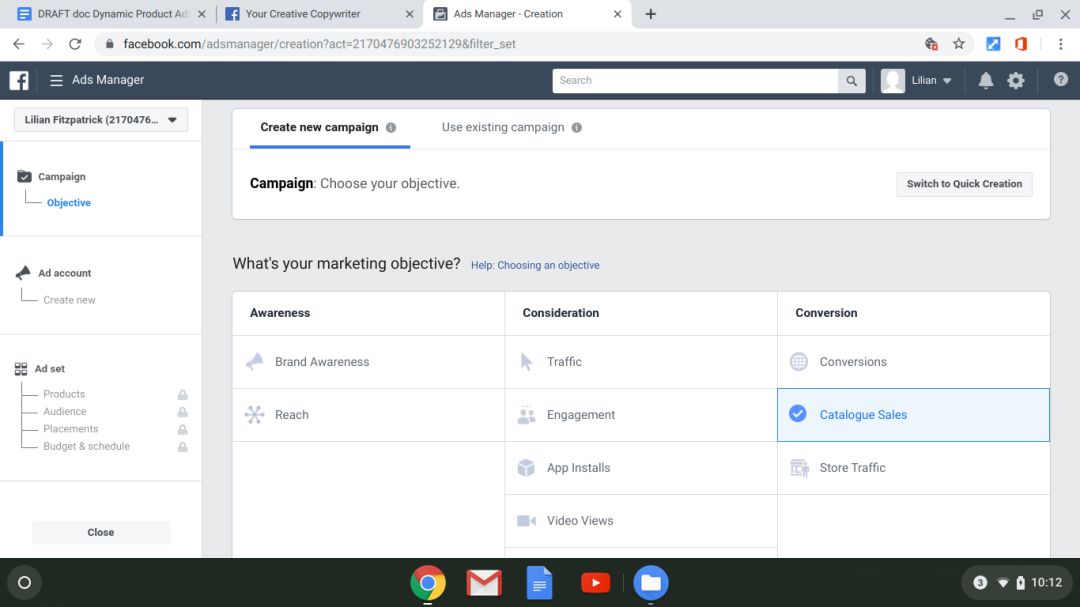 Tap and go to the campaign page.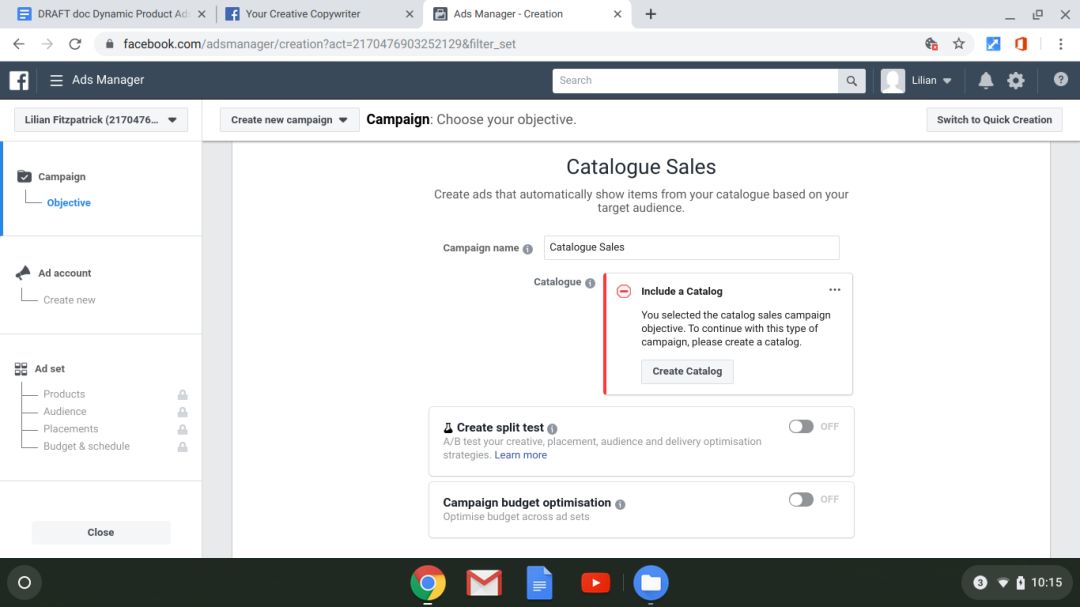 If you already have a directory, you can add it here. If not, click create a catalog, and then select a category that describes your business.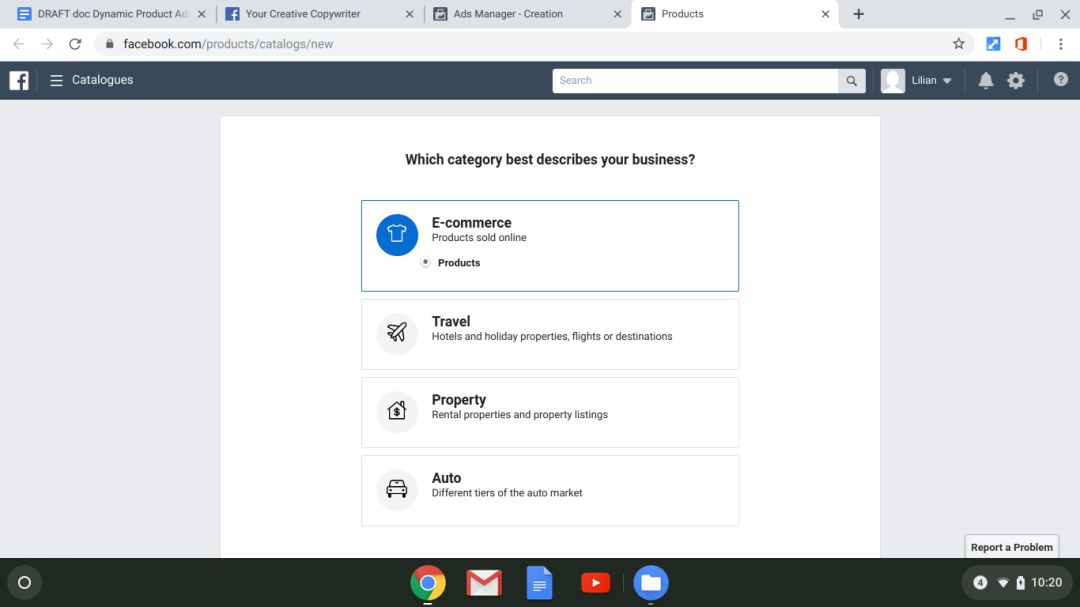 Then, use a table, data feed, or Facebook Pixel to upload the catalog.
If your inventory size is small, you can enter a product Feed that contains all relevant attributes and upload it manually in CSV or XML format. If you have a large inventory, you may need to use a third-party e-commerce platform to upload information.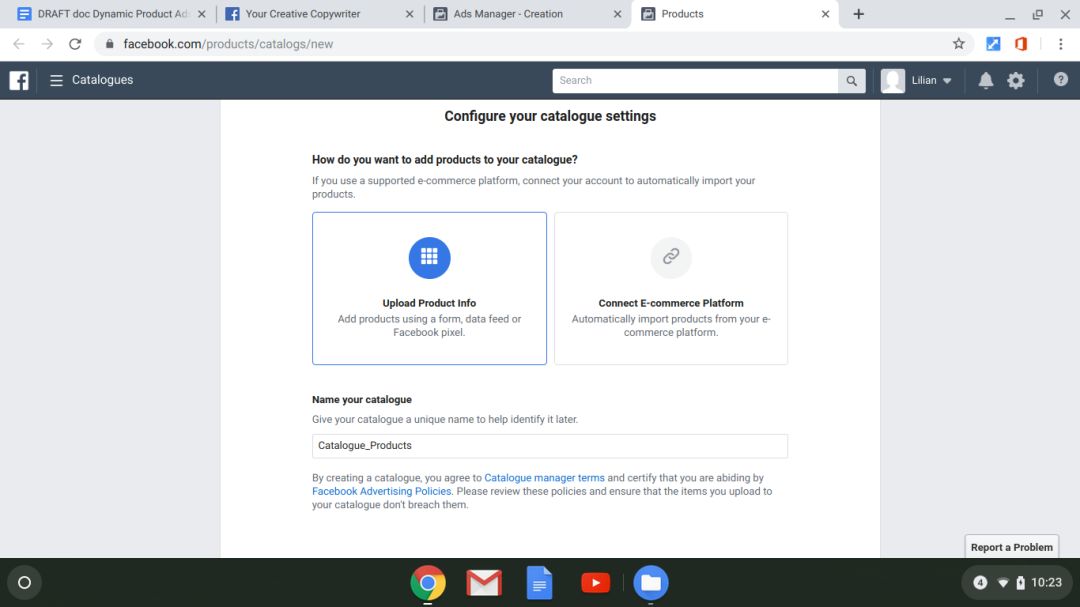 Name the catalog, click "create," "view catalog," and you'll arrive at the "ways to use your catalog" page.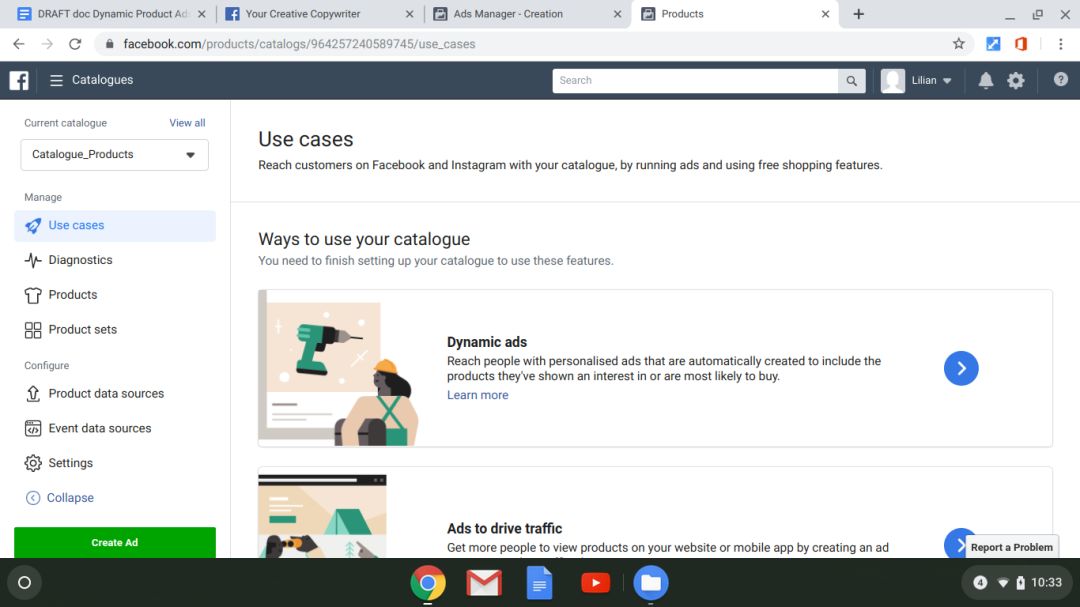 Select dynamic ads.
Dynamic product ad settings
Now that you have created the catalog, you need to create a product group.
On the left side of the page, you can see the product groups listed. Click here, and then click 'create product set'.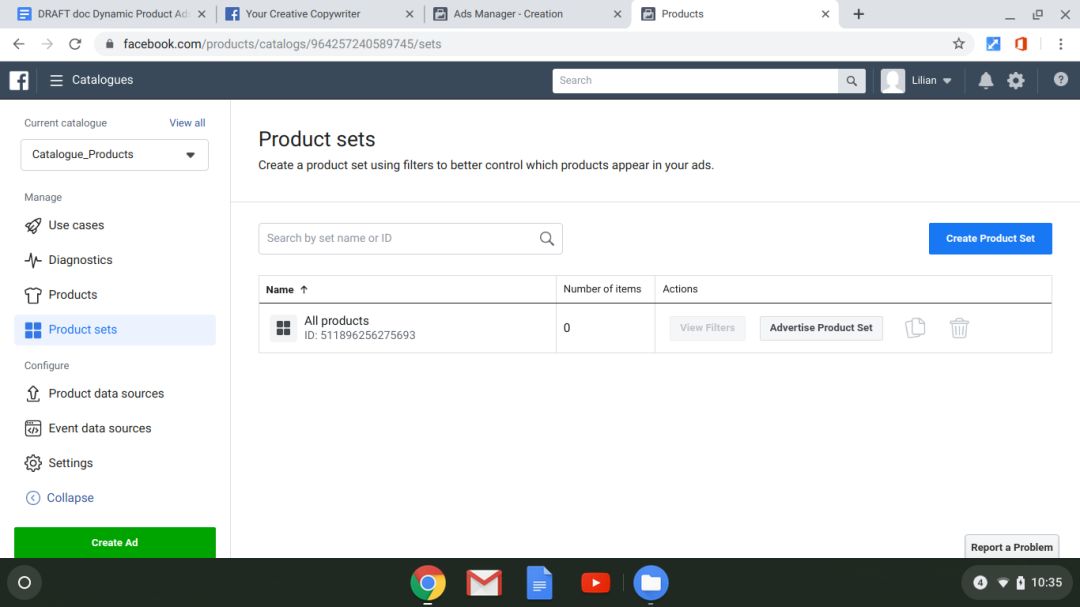 Next, you need to determine the rules for your campaign and set the parameters for which items you want to re-publish based on the criteria. Here are some examples:
To reposition users who have viewed the product, you can create a product set that contains All Products;
Use your portfolio for broad targeting (without knowing your brand's audience) or upsell and cross-sell;
Show products to people who don't know your brand and exclude existing customers.
From there, you can continue to select your audience.
First, you need to create a broad audience to target your campaigns to provide Facebook with some campaign and user feedback data. This is how dynamic ads determine which products to show to which customers when ads are launched and run.
Next, you can choose from one of two options to set your dynamic campaign's goal to Upsell or Cross Sell.
With the Upsell option, you can create an audience that has already viewed the item. You want to show them other, more expensive products to attract them to buy.
Through Cross Selling, your goal is to showcase complementary products to past buyers.
For example, if someone buys a phone case from you, they can show them a phone charger, and so on. For example, repositioning to see users with related products.
Now just set up your tracking "events" and schedule your initial ads and re-marketing ads to be published!
Some tips for optimizing Facebook live ads
Here are seven quick tips on how to optimize your catalog and Facebook's eComm bid strategy for maximum sales and (or even better) maximum ROI.
 1, to ensure that the product catalog has been updated and accurate
Use all available data. If you want to promote thousands of products or SKUs, it's hard to decide which products to show. Come together, for example, everything from your Google Shopping campaign.
 2. Check Anallytics regularly and adjust your budget accordingly
Don't waste your advertising spend on products that don't perform well. Add expenses for products that work well, and remove products that don't work well.
 3, the use of mobile-appropriate images
Get the attention of Facebook's mobile audience with large, high-quality images. Acarly ad requires at least 600 x 600 pixels, while a single ad requires at least 12,000 x 630 pixels.
 4, custom advertising (DUH)
You can customize your ads by season, such as Christmas, back-to-school season, Black Friday, or create templates that contain Logo and brand colors.
You can customize this by adding a price to each image and specifying the font, size, location of the text box, and so on.
Most sales are made on mobile devices, so don't get too cluttered so visitors don't see the image correctly.
 5, the use of multilingual options
Multilingual options can help you target audiences in other countries.
It's easy to create multilingual dynamic ads. Just set up dynamic ads the usual way, and then use the Create in Other Languages feature.
 6, use animation as much as possible
Slideshow dynamic ad formats help you show your products from different angles, including close-ups, without requiring users to take any action. To create a slide dynamic ad, you'll need to add multiple images to the product feed, and then check the show when available box in the catalog.
 7, check Pixel
Once you're set up, you'll need to check the Events page regularly to make sure it's working properly.
Wen Wen/Hugo.com Zhang Yi
Hugo.com is committed to providing sellers with quality dry goods

Sweep code free of charge to receive dry packages for each platform
---