Exclusive Instagram: It's really time to open up your ads, hug!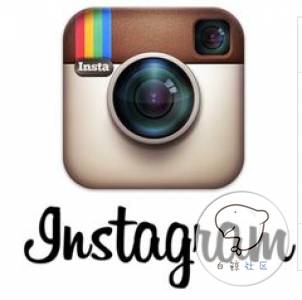 Last week, industry insider Sunny broke the news to the Moby Dick community that Instagram was about to officially open its advertising campaign. After confirmation that the domestic opening hours in September or October, "Instagram is in talks with Facebook's domestic agents for specific details." This Friday, the specific form of open advertising, whether there is an advertiser threshold, whether to support direct payment, open cooperation time, domestic agents and other news, or will come out.
This is an absolutely good news - 300 million users of advertising channels and traffic platform, will officially open to domestic developers. For three years, Facebook has been suppressing the impulse to commercialize, this time really to be completely released?
Three years on, Instagram's bumpy cash-in path

In December 2012, two months after Facebook's $750 million acquisition of Instagram, Facebook's attempt to prepare for commercial realization by modifying new terms for Instagram's use of image-sharing services has caused a stir among users. In an effort to calm the outrage, Instagram clarified that it would not use or sell photos of users in ads to allay users' concerns.
Instagram creates a stylish, private social environment that gives it access to a large number of users in a short period of time, and those who immerse themselves in "private sharing" have very little tolerance for advertising. For the most part since then, Facebook has tried to curb its impulse to commercialize Instagram and continue to help Instagram optimize its experience and accumulate users:
In April 2012, Instagram debuted on the Apple App Store's free app list, reaching 40 million users on its third day. 10 million more in 10 days;
In October 2012, it was acquired by Facebook for $750 million;
In February 2013, there were more than 100 million active users;
In December 2014, Instagram's user base passed the 300 million mark (Twitter had 284 million active users over the same period).
Take a picture - filter - socialize, Instagram tries to use minimal steps to get users to post the most effective pictures and let others enjoy them with social aids. To optimize the user experience and reduce the time users wait to upload, Instagram even starts uploading images when the user selects a filter (typically by waiting for the user to press the upload button to initiate the upload), reducing the time required for the final upload step. The above data shows that the "extremely fast" user experience is very popular.
With hundreds of millions of users, Facebook is both happy and upset. Facebook CEO Mark Zuckerberg told the media in May 2013:

But 1 month later, 15 seconds video ads, picture ads, embedded slideshows... The ads began to appear on Instagram. But the number of ads is small and limited to big brands such as Michael Kors, General Electric Adidas, Burberry, Levi's and Lexus.
Michael Kors was the first company to eat crabs. A still image ad by Michael Kors is arranged in the user app interface of a fixed-point delivery in the form of a "feed stream", with non-positive comments dominating the comments. But 18 hours after launch, Michael Kors's Instagram "fans" rose by 33,000 (16 times the average) and the ad received 370 percent more likes than Michael Kors's five images.
Instagram has proven its commercial potential.
In March 2015, Instagram made another ad attempt: Slideshow. Advertisers can add multiple images to the same message, users can swipe right to view, when the user swipes to the last image, the bottom right corner of the picture will appear a "learn more" button, click can be clicked in Instagram's built-in browser to jump to the specified page, that is, advertisers can put a payment link, users can see the ad to buy.
Taken together, whether it is the development model of "development advertising", or 15-second video ads, picture ads, embedded slideshow advertising model, are deeply affected by Facebook.
Estimates are lower: $595 million over 15 years and $2.81 billion over 17 years
In late July, market research firm eMarketer said Instagram's global mobile advertising revenue would reach 595 million this year, up 7.1 percent to $1.48 billion in 2016 and $2.81 billion in 2017.
When Instagram officially opens its advertising partnership, global mobile ad revenue may exceed that estimate. The meaning of openness, either to lower the requirements of partners, or in various regions to find quality agents to provide better advertising services, or more accurate positioning after the most grounded gas prices ... As advertising increases, revenue naturally increases.
Instagram, developed for mobile, has a large number of high-quality users on the mobile side.In April 2014, a comeSore survey found that 98 percent of mobile users on Instagram in the United States. This online photo-sharing app is very popular in the United States, especially among young Americans. Six out of 10 adults using a smartphone use Instagram, 30.6 percent of 18-24-year-olds, 29 percent of 25-34-year-olds, and only one in 10 users are over 55, according to 2014 data from mobile company comScore. In the world, but also popular with young groups like, fashion, timely, private, social characteristics, but also attracted a lot of stars, network red people are also waiting to enter.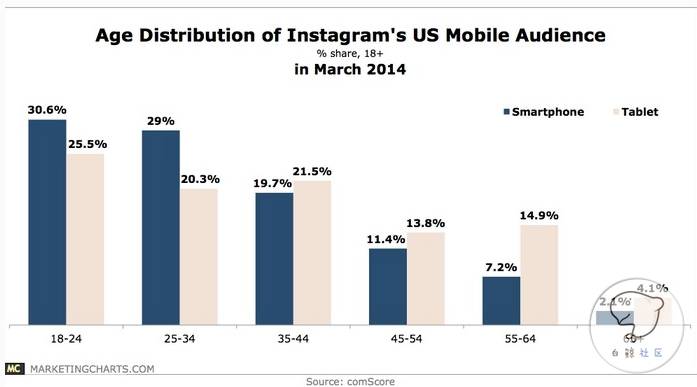 Global high-quality, accurate delivery channels are few.For advertisers, the biggest difference between mobile and PC end is that mobile can directly join the app download link, advertising audience can be directly converted to app users, this part of the conversion users are not charged, advertising is generally calculated according to CPM. High-quality global channels/platforms/apps that can now run these ads are: Facebook, YouTube, Twitter, Tumblr, Snapchat, Instagram, and more.
In 2014, Instagram and Facebook merged further, sharing user content and personal information such as cookies and locations in both directions. This means that Facebook's data for hundreds of millions of users can be used to improve the accuracy of Instagram's advertising. Instagram, meanwhile, says in a new user agreement that it has the right not to label paid ads in the future. So, on Instagram, advertisers can also tailor ads to their gender, age, region, hobbies, and more, depending on the product.
Video advertising, dynamic pictures and image advertising is a trend, much by the film and television, hand travel and other industries.On YouTube, minecraft, the most popular game, has 50 billion views on video ads; Rovio Mobile, the most popular official channel, with 1.7 billion video ad levels; and PewDiePie, the most popular personal channel, has 7.3 billion views and 33 million subscribers. Tap4Fun, which focuses on overseas markets, has also said publicly that good static and dynamic image advertising can be very effective.
In October 2014, after six months of testing, the 15-second video ad for Super Marines was shown on Instagram, and commercialized, the video ad may contribute a lot of revenue to Instagram.
Pleasing ads.Whether it's Minecraft, Pirate Oddity or Clash of Kings, its previous video ads and images on other platforms are pleasing to the eye. For Instagram, high-quality pictures are the place to be. From the first image ad in 2013 and the first video ad in 2014, pleasing images or videos worked very well on Instagram. And after several years of accumulation, many manufacturers have long foreseen the future of Instagram commercialization, accumulated a lot of fans, advertising officially opened, they will be more than half the effort in advertising and operation.
So, after getting Instagram's upcoming official opening, the Moby Dick community is excited and wondering, what exactly is his form of collaboration? Custom ads to what exactly, how much to charge, whether there is a threshold for cooperation, is only through the agent to serve ads? These are the messages we are eager to know, and the Moby Dick community will be watching closely.
This article belongs to the original Moby Dick community, if you need to reproduce please indicate the source


---