Does Google's ads work badly? Because you don't understand this...
From the album.
Google launches dry goods collection.

When it comes to Google launch, many foreign trade people are not unfamiliar. But let's talk.How does Google's bid ranking work? Why is my bid higher and i'm behind my competitors?Or let a lot of people a fog.
If you want to do good things, you must first make a profit.
Today.This article is particularly suitable for just.Reach out to the little partners in Google's ad run.Will.Dig deeper into how Google ads work., from the underlying logic to help you clarify the way Google ads work, to help you better understand and use Google delivery.
First, keywords, advertising ideas, floor-to-ceiling pages.
In general, Google ads consist of three elements:Keywords, advertising ideas, and landing pages.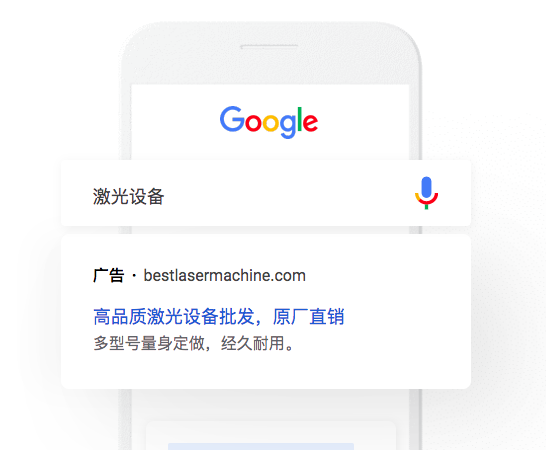 Google advertising is essentially a paid way to promote a site by using Google Keyword ads or Google's global network of content networks.
When a viewer searches with a keyword, advertising content related to that keyword appears on the results page.(High-return keyword strategy click blue word to view the article 👉Doing foreign trade, Google to burn money to despair? 4 key strategies please check!》)
When you set the keywords, you need to design creative advertising content for the keywords,You can choose from a variety of ad formats, including text, images, and video ads.
Advertising ideas need to be sufficiently relevant to keywords and attractive to make visitors willing to click.
When a viewer clicks on an ad creative content, they will jump to your ad landing page to guide you to purchase products, downloads, quotes, and more.
Second, PPC (paid bidding).
PPC (Pay Per Click), specifically the search engine's paid bid ranking advertising form, because Google's search engine bid ranking is only a fee- way, that is, pay-per-click.
This form of paid bidding means that you don't pay for your ad being shown, but when someone actually clicks on your ad. From a conversion perspective, PPC is better than CPM (paying for thousands of impressions) because your ad may be displayed 100,000 times, but only one person clicks.
So, what determines the price of a single click?
Google uses auction bids to set prices. The following diagram, for example,The keyword "custom shirts" has five bidders: $5, $4, $3, $2.80, and the search rankings are ranked by bid.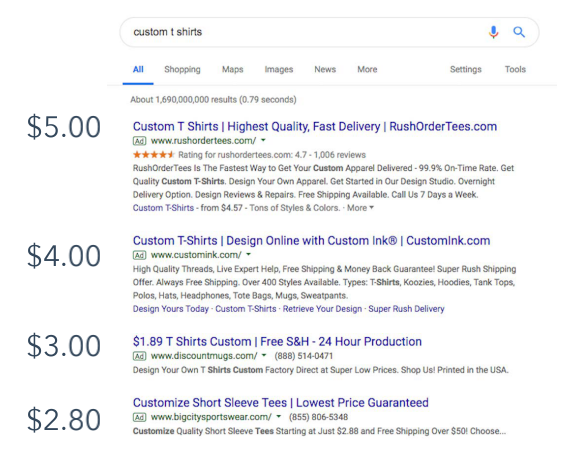 There's a little to be aware of here,Your bid does not equal the actual deduction.
Google's advertising auction model is based on Generalized Second Price auction, the "broad second price auction". 
If there are more than one ad position, the ad price of the first place is the second bid , the minimum bid unit (e.g. $0.01),Row.The.The ad price of the two . . . Third.The name of the bid . . . The minimum bid order.bit.(e.g. $0.01)and so on.

When a keyword means more broadly (e.g. shoes meanmore than red shoes), it means more searches, the more people compete for bids, and the more money you have to spend if you want to be at the top of the rankings. OKKI recommends,Taking into account the effectiveness and cost-effectiveness,Such broad keyword bids should not be too high. InsteadLow-traffic but precise keywords are ideal for more presentation opportunities by raising your bid.
Third, the quality score.
The Quality Score, or Quality Score, is a keyword-level metric for Google ads that rate your ads based on relevance.It looks at how relevant your keywords are to your ads, and how relevant your ads are to page content, to make sure you don't buy keywords, leading traffic to unrelated pages.
Principle:Google ads make a comprehensive assessment of the overall performance of keywords in historical ad auctions (received click-through rates, user experience data, etc.) and then give each keyword a quality score of 1, the highest score is 10.
Importance:Quality scores play a very important role in Google advertising, good quality points provide a competitive advantage, and your ads can get a better ranking in search results than competitors.
For example,For keyword A, the competitor bids $5, the quality score is 4, its ad rating is 5 x 4 x 20, you bid $3, quality score 7, the ad rating score is 3 x 7 x 21, because 2120, so even if your bid is lower than the competitor's, your ad ranking is above him.

On the other hand, quality scores can also help you determine which keywords are more appropriate.
For example, your company is doing fitness equipment export, intends to choose the "nutrition" keyword, but if found that the quality score is very low, it is likely to mean that the fitness equipment related content in.Nutrition is not competitive, it is best to change the key word.
Today's article, mainly to introduce to you the working principle of Google advertising. Next, we will also launch more Google put in the actual dry goods, please pay more attention to .
---