Do a good job of Facebook Analytics, a must-have analytics tool for Facebook marketing
Click on the top to topHugo.com, don't be across the border e-commerce big and small things
In this age of "talking with data", data is playing an increasingly important role in many businesses. It can be said that a tool without data analysis is incomplete.
So you'll find that almost every platform, including Facebook, YouTube, Twitter and Instagram, has its own integrated analytics tools.
Aimless, strategyless "airdrop" ads or posts have been played too low-level, to expand the impact of your social media marketing strategy, you need to post effects, audience feedback and other aspects of data have a clear understanding. Otherwise, your social media marketing is almost blind.
So what does Facebook Analytics do better than other analytics tools?
What is Facebook Analytics?
In short, Facebook Analytics is Facebook's built-in analytics feature that helps you collect and analyze metrics related to your posts and audiences, and more. It transforms the data you get into actionable reports that you can use to optimize and refine your Facebook marketing strategy.
But what Facebook Analytics does is more than just evaluate and track your performance on Facebook.
What does Facebook Analytics do?
Like other analytics platforms, Facebook Analytics can provide you with valuable data such as page views, peak traffic times, visitor demographics, and more. Facebook Analytics will show you the real impact your Facebook ads and Facebook Pages have on your business through clear and intuitive charts.
How do I access Facebook Analytics?
You can get Facebook Analytics in two ways:
1) PC side: No installation required, you can access Facebook Analytics directly from your browser through your Facebook enterprise account.
2) Mobile: You can download and install Facebook Analytics directly from the Google Play Google App Store and the Apple App Store Apple App Store.
How do I view your Facebook Analytics?
On the browser, you can find Facebook Analytics in the Measures and Reports section of the toolbar at the top of your business account.

(Photo: oberlo.com)
Plus, with the Facebook Business Manager platform, you can not only run and manage your Facebook and Instagram ads on it, you can also find the Facebook Analytics section.
How do I install Facebook Analytics?
To be able to track your site's data on Facebook Analytics, you need to install a Facebook Pixel (pixel code) to synchronize activity on your site with your different Facebook contacts (ads, pages, similar audiences, etc.).
In your Facebook Business Manager account, you can find your Facebook Pixel ID: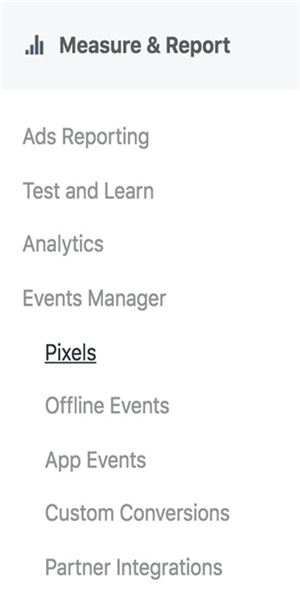 (Photo: oberlo.com)
If you're using the Shopify platform, simply paste your Facebook Pixel ID into the Facebook Pixel ID dialog box in the online store → Preferences to make sure your site is collecting data from Facebook.

(Photo: oberlo.com)
How much does Facebook Analytics cost?
Facebook Analytics is an official free tool on Facebook.
You don't need to go through a trial period or meet certain conditions and requirements to use it. Basically, users who have a Facebook Business Manager account and have a Facebook Pixel installed on the site can use it.
How Facebook Analytics is used
To some extent, Facebook Analytics is very similar to Google Analytics.
Here's a picture of the data board after you sign in to Facebook Analytics: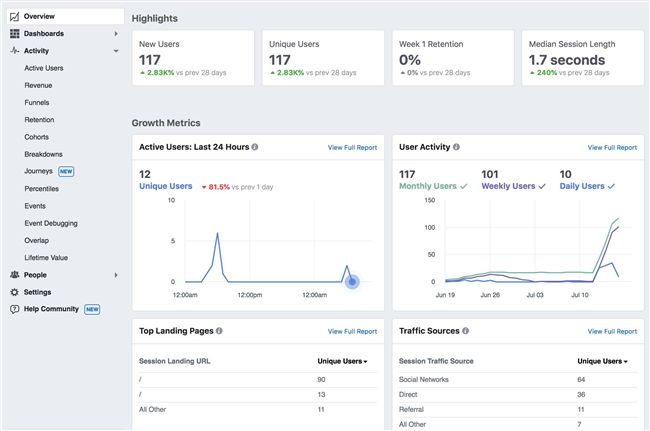 (Photo: oberlo.com)
You'll see many data metrics, including New Users, Median Session Length, Top Landing Page, Traffic Source, and more.
Facebook can also show you more detailed user data about the operating system, system language, and other users used by visitors.

(Facebook Analytics demographics, broken down by gender and age; Source: oberlo.com)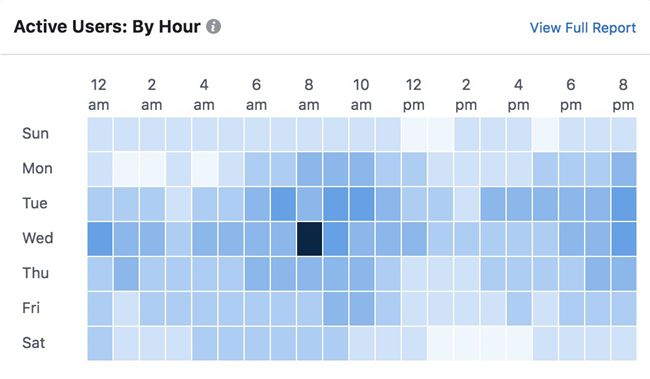 (User activity per hour; Source: oberlo.com)
In addition, the first time you sign in to the Facebook Analytics APP, you can customize the data board you're about to generate:
(Photo: oberlo.com)
After the initial setup, you'll get a similar view: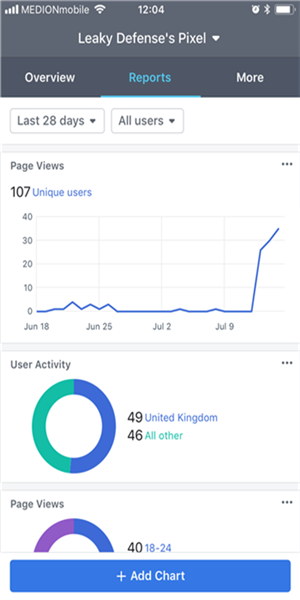 (Photo: oberlo.com)
Here are a few representative features of Facebook Analytics and its marketing mix:
1, similar groups

(Photo: oberlo.com)
You can create similar groups to measure the impact and impact of your marketing efforts over time. You can select a user behavior (e.g. customer retention, lifetime value, re-purchase rate, etc.) and observe how the customer performs over that period of time.
In fact, Google Analytics and other analytics tools have similar group analytics capabilities. But the data that customers generate on Facebook's platform is not available to other tools, so the value of Facebook's peers is highlighted.
For example, a Similar Group on Facebook can tell you how many people have completed a purchase after browsing your site's content. Or, because Facebook Analytics can integrate other Facebook marketing tools such as Messenger and Page, you can create a similar group by creating a "buy with Messenger chatbot click on CTA" condition.
2、Journeys
Launched in May 2018, Journeys is a relatively new feature designed to understand the impact of users' use of different channels and their behavior patterns on transformation.
For example, people who interact with Facebook posts are more likely to go to your store to buy items, and perhaps those who contact you on Messenger will generate higher unit prices than those who haven't used Messenger, which Journeys can provide you with.
Even if some users have studied your product on the mobile side, but ended up buying it on a PC-side website, you can still use Facebook Analytics to study the behavior of these users across different channels.
3, Facebook Store
You can also use Facebook Analytics to analyze your Facebook store.
If you add a shopping feature by creating a CTA button on a Facebook page, users will jump to the merchant site when they click the CTA button, and then Facebook Pixel will record the user's behavior and send it back to Facebook Analytics.
If you open a store directly on Facebook, users can pick products directly on Facebook and check out.
Clearly, When analyzing data related to Facebook's in-house shopping capabilities, Facebook Analytics is definitely a better choice than other tools.
While Facebook Analytics already gives you enough data and information to optimize your marketing strategy, if you want to delve deeper, you can use these Facebook analytics tools to help you do so.
1、Facebook Insights
Facebook Insights is a free tool officially available on Facebook to track interactions between users and your Facebook Business Page. You can access it through Insights on the top toolbar of Facebook Business Page.

(Photo: oberlo.com)
The overview page provided by Facebook Insights will give you basic information about page views, post coverage, likes and followers received on a Page, and more.
You can also view more detailed metrics directly by clicking on the navigation bar on the left side of the page.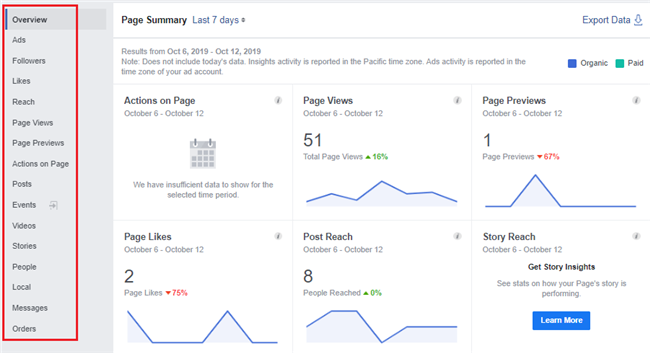 (Photo: oberlo.com)
Also, it's important to note that while Facebook Insights is completely free to use, it can only be enabled after a Page has reached 30 followers.
2、 Wiselytics
Wiselytics is also a free Facebook analytics tool.
Wiselytics offers users a free and paid package that not only lets you track the performance of your posts, but also sorts and evaluates their performance by topic.
In this way, you'll be able to quickly learn about topics that are more interesting to your target audience today, so that you can adjust and optimize your social media content in a timely manner.
What's more, Wiselytics allows you to add more than 10 data metrics at the same time to evaluate the performance of a post, giving you more detailed and comprehensive reporting.
Another feature of Wiselytics is that it allows you to trace historical data. Its Enterprise Plan (Request Available) allows you to track the evolution of data on a post or Page.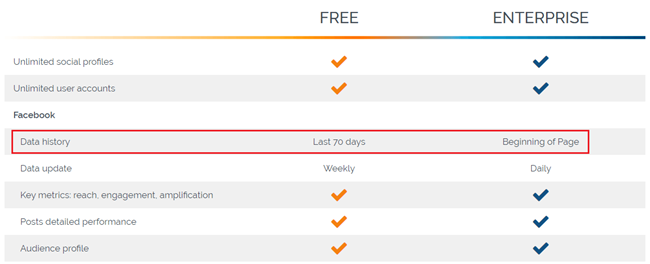 (Photo: oberlo.com)
3、 Likealyzer
Driven by AI, Likealyzer is an easy-to-use, free tool for quick analysis of Facebook pages.
It measures the page's performance from five dimensions (home page, About page, activity, response, and engagement) by selecting more than 70 data points on its Facebook page, and rates it as a percentage.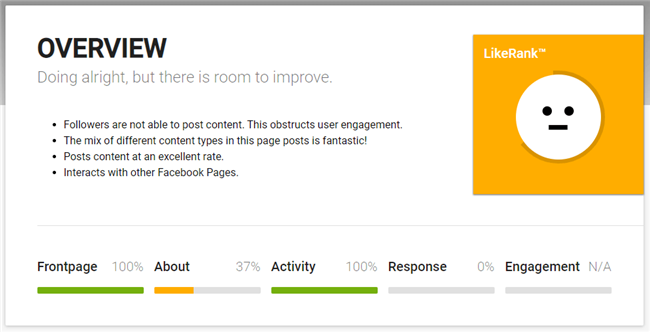 (Photo: oberlo.com)
What's more, Likealyzer is exempt, which means you can also use it to view and compare competitors' performance.
4、Social Pilot
Social Pilot is a paid tool that provides you with more detailed interpretation of these metrics in addition to providing you with basic data such as fan growth and post performance.
With Social Pilot, you'll be able to track the source of new fans (natural/paid channels) and allow you to identify more active fans based on the number of comments, retweets, and likes.

(Photo: oberlo.com)
In addition, Social Pilot also provides timed posting, and the platform automatically retweets your better-performing posts.
Social Pilot offers a 14-day free trial period, after which it pays annually, starting at $25 a month.
5、 Agorapulse
Agorapulse is one of the more comprehensive Facebook analytics tools available today, with free and paid features.
One of the free features it offers is its Barometer, which compares your Facebook page to nearly 50,000 Facebook pages in its database and gives you a score in terms of post engagement, audience and visibility.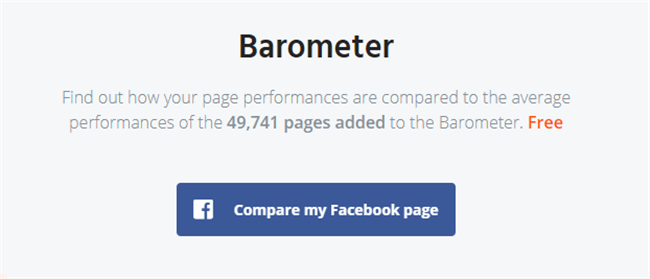 (Photo: oberlo.com)
Because Facebook apps are installed on the mobile side, and because the Facebook Pixel lurks on a variety of sites, Facebook Analytics is an indispensable analytics tool for you and a valuable source of data on some important sales channels.

Wen Wen/Hugo.com Xie Xinxin
Hugo.com is committed to providing sellers with quality dry goods

Sweep code free of charge to receive dry packages for each platform
---