Facebook Marketing: A complete guide for beginners

Click on the top

Blue font

Follow us!
Facebook, the world's largest social media platform, has more than 1.23 billion active users, 62 percent of whom log in every day. It's a miracle that Facebook has grown from a decade ago to a billion today.
Facebook's advertising platform provides businesses with a zero threshold for entry and a specific demographic image to find your target users based on region, interest, population, gender, and more.
Foreign trade marketers often attach great importance to overseas social media operations, based on Facebook's large user volume, of course, can not ignore the platform. How do you target your users on Facebook? How to do a good job of Facebook marketing?
Today's article gives you an introduction to how to use Facebook, even if the first contact with it can quickly get started.
At first, Facebook became popular among college students. But now Facebook connects almost all Internet users. Young people aged 18-29 are the main force on social media, according to a survey. Social media popularity declines with the age of users, with people over 65 rarely playing Facebook. So, before you target users, you first need to look at Facebook's general user situation.
How do I do business on Facebook?
Facebook has three main tools - Page, Ads, and Groups. Each tool has its own functionality for more connections and arrivals.
A Facebook page is similar to a personal space, but the main body of the page can also be a business, organization, and public person. Users can "like" the home page, it is the equivalent of like the page or add attention, become a fan of the page, the default followers of the page information once updated, can be displayed in the fan's Facebook stream. However, users can also set up to like only the page, but don't pay attention to the page information (users can also add some friends).
Facebook's friends are usually people who need to be associated with each other, and the maximum number of friends is 5,000. A Page is something that anyone can follow, which means that anyone can be a fan of a Page, you don't need people to have anything to do with the creator of your Page, and there's no limit to the number of Page fans.
Advantages:Creating a home page is easy and free.
Disadvantages:It's hard to do for a new home page that doesn't have a fan base.
Facebook has opened up a great platform for advertising. Users can set specific regions, ages, educational levels, and even user browser devices to target the audience according to their needs. Facebook allows users to turn off ads they're not interested in, and it also sets a quick follow button under ads.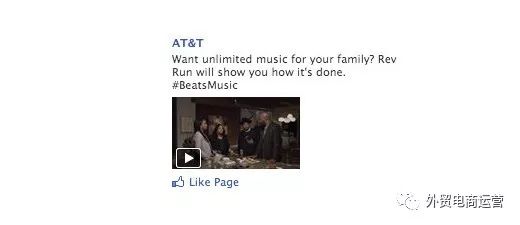 Advantages:Ads run more accurately with powerful parameter guidance.
Disadvantages:Depending on the performance you're achieving, advertising costs vary and are usually more expensive.
Facebook's groups are similar to discussion areas or community forums, but enter groups on the premise that they should be friends or Page fans. You can create groups related to your industry or product, which is also a way to get potential customers.
Advantages:Groups are free and have a high user stickyness.
Disadvantages:Maintaining groups is time-consuming.
How do I market on my Facebook page?
The Facebook Page is the easiest way to market. Free, easy to create, flexible. However, most companies don't make the most of it, or use it poorly. Here are a few suggestions, I hope you can take fewer detours.
The avatar should be corporate Logo, simply.
Cover images can have a variety of options, all up to you. Some companies take photos of their employees, some use some very dazzling works, or some put contact information directly. Still, I hope you can pick some images that will catch the visitor's eye and use the image that enhances the brand's impression as the cover.
This section is prominently presented directly below the company Logo. This is what you tell visitors about this home page or company. Make sure that the information here is correct and describes your characteristics and characteristics positively. If necessary, you can use the description of us directly on your website. Using more numbers will be more convincing.
In addition, the "about" language description should be as friendly and cordial as possible. The relaxed, natural tone is useful on Facebook. Here are a few examples that you can refer to.
HubSpot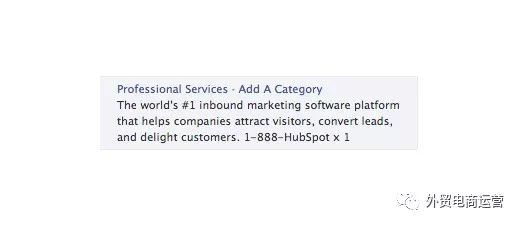 WP Engine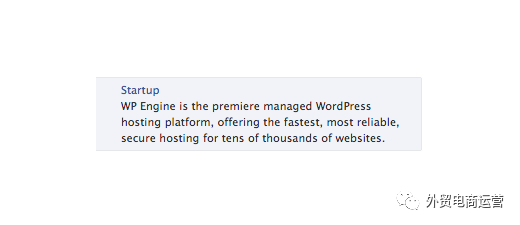 Tabs are small rectangular panes that are displayed in the area below About. Facebook allows users to use 10 app tags, which are usually the most-watched areas. Photos and likes are the default pane tabs, and you can drag and drop the likes pane as you like, but the photo pane must come first. The top pane label can only be set up to 4.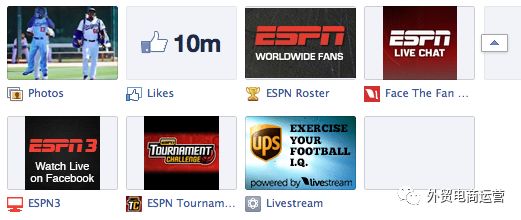 Think about what you want your visitors to see the most! Popular products, main push services, or company information, or recent events? The most important thing about social media marketing is fan engagement, and the stronger the connection between fans and you, the better marketing can be done.
Post useful information on the timeline
The information you post will appear on your fans' home page stream, just as you would in a circle of friends. Be sure to post some useful information for fans, don't send the same content unlimited times, and don't brush the screen frequently.
You can post these on the home page:
Post links to articles about your company or industry

Post a link to a blog post

Send product coupons to fans

Introduction to the release of new products

Links to online tools that help fans
Keep in mind that don't send many messages a day unless there are any special events that continue to occur.
Ask fans interactive questions
Keeping fans interacting with your Page is an important way to maintain fan loyalty. By asking questions to fans and engaging users, the setting of questions depends primarily on your company's products, events, or events, and generally open questions work better. For example, for new products or projects to seek fan input, fans will feel that you have their needs, but also to stimulate more participation in the post.
Spam is the fastest way to drop powder. If you're just advertising company promotions and there's nothing else of value, it's hard to get powdered. So before you send an update message, be sure to figure out what's valuable to your fans. If it's worthless, don't send it!
Facebook provides a lot of data analysis for the Page. Note that using this data, if you find a significant increase in powder and drop powder, look against recent tweets to find out why. Then, consciously increase or decrease this content.
How do I run ads on Facebook?
Facebook collects a lot of user information, so it's a great platform to serve ads online. You can find matching potential users by setting up and configuring your profile and deliver accurate ads. Ads are paid for based on impressions and clicks, and Facebook recommends ads like yours to help you find out if your bids match those of others in the industry. Of course, you can also set daily ad limits so you don't lose your budget.
There are sub-categories on Facebook that you can choose from, you can create ads directly on your Facebook page, you can tweet Facebook events, and you can use RSVP links. You can also create ads for downloads and installations of mobile app clients.
In the past, Facebook set a "like" option under all ads. But now that it's changed, users can neither "like" ads nor "hide" ads. Once a user closes an ad, Facebook asks why they don't like it. Such feedback will give Facebook advertisers a clear idea of why ads don't work well.
Powerful positioning tools
As we mentioned earlier, you can target people based on the area in the user's profile, even accurate to the city, zip code, state, county, village, etc., you can also according to the user's age, work, educational background, interests or birthdays and other detailed information to find the targeting of people, and get the mailing list, you can accurately run ads.
Another advantage of Facebook is that it can create different ads to reach people in different regions. Targeted ads get better results.
If your target audience is football fans, you can create different ads for fans of different teams. It is then sorted by interest and support team via Facebook and then posted.
Facebook is powerful and flexible. No matter what foreign trade company you run, what kind of foreign trade promotion, it can provide you with enough marketing options, according to the needs of the company to customize different marketing strategies, budgets and time constraints.
To do Facebook marketing, be sure to take the time to understand its features and characteristics, it is worth it, do a good job of Facebook marketing will certainly give you a good return.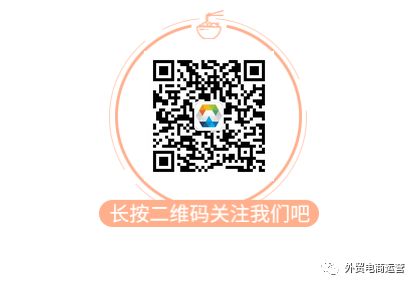 Welcome to WeChat background message

Foreign trade e-commerce QQ exchange group: 475077420
Please indicate the region and industry
---