The importance of Facebook marketing
▼▼▼▼▼▼▼▼▼▼▼▼▼▼▼▼▼▼▼▼▼▼▼▼▼▼▼▼▼▼▼▼▼▼▼▼▼▼▼▼▼▼
Click on "Ah, you never know" to follow us
Dynamic research on cross-border platforms
Store operating skills,
Expose sales, conversionsSkills
Out-of-station promotion of draining methods
Subscription number ID: allzhidao
▼▼▼▼▼▼▼▼▼▼▼▼▼▼▼▼▼▼▼▼▼▼▼▼▼▼▼▼▼▼▼▼▼▼▼▼▼▼▼▼▼▼▼▼▼▼▼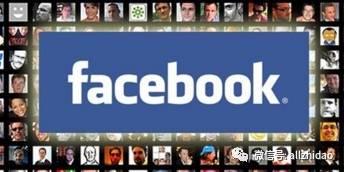 Facebook has a great opportunity to become the world's largest marketing platform, helping companies reach consumers and other retailers to drive cross-border sales. As a social and marketing platform, Facebook has 1.7 billion monthly active users, one-fifth of the world's population. Facebook is now one of the biggest sources of traffic for cross-border e-commerce, and running a Facebook ad can bring in tens of thousands of visitors a day, a huge boost to sales.

Flow is important for cross-border e-commerce sellers, and diversion is the hard truth  
Facebook marketing opportunities for cross-border e-commerce sellers - streaming
Part 1:

Facebook's strengths
1, the widest touch:The world lands every monthFacebook has 1.65 billion people, 66 percent of whom log in every day (Q1 2016). Facebook had the largest number of users in Asia at 350 million, followed by the United States at 200 million, the Middle East/Africa at 195 million, Brazil at 100 million, the United Kingdom at 37 million, Germany at 28 million, Canada at 21 million and Australia at 14 million. (Fourth quarter of 2015) These are equivalent to covering one fifth of the world's population, accounting for 48% of the world's internet users, 90% of whom are accessed via mobile devices. It's worth noting that Facebook has three times as many users as WeChat, five times as many as Twitter, eight times as many as Snapchat, 1.6 times as many as YouTube, twice as many as QQ, and seven times as many as Sina Weibo
according toeMarketer reports that the number of Internet users will increase by 30 percent to 3.82 billion by 2018. If Facebook users grow at the same rate (and it's highly likely), the number of active users will exceed 2.2 billion in less than two years.
The UK has more than 51 million internet users37 million people use Facebook. Uk e-commerce transactions are forecast to reach $132bn in 2018, one of the world's largest marketing target markets.

There are more than 200 million Facebook users in the United StatesNearly 77% use Facebook. By 2018, U.S. e-commerce deals will reach $500 billion, and Facebook is an important platform for many U.S. brands to promote their products.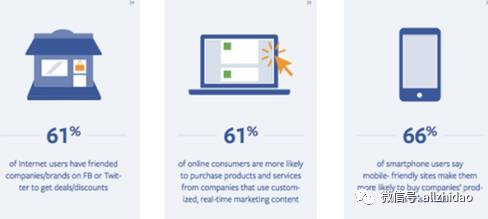 2, the most positive interaction
People spend more time on Facebook and Instagram than some other mainstream social media platforms combined.
Latin America.66% of shoppers log on to Facebook to find out about discounts while shopping;
United States.51% said Facebook has some or even a lot of influence on their holiday shopping;
United Kingdom.: People use Facebook to find inspiration 2.1 times more often than other social media.
Malaysia.70% said they checked Facebook before shopping.
Facebook has become a new way for people to explore information
Seventy-six percent said Facebook made them the main channel for them to watch videos
People search Facebook 1.5 billion times a day
More than half of users watch videos on Facebook every day
More than 8 billion views per day
3. The most accurate delivery:Facebook users log in with real identities for accurate tracking from the PC end to the phone side. More accurate ad serving based on the user's age, country, interests, past purchase behavior, and finding potential consumers with the same interests. For different products, Facebook can automatically promote related products from the entire product catalog and generate different ad ideas to showcase one or more products.
Part II: How to grow fast on Facebook
1, in the initial construction of the station to focus on flow: The product by style interest classification, to make multi-map rotation ads, to the interest-related people. Measured by the word click-through cost CPC.When website traffic doesn't go up, change traffic to sales: For those who have visited but have not purchased, they can be reminded to buy;
2, for those who have purchased, look for similar audiences, develop new customersFor those who bought 60-90 days ago, they can be encouraged to go back to the site and buy again. It is measured by the conversion CVR and the price CPA for each conversion.
3, after stable results to improve loyalty and open up new sources of customers: Every post to be interactive to turn customers into loyal customers, each video to promote brand style, so that brand image, personalized, international, in order to long-term new customers. And the customer touch (reach) and watch the cost of CPV measurement.
Part III:

Facebook promotion

five steps
1, audience segmentation
Create customized brand information for segmented audiences with different demographic and psychometric characteristics
2, advertising creativity
Engage and resonate with great visual ideas
3, advertising format
Video ads, turntance ads, Canvas
4, audience targeting
Start building broad, critical audiences with demographics, geographic locations, and behavioral targeting
5, optimization
Optimize your campaign with the Reach and Frequency purchase tool. Consider booking your ad inventory using the Coverage and Frequency purchase tool as early as 6 months in advance for inventory protection.
Part IV: About the professional construction of Facebook ads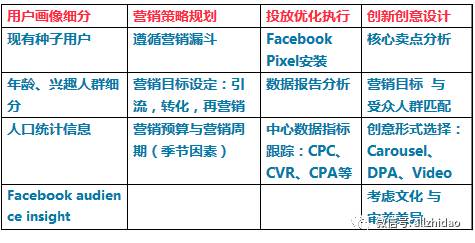 ---


Follow the subscription number: Next issueTips for Facebook marketing
---
It is recommended to collect this article, read it at any time, share it with friends, improve the sense of existence!
 Welcome to share this article, reprint please reserve the source
Source . . Ah, you absolutely don't know (ID:allzhidao) cross-border e-commerce platform dynamic research

Cross-border e-commerce dry goods are shared daily
Talk about how to do it and share your marketing methods
   Subscription number ID: allzhidao


---