Apple vs Google, China is the key! In-depth analysis of spot ads
Click on the above"CocoaChina"Follow to learn about iOS development for free
This article is a contribution article

Source: Sha Ming's worldview

ID:mobview
The BATTLE between Apple and Microsoft on the PC side has come to an end, and both have proved as successful as opening and closing.
In the era of the mobile Internet, Google took over Microsoft, and Apple launched a new round of fighting, and the proposition is the same: closed or open? This seems to be a remake of the PC era, the play is all over, deer dead who hand still suspense?
It's hard to say, although the big plot is the same, but after changing actors, the specific tactics are a lot different. Let's first look at the differences between the two companies in a big way, as shown in the table below

Last month, Google launched its own Pixel high-end phone, through the perfect combination with Android (the charm of the closed ecology), to compete with the iPhone, it should be said that the current most able to shake Apple's mobile status, not Google!
Jobs' career stain
The glory of Jobs' life can be described as dazzling, often let people have a feeling of god and god help, as if he can do anything, can break all common sense, do what the world thinks is impossible! Only Google, in the confrontation with Apple can not let the wind down, and even let Mr. Joe suffer the biggest two failures of his career, the first is that Android has been absolutely ahead of iOS in market share, Google active attack, Apple defense;
In fact, Apple's success today depends largely on the non-stop release of innovative hardware products, which is bound to be an extremely difficult task. Google's Internet advertising, on the other way, is part of a business model that will continue to rise for years to come. To exaggerate, if Apple can't compete with Google in the advertising business, it's likely to lose the marathon. I have carefully studied the layout of Apple in mobile search, you can use "such as thin ice, war" to describe, its intentions can not be described as bad bitter, and so on in the future have the opportunity to send a detailed chat.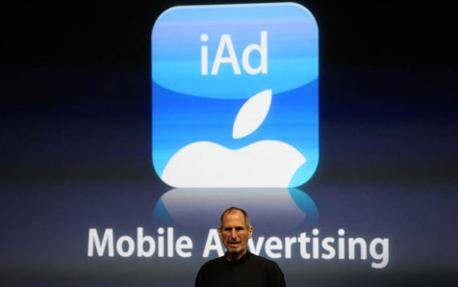 iAd is the Apple App Alliance, where advertisers have the opportunity to show their ads in iOS apps around the world, with Apple and developers split by three to seven. Jobs had high hopes for the product, which he predicted would account for half of mobile advertising when it was released in 2010, against Google, and by 2015 it was only 5% of the district, and finally had to give up, much to the behest.
The reasons for failure can basically be summed up in one sentence:Acclimatized!For Apple, which has never been exposed to Internet advertising, this is a complete stranger to the industry, do not know how to play, coupled with Apple's natural character, and finally lost a collapse.
Let's look at the specific reasons:
The threshold of one million dollars at a timeAt $50 for 13 years, Jobs started by targeting brand owners who advertised on television, and couldn't say that the idea was completely wrong, since Apple won $60 million in the middle of the day alone, but that meant excluding small and medium-sized advertisers, leading to a lack of demand.
High levels of format and quality for ads, which needs to be reviewed by Apple, resulting in no guaranteed launch time. In fact, this is Apple's consistent style, Jobs believes that advertising should also be a good user experience, of course, can not let poor quality advertising affect the ecology. Later, Apple simply provided standard material, so that advertisers directly fill in the blanks, are the embodiment of this thinking, do not do so is not called Apple.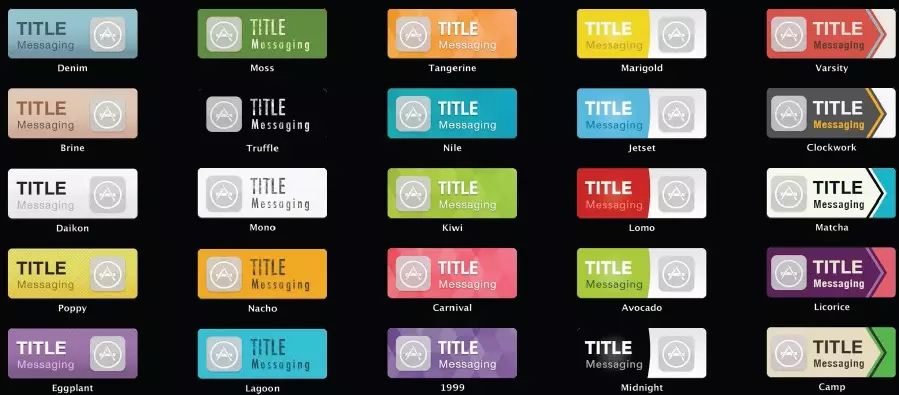 Ad filling rate is low, this is very fatal, only staring at the consequences of large customers is that the demand for advertising is very small, the vast number of developers simply can not eat enough, and finally we have to cut traffic to other platforms.
Can not cross-platform, can only be shown in iOS, this is also determined by Apple's closed ecology, basically no solution.




The data isn't open enough and you don't know where your ads are showing when you run them.
The positioning conditions are too fine, resulting in low display. iAd background can set the crowd's interest tag, you can also specify the category of apps launched, it seems a little redundant. After all, Apple covers just over 10% of the global mobile market, and precise positioning can lead to a sharp decline in the target population.
As you can imagine, Google was nervous when iAd was first launched, but soon discovered that Apple wouldn't play at all, and that the real rival on the mobile side was Facebook.
Cook made a comeback
Let's take a look at the competitors during iAd's struggling five years, as shown in the chart below (including pc-side), where Google not only has a growing market share, but is also consolidating the PC side while penetrating the mobile side. In July 15th, Google officially launched the Google Play (Google App Store, GP) bid ranking, which caused 10 shock in the industry. A year later, Apple announced that it would launch the same business, a decision that must have been made after keeping a close eye on Google's movements.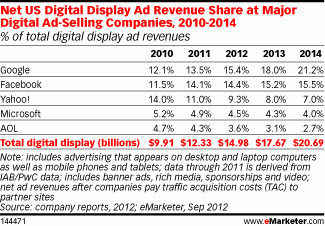 Don't you think it's strange, after the GP's bidding ads were officially launched, there seems to be no movement, if not Apple launched the same service, everyone seems to have forgotten this thing, what the hell is going on?
I think one of the main reasons is that Google's advertising system has been quite mature, before the introduction of bidding ads in the GP, Google already has a lot of mature forms of promotion of the app, and GP bidding ranking is only one of them, GP is at best the closest channel to user decision-making.
Currently, Google packages its assets and provides them through the United App Campaign (UAC), which integrates through:
Google Search

Google Play

Youtube

Google Advertising Alliance

Other third-party networks that work with Google

The delivery process is very simple (via Adwords settings), in fact, this is a fully automated process, you just enter some of the most basic information, even keywords do not need to provide, the system will automatically take over, completely fool-like operation.
It's perfect on the surface, but it also leads to a series of questions:
There is basically no room for manual optimization, even if some basic positioning is not possible, such as age and gender

UAC is a packaging solution that does not support optimization for one of these channels

I don't know where the ad will appear

The data is not open, advertisers can only see a comprehensive report, simply showing the various channels brought in clicks and downloads and other data
All of this is being watched closely by Apple, which sees it as a great counter-attack, and this time, after the iAd fiasco, apples are trying to get from one point to another, the App Store's bid ranking, but behind it there is a bigger ambition behind it. So Apple moved quickly, but cautiously, from the april 16 explosion of a secret team developing a bidding advertising system to the official announcement on WWDC.
This time, however, we have reason to believe that Apple is ready, and now, combined with the iAd, it's clear from the table below to compare the two systems.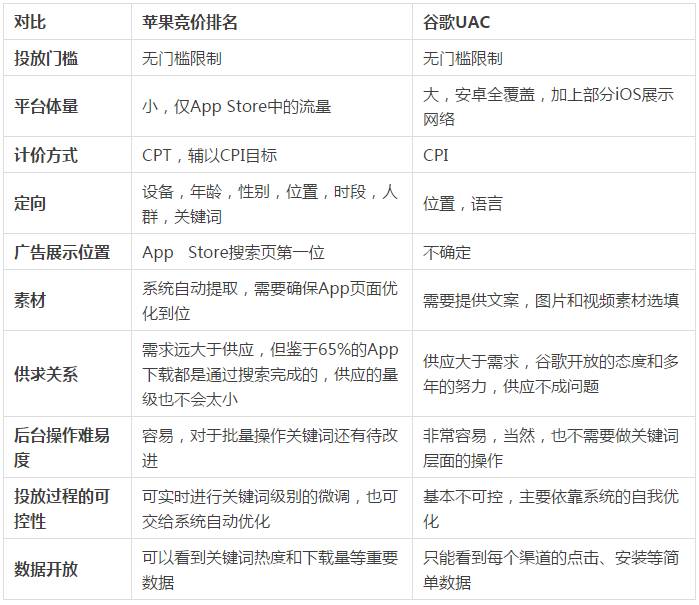 There are a few points worth highlighting in the table above.
First, Google recently upgraded UAC to version 2.0, adding several features: 1. Covered with iOS;2. Supports uploading image footage; Supports optimization by in-app critical events.
Second, Apple saw the lack of positioning conditions in UAC, but also absorbed the problem of iAd positioning too fine, no longer provides crowd-based interest orientation, but only the following four groups, with some other basic orientation, I personally think it is more appropriate.

Third, no one will complain to Apple that they don't know where the ads are displayed, and although the location of the ads displayed in the GP is relatively fixed, advertisers have no way to control the system so that the ads only appear in the GP, which I think is a mistake by Google, but Google has a rich heritage and can't be as light as Apple.
Note: Google made two fine-tunings to GP ads in September: 1. Ad bits no longer appear at the top and do not duplicate naturally ranked apps; Added some advertising space supply. Better than Apple in terms of user experience.
Fourth, Apple's unprecedented opening of keyword-level band data, which is very important for ASO, is also popular with developers.
As you can see, the auction ads are actually Apple's strategic layout for Google and Facebook, but with the lessons of the car, this time learn to be good, with a sentence summary: start from small, seek for big!
China is a key step in chess
The industry has been crazy that bidding ads will log on to China early next year, which is certainly speculation, not official rhetoric. Bidding advertising to play in China, depends on two points, one is the system's understanding of Chinese, and the other is the operation of the United States. Based on Apple'Chinese understanding of the problem, it may not be so fast, but on a strategic level, Apple may accelerate.
In Apple's eyes, China is indeed a very special market. First, it's a huge market that anyone covets;This is a market without Google and Facebook!
Therefore, as soon as possible in China to launch the bid ranking in any way is correct, although the understanding of Chinese may not be close, but the current App Store user search experience is not good, adding an ad slot should not cause users a wide range of spitting slots. This period of time the algorithm non-stop adjustment, the violation of the fight to increase the intensity, may be in line with this big action. In addition, I believe that in addition to English, Apple put the greatest effort to overcome the next language is Chinese.
Therefore, if one day Apple suddenly announced the launch of bidding rankings in China, we should not be surprised at all, ready well, the industry will have some wind and rain!
Recently, the question is often asked: bidding ads are coming, and are they still used as ASOs? In fact, it depends on how you understand ASO, if only ASO is simply understood as paid purchase volume, then you can consider moving part of the budget to the bidding ranking system. But I've stressed many times that ASO isn't just about downloads, let's see what Apple says (Note: Backstage Excerpts from the Official Bid System)
Search Ads prioritizes relevance when determining which ad to show so it's more important than ever that you craft your app name, imagery, description, and keywords so they're appealing and highly relevant




Relevance is the highest priority factor in bidding rankings, so optimizing app names, graphical elements, descriptions, and keywords becomes more important than ever, making sure they're attractive and highly relevant.
So the answer is clear: the underlying ASO optimization becomes particularly important, and it directly determines the effectiveness and output of the delivery. Therefore, do not silly direct delivery, the page and keyword optimization to achieve the effect of doing more with less!
---
Microseals:CocoaChinabbs


Press and hold the QR code to "identify" the concernLearn about iOS development for free
A monthly salary of 100,000, as CEO, win the marriage of Bai Fumei, go to the top of life is not a dream
--------------------------------------
Business cooperation QQ:2408167315
Email: support@cocoachina.com
---