Apple is determined to block ads Google's knee arrow fairy fight who is suffering?
Click on the blue font above to follow.
You can also search for public numbers"D1net"Choose to focus on the sub-public numbers of D1net's various areas, including cloud computing, smart cities, data centers, big data, video conferencing, video surveillance, servers, storage, virtualization, software, and more.
=======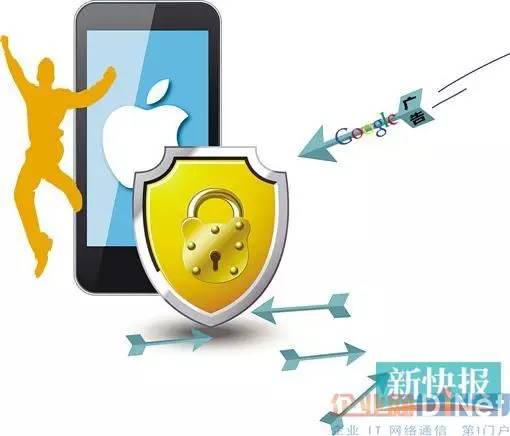 By the time of the annual apple launch, hundreds of millions of fruit powders around the world were looking forward to September 9th, waiting for a carefully packaged gift to be unveiled layer by layer, and then marveling, screaming, praising...
But people across the mobile advertising industry are waiting for the launch in a similar mood to the firing line, as Apple will allow external ad-blocking software in iOS 9, a move that could deal a fatal blow to the $70 billion-a-year mobile marketing industry.
And as the "king" of online advertising, Google may really be "kneeling" this time. According to Wall Street estimates, Once Apple does block ads, Google Mobile's revenue will fall by as much as $10 billion, giving Google a knee-high shot.
Is Apple really willing to give up hundreds of millions of dollars a year in revenue under the banner of improving the user experience? Or is it to give arch-enemy Google a knife behind it, at the expense of the entire mobile marketing industry?
Safari is temporarily limited to third-party plug-ins
It has previously been revealed that Safari, the browser under iOS 9, will support ad blocking, but little is actually understood about the benefits of the feature. But recently circulated on the Internet a public estimate is to let everyone's eyes open.
It is reported that iOS 9 under the browser ad blocking plug-in is called "Crystal." On the iPhone 6 Plus, Apple compared the regular version of Safari to Safari, which loaded Crystal's blocked ads, and studied the extent to which the phone had an impact on read speed and data traffic after blocking ads, and found that the difference was significant, with Safari, which loaded Crystal, 74 percent faster than it didn't, and the phone consumed 53 percent less traffic.
Crystal's developer, Dean Murphy, says he realizes that ad blocking will cost media sites revenue, but the current proliferation of mobile ads, cluttered web pages, some pages that add ads, download speeds have tripled, the user experience is so bad that the entire mobile web advertising is completely out of control and something has to be done to change the situation.
That's good news for regular web users, but it's a big blow for mobile marketers. According to Fortune, Apple's announcement that it was blocking ads has taken a 7 percent drop in the share price of criteo, the online advertiser.
Brian Pitz, an analyst at Jefferies, an investment bank, calmed down in a comment to Criteo investors: "This does not mean that all Apple devices will block ads across the line." First, users must use Safari on apple devices. Second, users need to set up before they can block ads. Third, the process of setting up block ads is likely to be cumbersome, blocking every type of ad, such as pin windows, pre-film ads, need to be set up separately. "
Lose the world, and win Google
In fact, most people don't believe that Apple risked offending the entire mobile marketing industry, just for the user experience, and all eyes were on Google, Apple's strongest and only rival in recent years.
Google's revenue in 2014 remained largely from advertising, with 90 percent of its $66 billion annual revenue coming from advertising. Google's advertising revenue from mobile search also rose, accounting for 18 percent of its advertising revenue to $11.8 billion. However, Google's main source of search advertising revenue is not its own Android phone and tablet, but from Apple's iPhone and iPad, accounting for about 75 percent of Google's search advertising, or nearly $9 billion.
According to comScore, a market research firm, iOS devices accounted for 43% of the total time mobile users moved to mobile sites in July. That means Apple has the ability to shock the mobile advertising market. Industry insiders generally believe that if the iOS system to provide advertising blocking tools, there will be a large number of users willing to use.
On the contrary, Apple is a hardware sales-oriented enterprises, the limited proportion of advertising business is mainly in-app advertising, will not be affected by the blocking function. iOS's addition of ad-blocking is expected to encourage more consumers to use Apple devices, while also hitting Google's advertising revenue hard. Coupled with previous rumors that Google's search engine deal with Apple is about to expire, Apple may consider transferring the deal to Yahoo or Microsoft. In a double whammy, Google's revenue losses could exceed tens of billions of dollars, and the impact could be fatal.
Apple play carefully, it's really fancy. Apple officially announced the launch of the aggregator news app News in June, and media outlets such as The New York Times, Daily Mail and Atlantic Weekly have signed a deal with Apple to provide content to Apple's news clients. Several industry insiders recently pointed out that Apple's support for ad blocking will also benefit Apple's news clients. Because if Apple's Safari browser supports ad blocking, more news outlets will have to work with Apple's news client, which, according to previous news, will leave 30 percent of its client's advertising revenue to itself and seven components to media companies.
Google has declined to comment since the beta version of iOS 9 first came to light in June. For now, at least, Google is really at a hard time with Apple."
In fact, there are many ads blocking applications, the most famous of which is the famous Adblock Plus ad blocking plug-in in the first half of this year, which now has 50 million users. Google paid Adblock Plus developer Eyeeo a large sum of money to ensure that Adblock does not block Google ads. While Google has refused to admit it, some analysts say it loses $6.6 billion a year because of Adblock Plus.
Even so, things may not be as bad in the end. Brian Pitz, an analyst at Jefferies, said that in the worst-case scenario, Apple would be at a rival to the entire ecosystem of mobile publishers and advertisers, and it was doubted that Apple would do so. Second, let's not forget that if Apple has too many enemies, Internet companies will start to disrupt apple users' online experiences. And Apple has always promised to provide the best experience for every user, a potential threat that Apple has to consider carefully.
It would be good for Chinese consumers to watch
Google and Apple, the two gods, will face a very different outcome in China. First, Google pulled out of the Chinese market in 2010, so Chinese users are not within the direct range of Google's Apple attacks each other.
In addition, China's Internet industry has developed a unique "free" model over the years, in which most users are reluctant to pay for the content they consume, preferring to enjoy content for free while accepting a certain level of advertising, which also supports the survival of content providers.
In fact, 360, Cheetah, Baidu, Tencent and so on have launched a PC and mobile browser that can intercept or filter ads, but none of them have become a decisive factor in users' choice of browser. Meanwhile, in the past few years, most browser parties have been convicted of infringement in unfair competition lawsuits over browser ad blocking. There was general agreement in the court that a distinction should be made between legitimately placed advertisements and "malicious advertisements".
In other words, the Adblock Plus ad-blocking plug-in, which has been ruled legal in Germany and elsefest, may not find a legal basis in China, and with the ad-blocking feature not secure in China's user base, iOS 9 has triggered a fairy show in which Chinese users seem to be able to move their benches.
(Source: New Express)
---