Advertising marketing change: "creative" out of favor, growth ferocious
©'s deeply original By Liu Yalan
"Advertising is not art, advertising is to sell products, otherwise it is not advertising." This phrase comes from David O'Garvey, known as the "father of advertising", and decades later, it is still too old-timed, even more appropriate.
This year's special circumstances have left offline businesses in shock and online traffic in deep anxiety. In such a background color, the first "suffering" of nature is the department that spends money, advertising marketing is the first to suffer. Cutting budgets and surviving, these ultimate goals change, making "growth" a top priority for advertising. Sales results-oriented, can bring real growth in advertising marketing is good.
Advertisers no longer talk about "Cannes" "brand", but instead talk about "conversion rate", "effect" and "bring goods".
The good thing is that growth-driven advertising is more efficient, in the past the advertising industry "I know that half of the advertising costs wasted, but do not know which half of the waste" mantra was broken, the role of big data under the precise transformation is more thirst-quenching;
But the bad side may not be avoided, with an overemphasy of instant-growth ideas that selectively ignore long-term brand value. We can even see a lot of short-sighted growth ideas at the expense of brand tone.
The reality is that the advertising and marketing industry is making great strides towards growth, but is that really good? Can the length and effect of advertising marketing ideas be balanced? Are traditional creatives going to be subverted?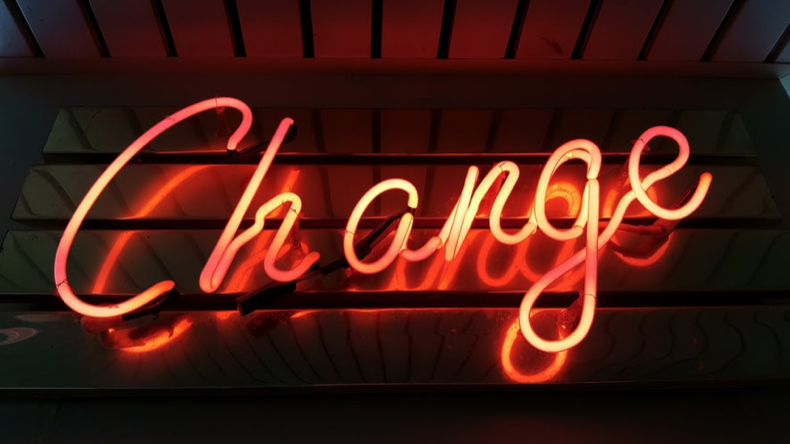 Creativity is out of favour, but it makes growth more ferocious
There is no doubt that Big Idea is falling out of favour.
Yangshi was forced to restructure the creative agency's production department in New York as Procter and Gamble cut its advertising budget.

At the end of last year, advertising giant Telecom Group was revealed to have cut jobs, which affected seven countries, including China, Britain, France, Germany and Australia, and cut as many as 1400 people;

This year John Wren, chairman of Acer, confirmed that all of acer's institutions were cutting jobs, pay cuts and taking time off;

WPP, the world's largest media giant, this year cut costs, halted discretionary costs, including travel, hotels and participation in awards, and delayed a pay rise in 2020;

WPP's Omei fired its chief creative officer, Leslie Sims, in the US.
It's just getting started, more and more CMO(Chief Marketing Officer)Become a CGO(Chief Growth Officer), the marketing department becomes the growth department.
In this context, focusing on telling brand stories and shaping brand tone of "big ideas" is not a priority. It's hard to measure when a deep-rooted ad can turn.
When survival becomes the number one priority, the marketing that coexists with it must also be immediate. After all, the worst-case scenario is not to hurt the brand, but that the brand story is not finished and the company goes out of business first.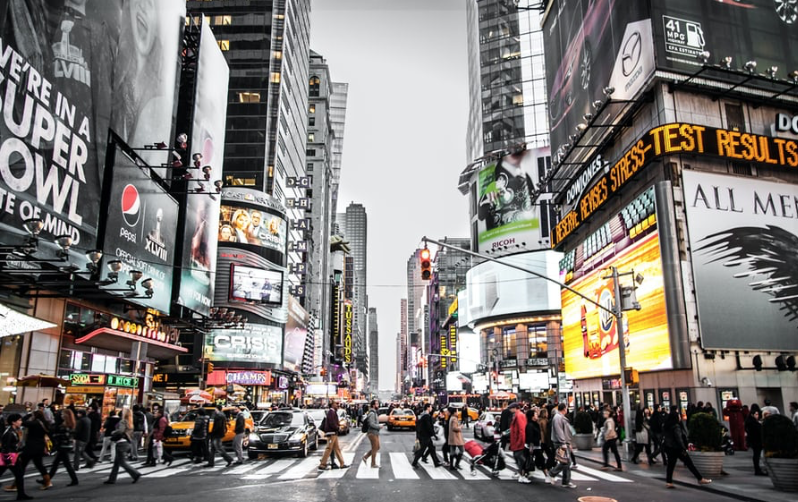 However, focusing only on growth and not on creativity is a headache - discount promotions/traffic buying and selling mechanical conversion actions can certainly get sales, but this is a one-time, stop-and- trade effect.Even growth-centric performance ads actually need to be creative.
I had a long talk with Alan Lan, managing director of Greater China at Twitter, about the advertising marketing strategy of Chinese companies on Twitter, and he thought that many brands mainly communicate how to convert, how to sell goods, how to let consumers download, but from the marketing funnel, must do brand awareness, reputation, will naturally do to buy. Make only the last purchase, which is actually a data-supported sale.
"You can only see ROI and think it's good marketing to spend a dollar and make two dollars. If you only do conversion, the quantity will be more and more difficult to obtain, the competition is more and more fierce. All advertising platforms are bidding, only to do conversion, we do the more refined, do the better, the more expensive, and the amount is small. "
Therefore, whether it is the brand Aoyi or the effect trend, the final door or back to "creative". When the traffic conversion campaign becomes standard, the place to close the gap is on the "creative".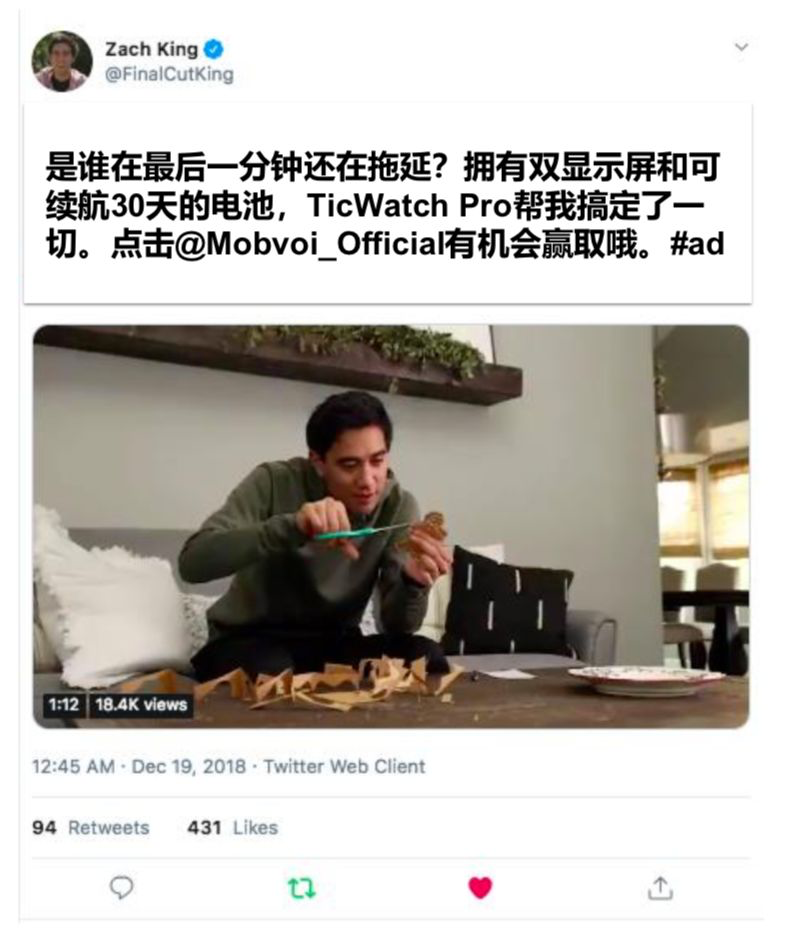 Chinese brand Mobvoi and tech great Zach King
Cooperative humor creative video ads

In the growth of demand, creativity is more important, not the way to go.
The huge engine put forward a new word "growth ideas", in fact, more clearly out of the current trend of advertising marketing ideas. On the one hand, we value growth, using data-driven insights to achieve technology efficiency, and on the other hand, we use creative means to enhance ROI and help enterprises break through growth bottlenecks.
Technology makes tool-based creative efficiency possible, easy-to-use operating system allows creativity to be replicated in large quantities in a short period of time, scaling up and sustainability;

Technology and data can also allow marketing creatives to test whether their ideas can inspire growth and make them quantifiable and iterative;

Creativity, on the other hand, can further optimize growth as a trigger that connects user emotions and achieves long-lasting impact.
But it's a relatively idealistic state, and it's easy to juggle creativity and growth.People always say that "the effect of goods in one", and the real first-line practitioners understand that the synergy and balance between products and effects is by no means the ultimate sum of the two.
Grow creativity, block and grow
The challenge is clear.

The first isIn the current media environment, information channels are fragmented, scenes are diversified, and growth is not a lifetime, which requires a large amount of creative advertising production.
In the simplest case, when you go to a wide-point pass, you are usually advised to prepare at least five sets of creative papers. What's more, big-budget advertisers, a wide variety of creative material is like war bullets, more beneficial. At the same time, technology and data give advertisers the opportunity to see the shortcomings of creativity, then constant tuning is necessary, a creative can not, you have to leave the replacement update, which further increases the number of advertising creative requirements.
Traditional creative companies used to produce single-digit ads a month, but now they need to produce hundreds or thousands. Such volume change is the basis for growing creativity.
And while the platform provides tools for efficient creativity, the scale of creativity is still difficult. What is even more worrying is that if everyone uses tools to copy ideas, will there be a one-of-a-number situation? What's more, the amazing textbook-level "big idea" big probability can't be replicated.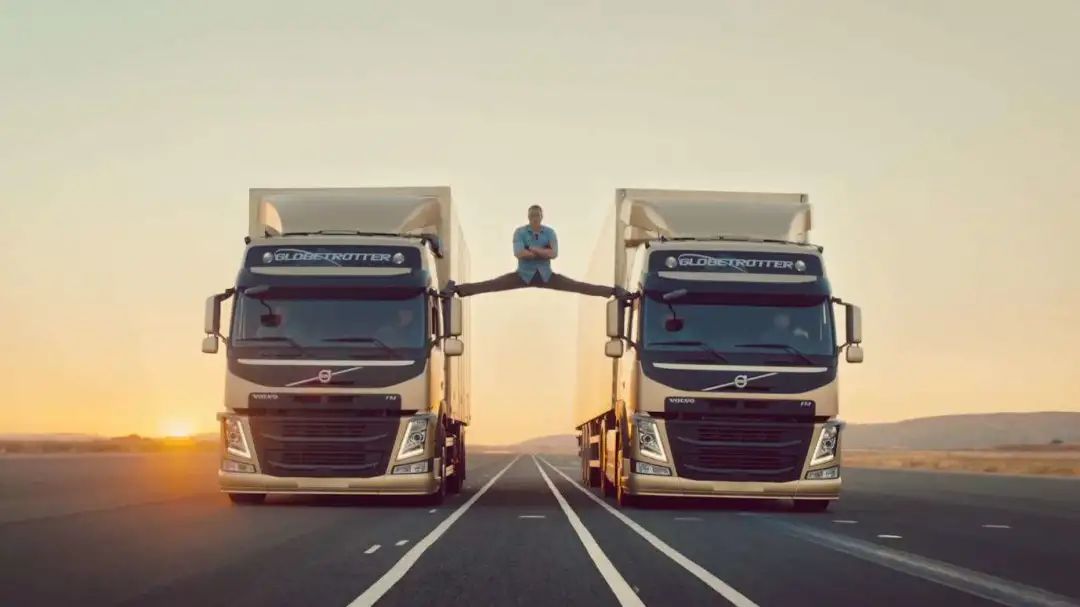 A Volvo Truck ad by Shange Yunton

The second isIn the context of growth, the use of creativity may be limited.
We see that many classic ads don't sell themselves, but rather bring a spiritual core, and this non-instant growth-oriented advertising idea is often escliance. In the longer term, it's definitely a great way for brands to connect emotionally with consumers.
However, such ideas seem to be gradually withdrawing from the center of the stage because of the untested effect of growth. Creativity is subjective, growth is objective, and the difficulty of judging creative values makes advertisers who need to report upwards move toward cold numbers.
The gain of growth creativity for performance advertising is obvious, but the difficulty is particularly obvious in brand advertising. How do creative people dance with "growth" shackles? So far, I don't see the perfect answer.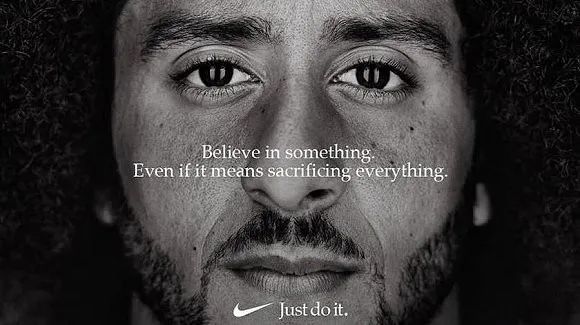 Keep faith, even if it makes you sacrifice everything

Of course, the biggest challenge is at the practical level.
Linking content ideas and data-driven, efficient growth using technology is a good way to achieve growth ideasThe vast majority of creatives do not currently have the technical insights and application capabilities.
In some teams, traffic buying and selling and growth ideas are actually different teams that are responsible and fragmented, and the effect is predictable.
Accenture Interactive Greater China Managing Director Jiaqi Shen identified the creative people's new capabilities requirements: "Creative people need to be very business-serende, they need to capture the rapid changes in consumer demand and scale effects through multiple dimensions, and then really help drive business growth." "
I'm afraid this isn't an iteration that can be done overnight.
Back to the question at the beginning - how does the advertising industry dance with growth? Can the short- and long-term effects of marketing ideas be balanced? Are traditional creatives going to be subverted? The answer is not unique. The general trend of creativity moving closer to growth is irreversible, and whether the proposition of "growth creativity" can finally be realized will require the refinement of creative people and the leap of the overall thinking of the advertising and marketing industry to overcome the difficulties.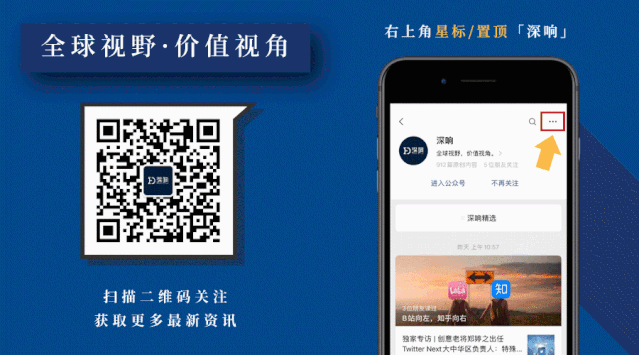 ---