A week of e-commerce events, byte-beating commercial adjustments; Ali opened a "one-dollar store"; and Zara's parent company lost $1.5 billion in the first half of the year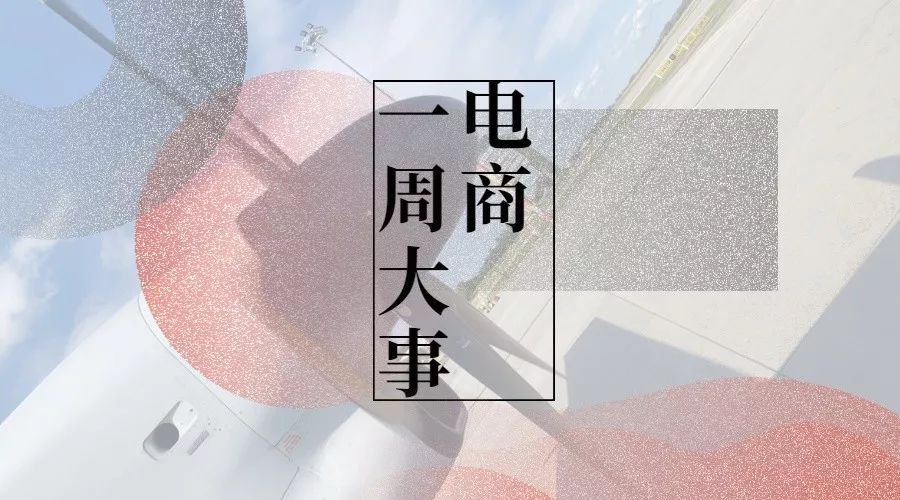 It's time to review a week of e-commerce with Bang Xiaobai!
1、
Byte beat commercial adjustment Jitter and search, etc. have changes
Several commercial-related business adjustments are taking place: Jiyin has a new product owner, called Seven; search ads are online in today's headlines and jitters; e-commerce companies are increasing their own, building closed loops internally; and the education business is exploring new businesses such as high school AI classes and small classes. This series of adjustments corresponds to the three most important revenue channels at present: advertising, live e-commerce and education and other new business.
2、

The Hong Kong IPO prospectos, adjusted net profit of 172 million yuan in 2019
Click Travel submitted an IPO prospecto on the Hong Kong Stock Exchange. According to prospecto data, the company's operating income for 2019 was 581 million yuan, up 391.5 percent year-on-year, with adjusted net profit of 172 million yuan. In 2019, the click platform GTV was 11 billion yuan, of which 8.5 billion yuan, up 347.4% year-on-year. Click is the number one in China's wind-going car market, with a market share of 66.5% in 2019. According to Frost Sullivan, the click taxi network ranks second in the market.
3、

The travel project of the joint venture between Drip and Ideal Automotive has stalled and is seeking independent financing
Drops and ideal car travel cooperation recently face adjustment. The joint venture between the two companies, Orange Electric Travel, will be transformed from a light-asset travel platform into a vehicle company plus travel service provider with vehicle manufacturing capabilities, and will independently finance the outside world, and is currently in contact with the Ningde era.
4、

Fast Hands could list in Hong Kong as early as January next year, with a valuation of up to $340 billion
Short Video App Express is looking for an IPO in Hong Kong, which could be valued at $50bn, or about $340bn, as early as January, nearly double the valuation of the same period last year.
5、

Station B's market value jumped by $7.5 billion overnight after it was revealed that it had returned to Hong Kong for a second listing
Yesterday, REUTERS's IFR broke the news that four banks, Morgan Stanley, Goldman Sachs, JPMorgan Chase and UBS, had been appointed to arrange a second listing in Hong Kong, possibly seeking to raise between $800m and $1.5bn. As a result of the news, Station B's shares jumped 6.81 per cent, with the latest market capitalisation reaching $16.74 billion. Overnight, station B's market capitalisation soared by about Rmb7.47bn.
6、

Ali's official website updates the leadership team page Jack Ma removed from the board member list
Alibaba Group's official website," the "Leadership Team" column has been updated, Jack Ma has been removed from the list of board members. Alibaba's board of directors includes directors Zhang Yong (Chairman of the Board), Cai Chongxin, Wu Wei, J. Michael Evans, Jing Xiandong and Kabir Misra, as well as independent directors Dong Jianhua, Guo Deming and Yang Zhiyuan on the date of the announcement, Alibaba said in a statement released on the Hong Kong Stock Exchange on September 30.
7、

Google says it wants to turn YouTube into a shopping platform
Google is turning its video site, YouTube, into a major shopping destination, making it a rival to Amazon and Alibaba.
People familiar with the matter said Google's move was aimed at turning a large number of videos on YouTube into a vast catalog where viewers could browse, click and buy directly.
In addition, YouTube is testing further integration with e-commerce company Shopify, which sells goods through YouTube.
8、

Coca-Cola plans to cut its brand in half
Coca-Cola will discontinue the company's coconut water brand, Zico, a spokesman said, and the company is screening to reduce the number of brands and retain those that can be large-scale. Coca-Cola, which has 500 whon-owned or partially owned brands around the world, plans to cut that number by more than half, the report said.
Coca-Cola also plans to build a new operating division to better "focus on some winning products" for business growth.
1、Mother and child national goods brand "bebebus" received nearly 100 million yuan A and A-plus round of financing
Mother and child national goods brand "bebebus" has completed nearly 100 million yuan of A and A-plus round of financing, the management of Tiantu investment, soror capital, latitude and longitude China. Bebebus' first pram product will be available in August 2019, targeting the new front-line 90- and post-95 moms.
2、

Taobao special edition launched the "1 yuan more fragrant festival" linked 145 industrial belt
On October 9, Taobao Special Edition announced that from October 10, the launch of the "1 yuan more fragrant festival", the platform more than 100 million pieces of high-quality factory goods all 1 yuan package mail, activities continued until the end of double 11. The event brought together 145 industrial belts, 1.2 million industrial belt merchants, and 500,000 factories. Wang Hai, vice president of Alibaba and general manager of Taobao's C2M division, said that the "1 yuan more incense festival" is not only an exclusive festival of industrial belt factories, but also a carnival of consumer quality consumption, which will be held regularly on October 10 every year, while the core value of Taobao Special Edition is to revitalize Chinese manufacturing and achieve consumer benefits.
3、

Zara's parent company, Inditex Group, lost nearly $1.5 billion in the first half of the year
Zara's parent company, Inditex Group, released its financial results for the first half of 2020 as of July 31. Inditex's net loss in the first half of 2020 was 195 million euros (about 1.5 billion yuan), its share price fell nearly 27 per cent and its market value evaporated by more than Rmb200bn. Its e-commerce revenue rose 74% in the second quarter, up from the first quarter.
4、

Ali will launch offline "1 yuan store" the first experience store coordinates in Shanghai
Taobao special edition in Shanghai on the 9th launched the first "1 yuan more fragrant experience shop."
According to officials, the store will select goods from 1.2 million industrial belt merchants for sale at a full price of 1 yuan.
"1 yuan shop" is Taobao special edition of the joint industry with merchants to create a joint "factory window plan" part.
In addition, it is reported that Taobao special edition plans to open at least 1000 "1 yuan stores" in the country within three years.
5、

White Rhino and Yonghui supermarket to open unmanned distribution services
At present, the white rhino in Yonghui supermarket Shanghai Anting New Town store a total of 4 unmanned distribution vehicles, distribution coverage of the surrounding 5 square kilometers, a total of 14 communities, more than 6000 households.
Since 15 September, unmanned delivery vehicles have been in operation for 24 consecutive days, with a service period of 8:
30-20:
30, 11 holidays normal service, October 1-8 a total of nearly 300 completed, daily distribution peak of 21, the average distribution distance of about 2 kilometers.
6、Suning Tesco enters OBM for new first beauty brand, "Yi Deli"
On October 9th, Suning Purchase announced that after the Double Ten Purchase Festival, it will officially launch its own beauty products, "Yi Deli". It also marks the birth of Suning Tesco's "OBM Program", the first beauty "branding" for self-branding. All along, Suning continued to add yards to the beauty field. For example, Suning polar beauty has more than 100 international first-line brands, online nearly 2000 SKUs.
During the double festival, 4 polar stores in the store flow of nearly 1 million. Yi Deli brand registration for 5 years, after a long incubation, in the double ten shopping festival successfully came out. It is reported that the series of products will be held in the middle of this month product launch, double eleven open the red day online.
1、Amazon Transparency Transparency plans to add sites in Japan and Australia
Amazon has announced plans to expand Transparency's transparency program to Amazon's Sites in Japan and Australia, which have reached amazon's top 10 sites worldwide. More than 10,000 brands worldwide have registered to use Transparency Transparency. The Transparency Transparency Program allows brands to apply unique barcodes to every product or product packaging they produce. Amazon can proactively identify the authenticity of each item through barcodes, preventing consumers from buying counterfeit items. Transparency Transparency has stopped more than 500,000 suspected counterfeit items from reaching consumers on Amazon.com.
2、

Amazon can make payments by enabling a new payment system, shake your hand
Amazon has released a new payment system called Amazon One for checkout in brick-and-mortar stores. It is reported that the new system scans and enters images of the palms of consumers, who only need to wave in mid-air for about a second to complete the payment. The product will be first trialed at Amazon's two brick-and-mortar stores in Seattle, USA.
3、

Facebook's short video app Reels adds shopping feature Sword refers to TikTok
To compete with TikTok, Instagram, Facebook's photo-sharing platform, will test shopping with its short video feature, Reels. Meanwhile, since this week, Instagram has added shopping to its long video platform, IGTV.
Analysts say Instagram's moves will appeal to creators and brands who want to monecure on Instagram. Over the past few years, Facebook has tested a variety of shopping features on Instagram, most recently this summer with a dedicated "store" tab on Instagram's home screen that allows users to shop through regular Instagram posts, live streams, Stories and Explore subscriptions.
1、Qiqin Science and Technology completed RMB B round financing of RMB 100 million and above
Enterprise digital application products and service provider Qiqin Technology completed the B round of RMB financing and above, the investors are Tencent Investment (lead investment), Junlian Capital, Yuanyu Holdings, Zhongguancun Longmen Fund, Xingwen Investment, Light Source Capital (financial advisor).
It is understood that Qiqin Technology is an industrial Internet technology enabling enterprises to open up enterprise automation and information technology to achieve industrial interconnection of software and application service providers. Product service capabilities cover a range of software products and application implementation services, including enterprise resource management programs, supply chain management, intelligent manufacturing management, warehouse management, master data management, project management, and cloud application services. According to incomplete statistics, Qiqin science and technology-owned enterprise services this year a total of 254 financing.
2、

The company established a big data company with a registered capital of 30 million yuan
Tian-eye app shows that Zunyi News Fly Super Brain Big Data Co., Ltd. has been established, registered capital of 30 million yuan, the legal representative is Yu Chao, by the University of Science and Technology Fei Co., Ltd. 100% holding.
It is reported that The University of Science and Technology is a company founded in December 1999, headquartered in Hefei, China, intelligent voice products developers, the founder of Liu Qingfeng.
On May 12, 2008, HKSTST was listed on the Shenzhen Stock Exchange.
Companies with varying degrees of competitive relationship with The University of Science and Technology include Baidu, Tencent, Nuons Communications, Google and others.
1、CNNIC reports: More than 50 billion people watched the first half of the year live
According to the 46th China Internet Development Statistics Report released by the China Internet Network Information Center (CNNIC), as of June 2020, China's e-commerce live-streaming users were 309 million, up 16.7% from March 2020, making it the fastest growing personal Internet application in the first half of the year. In the first half of 2020, domestic e-commerce broadcast more than 10 million live, more than 400,000 active anchors, more than 50 billion viewers.
2、

China Medical Science and Technology completed 150 million yuan B round of financing
Medical data and network medical services provider State Medical Technology completed the B round of 150 million yuan financing, the investors for the former jellyfish fund, Xinli Capital (lead investment), Xinfei Ventures.
It is understood that China Medical Technology is a medical data and network medical services providers, the core team in the medical data industry has 10 years of experience, is the forerunner in the field of medical data. The company has a high-quality research and development technology team, with strong comprehensive competitive strength and innovation capabilities, with core independent intellectual property rights, to achieve low-cost large-volume medical data aggregation and efficient data applications. The company's products include: network hospital platform, medical data aggregation platform, intelligent diagnosis and treatment touch large-screen system, intelligent diagnosis and treatment mobile system, clinical intelligent lecture paper and many other products, powerful, easy to understand, stable performance. According to incomplete statistics, a total of 465 financings were made this year for medical and health care in the field of National Medical Science and Technology.
3、

Instacart completed a new round of $200 million in financing valued at $17.7 billion
Instacart, the U.S. e-commerce company, announced a new round of $200 million in financing, with a post-deal valuation of $17.7 billion.
It is also Instacart's third round of financing in 2020, which has so far totaled $2.4 billion.
The round is understood to be led by existing investors D1 Capital and Valiant Peregrine Fund, and will be used to develop new features and tools to improve the customer experience and further invest in its corporate and advertising businesses.
4、

EventBank will easily complete tens of millions of yuan in B-plus rounds of financing
Enterprise-level customer marketing management SaaS platform EventBank Will easily complete the B-plus round of tens of millions of yuan financing, investors for the start-up farm Ventures VentureLab, Jinshajiang Venture Capital, Jingya Capital.
It is understood that EventBank QuickJet is the world's leading marketing automation, Internet, data, integrated platform-based innovation SaaS company, with branches in Beijing, Hong Kong and Washington, D.C. It has two management cloud platforms: Enterprise Marketing Campaigns Integrated Management Cloud and Community Organizations (Chamber of Commerce Associations, etc.) Integrated Management Cloud, which helps community organizations such as Corporate Marketing and Chamber of Commerce Associations implement event management, membership management, multi-currency payments, CRM, EDM/Newsletter subscriptions and sending, and more. Affiliated with Beijing Jieye Easy Network Technology Co., Ltd. According to incomplete statistics, EventBank Will easily own the field of enterprise services this year a total of 76 financing.
The last "e-commerce event" has been broadcast,
Please give Bang Xiaobai's Creative Index a score in the comments area
  End  
Top view of the field of control industry 
Dead entrepreneurs think at the bottom
60 industry leaders on stage 
800 leading corporate executives
See you in Shanghai in October at the Future Retail Conference in Edbon!
---
Your friendsBang XiaobaiPat you
And please help her with someShare, Like and Look
---