Google tries hydropower business again? YouTube is pioneering this time
"I finished this makeup today, using this XX brand of eye shadow," a phrase that was displayed in the blog era in the form of pictures and text, and is now upgraded to video form. But the same is, by the beauty bloggers said that the audience no matter what kind of media, the next move is likely to be the need to open the e-commerce website to place an order, or the next time you go shopping on the corresponding brand of counters more attention.
And the "grass economy" in the video era of prosperity, but also let the relevant content platform traffic realization potential greatly increased.Recently, it was revealed that Google plans to launch its video siteYouTube became a "major shopping destination" and eventually allowed users to buy items they saw on YouTube directly on the site. For this rumor,YouTube said it was an experiment, but declined to give further details.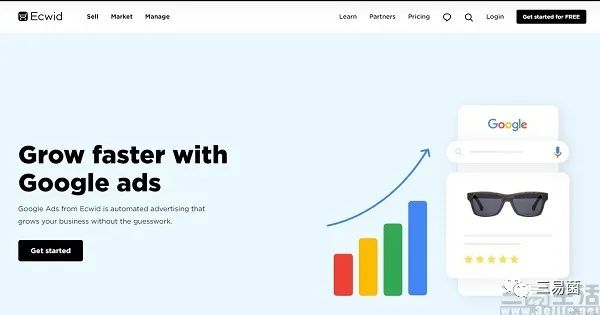 But more details have been revealed, such as YouTube's recent start of asking creators to use YouTube software to tag and track products in their videos, and the resulting data will be linked to Google's analytics and shopping tools.The report also quoted people familiar with the matter as saying that Google's move was aimed at the companyA large number of videos on YouTube are transformed into a huge catalog where viewers can browse, click, and buy directly.

Breaking the circle e-commerce, Google already has a heart
Obviously this is not the first time That Google has tried to enter the e-commerce field, in fact, as early as 2012 and 2013 there was news of Google's actions in the e-commerce sector,But then there's no follow-up.
In the last two years, Google seems to have tried more about e-commerce. In June 2018, it was reported that Google and Carrefour had reached an agreement to jointly sell groceries in France through online channels. Carrefour will start selling groceries through Google's products and services, such as Google Home Smart Speakers and Google Assistant Voice Assistant, from 2019, according to reports.
Almost at the same time, Google and JD.com announced that they would invest $550m in cash in the latter, and that they would form a broad strategic partnership. Google and JD.com will work together on a range of strategic projects, including the development of retail solutions in various parts of the world, including Southeast Asia, the United States and Europe. The two sides said at the time that they would combine JD.com's expertise in supply chain and logistics with Google's technological strengths to explore solutions for the next generation of retail infrastructure.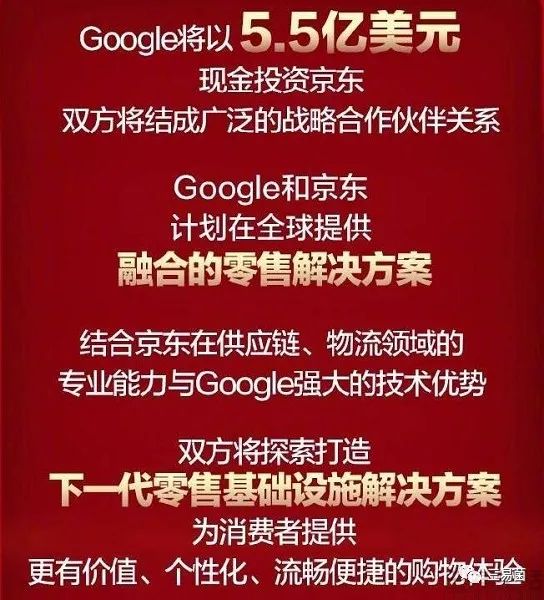 The news has attracted a lot of attention in the industry, especially Google's motivation to invest in JD.com, and the subsequent action has attracted speculation from all walks of life. But the subsequent google and JD.com cooperation does not seem to be "hot iron", similar to many years ago cross-border e-commerce movement, Google's e-commerce breakthrough path still seems to be a pool of warm water.
Black swans are coming, and advertising isn't that fragrant.
But in the past, a large number of Internet companies, including Google, the main channel of traffic realization is advertising, of which Google's advertising revenue until this year is a long-term optimistic trend. Advertising revenue also reached $37.934 billion in the fourth quarter of 2019, up 16.7 percent from a year earlier, according to Google's earnings data.
But now the global online advertising market has received some shock because of the Black Swan incident. Google reported ad revenue of $29,867 million in the second quarter, compared with $32.494 billion a year earlier, and search revenue of $21.319 billion, compared with $23.642 billion a year earlier. While YouTube's advertising revenue rose 5.8 percent year-on-year to $3.812 billion, it was hard to mitigate the impact on Google's two main sources of revenue, advertising and search.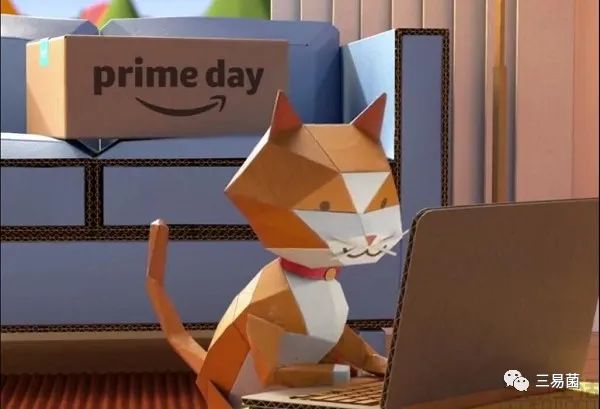 When the traditional advertising real estate model is affected, another kind of traffic realization mature channel e-commerce, but with a more positive trend to expand. So far, e-commerce giant Amazon has done well in terms of market capitalisation, share price and earnings. Amazon reported sales of $88.9 billion in the second quarter, up 40 percent from a year earlier, and net profit of $5.2 billion, up 98 percent from a year earlier, according to second-quarter earnings data. Amazon's market capitalisation is now $165 trillion.
Amazon's bright-eyed performance has no doubt allowed more and more people to re-examine the potential of e-commerce, which may be why Google is back on the agenda and pioneering YouTube.
What kind of spark can you wipe out when you bring a video from a foreign country? 】
In fact, long before the official start of the action, a large number of internet red and the people have been a former servant in YouTube uploaded their own content. In the most typical beauty belt, for example, YouTube had earlier worked with advertisers to use ARCore technology, allowing users to put on their own makeup while watching beauty bloggers try on colors, while using AR technology to create their own makeup for a more vivid "grass- and grass-breeding" experience. And this powerful publicity and the immersive experience that new technology brings is said to have been the sameSo that many viewers after watching the relevant content, the next stop is to go straight to the surrounding shops or e-commerce sites.
E-commerce start-ups have been cited in many reports of YouTube joining the e-commerce businessBasket President Andy Ellwood said, "YouTube is one of the least utilized assets.If they decide to get involved, it's a huge opportunity for them."If Google later determines that YouTube will include e-commerce elements, it will obviously mean that the last step for users to jump to another e-commerce platform or offline store will have a certain probability of becoming a direct order on YouTube, thus locking another channel of traffic realization firmly in the platform.
In fact, this through video content shopping, and through a sound service so that potential consumers can watch the content at the same time in the platform to place an order, so that traffic locked in their own platform practices, with the current domestic market popular live goods, in the form of quite the same thing.
Only in today's live belt platform, the leader Taobao live is itself based on e-commerce platform to build, so in the supply chain and other aspects also have a wealth of experience and more resources, compared to short video platform from the fast hand and shake sound and other platforms, although in the main broadcast resources have certain advantages, now also need to work with JD.com or Suning such e-commerce platform to ensure the supply of goods and other issues.
As for how the powerful Google will deal with the supply chain and after-sales series of issues, is determined to expand the business branch, or as in the past e-commerce business attempts, such as no later, it will take time to answer.
---