Trash picks up $1 billion, picks a female secretary... Now the sand sculpture hand tour advertisement is too exciting!
Sand sculpture game ads have evolved again

Remember last year's sand sculpture game ads are still stuck in the stage of asking the old Hong Kong star to speak up
Didn't expect a short year has passed, now the sand sculpture hand tour advertising has long since given up the previous simple endorsement style

Towards the sand sculpture content creation of Kangzhuang Avenue
Nowadays, it is not the beautiful little sister who attracts me to brush the shaking sound, nor is it the funny little paragraph that comes out of the picture
It's the ubiquitous sand sculpture hand-swimming ad
Although this kind of hand-travel advertising is also very embarrassing, but there is an inexplicable "toxicity".
Brush back every time you swipe on a circle of friends, tweets, and shakes
I'll somehow read it and even want to see it again.
It's probably a pleasure to see how messy you can be.
Sometimes even point in to download and play, probably and deliberately watch the hospital line rotten film is a psychological:
"I'm going to see how bad you really are!"
The popular "tying" of previous years is out of date.

Although his successors no longer use the concept of "tweed", but a perfect blend of Darwin's theory of evolution and Chinese the traditional eat what to make up, to make up for the old wisdom."
The first time I was a rat, I came up and was roasted by the turkey...
The second generation made pigs, retaliated against turkeys, and successfully upgraded them to pigs...
The third world's first dog, the head broke into a mad dog...
The whole plot reveals a temperament in which a screenwriter is owed 200 yuan by advertisers
The evolutionary line completely ignores the logic of reality, and the entire ad conveys only one message:
That is, the first time you send a dog, you can dominate the game.
This kind of plot, let me dream back twenty years ago, my little partner and I in the sand in the age of the story...
I didn't expect anyone else to make 3D animations of my childhood fantasies.
But this kind of advertising is too much to see and tired of.

I prefer to see the poor boy counter-attack series.
The route of this type of sand sculpture hand-swimming advertisement is usually simple:

I was a poor boy with no points, but by chance
Get ten consecutive draws through various channels, and then pull out all kinds of magic suits
Female secretary, villa, mansion, Porsche, Lamborghini
In the end, success becomes rich and handsome.
For example, the poor man saved a pregnant woman who fell on a banana peel on the side of the road
Didn't expect this person is actually a group president's wife, the president in order to thank you for saving his daughter, so decided ...
Give you all your assets!
Children, do you have too many question marks?
Don't worry about asking question marks on your head, it's a more normal way to go.

The female secretary and six-ling Hongguang synthesis of the boss's mother, did not expect the boss's mother is very good at picking up garbage, by picking up garbage to achieve the dream of being the boss.
The ineotable rage guy kicked the trash can, pulled out the lucky ten consecutive pumps, and pulled out a billion assets.
Preparing for a snow shame on him, decided to let the bully bar owner on stage to jump on the first "Lord of the Shadows"

All players who see this type of ad want to ask the gamer:
Where's my catch-up key? I'm going after you!
It's just that no matter what the plot is, it's this set of modeling
Poor boy, female secretary, evil boss, good boss, counter-attacking poor boy...
With this set of modeling, I reckon advertisers will be able to get him to use the game to get into the dirt.
There are also netizens to summarize several types of sand sculpture ads:
2 Help others to be happy
3 Ancestral ten companies
5 way to meet the rich mother-in-law
Either way, there's only one point
Counter-attack life is really simple, just click to download our game.
However, when you are finally hooked by this kind of advertisement click on the download key, just want to see the female secretary who looks like a deep X beautiful, you will find that...
Where's my female secretary? Where's my billions of assets?!
However, no matter how scary the above sand sculpture hand tour ads are

It's not as good as one in ten thousand of this game...
Recently, all my app's information flow has been rounded by this hand tour of all kinds of sand sculpture advertising bags
Whether it's brushing a microblog or brushing a shake
Whether you're watching a live broadcast or reading an article
If you're not careful, you'll find that the last ad for this hand tour turned out to be
You must have seen this hand-traveling ad, too, "Swords and Expeditions."
The terrible thing about Swords and Expeditions is that not only sand carvings, but also perforation, compulsive brainwashing, and even serial brainwashing 
For example, the following ad is roughly the plot of a witch trying to enter a wooden house, but was inside the gun-wiring old man framed.
‍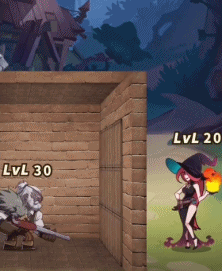 ‍
The witty witch put a fire in the door, successfully defeated the old man, took the wooden house, got the treasure chest, won 30 levels in a row...
After reading my head is full of question marks, who will be attracted to such ads? 
A few days later, I actually brushed the sequel to this sand sculpture ad:
It didn't take long for the wonder woman to upgrade and met the enemy.

Think of that year the witch 20 can kill 30 levels of the old man in seconds
This 50-level witch fights a 50-level enemy, not a problem!
Ambush him with one hand, backhand a super double! Give him a big trick!
He uses skills, too? But don't be afraid, his skills can't win the witch!

He can kill the witch with skill seconds, and I'll eat this phone on the spot!

Wait, what kind of sand sculpture ad is this?!
It turns out that the main character is not a witch??!!
Not only sand sculpture drama ads, in various APP, I have brushed the sword and expedition spokesman Luo Zhixiang 1856 times
He was ridden 1487 times by a host named The Little Overlord
The Brutus pulled out of the ad has circled the earth, has not played the game already know that the goods are

8

Seconds is a real man
The head set reads and dances in the mother's advertisement

Rap

Is already able to sing skillfully
Not only am I brainwashed, there are countless spitting slots on the Internet.
Just when I thought this is a common way of home-made garbage hand tour, did not expect me to have a lot of friends around to play, but also to me Amly.
In order to have a reasonable contempt for my friend's taste in the game, I decided to give it a try
I was a little surprised at the beginning of the load:
Which money-spoofing hand tour would draw such a beautiful background picture with such a big fan?
The portraits of the various characters inside are also very beautiful
What's even more amazing is that although the play is a little different from advertising, there should be characters.
For example, the crazy brainwashed Ashes witch in the ad, the beginning will be sent.
In essence, Sword and Expedition is a hang-up game
Presumably after you create an account, occasionally click on the interface, hero characters automatically help you make money upgrade
You might think, what's so fun about hanging up games?
As a result, on the first night, I didn't go to bed until five o'clock in the morning.
The charm of this game is not to hang up, not to place
It's about an addictive lineup system
Although this is a placement game, you don't have to worry about hero upgrades to make money

But you need to adjust your hero's camp and career like a commander
Each camp has different fetters, which in turn produce different gains

That's why dozens of heroes can make up thousands of different styles of play

And that's the core of the game
It's also the reason why this game is constantly being studied for strategies and heroes

The subtlety of game design is that it doesn't have a number of cards, and the game is extremely variable
Due to the introduction of a number of skill mechanisms such as sleep, dizziness, exile, displacement, and even time reflow
Makes the battle show a MOBA regiment-like sense of chaos
The release of a skill, a subtle position adjustment, can lead to a completely different outcome
Players generally cross half the battle force or even double the combat power to cross the border
All kinds of extreme clearance and line-up copying operations are even more enjoyable.
Neither tired, want to play pick up at any time, and not brainless, full of strategy and try the fun.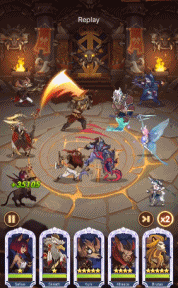 After playing for a few days, I was completely fragrant...
Pro bono promotion many times boutique domestic game I, before actually did not know this game?
Ming Ming made so beautifully, why do this kind of sand sculpture advertising?
So I hurriedly opened Google and searched for the game's English name, AFK Arena.
It turns out that foreigners have blown it up for a long time!
On Reddit, the official division of Swords and Expeditions, nearly 170,000 players are active.
What is this concept? On reddit, the League of Heroes division has 3.8 million players, the Dota2 division has 650,000 players and the Jedi seismodil has 1 million players.

And "Sword and Expedition", a hand tour that has just been in operation for less than a year, can achieve such a result, has been very rare.
If those sand sculpture game ads, poor boy counter-attack big man's plot is fictitious.
That "sword and expedition" as a domestic game, can be so hot in the reddit section, is the real counter-attack myth!
A work is not hot, all look at its same works are not much.
This is a truth that has been proven in the online debates of the last few days.
How many people are there in Swords and Expeditions?
You'll find out when you search on Twitter and reddit.
Beautiful hand-painted by a tentacle
There are also various types of segment players who have created meme diagrams

These pictures, as long as you have played swords and expeditions, you can certainly laugh out
The cat also didn't escape being changed to the sword and expedition edition
Maybe you'll ask, why such a fun game, advertising so sand sculpture ah.
In fact, this question, youtube has a million fans of the host shoes also asked. 
He made a special program, called why the game ads have to take a holiday screen, carefully analyzed. 
 Finally, he concluded that this is the current state of the market
Game makers need to think of ways and tricks to get players' attention.
And when the buying market itself has been filled with a variety of eye-catching ads
It also forces other manufacturers to follow up on this means of attracting attention.
to reduce the cost of buying and gain users. 
Interestingly, the game that the shoes take as an example is the sword and the expedition.
In the video, he shows himself how he was attracted to the game's ads
Clearly and advertising content does not match, but unexpectedly feel that the game is good has been playing
Finally filled with some money...
The strength is really fragrant.
The video, which has more than 700,000 playbacks, has caused a lot of resonance and recognition
See here you may also find that this spitting slot sand carving hand tour advertising article, itself is also hand tour advertising. 
But I really want to recommend this game, whether it is play or style, are superior.
Originally just with the mentality of completing the meal task casually play, did not expect to end up addicted
Easy and strategic experience, ideal for white-collar social animals who don't have time for liver games and want to relax and entertain. 
Okay, come on, I'm going to smoke the seeds.
Why don't you click on the lower left corner?
Read the original text
What the hell is going on?
What if the game tastes for you?
---