How algorithms destroy young people's worlds step by step
The following articles are from the New Finance Book The author Ray slows down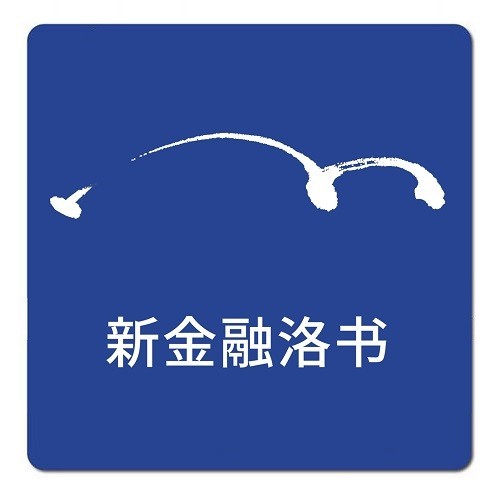 New Finance Book
Straight book the grandness and nihility of the new financial empire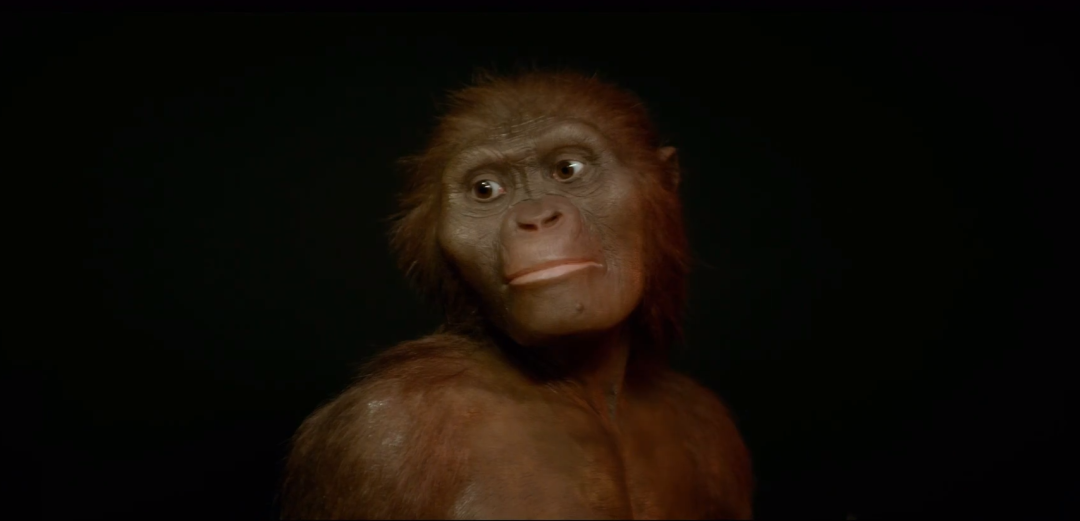 Pictured: When people don't look at their phones
  Source . . New Finance Book(FintechBook)

  Author . . Thunder is slow
In 2016, Tristan Harris, Google's internal ethics designer, decided to leave office when he realized that Internet technology companies such as Facebook, Google (YouTube, Google Search) and Twitter were using algorithms for commercial gainAttractive and addictive product design is unethical.This has beenYes.For:
"A great threat to human existence".
He thought of confrontation. In fact, during Tristan Harris's tenure at Google, Google had a well-known "no evil" rule. But this criterion does not stop the algorithm from moving in the bias based on commercial interests. Two years after leaving office, Tristan Harris pulled out or worked technical experts from big companies such as Facebook and Google to set up a group called the Center for Humane Technology, which was set up in 2018 to
Combat the addictive design theory of Silicon Valley Internet companies.
In addition to Tristan Harris, who worked at the center, there are former Facebook operations managers; Lynn Fox, a former communications executive at Apple and Google; Dave Morin, a former Facebook executive; and Roger McNamee, an early Facebook investor.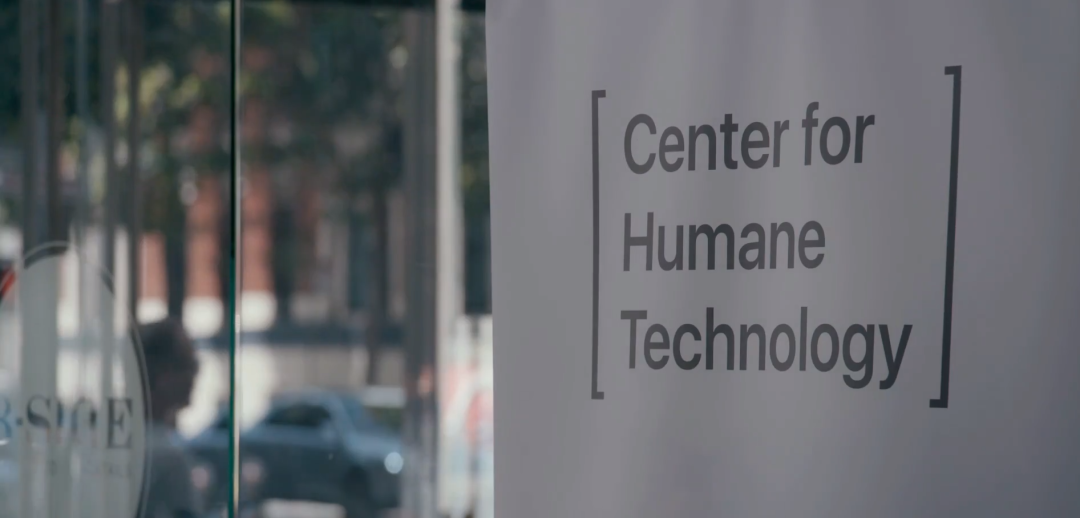 Documentary Screenshot:Center for Humane Technology
Around 2017, executives at many Silicon Valley companies, feeling the ethical crisis over algorithmic Internet platforms, left their companies, and in 2020 Netflix made a documentary called "Monitoring Capitalism: Smart Traps." In the film, Tim Kkendall, Pinterest's former general manager and Facebook's former profit director, says he's worried that a world of algorithmic manipulation could eventually lead to the American Civil War; an engineer from Google, worried about the moral decay of the entire Internet industry.
Years after Chris Hughes, who founded Facebook with Mark Zuckerberg, criticised Facebook, saying, "Zuckerberg is a good man." But what angers me is that his focus on growth has led him to sacrifice the safety and moral bottom line for clicks."
What causes such serious concerns and what is the problem?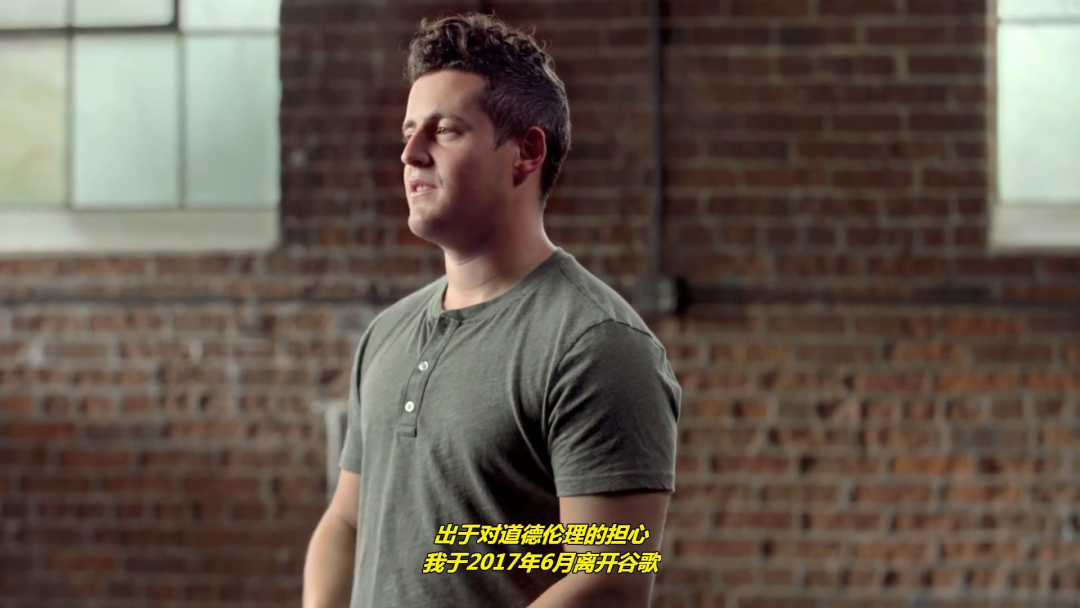 Documentary screenshot: The reason for a former Google employee's departure

01
In 2018, Twitter CEO Jack Dorsey told a hearing that when he started Twitter 12 years ago, he didn't expect It to be what it is today...
This passage coincides with the second episode of Black Mirror's fifth season, which also happens to have been filmed by Netflix. The man, Chris Gillhaney, died at the scene after watching social messages on his mobile phone while driving with his girlfriend. When he recovered, he made an UBER-like driver at this home every day"Fragments"social networking company downstairs to pick up guests. Finally, one day, he got a company employee, kidnapped him, by holding the employee hostage, layer by layer, and the CEO of The Shard got on the phone, and he just wanted to tell the CEO,How social networking sites have kidnapped people's lives has led to tragedies。 The CEO's answer was similar to that of the Twitter CEO:
When I started this company, I didn't expect it to be like this.
The CEO of Shard sets out a logic: once a product is formed, its movement is no longer what he can decide, and every update and feature improvement is because the user likes and wants the results, which is not necessarily what a CEO wants.
Addiction has become something that almost all social apps pursue.
Surveillance Capitalism: Smart Trap interviews many former executives and investors at Silicon Valley technology companies.
Tristan, a former ethics designer at Google, said he realized a problem when he was working on a mailbox design at Google, and that no 50 or so 20-35-year-old Californian engineering designers in history had ever made a decision that would affect 2 billion people and influence them to make ideas or decisions they never expected - and when users woke up in the morning, Google Mail told him he should work like this. The meaning of work, culture, and life comes from a ghostly third-party manipulation. And no one inside Google wants to make mailboxes less addictive.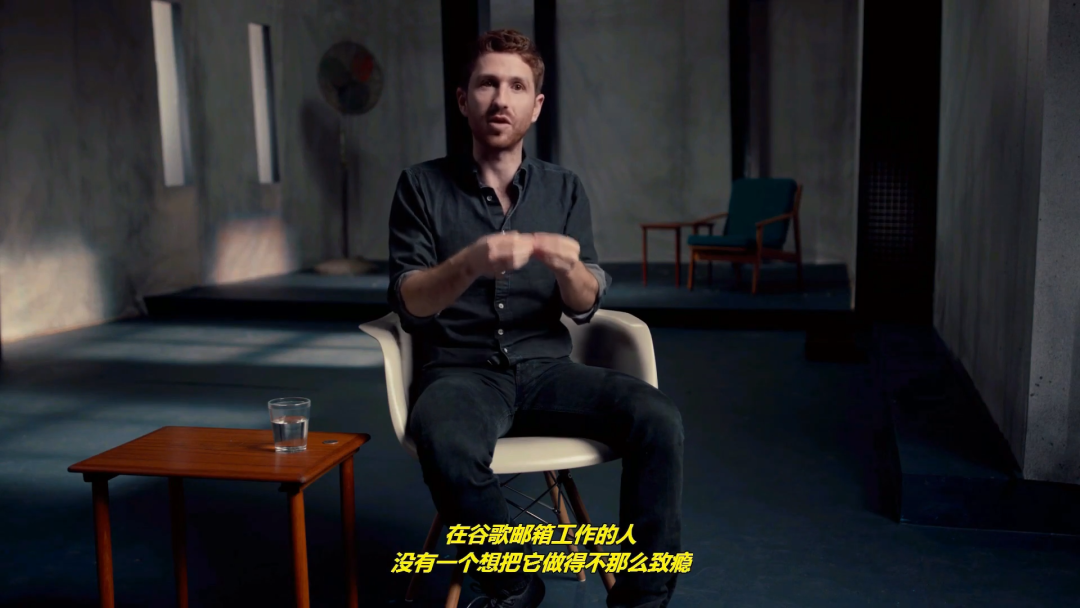 Documentary Screenshot:Tristan Harris, Google's former internal ethics designer
Then he made an appeal: We engineers have a moral responsibility to look at and discuss addiction.
After Tristan made this appeal, many engineers agreed, and then there was no more...
Roger McNamee, an early investor in Facebook, says that in the first 50 years of Silicon Valley, IBM, Google and Intel all made software or hardware products to sell to customers, and the business model was simple and good. But for the past decade, Silicon Valley's biggest companies have been"Selling customers"。
Before the Internet age, people invented things that served the masses, bicycles, cars, calculators, they are simple and neutral tools, when the Internet era emerged, technology slowly evolved into a tool to solicit, lure and even manipulate and profit from human beings, has been changed from an artificial active technology environment, to a passively accepted, addictive and manipulative technology environment. Social media is no longer about waiting in a warehouse for someone to ride a bike, or a car, but about learning, analyzing, manipulating, and addicting.
Executives at Silicon Valley's big companies are wary of such issues as the children of Bill Gates and Steve Jobs, who were asked to be completely isolated from electronics as children.
That's exactly what a 2018 New York Times article put it, "Tech experts know what cell phones really look like, so many of them decide to keep their kids away from these things." "
Lei has said that the Internet is a feeding society. This feeding is pushed to people after big data analysis and machine learning decisions.
This is also Marx, Freud and others on the "alienation" of a point of view,People passively accept the experience of the world and themselves as objects;"Things are above people."It's like a system algorithm overrides a takeaway courier. Machine lines are just as good as workers.
02
Internet companies now offer a lot of free products, FaceBook, WeChat, Shake It Off, Twitter, and no one pays for the social products they use. It's the advertisers who pay for these social apps, the advertisers are the customers of the social apps, and the users become the goods that are sold. This leads to a phenomenon:
If you don't spend money on a product, you're the one being sold.
So the business model for companies like FaceBook and Twitter is how to get the most out of your addiction, spend more time on these apps, and spend the time of your life.
How much is life worth?
In business, FaceBook and Twitter need to give customers certainty in order to sell more ads, so commercials sell certainty, which comes from "data analysis" behind user addiction, says Shoshana Zuboff, a professor at Harvard Business School.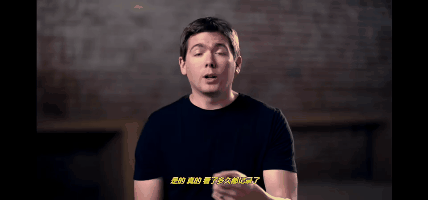 Documentary screenshots: Big data can record how long a user stays on a diagram to determine how interested they are in that image.

This is the core of the documentary's title: surveillance of capitalism.
To get the data, these companies need to monitor every place a user verses, every preference, every behavioral data, unlimited tracking, analysis, evaluation, and unlimited profiteering.
Do you like watching NBA videos? Okay, I'll put an ad for a basketball shoe for you before you watch the next video of its kind.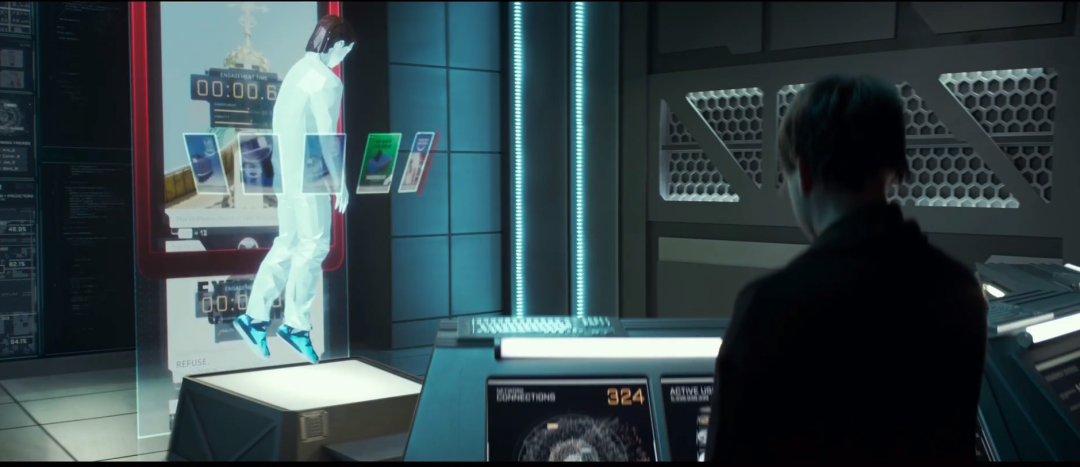 Documentary Screenshot: An algorithmic model will give the user a portrait built from countless behavioral data.

The data doesn't need to be looked after, and machines can automatically learn deeply and give a preview, which is why Twitter's CEO says these products are what they didn't expect in the first place.
But what do executives do, models that predict people's behavior trajectory are what they do, and the program code they can learn automatically is written by them.
It's all about certainty: selling users to advertisers as successfully as possible. SHoshana Zuboff calls this market:
The largest human futures market that has never been seen before.
We used to trade pork futures, diamond futures, and now humans are futures.
The consequence of addiction is to push the parts you didn't expect, to push them with algorithms, to make them part of your mind, and to make you feel like you're thinking about it.
Executives at companies such as FaceBook and UBER have all taught Stanford University how to use technology to persuade users. This type of behavior is called:
The art of persuasion.
This is an extremely deliberate act that designs people's behavior. Each pull-down or pull-up refresh of the user is a re-push of the algorithm. They go deep into the head and implant an unconscious habit that allows the head to be programmed deeper.
FaceBook has conducted a "mass-scale sprawling experiment" that used subconscious signals on FaceBook to get more people to vote in the U.S. midterm elections.Yes.
This effect does not trigger the user's consciousness, but is a subconscious, which means that the user is not aware of it at all.
Google and FaceBook do a lot of experiments each year on users, who are lab mice.
03
A variety of addictive big data analysis, algorithmic push, so that the United States Generation Z young people have become victims.
According to Jonathan Haidt, a psychologist at New York University, there has been a sharp rise in the number of teenage girls hospitalized each year for self-harming wrist cuts since around 2011 and around 2013.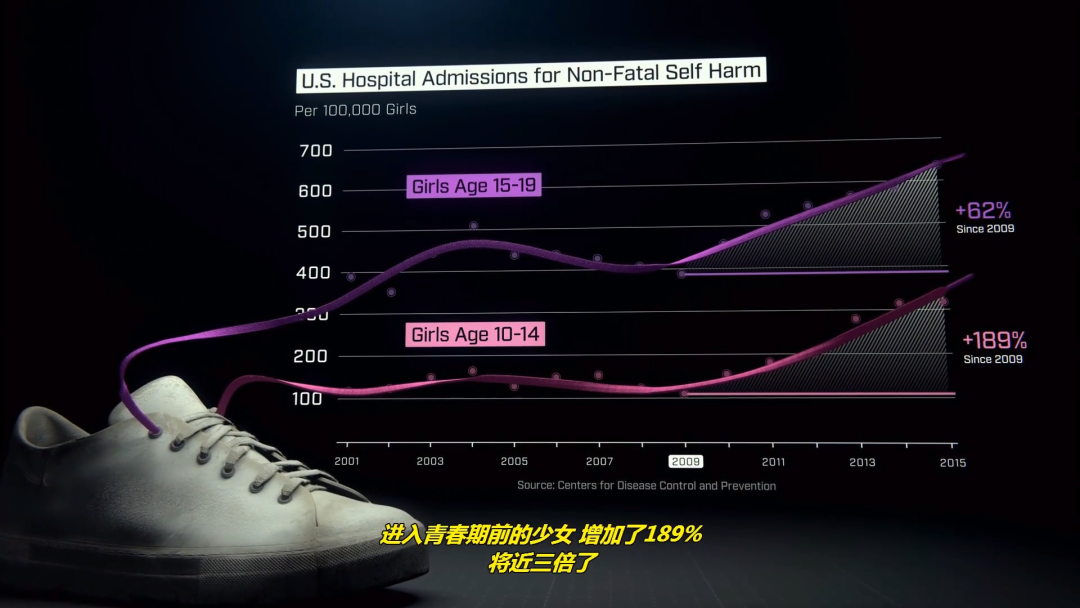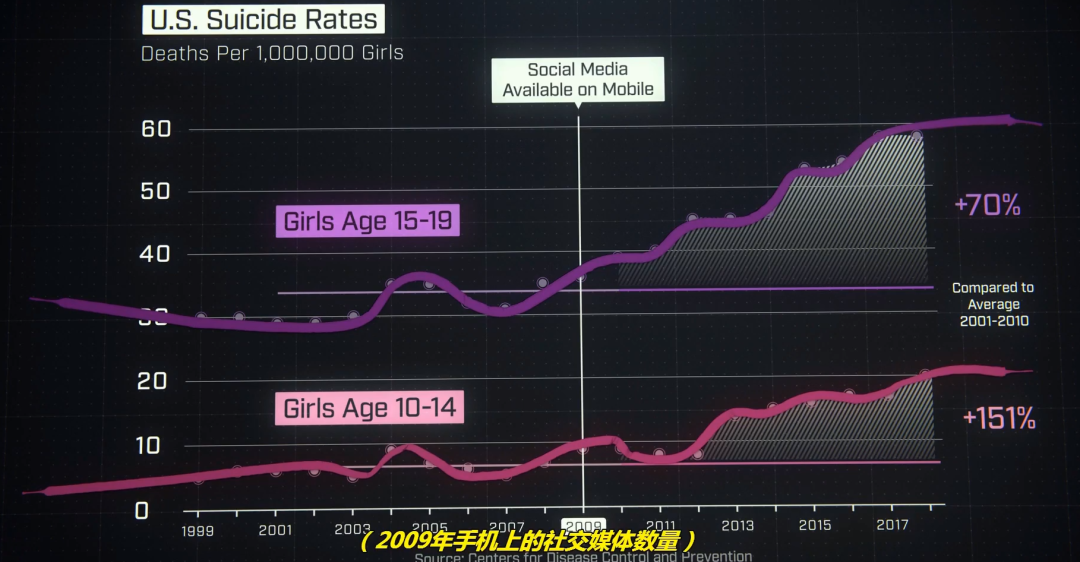 Documentary Screenshot: Every year for nearly 20 years, girls in the United States have been self-harming and committing suicide as a result of cell phone addiction

A common phenomenon is that when people are lonely and idle, they always look for something to do. Now that this gap is dominated by algorithmic pushes of social networks, short videos, and so on, people's ability to process emotions is degraded.
Cathy O'Neil is a big data scientist. Algorithms, she says, are embedded in code, and they are not objective. Algorithms are guided and optimized by successful business models.
Often, in a company like FaceBook, which affects billions of people, just a few people who understand the logic of a program's algorithm work can be seen as losing control of the algorithmic system compared to more than 7 billion humans.
Roger McNamee said.It's like a world of 2.7 billion people, and everyone has their own world. No one finds the truth about the nature of the world in which they are located.In fact, of course, there may be more people living in the "World of Chumen". In China, similar products have today's headlines, shaking sound and so on.
Every push of the algorithm represents a commercial interest.
In China, middle-aged and old people like to watch some propaganda, incitement of fake news videos, is not the producers must believe these things, but fake news dissemination faster than real news, traffic can bring them commercial cash, free to watch video people, is the goods sold.
Tristan Harris invented a set of theories:The first stage of technology beyond humanity is beyond weakness, the result is addiction, addiction will fuel anger, fuel vanity, suppress human nature, bruising nature. The second point is to transcend human intelligence.
Algorithm-fed worlds are prone to heated contradictions, and everyone's opinions are becoming increasingly incompatible, because everyone learns about information from different pushes, and that information and knowledge vary from push to push. When two Americans marching in the streets at the same time because of the same social networking site's advocacy argue about the same thing, they find it easy to find:
Oh, so we didn't see the same message.
A well-known example of this inflamed divide is this"The earth is flat."This argument has been liked hundreds of millions of times on YouTube because some people like it, algorithms are changing every day to push people "the earth is flat", "the earth is round" is their conspiracy, and more and more people believe this conspiracy theory.
The high point of the incident was in February, when American inventor Michael Hughes fell to his death after testing a launch using a homemade manned rocket to prove that the earth was flat.
04
Algorithms only recommend things of interest to people, it has no sense of morality, its only motivation is business interests, it can repeatedly push people false, conspiracy theory information. Today can make people believe that the earth is flat, tomorrow can make people believe that drinking disinfectant can kill the new coronavirus.
In 2016, thousands of people in the United States believed in fake news - an underground child molestering organization with top Democrats hiding in a Washington, D.C., pizzeria, where algorithms kept recommending people join the Pizzagate group until more and more people believed it existed.
The climax of the incident ended when a man armed with a gun tried to enter a pizzeria warehouse to rescue the "persecuted child" and was arrested by police halfway through.
In the United States, rumors during the outbreak, fueled by algorithms, exacerbated the spread of rumors and individualism. People marched in the streets, some shouting "The new crown vaccine is a conspiracy" and others shouting "the human gene is not suitable for the new crown vaccine". Everyone is obsessed with what they see. A government official called it:
Tribalism in the new era.
Political differences between Democrats and Republicans reached a 20-year high in 2017, according to a 2017 Pew Research Center.
Documentary Screenshot:Political differences between Democrats and Republicans reached a 20-year high in 2017.

In Myanmar, since 2017FaceBookUnprecedented and high-spirited inflammatory rhetoric has been pushed to the likes of ultra-nationalists, spawning serious crime, racist persecution and leading to the escape of 700,000 Rohingya from Myanmar.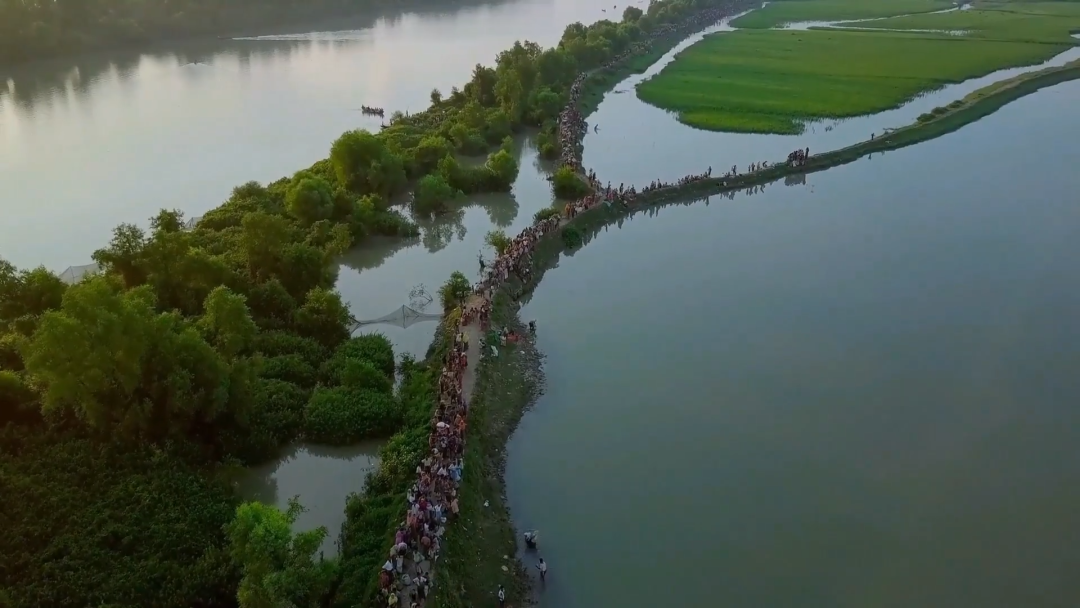 Screenshot of the documentary: MyanmarRohingya MSL fled
Jared Diamond, author of Crash, explains how society collapses: a society that together drives an unstable, negative state forward, and ultimately leads to its collapse. Jared Diamond's students asked him a very interesting question:
What was the moment the man who cut down the last tree on Easter Island in the 17th century, before the island's ecological environment collapsed?
It's time for us to think about it, too.


---