5 challenges in overseas social media marketing
Challenge 1: Define your marketing goals
Surprisingly,Yes.Many marketers are setting up campaignsGoals struggle, and social marketing strategies that meet corporate goals face difficulties.Forty-seven percent said it was their biggest challenge.

While increasing brand awareness remains a top goal for 70 percent of marketers, many still don't know which
Key Performance Indicators (KPI)
Important.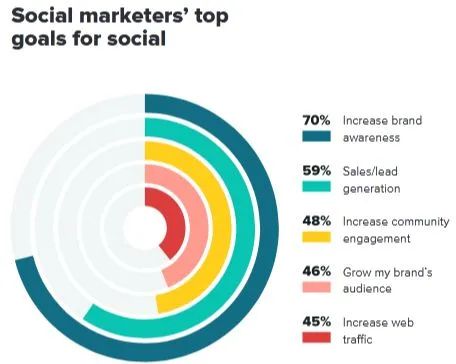 Picture: sproutsocial
Without a clear definition of your goals, it will be difficult to measure marketing performance and demonstrate its value to stakeholders. This may have a negative impact on your future advertising budget.

Solution:
Start with a big goal. Ask yourself why you're campaigning on social media. This question will help you determine what business goals you want to achieve through social media marketing. Then you can start planning your social media marketing goals.
Next, set for each ad campaign
SMART target
。 SMART stands for Specific, Measurable, Achievable, Realistic, and Time-bound. SMART goals keep your activities on track and prevent you from straying from your set budget.
Specific:
Engagement, platform, and target areas should be clearly defined.
Measurable:
You can use analytics from each social media platform to measure your influence and engagement.
Achievable:
Ensure that goals can be achieved through natural and paid advertising campaigns.
Realistic:
Set a goal that you can achieve within a specific time range, based on your past performance.
Time-bound:
Time ranges should be clearly defined to help you calculate accurate metrics.
The clearer your SMART goals, the more effective your advertising campaign will be. In addition, you can measure KPIs according to your goals and get support from management for your next budget.
Challenge 2: Pick the right platform
The next challenge for marketers is which platforms to choose. Few marketers do a thorough enough study of the target market to determine which platforms have an active target audience.
"As can be seen from the table below, there is a link between consumers and marketers." You can see that 38% of social media marketers use LinkedIn, but only 6% of consumers follow brands through the platform. This means that marketers are wasting energy and resources on the right platform.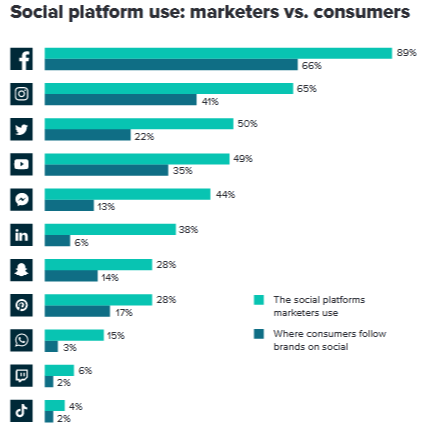 Picture: sproutsocial
Investing on the wrong platform can drain your budget, especially if you regularly use paid advertising. If your company's decision makers don't believe in social media marketing in the first place, they may stop investing if you make that mistake.

Solution:
To some extent, if you overcome the first challenge, you will also overcome it well.
For example, if you want to make personal connections with customers, Twitter is the best choice. And if you want to use online red to spread brand awareness, then Instagram is a good fit.
However, if you need information about how other marketers choose a platform, you can refer to this chart below: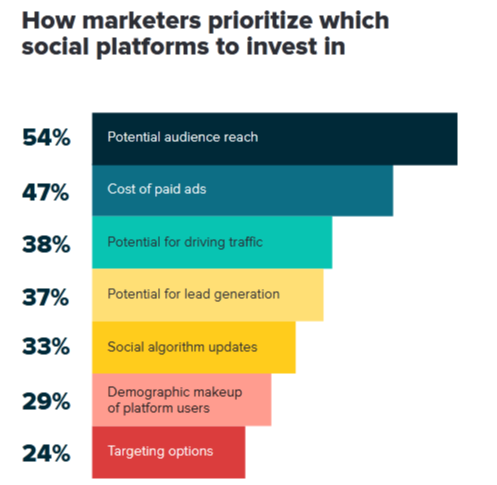 Picture: sproutsocial
Take the time to get to know your audience. For example, on which platforms are they more active? What are their main activities on social media? Analyze your audience demographics carefully to see their gender, age, and location. Then, contact them on their active platform, depending largely on the nature of your business. The B2C brand needs to be active on visual platforms such as Facebook and Instagram to get consumers' attention. The B2B brand can benefit from local search engine optimization on Google and Bing. They should also post regularly on LinkedIn to make useful connections with the brand.
You also need to keep a close eye on your competitors, and the phrase "don't want to see" is true for social media users. If you don't perform well in the channels your competitors are competing for, you're sure to lose a lot of conversion opportunities.
Social media listening can help you track your competitors' brand mentions. Identify the channels through which they get attention, and then plan to promote them on those channels.
Challenge 3: Understand your target audience
There are a lot of brands that do well in brick-and-mortar stores, but fail socially.
The difference is that in a brick-and-mortar store, customers get close to the brand, and on social media, the brand has to look for customers.
And some brands don't know what to do.
Some marketers create content before they target audiences. They mistakenly believe that high-quality content can be converted directly, even if it is not targeted. While premium content can appeal to users, it may not generate potential customers if it is not tailored to the needs of the target audience.
Directionless marketing relies on a wide-ranging approach that rarely delivers the expected benefits. In fact, it can damage your brand's credibility. If you bombard users with irrelevant content, you risk being blocked or reported.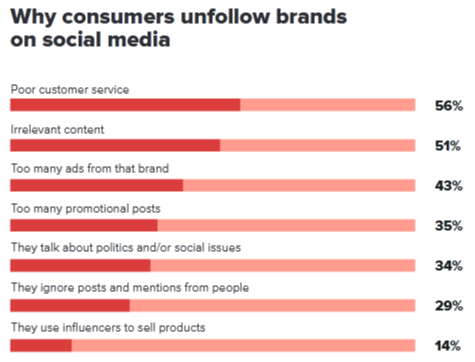 Picture: sproutsocial

Solution:
Do you know who your ideal client is? Have you created an exact buyer role? Learn more about your existing customer base, ad analytics, and email subscription lists, and then create fictitious customer profiles based on the data collected.
Collect personal data. For example, how many children does your customer have? How do they spend their weekends? What kind of music do they like? Gather as much information as possible about your business.
You can use social listening tools to get information and have in-depth conversations with customers about brands, products, markets, and more. To understand the emotions and pain points of consumers and generate your advertising campaign goals and content.
Kraft Foods uses social data when planning to launch mini burgers or sandwiches. With social listening, they identify popular themes in different customer groups. Social studies can also guide brands' product strategies, as is the result of their super-successful Mayochup products.
Picture: Trustinsights
Social listening can also help you understand the reasons behind customer behavior. For example, why they use a particular platform, why they don't care about your brand and why your brand mentions it low. Use the information you collect to connect personally with your customers and create more engaging content.
Challenge 4: Decline in natural influence and participation
The natural impact of major social platforms is declining dramatically. At the same time, the cost of paid advertising is increasing. Brands are trying to balance goals and budgets.
Take a look at this chart from Trust Insights, which analyzes the 1 million posts posted by 4,097 brands on Instagram.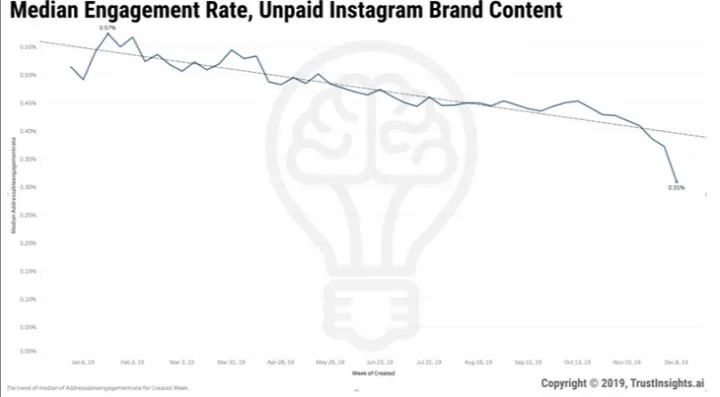 Picture: Trustinsights
As you can see, the number is dropping significantly. Currently, the median participation rate for free branded content on Instagram is just 0.31%. This means that if you have 1,000 followers, only 3.1 will follow your content.
Facebook defended the trend, saying people prefer to see content from friends and family rather than brands. But that doesn't hold true, because 90 percent of Instagram users also follow the business.
As soon as brands took the bad news, Facebook and Instagram launched new programs to help brands monetize content. Instagram's "Checkout" feature is the latest addition to the series, and while the idea is good, brands must pay commissions to the platform. For small businesses with only a few hundred followers, these updates may mean little natural impact.
That's not all, and Instagram's online red industry is shrinking. In 2019, Trust Insights analyzed an overview of 4,462 net reds. The median participation rate for 632,379 unpaid posts fell 41.2 percent in just one year, the report said.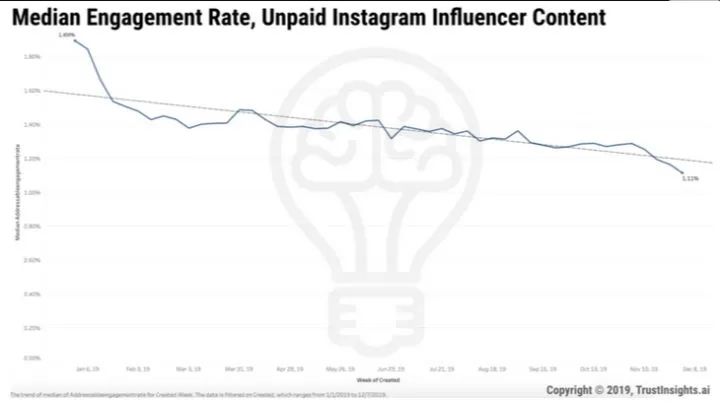 Picture: Trustinsights
That means the brands will have to rely on sponsored online content to make people feel like they're on Instagram.

Solution:
Let the platform work for you and familiarize yourself with its algorithms. If Instagram is your primary platform, take advantage of Instagram Stories. Their high level of engagement allows you to tell your brand story effectively.
Live streaming is another simple way to maximize natural influence. If you want to broadcast a long story, you can use IGTV. You can also work with Net-a-Go for interviews, podcasts, and interactive questions and answers.
Optimize your social content based on the right format and release time. Video marketing is important today, and you can use video to demonstrate your knowledge or solve your customers' problems. Cross-promote all your social content to attract more viewers.
Smart marketers take advantage of it
User Original Content (UGC)
Because these content is free. Find ways to get your fans to share content you can reuse on social media.
Social recognition increases the credibility of your brand.
Airbnb has adopted this strategy, often posting UGCs on its Instagram page.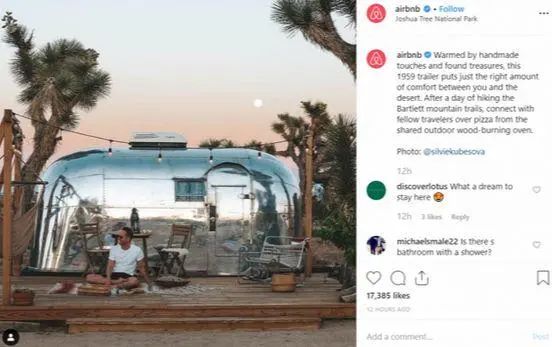 Photo: Instagram
Label contests and giveaways generate a lot of UGCs. If you instruct fans to tag their friends, you'll win more followers and potential customers.
Challenge 5: Increased advertising costs
Deep-pocketed brands may be more willing to use paid advertising on social media for engagement. But even so, it becomes challenging. Advertising costs are increasing, competition is becoming more intense, and it is becoming increasingly difficult to recoup investment and profit from paid advertising.

One reason for this trend is the popularity of paid advertising, particularly Facebook ads. In the third quarter of 2019, there were 7 million active advertisers on Facebook. With so much advertising content, it's hard for marketers to stand out from the crowd and get there.

Solution:
On Facebook, you can choose different ad serving locations, such as mobile or desktop, right panel, instant messaging, and audience networks. It is recommended that you choose to display ads on mobile devices because Facebook has a broad user base among mobile users.
If you want to learn more about ad formats and locations, check out Facebook's quarterly earnings report. You'll get a clear idea of how many impressions each ad format gets in a day.
The revenue from paid advertising is measurable. So, before you start your ad campaign, make sure you've set your advertising goals. This allows you to determine whether the activity has achieved its goals.
Use advanced targeting to reach potential customers who aren't your followers. Use the buyer role we mentioned earlier, and then use your ads to reach as many target markets as possible. Avoid reaching overlapping audiences, which can drain your ad budget. Facebook's Lookalike Audiences feature helps you target your ideal customers.
All types of marketing have their own challenges, and social media marketing is no exception. You are already familiar with these challenges and believe you can handle them better now. Try the tips and strategies mentioned in this article to provide risk protection for your social media marketing efforts.
KOL Direct Employment Reviews:
Nowadays, more and more brands are choosing to launch marketing campaigns on social media, and the challenges that come with it are becoming more and more important.
We recommend that brands that want to conduct social media marketing campaigns learn more about some common marketing challenges and learn to use specific strategies to more effectively mitigate risks for their brands.
If you want to learn more about social media marketing, please follow KOL's direct public number!
文章编译自 5 of the Biggest Social Media Marketing Challenges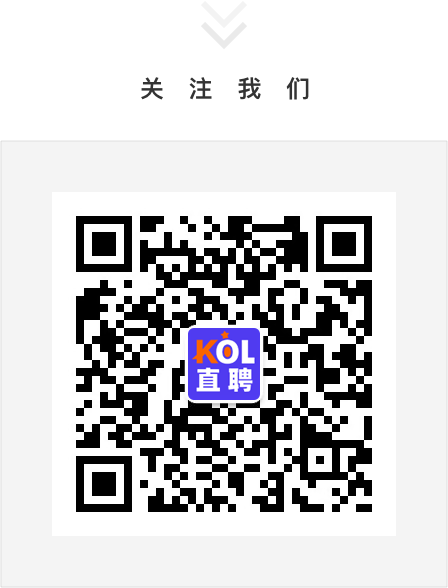 ---