3 very important Google advertising metrics - What data should Google ads monitor?
Included in the topic.
#谷歌/Bing ad optimization.
29.
Hey, yo, sup! It's me again, Mr. Tupa.
Last week contacted a Google dad's meal, I hope you don't mind.

In the last original article:The difference between Facebook and Google ads.In this article, a reader leaves a message wondering what Google ads should look like.
Today with you to discuss this small problem a little bit, by the way, in advance to congratulate you on a happy double festival!
Much depends on your business goals and industry about what data Google's ad monitors. And this paper first for cross-border e-commerce, should focus on what indicators, to explore.
Before we discuss it, I think we need to keep pace with the company before we decide which metrics are "important".
What do you mean? For example, I will talk about ROAS below, for most friends, ROAS is very important, directly related to whether the profit is positive. However, some companies, their strategy may be to hit, or a single quantity, roAS for the time being no requirements.
But on the whole, I think I still can't leave three indicators.

Here's a brief look at three Google advertising metrics that I think are very important:
1、ROAS
ROAS (Return on Advertising Expenditure)Probably the first indicator I watch every day.
This is an important indicator because it shows the direct results of Google's advertising accounts.
ROAS - Advertising revenue/advertising costs.
In Google ads, select : Conv.value / cost in the Definition Data section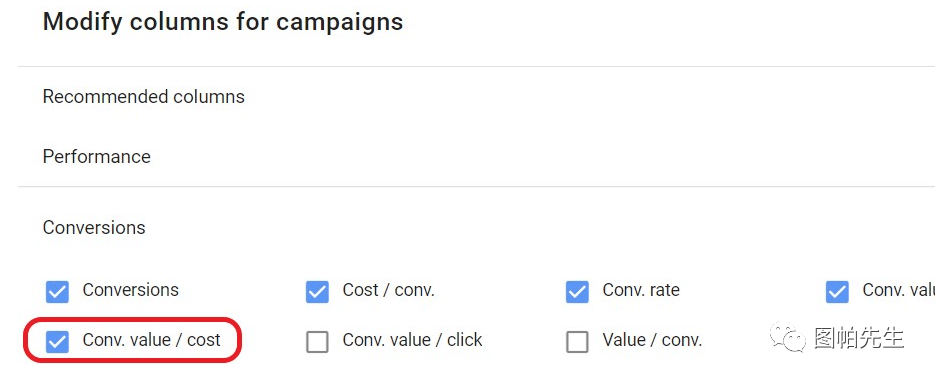 When you check it, you'll see the data in your ad. But not as a percentage, but directly in numbers, such as 650% with 6.5:
But if we want to use the tROAS bid strategy, we'll convert the ROAS number to a percentage to fill in: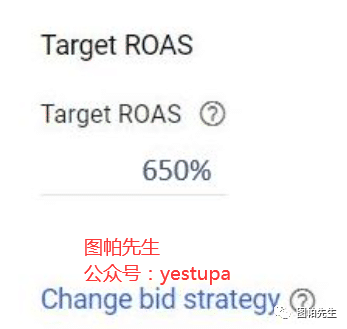 Generally speaking, ROAS remains at 1 (above), which at least indicates that advertising expenditure and revenue are equal, but strictly speaking, ROAS is still losing money, because there are logistics, product costs.
2、CPC
Google ads are ultimately based on a pay-per-click (PPC) model, so how much you pay for a click is an important consideration.
With the overall cost unchanged, the lower the CPC, the more traffic you bring to your site and the greater the chance of sales.
I know it sounds like a near-perfect state, but it's still possible for us to get close to it!
Google's advertising algorithm weights your bids based on quality scores. The higher the quality score, the lower the CPC.
Also, quality scores have an impact on your ad ranking. Your ads may rank higher than your competitors, but still pay less per click!
For a quality score on Google ads, check out what I wrote earlier:
Google Ads Quality Score Optimization And Breaking The Mystery
Getting more traffic at a lower cost means getting more revenue at a lower cost.
This affects our first point indicator: ROAS.
Now, you might think: Why don't I list quality scores as an important metric?
Well, while it's still a pretty important indicator, it's not a daily check. I might just watch it once a week, or even once a month. That's because I don't necessarily have direct control over it. And, in my previous article, "TheGoogle ad quality score mystery crack.It has been written that the ultimate conversion should be considered (of course, this is my personal opinion).
The Quality Score is based on the quality of your keywords, ads, and landing pages. Landing page part is sometimes not under your direct control, everyone working in the company, should know this, some sites do not say to change things.
In addition, it updates quite slowly. Changes in your ad or keyword may cause the quality score to change several days later. For this reason, I'm not going to be obsessed with it, I'm just using it as a broad indicator.
So, I will often look at THEC, how to say, CPC is affected by the quality score, so, look at the CPC is basically looking at the quality score. But the difference here is that you do have direct control over the CPC. You can adjust your bid.
You can adjust it with a manual or automated bid strategy. Ideally, see the CPC decline over time, or at least be in agreement with the growth rate of revenue.
3, display share Expression Share.
This is Mr. Tupa's more "love" indicator - showing share, and very important!
Last year, I reported:
Google Ad Average Rankings To Be Replaced: How to Optimize Google Ads with New Metrics? 》

The display share can be roughly divided into five blocks:
搜索展示份额 – Search Impr. share %": refers to the percentage of times an ad is displayed anywhere above natural search results.
Percentage of top impressions - Impr. (Top) %": refers to the percentage of times an ad is displayed anywhere above natural search results.
Absolute top impression percentage - Impr. (Abs.Top) %": Refers to the percentage of times an ad appears as the first ad above a natural search result.
Share of absolute top-of-page impressions obtained on the search network - Search abs. Top IS.: Refers to the absolute top (first ad above the natural search results) impressions actually obtained divided by the percentage of estimated top page impressions that you are eligible for.
Share of top-of-page impressions obtained in the search network - Search top IS:Refers to the percentage of impressions actually obtained at the top of the page (anywhere above the natural search results) divided by the estimated top impressions that you are eligible for.
Here's an example of a search impression share:

搜索展示份额是以百分比来表示的。
In general, the higher the percentage, the better. Google defines it as "the percentage of impressions your ad gets compared to the total amount of impressions your ad gets."
Show Share - Actual or Total Eligible Impressions.
Watching your impression share is a great way to see if your ad is likely to reach more people if you raise your bid or budget.
Based on the screenshot above, explain:
The search impression share tells me that Only 60% of Campaign 1 ads appear under the condition that they are "eligible to appear (or show)."
Google says "eligibility" is measured by my keywords, location, audience targeting, and bids. This basically means that my ad misses the chance to appear in the other 40% of cases. That 40% is probably my competitor's ad show!
So the lower your display share, the higher your competitors are.
As you may already know, the home page of Google's search engine can display up to seven different ads. If more than seven advertisers participate in the same bid, some of these underqualified advertisers will be excluded.
There are two reasons why you might be excluded:
Budget or underbidding.

The quality score is low.
There are two indicators that show if you need to optimize:
Search lost IS (budget): search lost IS (budget)

Search for lost IS (rank): search lost IS (rank)
IS is an acronym for The Express Share Display Share.

The data above tells me that I have a 40% chance of being excluded from bidding shows, while 39% are blocked because of the low advertising ranking and only 1% because I'm under-budgeted.
In other words, my day-to-day budget is no problem, I don't need to increase my budget.
However, I should probably increase my bid and/or my quality score.
If you score 10/10, the only way to improve your ranking is to increase your bid. But in fact,Whether I really should increase my bid is worth considering again, as it depends on my ROAS objectives.If raising my bid would lower my ROAS, I probably wouldn't be raising the price.
In fact, many users may click on the top ad results simply because it's the first result they find, not because they're really interested in the product or service. Conversely, if they scroll down and click on your ad in the many results they find, they have more opportunities to be really interested in your product.
For example, I raised my bid, so my ranking will also improve. My CPC will go up. But revenues may not necessarily increase at the same rate. This affects ROAS, and ROAS will go down.
It is up to each individual business strategy to decide whether the display share should be increased.
Either way, you need to pay attention to this indicator and monitor it closely.

Summary.
These are basic, but at the same time, are also important indicators that you should take the time to look at and manage Google advertising accounts.
However, these are not the only ones! Depending on the type of activity you're in, shopping, display ads, video ads, and so on, the details you need to monitor vary, but in general, the points above are the basis.
For example, if I show ads, I'll look at display shares in another way. share), CPM, video ads, I'll look at the percentages of video playback (Video played to 25% - 100%)

All Google advertising metrics are intertwined and interrelated to some extent, and need to be cited.
Never focus on a single indicator as the basis for decision-making.
That's a bit of a blur, after all, advertising still needs real-world operations, random response. You can slowly experience it during the launch process.
It's a rare holiday to come and relax! Work hard, play hard!

Peace Out!
Sweep the code and follow me.
Sweep code attention, weekly access to foreign SEM, SEO dry goods.


Mr. Tupa.
Public ID:yestupa

90% of the actual combat experience plus 10% theory.


www.yestupa.com

---