A watch to understand Google advertising tips! This black fairy is so serious, watching the real customer case of the Shoplazza shop assistant...
Linda divides Google's advertising accounts into .
New accounts, growth accounts, mature accounts.
Each section has different goals and ways to achieve them for reference.
The 2020 Eagle Bear Hui "Traffic for The King" cross-border e-commerce expo was held in Shenzhen Futian Convention and Exhibition Center on September 26-27, 2020, hosted by Shenzhen E-commerce Association, Eagle Bear Hui hosted, more than 120 cross-border service providers, suppliers and sellers exhibiting, attracting tens of thousands of visitors.

In a speech at the opening ceremony of the fair on the theme of "The Coming of the Global E-commerce Era", Mark pointed out that third-party platforms will continue to grow rapidly in the future, while independent stations will be a good opportunity for cross-border e-commerce, the growth rate will be relatively fast.
On the afternoon of September 26, 2020, shoplazza shop assistant "Win Independent Station, Win the Future" DTC Success Story Sharing will be successfully held at Futian Convention and Exhibition Center in Shenzhen.
Shoplazza shop assistant independent station dedicated to the scene is full of seats, the whole meeting has a live replay, the end of the text can be scanned code to pay attention to, the shop assistant is now taking everyone to see.
Pilot - the top of the wind and waves.
The DTC brand is growing almost three times faster than the average e-commerce retailer in the cross-border e-commerce industry. Based on the industry's big background, Shoplazza shop assistant proposed.
"Win the independent station, win the future"
The theme, inviting guests from all walks of life, answers two of the sellers' most important questions with a series of in-depth DTC success stories and hands-on experiences:
What is the prospect of the -DTC brand going out to sea?
- How do I get started with the DTC brand?
Jason, an independent station operations specialist at Shoplazza, took to the stage to throw out the idea that only "fools" do DTC brand when traffic is cheap, and that traffic is expensive and not DTC is waiting to die.
In today's increasingly expensive traffic,
The DTC brand is the necessary way for sellers to seek development.
Benchmark - Keep up the wind.
Shoplazza's customers also have such a category of people, early insight into the importance of the DTC brand to sea and began the DTC brand to go to sea. With the help of Shoplazza's professional DTC team, Chinese manufacturing has been upgraded to a global brand.
Shoplazza shop assistants invited three of the best entrepreneurs to answer the same questions through different DTC brands:
How to create a successful DTC brand.
The first to appear is our Shoplazza storemaker DTC successful customer Exway founder and CEO Zeng Chao, from the 90-year-old skateboard enthusiasts to today's first global top three scooter companies, the product itself and business take-off is particularly concerned.
Zeng always introduced a series of questions he considered when he went out to sea, so that sellers feel the same. A seller asked whether, in addition to shoplazza shop assistants used other station SaaS tools, he always answered with his own personal experience.
Exway started out as a self-built station team, but during a year of development and operation, it recognized the difficulty and cost of self-built stations and switched to SaaS station-building systems. Because.
The station is fast and responsive,
Exway has selected Shoplazza shop assistants in a number of station systems.
Shoplazza storemaker DTC's successful customer Softerspot founder, Liu Xing Liu, also shared that their factory-transformed stand-alone stations, their sensitivity and advantages in the supply chain, led them to choose from a wide range of fascia gun products.
Softerspot has been under constant pressure from low prices before the transition, and in the face of transformation opportunities, it wants to get out of the "low price cycle", give up the price war, focus on product quality. Softerspot says, after considering the new brand's exclusive position, customer retention, and so on.
Only independent stations can perfectly combine multi-channel undertaking and transformation, and ultimately choose Shoplazza shop assistants.
Shoplazza not only empowers Softerspot at the stand-alone SaaS site, but also helps with the DTC brand's full-time service.
According to Liu,
Shoplazza's North American team has actively helped Softerspot connect with overseas networks and has reached a partnership of more than 200 people.
Brand data is growing rapidly, and we hope to have more IP co-branding and offline branding activities in the future.
The third shared customer LEFEET's main product is underwater thrusters, and crowdfunding brings a different perspective to the seller.
From the perspective of Zhang Dongjian, founder and CEO of LEFEET, it is important to choose a reliable service provider. Their team is technically-born, and in shoplazza's services, communication between the two parties is data-based and a guarantee of smooth collaboration.
At the same time, Zhang always put forward."The deep tillage of private domain traffic must be one link after another, the ring buckles into the whole, a single opening will cause 'short-sightedness',"So more assured to choose the whole case service way.
In order to bring sellers closer to sellers, in addition to sharing success stories, Shoplazza shop assistants have also set up exchanges to address the seller's most important concerns.
On-site sellers enthusiastically ask questions, or sharp or exploring, guests are to the actual situation to answer.
Want to know what questions the on-site seller asked? Want to know more about DTC success stories?
Over the next month we'll be sending a series of articles to the public, keep an eye on the public number, the Shopmaker Global DTC Brand Think Tank.
Win-win - ride the wind and waves.

After a great DTC brand success story analysis, we invited experts in traffic, IP, and DTC case-by-case services to explain what you need to know about the DTC brand going out to sea.
Gordon, Google's sales director in its China channel division, tells sellers about Google's current traffic composition: "Google shopping, Google Ads, Buy on Google, Google traffic is a problem.""Magnify" the connection and influence between sellers and consumers.
Google, meanwhile, has teamed up with Shoplazza storemakers to launch a one-stop, three-way service that opens the entrance to the Super Traffic Pool for everyone.
Linda, the founder of Shenzhen Ivy Ads, has come up with years of dry-goods tips, sharing information about holiday trends in 2020 and Google's advertising practices and shopping policies.

Linda divides Google's advertising accounts into new, growth, and mature accounts, each with different goals and ways to achieve them for reference.
Then Hu Bin, Commercial Director of LaLiga Greater China, shared a new opportunity for sellers of the DTC brand to go to sea.In addition to traffic, IP is the most direct force that allows brands to accumulate word-of-mouth and detonate instantaneously.

La Liga's IP interests, which include some of the hot stars in Europe, Japan and South Korea, offer potential opportunities for sellers in these markets. Hu's sharing inspired many sellers' new DTC brands to go out to sea.

Shoplazza shop assistant.
The stand-alone event was finally shared by Sylvia, Commercial Director of Shoplazza Shopmakers.

We have always held the vision:
Global chinese brands, from Made in China to Brands of China.
Shoplazza storemakers to technology as the core driving force to help Chinese sellers scientific planning overall strategy, from brand positioning, optimize the site shopping interaction structure, customized social media penetration, to AI combined with ML advertising strategy optimization, to help sellers shape a competitive and more soulful overseas brand.
There are many elements to the success of the DTC brand, from Avenue to Jane, DTC Begings and Ends with "C" - Customer "Consumer". From the brand concept, product reputation, advertising exposure, red man effect, to consumer feedback response and other essential elements, through the construction of independent websites, completed the information transmission, traffic carrying and consumption transformation, and established a core bridge with consumers.
Shoplazza's proven SaaS station-building systems and technical advantages are provided and guaranteed under the warranty of PCI level 1's highest level of data compliance certification.
Stable, fast, and secure functional support and technical response,
Customized matching.
Professional sea service team,
It's not hard to be a great brand for DTC by providing you with efficient and systematic case-by-case service.
This Shoplazza shop assistant "Win Independent Station, Win the Future" DTC success story session successfully concluded,Thank you for your support of shoplazza shop assistants.I believe that in the near future can reach cooperation with you,In future sharing sessions, you can, like our guests, generously share the success story and joy of the "future generations" at sea.
In order to facilitate the viewing of relevant content, the shop assistant thoughtfully prepared a live replay link for everyone.Forward this article to a circle of friends or groups of more than 100 people, contact the shop assistant with screenshots,Get a live playback link so you can watch it back at any time.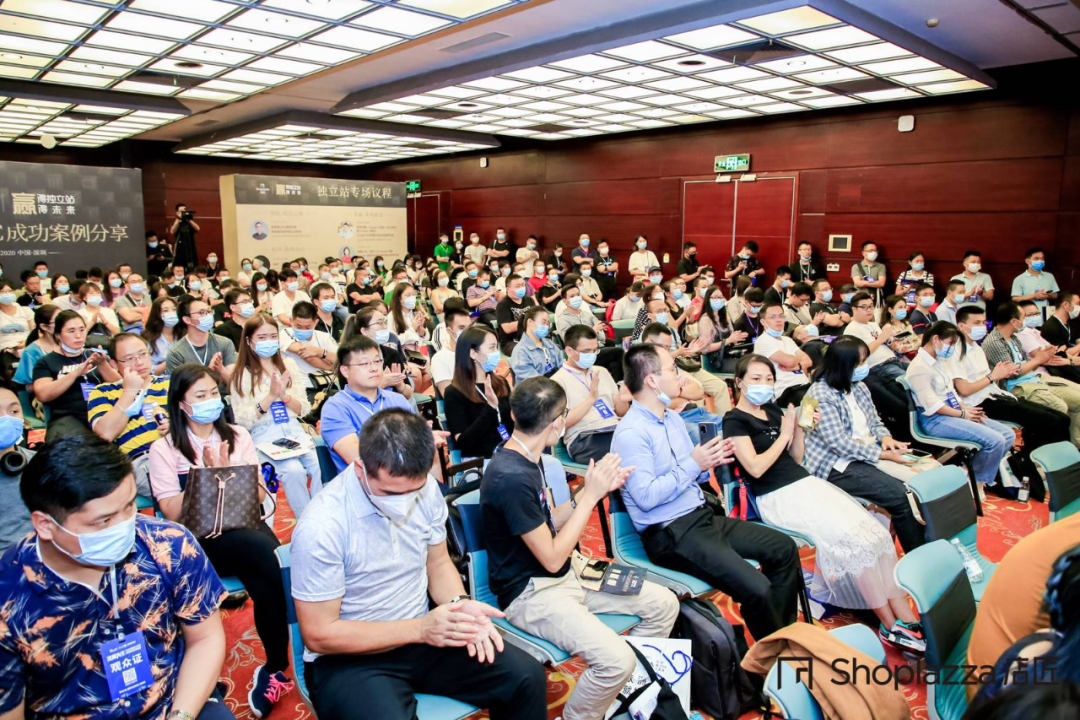 (Sharing will continue to be hot, many sellers watch live outside the venue)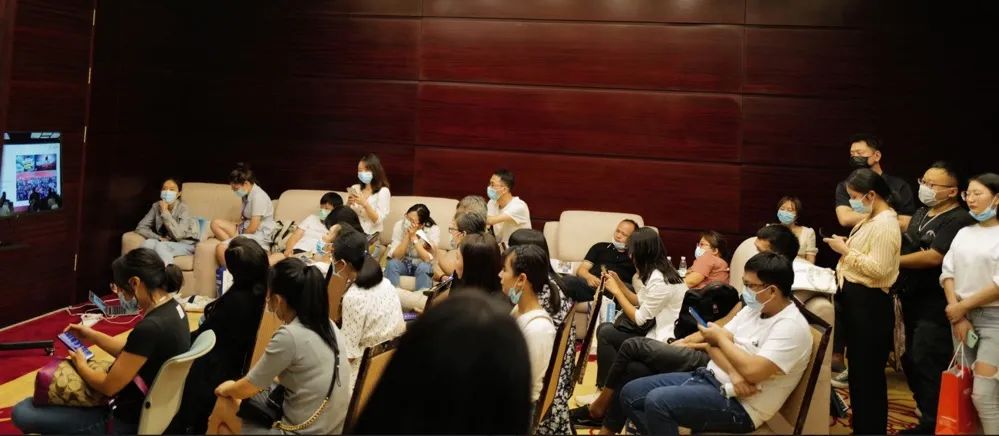 (Dry goods are full, sellers have taken out their mobile phones to take pictures)
Stamp the original text and apply for a free trial.
---