3 minutes to quickly diagnose google ad quality and take you to a full understanding of your Google account.
Watch the video version in WiFi.
Listen to the audio version here.
2020 has been an unexpected year, with outbreaks affecting many industries. At this time online marketing is out of the air. And Google as the global search traffic accounted for more than 90% of the search engine, has the natural advantages of online marketing, I believe that many foreign trade enterprises in doing online marketing have done Google promotion. I do not know whether we have encountered these problems: spend a lot of money but the advertising effect is not obvious; how the quality of the advertising account set up, completely unclear; need to optimize the account content but do not know where to start; clearly click rate is very high, but not much inquiry, what is the problem? If you have these problems, then don't miss today's small editor recommended this free can quickly diagnose the quality of advertising smart tool - advertising diagnostic report.

Advertising Diagnostics Report is a smart tool launched by Silk Road Zan Academy to detect and provide optimization recommendations for the quality and effectiveness of Google's advertising accounts, which we have introduced before, and today we are talking about version 2.0 of the ad diagnostic report, which is a comprehensive upgrade compared to version 1.0, and its content becomes more detailed and recommendations more specific. And the method is very simple, the user binding, within 3 minutes can generate a detailed report. Today we're going to introduce this useful tool!
First, the composition of silk Luzan advertising diagnostic report.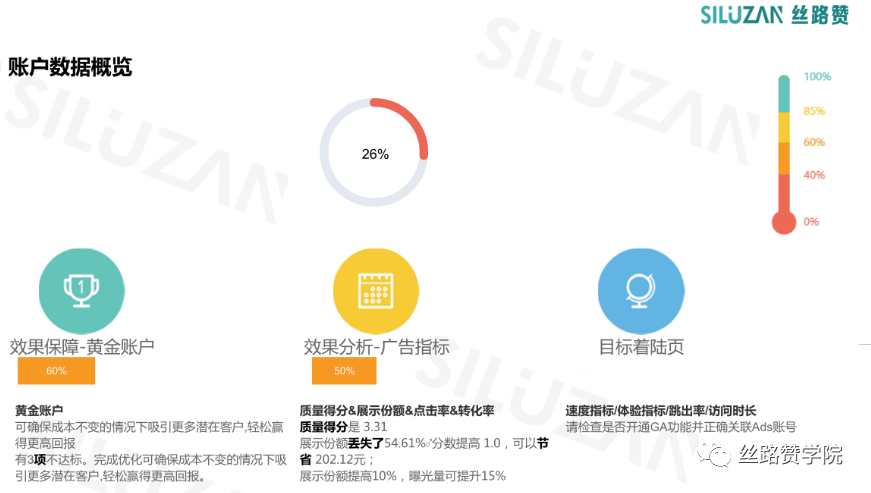 The composition of the Silk Luzan advertising diagnostic report is summarized in three parts: effect guarantee-gold account, performance analysis-advertising indicators, target landing page. These three parts help us diagnose everything from keywords, advertising language, account quality to websites, help us evaluate the gap with peer accounts, reduce invalid advertising spending, increase traffic, improve advertising performance, and ultimately improve the number of inquiries. Also, we can see our account situation intuitively, is the quality of the account up to standard? If it doesn't meet the standards, what's wrong? Is it a keyword? Advertising language? Launch country? Or is it a device issue? ......
If it's all up to standard, will the ad work? What's the effect of advertising? Are there any specific metrics? How in the end to improve can be better...... Do you have a good experience with your own website? Will such typography really get the user's likes? ....... This series of questions can be seen intuitively and clearly through these three major parts, in this diagnostic report we can find detailed and comprehensive data on the account, let's take a look at these three major parts together.
1, the effect of protection - gold account.
Gold account mainly shows nine aspects of data indicators, related to device analysis, keyword analysis, geographic location analysis, demographic analysis and so on. Through these nine indicators, we can see which keyword search is relatively hot, what are the customer's search terms, the cost of each country, each delivery device of various types of advertising how much money.... These nine indicators give us a comprehensive view of our account content.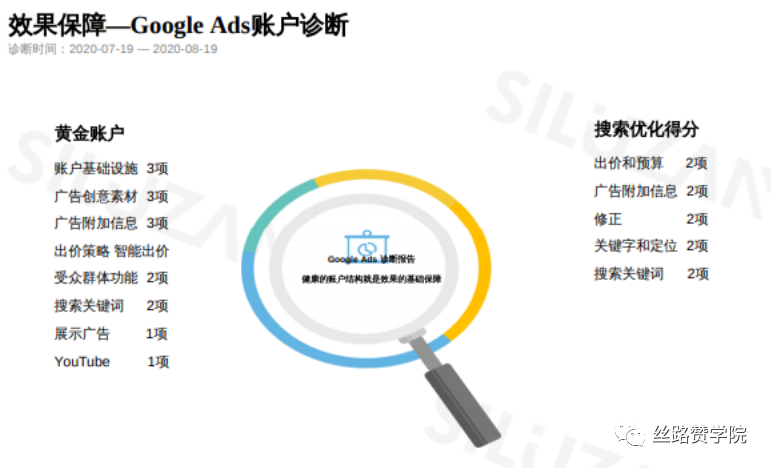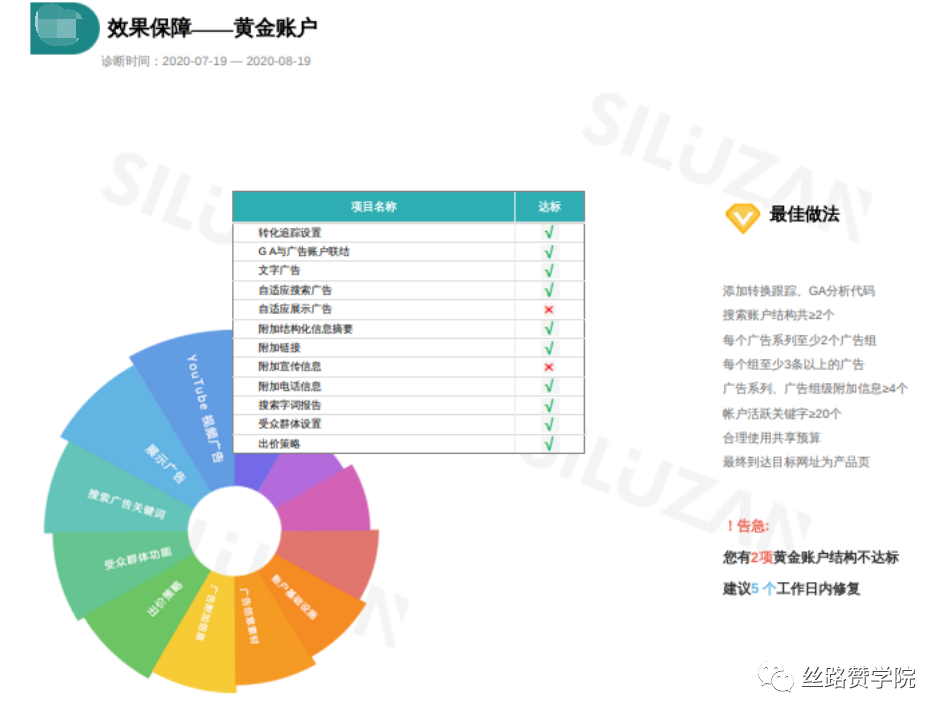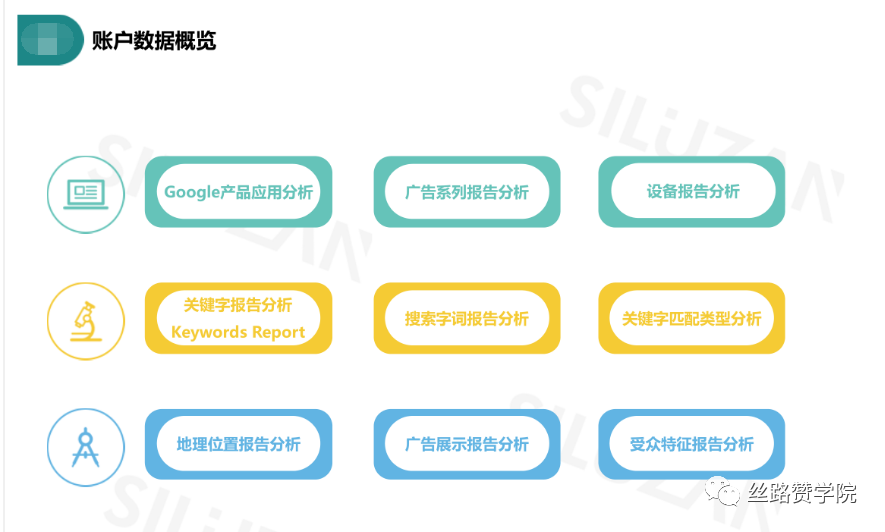 (1) Google Product Application Analysis.

The report shows the basic structure of the account and the data, through the report, we can see the account's consumption, ad clicks and conversions and other basic information, but also can see the specific account structure. If the click-through rate is still available, but the conversion rate is not, first of all, we want to see if the site added a tracking code, if added, that is which search terms triggered our ads, these search terms and our ads are relevant, you can according to the search terms to do no words, add product-related search terms. You can also adjust keywords to match more precisely, while removing irrelevant words. The figure also involves the comparison of display ads and search ads, combined with the advice given to adjust the account, will also make our ads more perfect.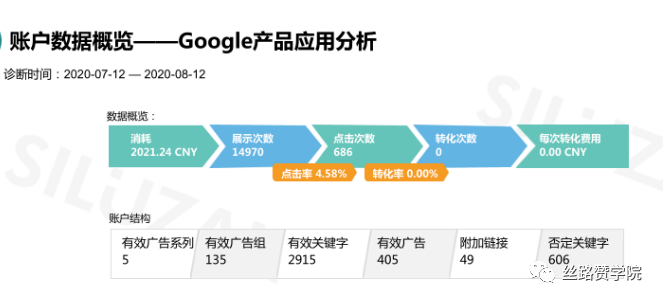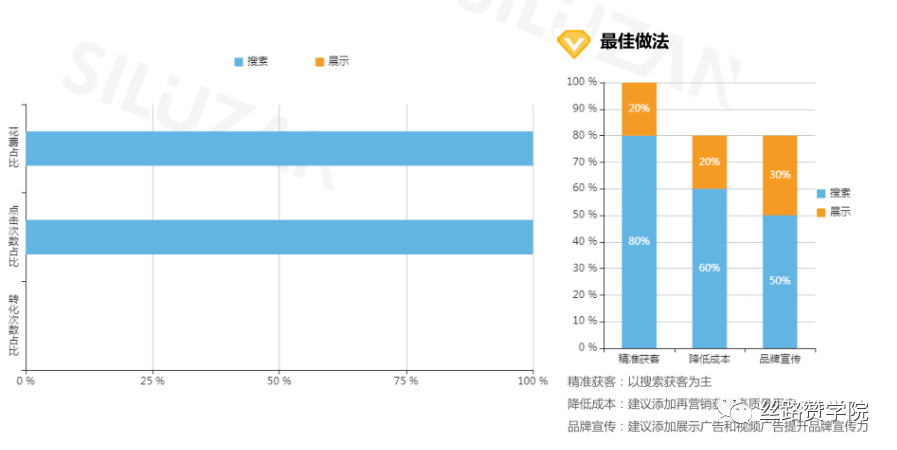 (2) TOP10 Campaign Analysis.

Campaign data relates to budgets, expenses, clicks, conversions, impressions received on the search network, and share of impressions missed because of budget, and share of impressions missed because of rank. Through the last three indicators we can know whether the current campaign budget is competitive, in general, the share of displays obtained in more than 80% is the best, at least 60% to 70% of the target. A smaller share of presentations due to budget misses means that our budget is not large enough and needs to be increased. Part of the misstable share of impressions due to ranking is that the lack of budget results in ads being less competitive on the home page, resulting in the loss of impression opportunities, in addition to the integrity of keywords, ads, and additional information, which also has a significant impact on display rankings, so we want to ensure the integrity of the account structure.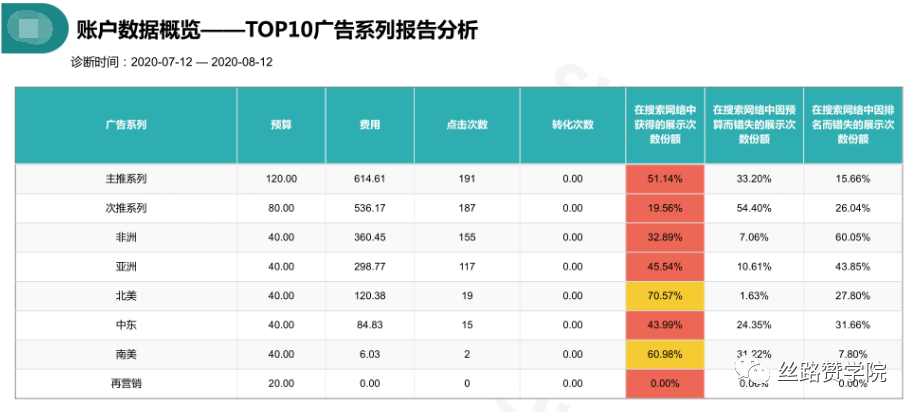 (3) Equipment analysis report.
By comparing traffic trends between devices, we can clearly see how many devices, such as mobile phones, tablets, computers, and TVs, spend, click and convert. The comparison of each metric allows us to visually see the data of different devices, so that we can develop targeted bidding plans, allocate the advertising budget of different devices reasonably, make advertising more accurate, and reduce the overall cost of inquiry.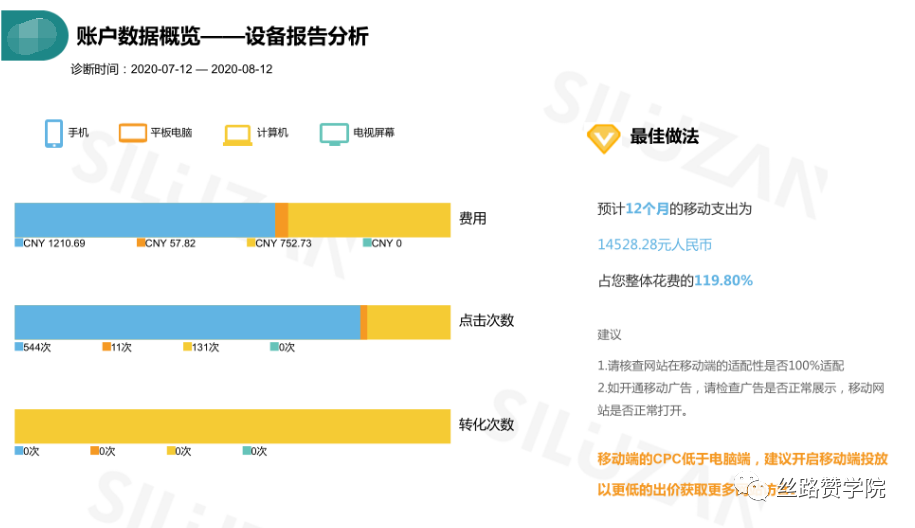 (4) TOP20 keyword report analysis.

We can visually see which keywords have the highest clicks, which keywords cost the most, and which keywords have the highest conversions? Do they match their heat, spend, and conversions? For high-cost, low-conversion keywords, further adjust the matching format or limit bids to avoid budget waste. In addition, pay attention to whether the higher-cost words are related to our products, for less relevant can limit bids, if the word is longer or larger range, then we can adjust its matching form, through a wide range of additions or phrase matching or even exact match to make it more accurate, thereby reducing its search range, to ensure that users in the search for accurate words trigger ads.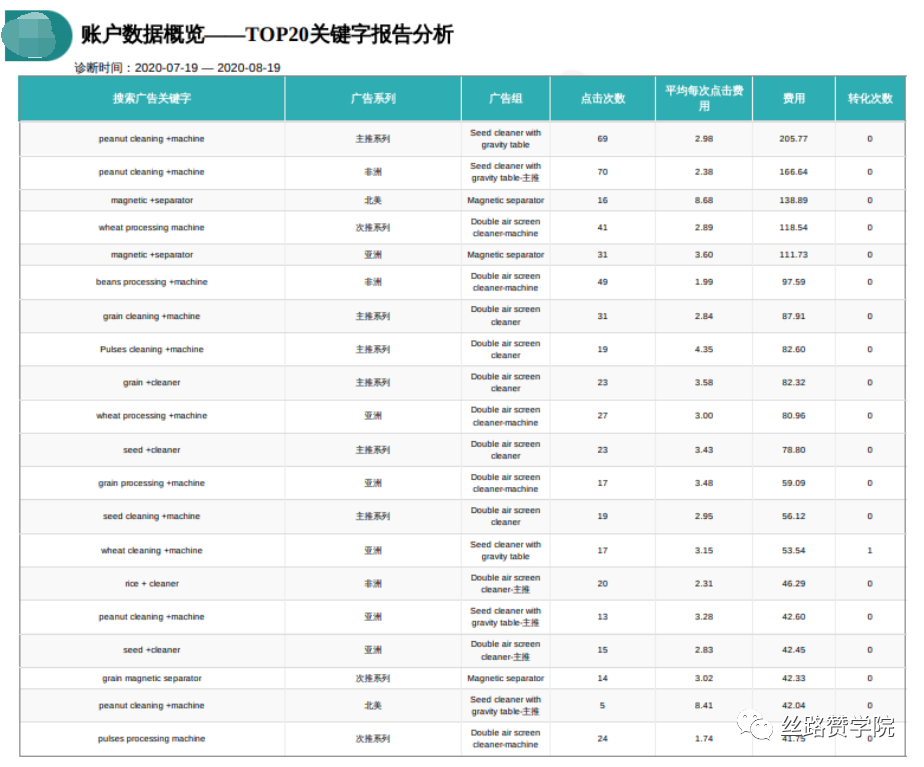 (5) Search term report analysis.

The Search Terms section lists the words that trigger your ad when people search for the following words, where search terms refer to the user's search terms, and search ad keywords, which trigger people to display ads when they search for related terms. We should note that by searching for a word and triggering keyword comparison, to see if the two are related, if the correlation is large, do not need to change, if the correlation is small, you can change the matching form, and add the search term as a no word. As for how to judge whether it is relevant? This can refer to clicks and conversions, if both are high, it is naturally very relevant, while understanding the search habits of different users, regularly adjust keywords, to ensure the stability of advertising performance.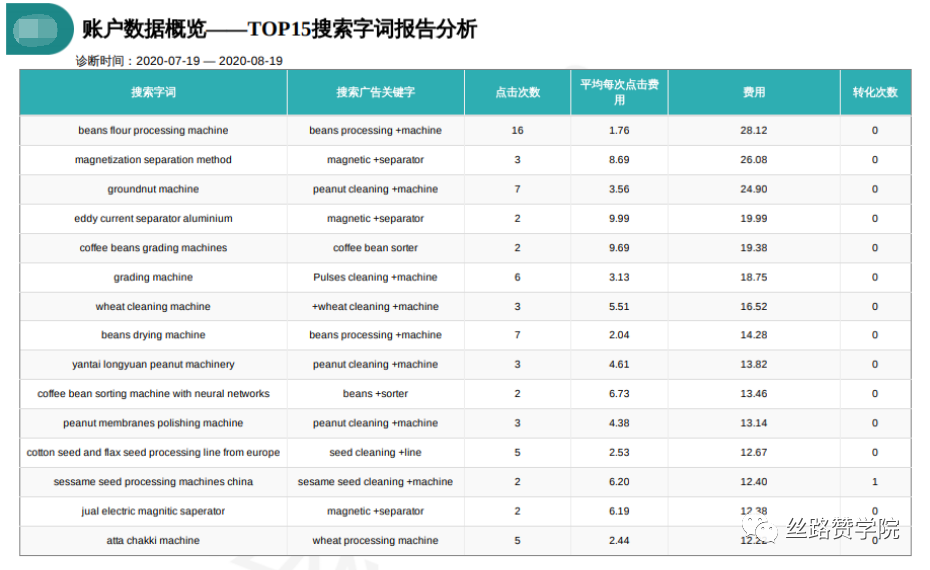 (6) Keyword match type analysis.
Keyword match type plate, we can view the proportion of each match type and spend and click, you can do a good understanding of the number of keywords of different match types, from which we can see whether the keyword match type is single, if the keyword match form is single, it is best to adjust, so that some hot but poor conversion of words change the match form, become more accurate. Be careful not to limit all words, there are some products of the word is relatively niche, when it is best to set a broader, to ensure that traffic can enter. Generally speaking, words with longer lengths or larger industry scope can be adjusted to more precise forms such as broad daiga.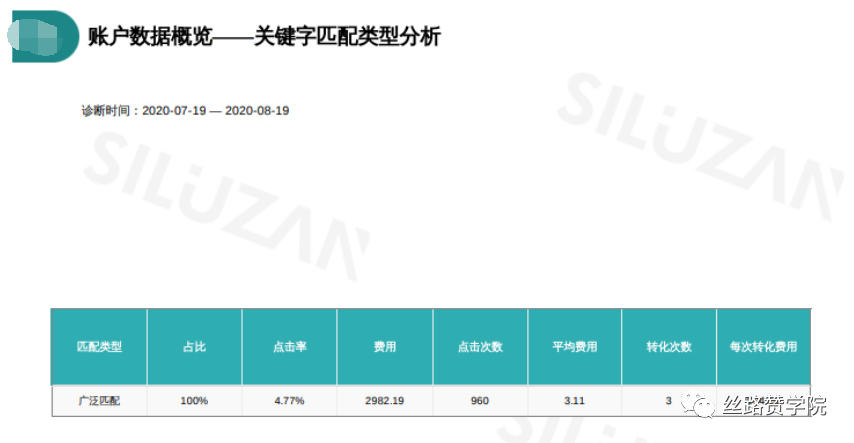 (7) Geolocation report analysis.

It can be intuitively seen that the top 20 countries in terms of spending, according to click-through rate, cost and conversion situation, high-traffic low-conversion areas can be cost control, low-traffic high-conversion areas, combined with the actual inquiry situation appropriately increase the budget.
(8) Ad display report analysis.
This section presents the three ads with the most impressions in your account, with not only impressions, but also spending, clicks, conversions, campaigns, ad groups, and more. Advertising language because there is a word limit, can not exceed ninety words, so it is best to put the product in the form of phrases will highlight the characteristics written out, at the same time can refer to the number of impressions of advertising for creative adjustment, so that it is more in line with product characteristics and more prominent product features. Try to fill in the information complete, such as additional information, links, additional promotional information, additional phone information, etc. , conducive to advertising ranking, display.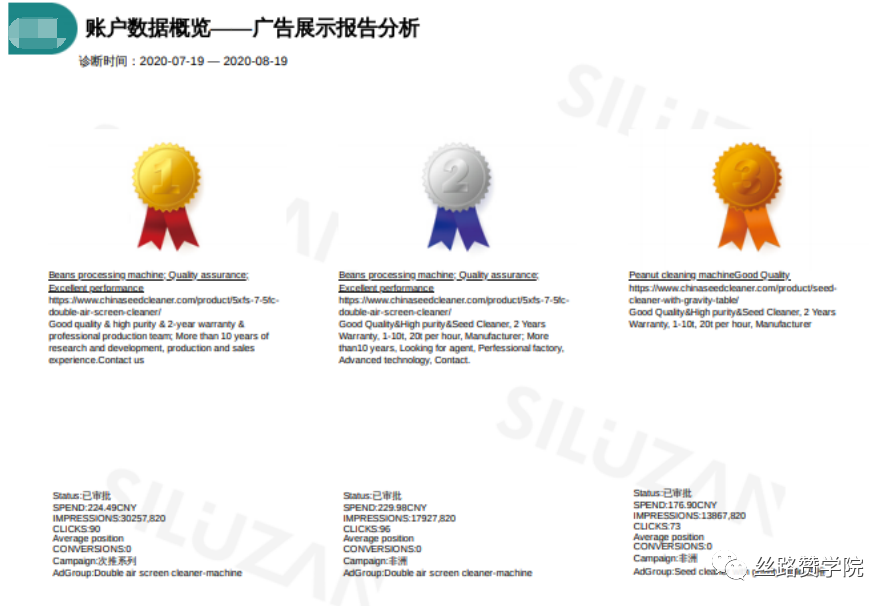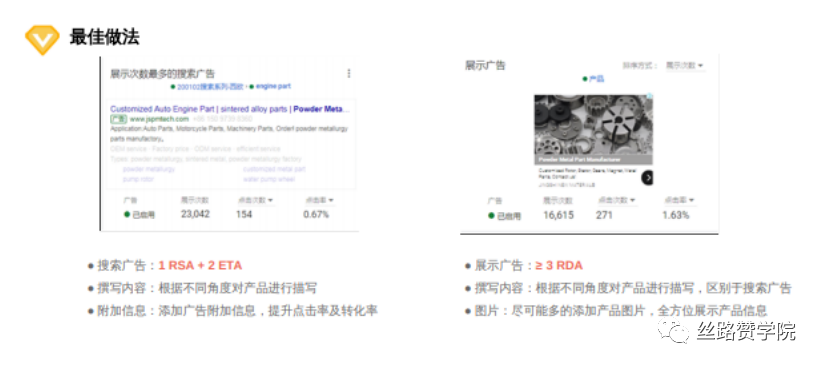 (9) Demographic report analysis.
This section mainly shows people of different ages and genders are interested in the product, through the data to screen out the people most interested in the product, increase the intensity of advertising for this group, so that the advertising more targeted.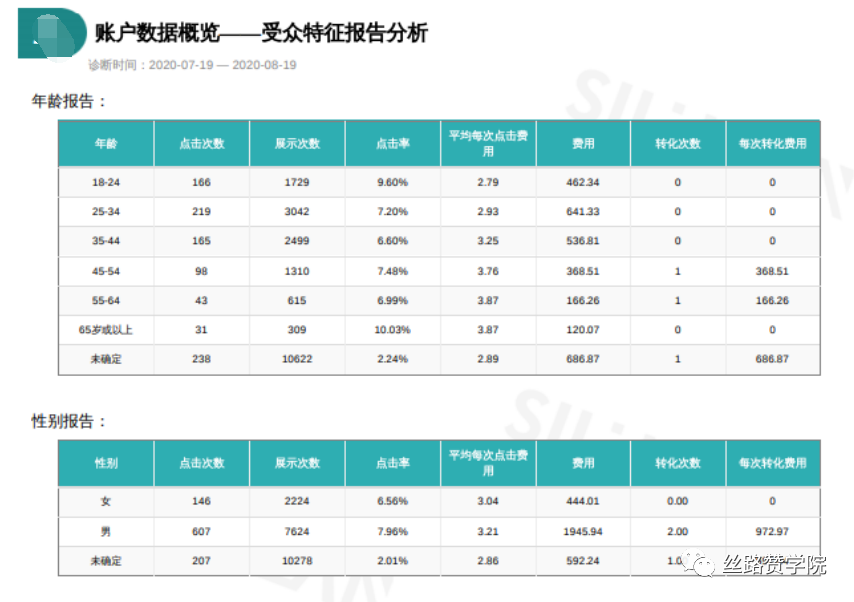 2, performance analysis - advertising indicators.

Determine your account's health by analyzing individual advertising metrics.Ad metrics include quality score, show share, search click-through rate, show click-through rate, conversion click-through rate,Through these indicators, we can well measure the performance of our ads, the higher the quality score, the more display share, search click-through rate, show click-through rate, conversion click-through rate, the better the account, the chart shows the indicators to reach the standard, when our account reached these points, it means that the quality of the account is very good, the higher the advertising performance.These.Whether the data is good or not.Also.decided us in the end.collection.to the number and quality of inquiries, so we should always pay attention to these indicators, if.The data doesn't perform well.and be timely.Optimization.Adjust your account to ensure your ads are working.maximize.。
3, the target landing page.
Whether or not we end up receiving inquiries and how many inquiries we receive depends not only on our advertising account itself, but also on the experience of the site. A good ad attracts traffic, but whether traffic is retained when it's introduced to the site depends on the quality of the target landing page. There are four main aspects of testing the target landing page: speed index, experience index, bounce rate and access time. Whether the website opens faster, whether the site layout is neat, how long after the customer arrives at the page, how many customers open and how many immediately close the page ... Whether these four indicators are good for users in the site experience is good and whether to retain users have an important impact, so we must pay attention to their own website, timely detection of problems, to avoid potential customers due to the site's problems and loss. At the same time, it is recommended to add online communication tools on our website to facilitate timely communication and ensure timeliness.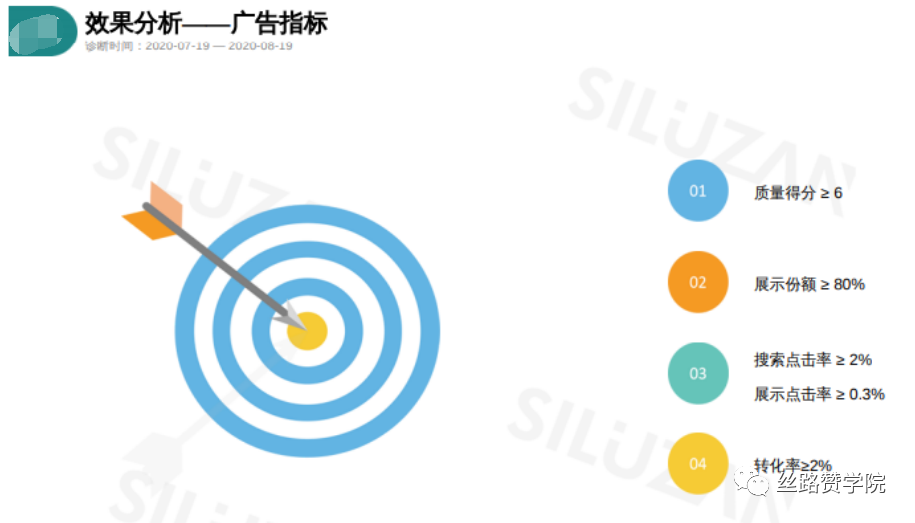 Second, Silk Luzan advertising diagnostic report how to view it?
Step 1: Open the Silk Luzan URL:https://www.siluzan.com/, select the diagnostic report.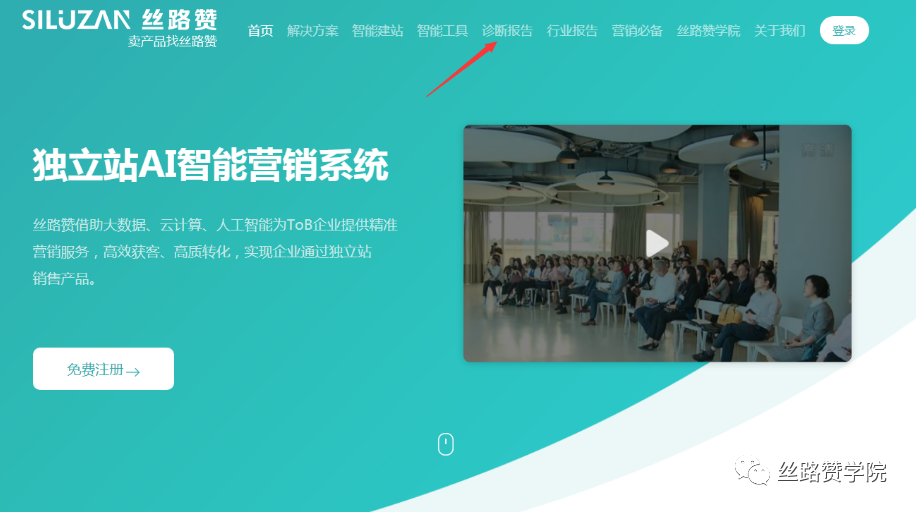 Step 2: Select One minute to get a diagnostic report.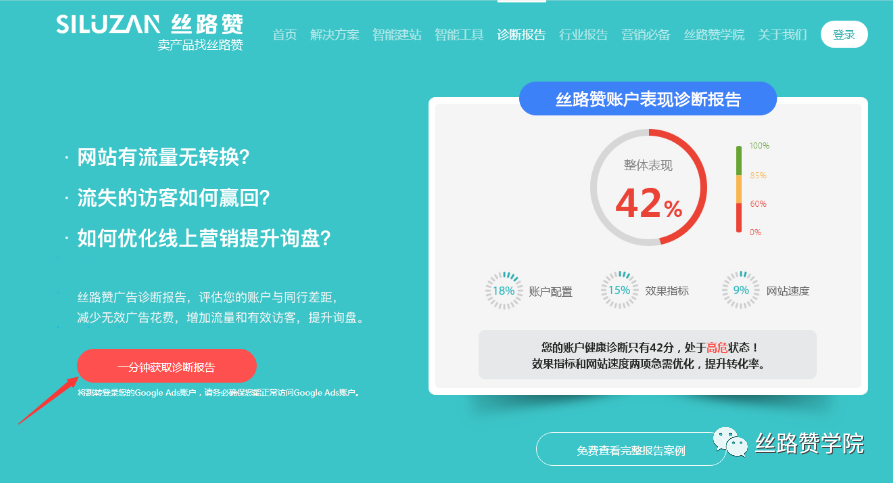 Step 3: Enter your Google ads account number and password on the page after the jump, and select Allow after the jump again.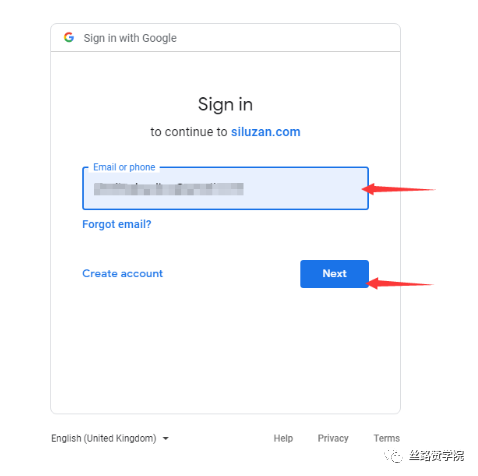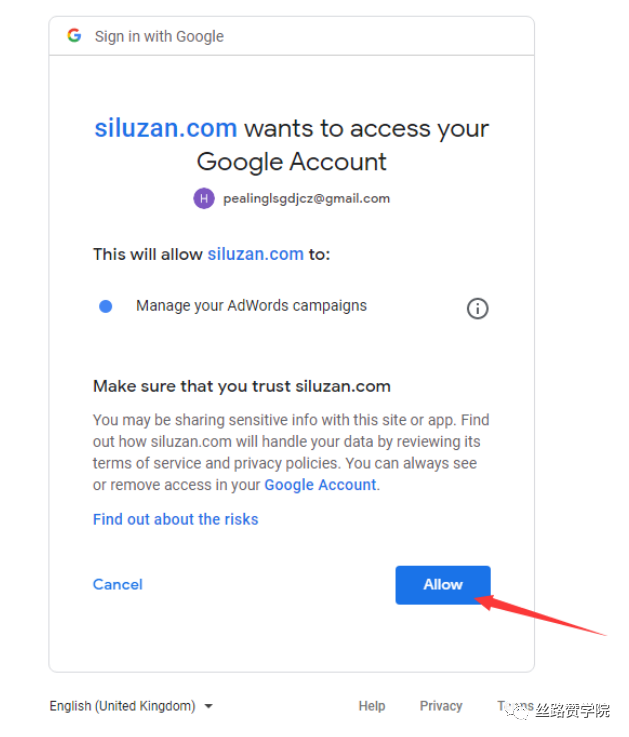 Step 4, choose your own business name, and click "Get Health Level" to automatically get your ad account diagnostic report in less than 3 minutes.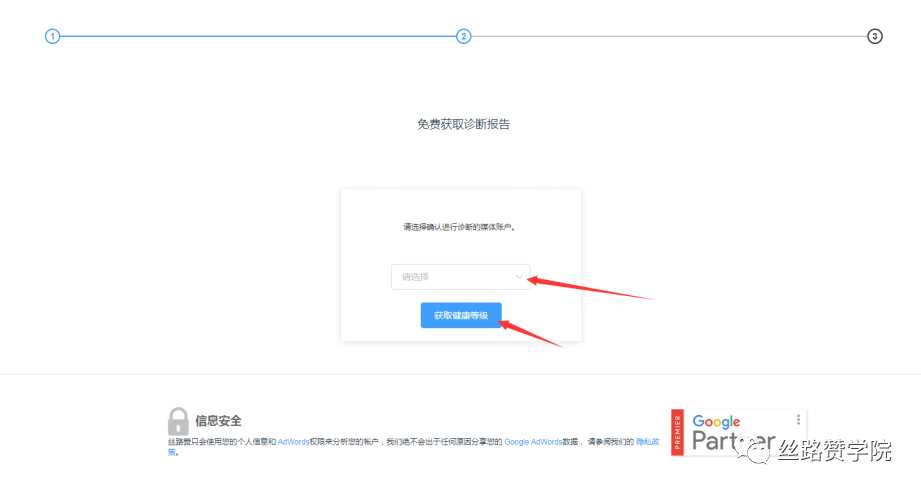 This report is comprehensive, detailed, fast and convenient, and you can download this ad diagnostic report in just four steps, which is the perfect companion for Google ads. After we have adjusted our accounts, the system evaluates the gap between our accounts and our peers based on algorithms, automatically generates health points, and generates targeted optimization recommendations. Through this report, we can quickly browse the account situation, visually see the account problems, and for the relevant issues combined with the optimization recommendations given, quickly adjust the account. Whenever the account data changes and then downloads the report again, the data will be updated again, in order to monitor the account data changes, timely feedback on the effect of the account changes.

Simply log on to the URL simple binding, within 3 minutes can generate such an all-round report, save effort and effort, work efficiency can be increased N times, no longer need to analyze the account and headache, clear and orderly reports can also make the customer experience feel doubled. In addition, you do not have to worry about the security reliability of the report, this report is only reading account information for data analysis, will not do anything that will put the account into a state of insecurity, will not change the account of any information, absolutely safe and reliable. If you're freting about not knowing how to analyze and adjust your account, what are you waiting for? In addition to diagnostic reports, there are many other smart tools available on the Sluzan website, automated reports, industry reports, and more...
Original contribution: Beijing success easy White Clean.
Audio and video recording: Silk Luzan College Xiaowei.
Please indicate the source of the reprint.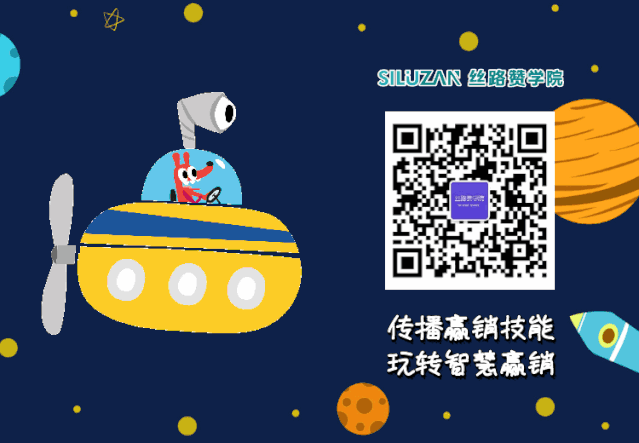 ---