2019 Update: Introduction to Facebook's advertising process
With its huge user base and increasingly sophisticated ad backstage, Facebook has become one of the most important ways for many companies to open up overseas markets.But the ultimate effect of advertising is uneven, what are Facebook advertising skills, and what are the considerations, let's take stock of it!
Today brings you the most basic version of Facebook's ad delivery steps! More about Facebook's delivery tips and my shared experiences, I will be in the following articles to share with you in detail!
1) Log on to your Facebook page and click on the upper right corner to enter the backstage ads!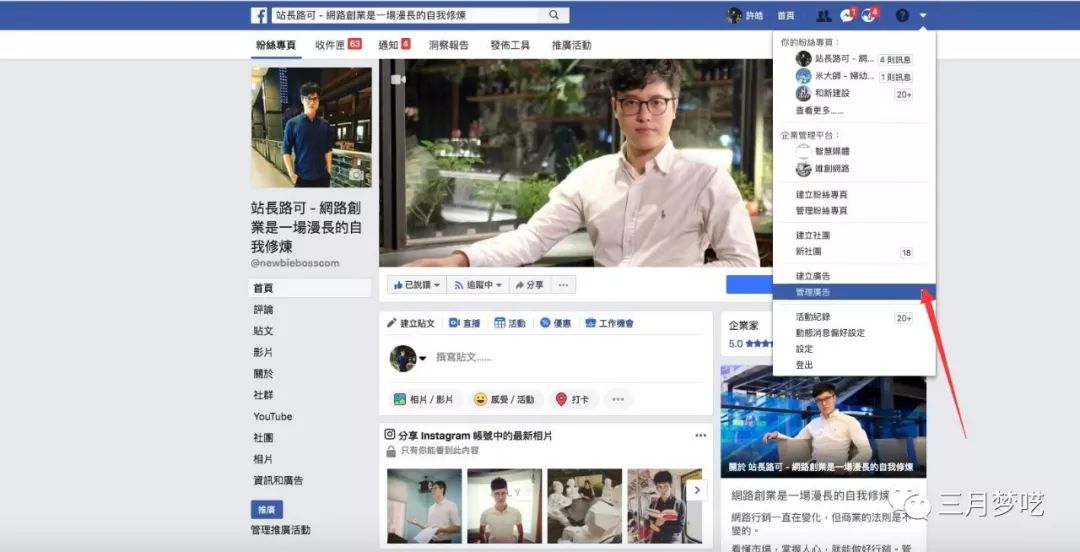 2) Below is Facebook's backstage interface, you can click on the blue button, a new ad, look at the picture in detail!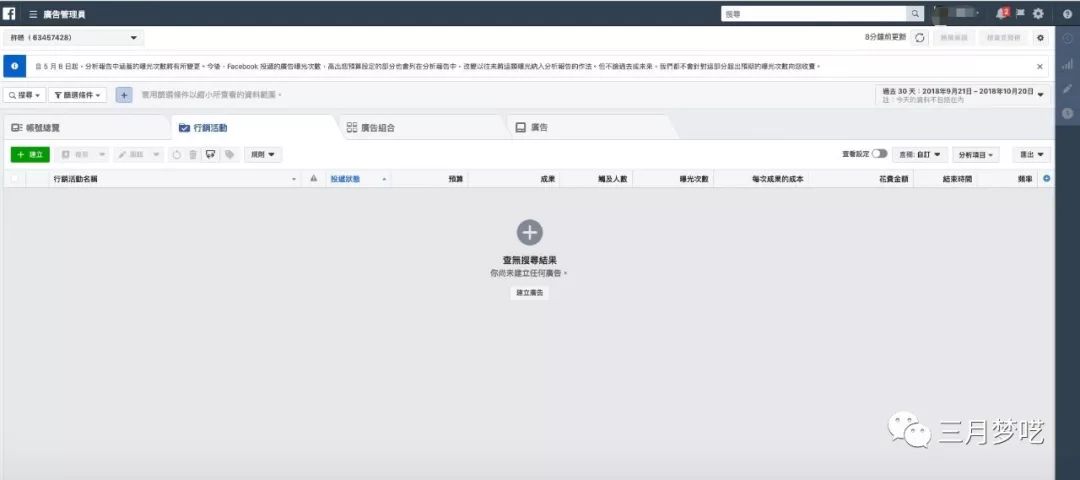 3) Facebook's three ads!
In fact, in a big way, Facebook ads are divided into three main pieces:
Campaigns

Ad groups

Advertising.
All the other settings I do around these three pieces.
There are three ways to create a Facebook ad
Through Facebook's ad management tool, Ads Manager
By Power Editor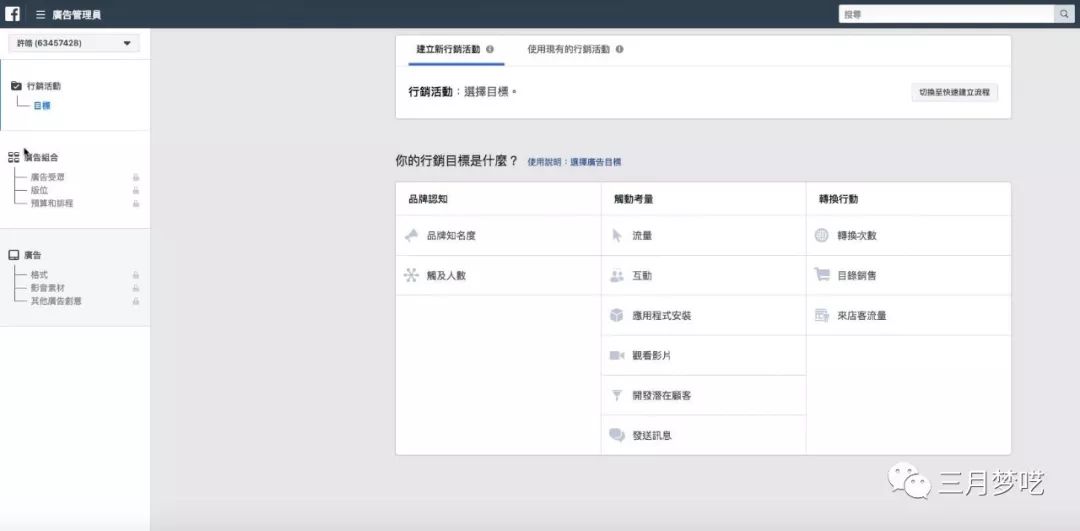 4) The most commonly selected marketing activities, such as my illustration of the red box: views / traffic interactions / conversions, etc
Usually we do e-commerce should use the most is these, other interested in learning to understand!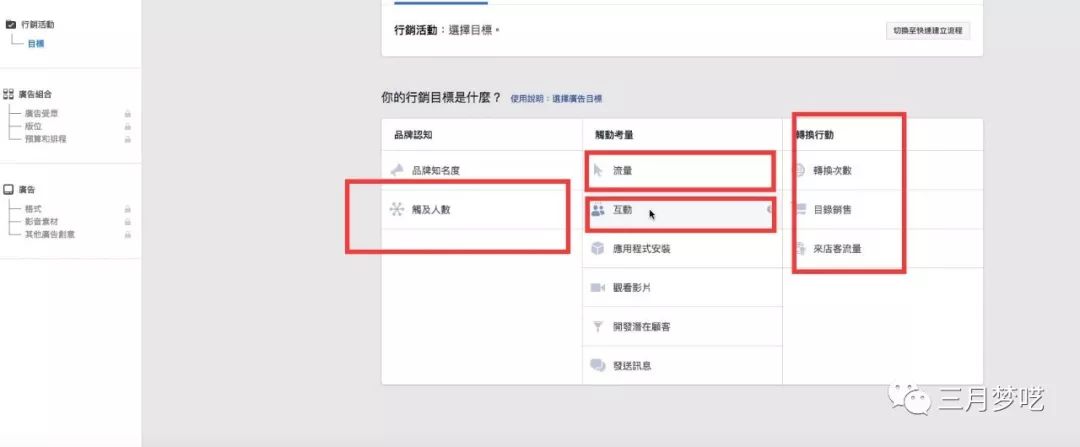 5) Set a name for your marketing activities, easy to query later, such as your ads in order to promote a pair of shoes, you can directly name the "promoted shoes" details have always been very important!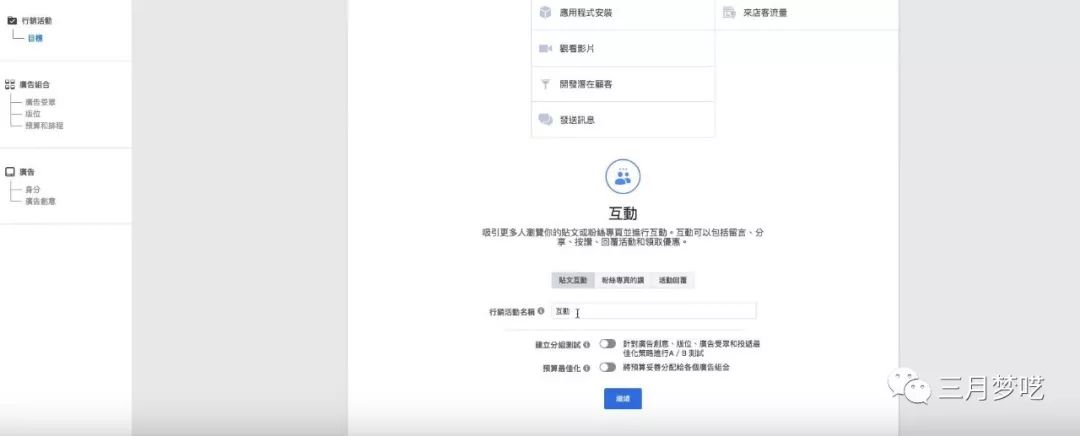 6) Choose your audience and specific targeting, this is the essence of Facebook, accurate advertising!Custom ad audience is a more direct and proactive way to market Facebook ads, and with the Custom Ad Audience feature, you can set specific goals and create multiple ads for your customers' Facebook accounts, email addresses, or phone numbers.
There is no longer a need to limit itself to guessing the gender, age, etc. of your ad's target audience. Instead, you can more accurately target ads to your user base.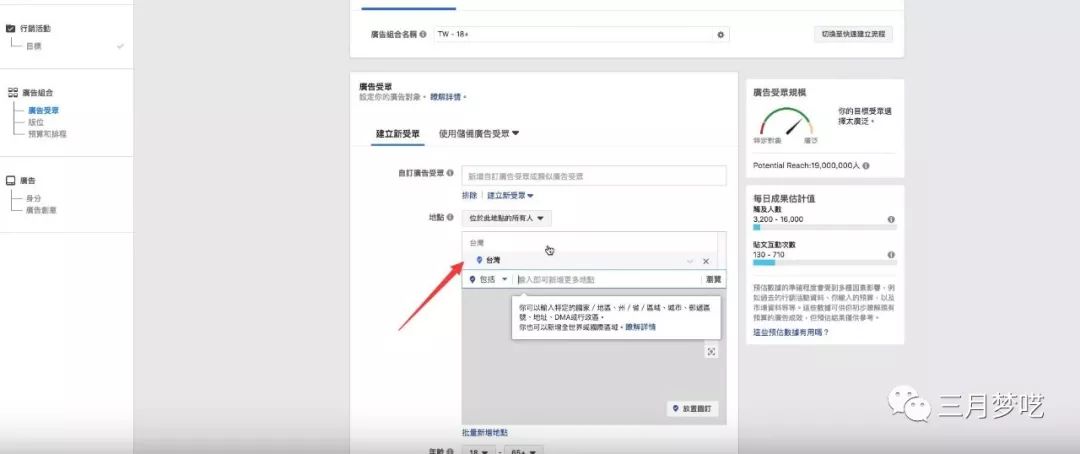 7) You can target your audience as shown, and Facebook, like Google, can count the audience in this area and further anticipate the results!
Then set up specific promotional products, such as shoes and some keyword tags around, Facebook is easier to deliver accurately!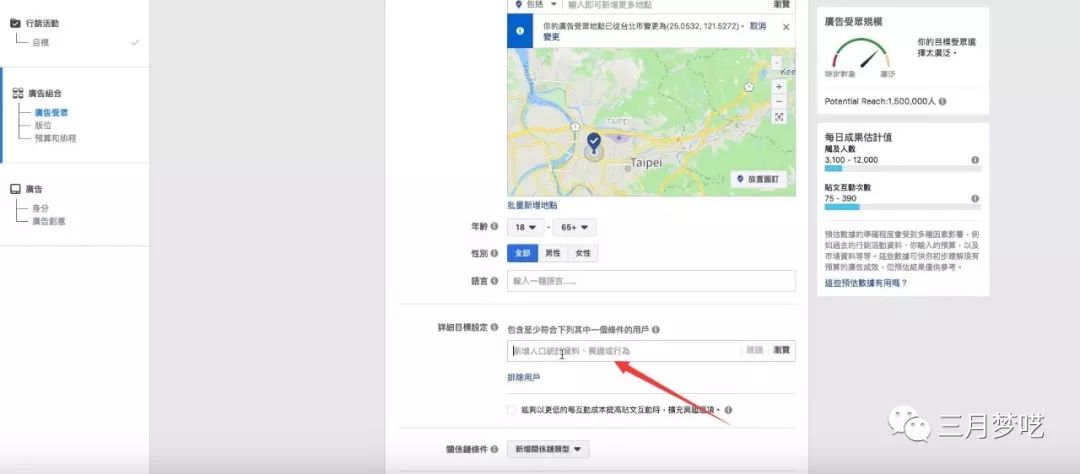 8) Set audience conditions, age gender language, isn't your fan, etc.,This function is similar to WeChat's label classification, the circle of friends can not be seen like!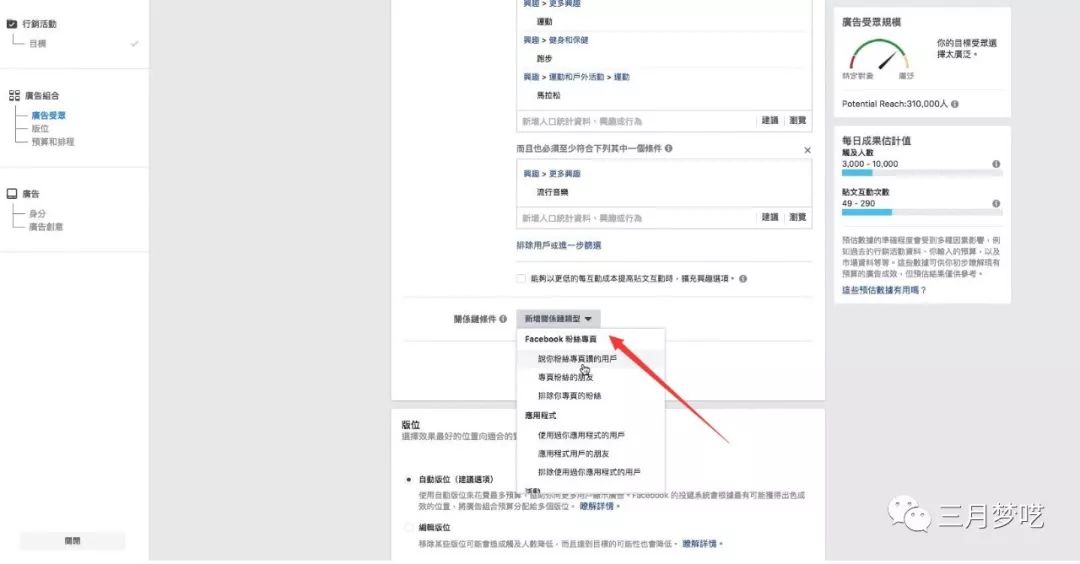 9) The following is to choose a typography problem, that is, a display on Facebook's display page, the specific display template they can choose!

10) Below is the audience's device and environment choices, such as device status and network connectivity status!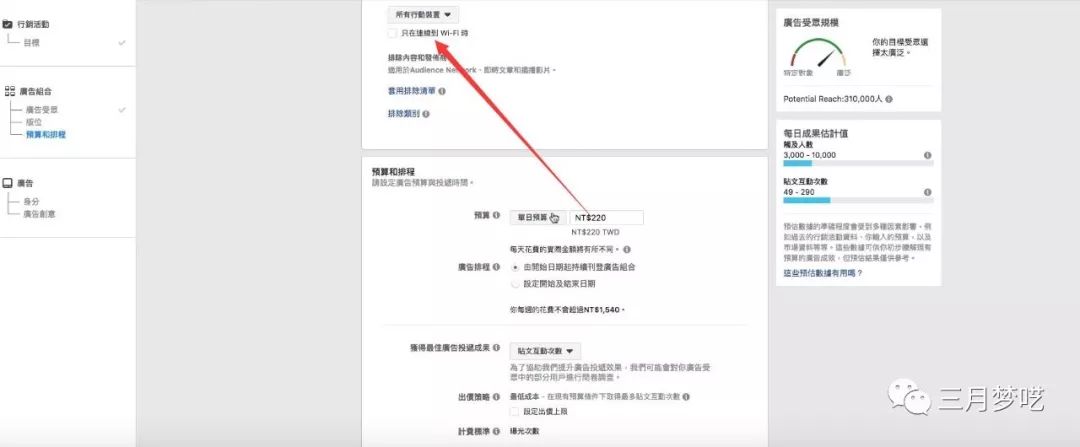 11) There's no doubt that here's the budget
The price setting of the advertisement is divided into daily budget and lifetime budget
Daily budget: Daily expenses over time. The minimum cost is $5

Lifetime budget: Total spend over time.
You can also click advanced settings to set up your ad in detail: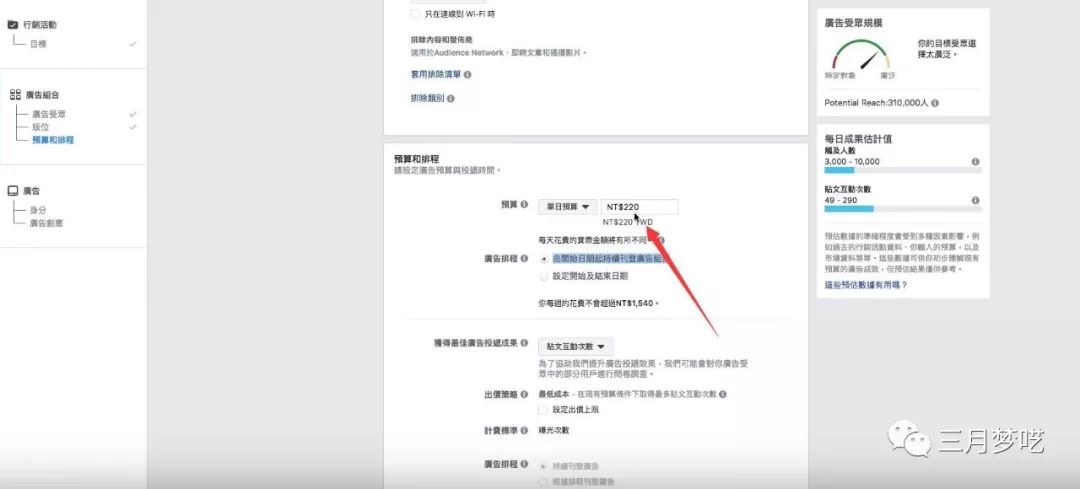 Sechedule:
You can set the time when your ads run, such as when your ads run immediately after they're set, or when you run your ads at that specific time.
Optimization for Ad delivery
Whether to choose cpc or cpm for the ad target you've chosen, both settings will affect the final display of your ad and your bid. Here you can choose Facebook to bid automatically for you, or you can manually adjust the price yourself. If Facebook automatically bids, then Facebook mainly bids based on the user's time period, such as Facebook found that people associated with your product, most of them appear at 8 o'clock, then this time, your ads will show a lot (Facebook will focus on showing your ads to your users during this time)
12) Establish the form of advertising
In the case of advertising, you can choose from 2 forms of advertising:
The first is a single image or video ad

The second is: multi-figure turn-on display ads (Carousel)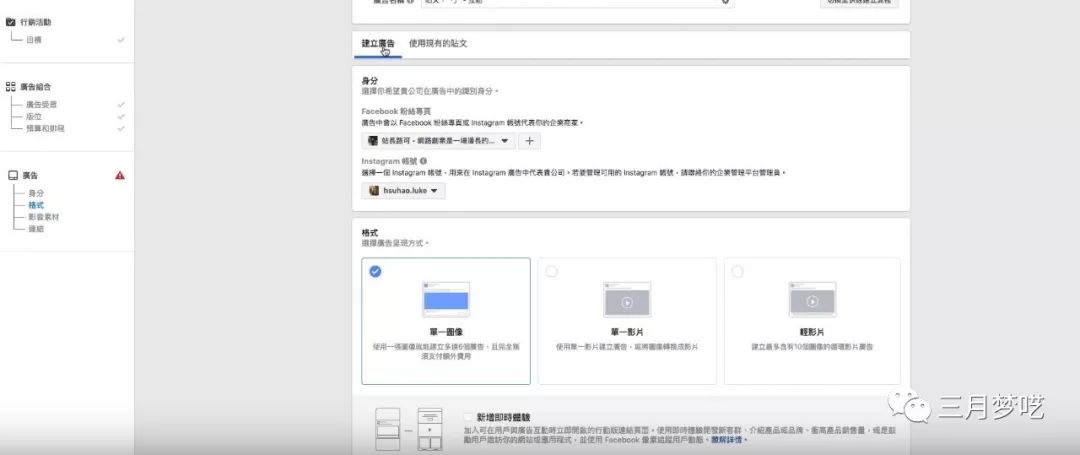 13) After the final deal, click on the lower right corner to confirm it!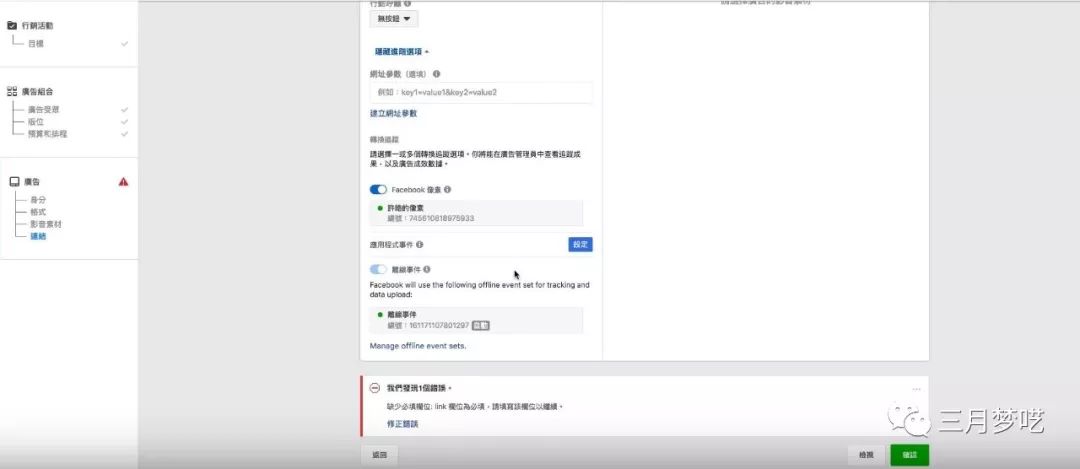 Ad results:
You can see how Facebook behaves through Facebook's tracking pixels, or you can click on Facebook's ads mamager
https://www.facebook.com/ads/manager/
Click on colums in ads manager to see the following metrics:
Performance: Ad results, arrival rate, spend

Engagement: The likes of the post, the engagement of the page, the engagement of the post

Videos: Views of videos

Website: Website clicks, billing, payment information, added to shopping cart

Apps: The amount of apps installed

Events: How many people participated in the event and how responsive it was

Clicks: Independent ip access, click-through rate, click-through

Settings: The time the ad ran, the time it ended, the bid, and the choice of advertising goals
These are the ad metrics you need to focus on.
These are the basic processes for the simplest Facebook ads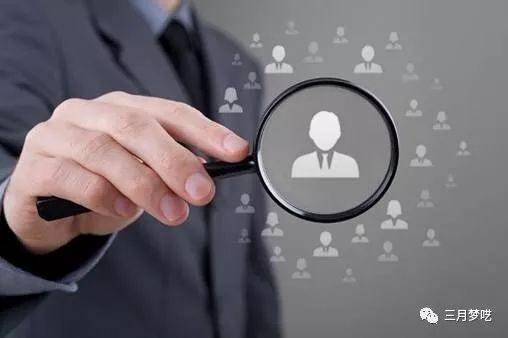 Facebook Data Analytics

In a variety of data,Ad spend, post likes, views, clicks, engagement ratesAnd so on data is more concerned about the content, but some data will often give people some misleading, people can not correctly understand and use the data to take the right strategy. Here's a look at the deeper implications of the top five data metrics.
First, the number of Facebook followers
The illusion of the number of fans is that the number of people who will read any content, the higher the exposure will naturally be, of course, not that the number of fans is useless, all the fans are potential customers, but your fans can go through the conversion process, otherwise it is just a number.
What's more, it's not how many fans you have, how much exposure will your content have, 怼 how can your ads get the exposure that comes from the number of fans of people's online stars?
The number of fans is not the key to the problem, the focus is on your interaction with them, which is one of the key evaluation criteria for your content and products to be under-valued.
Second, ad views
The number of views means the number of times an ad has been shown.The data was so watery that it was likely that the same person had watched it twice on a different device, and the statistics were calculated twice。 This is highly likely because your ad is running with audience goals.The biggest use of this data is to make you feel the value of your advertising spend.
Combining target conversion rates with views can not only help you judge your ad's effectiveness more effectively, but also compare your interests after you've done any tests and adjustments.
So when you run your ads, make the most of itPixels (Facebook pixel is actually very simple, is a piece of code, play a role in tracking the behavior of users in your site, understand the user's actions on your site, such as: tracking which users browsed which pages;)It's a very basic and necessary task, and without it, you won't know exactly how the conversion will work unless you don't have any other sources of site traffic and only serve a single ad.
CPC and CPM costs
CPM (thousands of exposure costs) and CPC (cost per click) are commonly used methods of billing online advertising, both google and Facebook.
Bringing quality results with low advertising costs is believed to be what everyone wants to achieve, however... Don't spend money and want to have traffic, don't you have points in your heart?
Reducing advertising costs is indeed one way to optimize advertising, but only if advertising is on the road to return on investment, the wrong priority, the pursuit of lower advertising costs is meaningless, the focus is still on the goal of conversion.
Fourth, the total number of views of fan pages
Users are browsing for friends or information from around the world on Facebook, unless your page is running a sweepstakes, promotions, contests, etc.Otherwise, most fans don't spend their time on fan pages at all.
Therefore, when evaluating the effectiveness of fan page promotion, don't focus solely on the number of views, even if there are ads, exposure may not be much better.
Post participation interactive report will be a better indicator of promotional effectiveness and content, from which you can also grasp more data than just a string of numbers, such as interaction rate, click, message sharing.
Five., the scope of the post
Posts cover the number of Facebook users who look at a particular post. The more users involved naturally indicates the higher the exposure, but the same reason, exposure does not mean that users and posts have to be enlarged, priority to consider or participation,If you really care about how your fans feel, you'll naturally get a better reach, and the opposite may get worse.
The scope tells you how many people see the content of the post, and post interaction can tell you the number of participants, these indicators can make you closer to the user's heart, if the participation is not large, the scope is also a meaningless thing.
In addition, user statistics can tell you about the demographics of your fans, and you can know exactly if you're in contact with the right people, including gender, age, and country city.
Written at the end:That's it?Of course not, Facebook's marketing there are many, many skills and methods worth learning, we will continue to detail with you!Hope you can pay attention to share Oh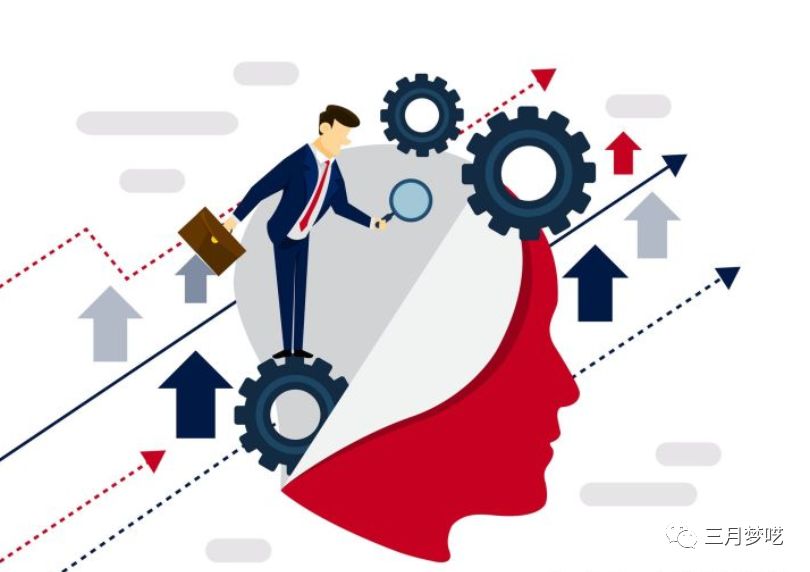 Welcome to join the cross-border e-commerce platform real operation sellers exchange dry goods sharing group, and answer questions group, into the group has a threshold, but absolutely have a harvest!
QQ group chat number: 851556500
More cross-border e-commerce platform operation independent station station draining / traffic acquisition / advertising play / off-site promotion marketing / traffic thinking / overseas marketing / self-built station promotion and draining problems, you can scan the following QR code with me to get in touch and participate in learning!
(Want to be a cross-border export stand-alone station.)Platform to contact me)
Or visit the cross-border e-commerce portal learning site:
https://henrydong.cn/
I can get in touch with platform questions I don't understand
Consult WeChat: 18717743442 (Cross-border Henry Dong)
---