Zhiwei Townsend merges with Weimen; Google contracts Disney digital advertising; Cheetah mobile app is suspected of advertising fraud; Weibo Q3 ad revenue growth slows - Morketing Weekly 012 issue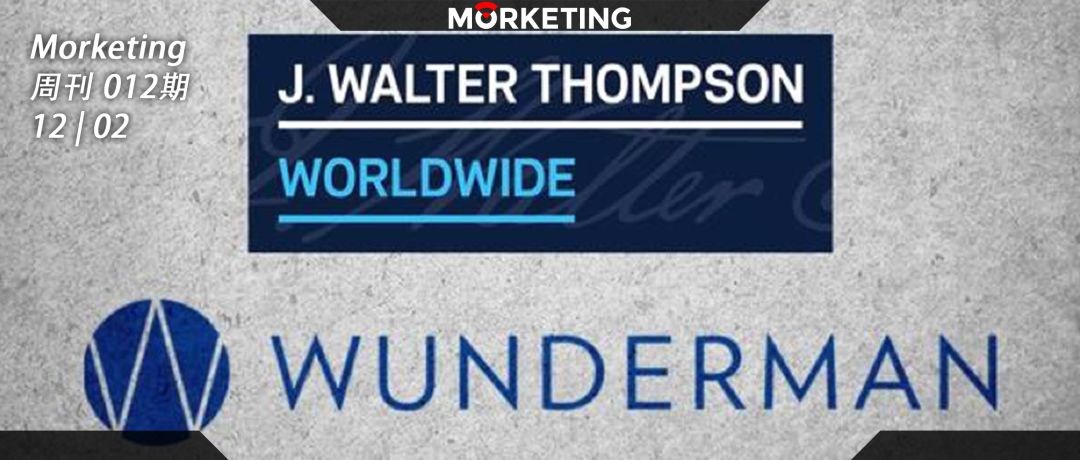 The Demise of Chiwe Townsend and the Collapse of the Advertising Empire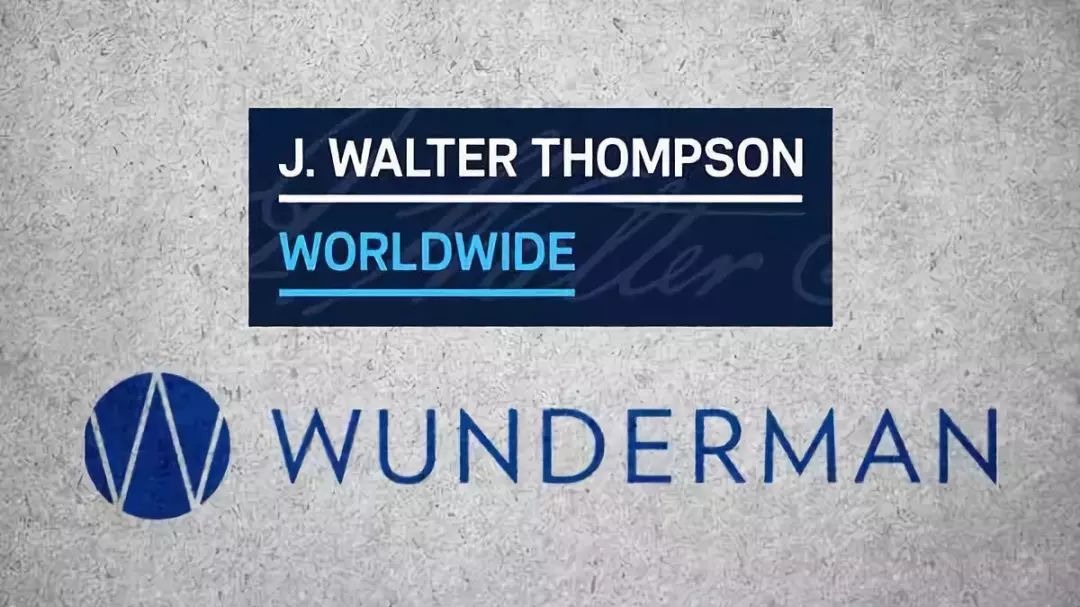 The WPP leadership decided that J. Walter Thompson, JWT, merged with Wunderman, a digital networking company, to form the JWT office on Lesington Avenue in Manhattan. In the future, the company will employ more than 20,000 people in 200 offices in 90 markets around the world. The WPP Group will introduce a new Visual Recognition (VI) for the new company in the coming days.
Weimen CEO Mel Edwards will continue to serve as Chief Executive Officer of Wunderman Thompson. Tamara Ingram, the former global CEO of Wise Townsend, will serve as chairman of Wunderman Thompson.
Zhiwei Townsend is the world's first advertising company, and the world's first as early as 1899 in the United States set up offices overseas, began to expand global advertising company. Its birth has been accompanied by the germination of urban industry and modern advertising; few agents have had more than a century of customer relationships like Chiwe Townsend, who have worked together for 116 years.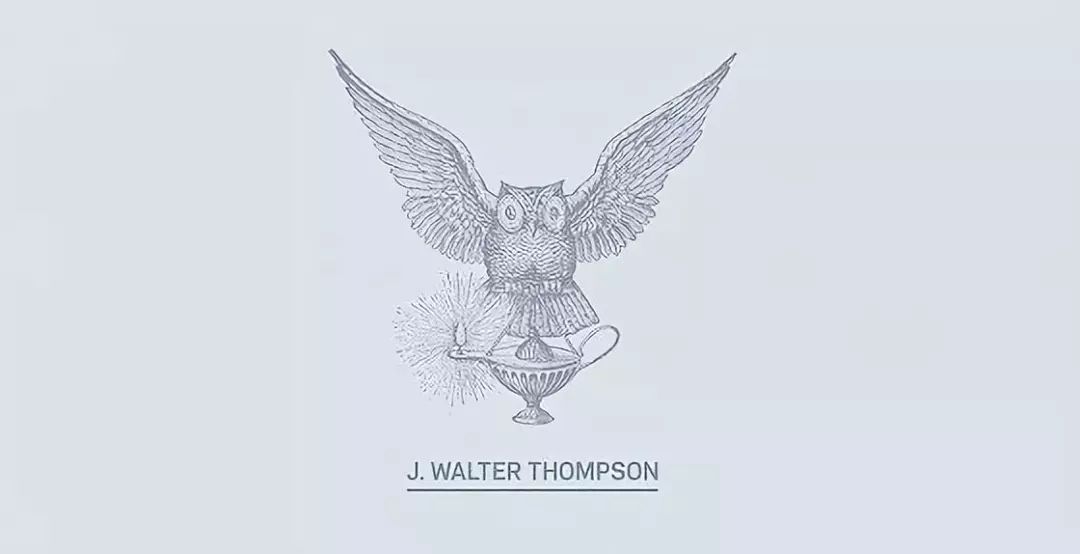 Over the years, whether it's Madison Avenue in New York, Lexington Avenue or Swire In Hong Kong, many of the young people who have devoted themselves to advertising have become familiar with the brand doctrine of Chiwe Townsend, a logo that symbolizes wisdom, experience, and judgment, symbolizing "guiding the light, giving vision, working day and night, and creating great ideas that people are willing to invest in." "But now the definition of "great idea" is blurred.
The way to measure marketing effectiveness is no longer just a good advertisement that impresses people, and the traditional 4A customer service team of seven or eight people is no longer considered a professional symbol. The impact of the digital age caught the ad maniac who once drank Martini on Madison Avenue off guard. The emergence of Google, Facebook and WeChat in China means the collapse of traditional attention channels and a shift in the business model of traditional advertising companies.
As advertisers put their budgets more into digital advertising - though they can't figure out how much procedural buying, big data, or precision delivery can do - technology companies have flamed the world on every occasion about how well they know about elusive consumers through technology, while the once-brilliant advertising agency has looked a little lost. Only a few years, WPP, Yangshi and other advertising giants to streamline the organization and personnel restructuring news continue to come out, improve efficiency, reduce redundancy and control costs seem to become their top priority.
Weimen, which was acquired by WPP in 1973, was founded by Lester Wunderman and pioneered direct marketing, expanding into brand strategy, consulting, e-commerce and even, most importantly, data analytics, and becoming a new growth point for the WPP Group. It is less well known than JWT, but the holding companies include JWT, Grey, Y-R and Ogilvy.
WPP stressed in its official statement that the new company is positioned as an "end-to-end solution provider" that will serve customers worldwide through creativity, data, business, consulting and technology. Wunderman Thompson will also reshape marketing with long-standing partnerships with Adobe, Amazon, Google, IBM, Microsoft, Salesforce and SAP.
JWT and Weimen are the second major merger announced by Read since he joined WPP. In September, Read announced the merger of VML and Y-R into VMLY-R, both of which would merge digital networking companies with established traditional advertising companies.
Read said on WPP's second-quarter conference call that traditional businesses are under enormous pressure, and that the pressure on agencies has increased significantly in recent years. In today's advertising world, customers expect digital assets to help them find faster iteration cycles and shorter production cycles. But creative agencies are growing too slowly to satisfy customers even if they can produce engaging ideas. With Weimen, JWT customers will be able to better use their data ideas and have the opportunity to absorb Weimen's digital assets over the past few years.
While the merger will create new business growth opportunities, the Madison Avenue and advertising empire in the industry's old and new advertising hearts appear to be beginning to collapse as the century-old creative empire collapses and restructures.

Ali Organizational Structure Adjustment: Tmall Upgrades to "Big Tmall"
On November 26, 2018, Alibaba Group CEO Zhang Yong sent an open letter saying that he would make organizational changes to prepare for Ali's future.
After this organizational restructuring, Alibaba Cloud will be upgraded to Alibaba Cloud Intelligence, Tmall will be upgraded to Big Tmall, a new retail technology business group will be established, and artificial intelligence labs will enter the Group's innovative business group.
Zhang Jianfeng, Group Chief Technology Officer, will also serve as President of Alibaba Cloud Intelligent Business Group, Jing Jie, former President of Tmall Business Group, will be President of Tmall Business Group, Li Yong and former ASSISTANT CEO will be President of Tmall Supermarket Group, and Liu Peng, former General Manager of Tmall Import and Export Division, will continue to serve as General Manager of Tmall Import and Export Division.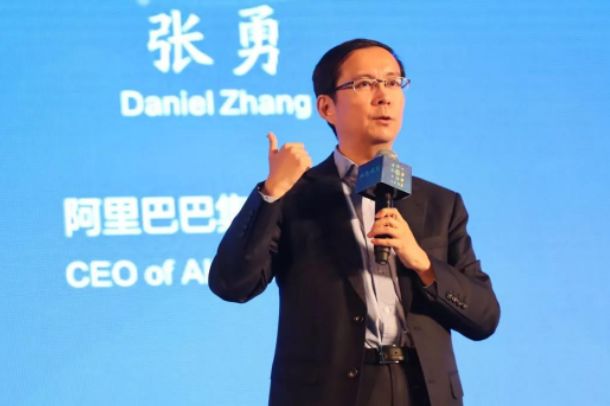 Cloud computing has become Ali's top priority in this architectural change. Zhang Yong said, "The upgraded Alibaba Cloud Intelligent Business Group will accelerate the construction of Alibaba Cloud Smart Platform, fully inherit and continue Ali's Strategy for China and Taiwan, and build an intelligent technology infrastructure based on cloud computing for the whole society in the digital economy era." "
Regarding the upgrade of Alibaba Cloud, Ali explained to Yu News that from cloud computing to cloud intelligence, it is not only the ability of cloud computing, but also the ability of intelligence. Ali's intelligent capabilities, including the core capabilities of machine intelligence computing platform, algorithmic capability, database, basic technology architecture platform, dispatch platform, etc., built in the course of implementing the China-Taiwan strategy in the past few years, will be fully combined with Alibaba Cloud to open up to the whole society and serve the whole society.
At the same time in this restructuring, Ali set up a new retail technology business group, will be the former head of Tmall Technology Department Wu Zeminn as the head of the business group president, the new technology business group will integrate B2B, Taobao, Tmall and other technical forces to form a unified strategy, can be said to be a comprehensive technical preparation for the new retail.
Zhang Yong also said at the recent Yintai annual meeting that "Alibaba will always move forward on the road to new retailing", demonstrating a firm determination to practice and explore.
In addition, Ali officials said, under the new Tmall platform, Ali can not only help all enterprises better access to the Chinese market, better access to the global market, better help them better complete the digital transformation.
Tmall supermarket business group will promote the online and offline integration of the new retail model of supermarkets, to achieve the "Tmall supermarket, the world supermarket" ideal. Tmall Import and Export Is committed to fulfilling Ali's commitment to import $200 billion over the next five years at the Expo, which ultimately promotes "global buying and selling".
"To build Ali's business operating system, empower businesses, and realize the mission of 'doing business in the digital economy, so that the world is not hard to do', we need to look to the future and continuously upgrade our organizational design and organizational capabilities." Zhang Yong wrote in an open letter.
Ali's new architectural upgrade for the future, a future-oriented platoon, its power may soon be released quickly.

Cheetah Mobile's 7 apps were exposed to advertising fraud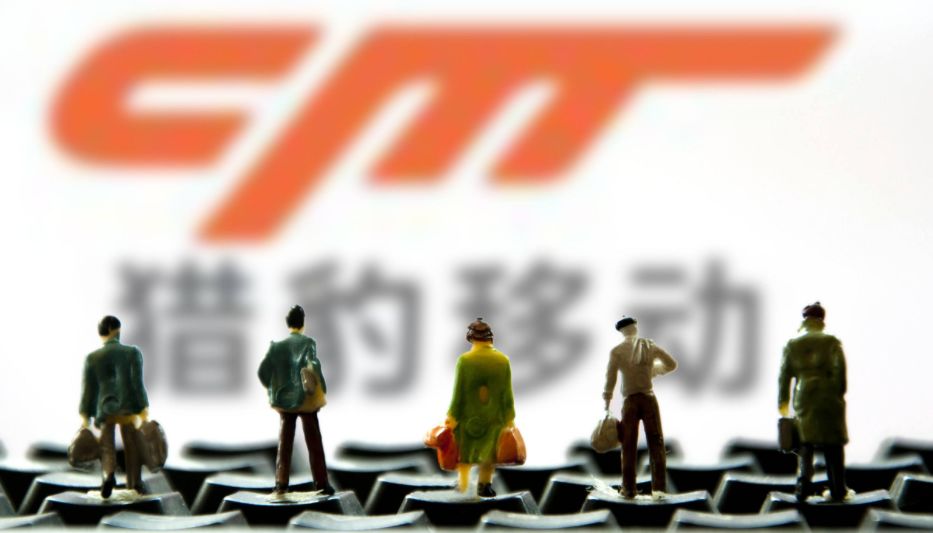 Kochava, an app analytics and attribution company, found that eight popular Android apps may have stolen millions of dollars in advertising revenue by using user rights to get involved in ad fraud, foreign media reported.
The apps have been downloaded more than 2 billion times in Google Play, google's app store. Kochava found that seven apps engaged in advertising fraud belonged to Cheetah Mobile, a New York Stock Exchange-listed company that was accused of fraud last year by a short-selling investment firm.
Applications involving Cheetahs include CleanUp Master, CM File Manager, CM Launcher 3D, Security Master, Battery Doctor, CM Lock, and Cheetah Keyboard. Several of them are the most popular productivity apps across Google Play. In the past 30 days alone, the apps have been downloaded more than 20 million times, according to AppBrain Analytics.
Cheetahs vehemently deny the allegations against Kochava, an advertising monitoring platform, and interpret Kochava's previous messages in depth from a technical point of view.
Cheetah Mobile responds in five main ways:
1, Kochava accused Cheetah Mobile App of carrying out Click Injection, but the fact is that Cheetah Mobile App, whether or not it exists in the phone, suspected Click Injection behavior will still occur, not related to Cheetah App;




2, Kochava accused Cheetah Mobile of owning and developing all advertising SDKs embedded in the Cheetah App. But the reality is that Cheetah Mobile 97% of overseas tool advertising revenue comes from third-party advertising SDK, these third-party advertising SDK is owned by the global mainstream advertising platform, and widely used in the global mainstream app, regardless of Cheetah Mobile;




3, Kochava in the public media reports deliberately exaggerated the cheetah movement and Kika's relationship, with the intention of misleading cheetah is kika is a major influencer, not in line with the facts;




4. Kochava publicly insulted a public company and caused serious injury. Cheetah Mobile reserves the right to take further legal action;




5, Cheetah Mobile investigated the third-party advertising SDK, removing the Batman, Duapps mentioned in the video.

Weibo reported a sharp slowdown in ad revenue growth in the third quarter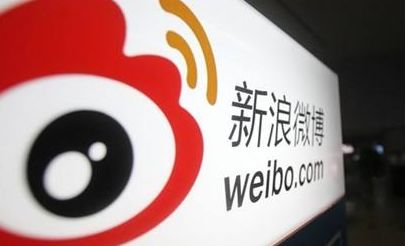 On November 28, Weibo released unaudited results for the third quarter of 2018. The company reported third-quarter revenue of $460 million, up 44 percent from a year earlier, and net income of $165 million, up 63 percent from a year earlier.
Advertising and marketing revenue, an important source of microblogging revenue, continued to decline after the first quarter of this year, with micro-blogging advertising and marketing revenue growing by only 48% in the third quarter of 2018.
Compared to the first quarter of 2018, Weibo advertising and marketing revenue increased 79% YoY, second quarter revenue growth fell to 69% YoY, and by the third quarter of 2018, down to 48%, Weibo's advertising and marketing revenue growth began to encounter "growth troubles."
In the trend of slowing down the growth rate of microblogging users, video-based short video, live streaming to increase fan activity, has become the future focus of micro-blogging direction, in addition, micro-blogging in the third quarter of the short video also made some adjustments, more focused on IP and PTC video production.
According to Weibo's third-quarter results, its video advertising revenue grew in the quarter, with video advertising revenue accounting for about 27% of Weibo's overall ad revenue.
It is worth noting that in the same day's earnings conference call, Sina Weibo CEO Wang Gaofei confirmed for the first time that a live broadcast was acquired in October this year, and said that it will use 1 to 2 quarters, micro-blogging and a live streaming products integration and optimization.
Also on a earnings conference call, Wang Gaofei said that in the social advertising market and brand, the pressure of microblogging does not come from WeChat, but from the ability to get more advertisers, including customers to accept the current social communication model of microblogging. In addition, there are significant challenges in the small and medium-sized social advertising sector in 2019.
He believes that in the past few years, due to the rapid growth of their own traffic, micro-blogs in small and medium-sized customers of social play, social marketing and other aspects of the work done, which will be in 2018 and 2019 mainly to help micro-blogging customers to solve. Since the beginning of this year, the emergence of short video head companies such as Shake Voice and Fast Hands has intensified competition in the social advertising sector and robbed other platforms of new users.

Disney's global digital assets cover 230 million users, all digital advertising will be long-term contracted by Google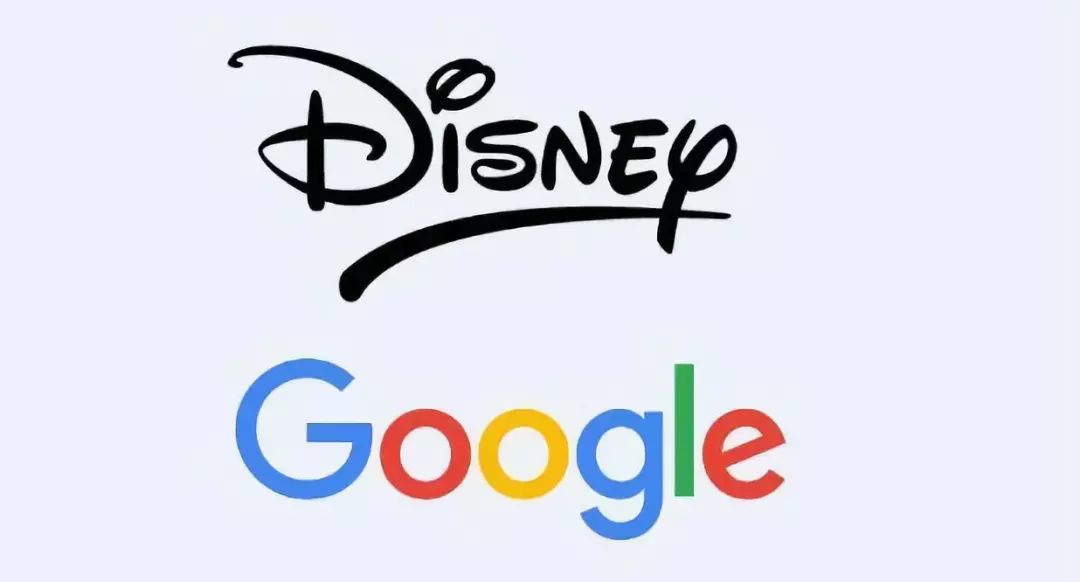 Disney, which has about 230 million users worldwide, announced a long-term partnership with Google.
Under the deal, Disney will shift its global digital video advertising and display advertising business to Ad Manager, Google's advertising management system, which covers most of Disney's television networks, including ABC, ESPN, cable network Freeform, Marvel, Pixar and Star Wars.
Google is responsible for selling, planning and advertising disneys on live shows and online video services.
In fact, Disney has previously conducted part of Google's advertising business. With a new comprehensive agreement between the two companies, Google will replace Comcast's FreeWheel, which has been a supplier of advertising technology used by ESPN and Disney-ABC Television Group.
From the agreement, the two will work together to develop next-generation solutions and technologies across video, mobile, app, and display. It is reported that the agreement will also provide better personalized and enhanced data indicators for the use and participation of cross-platform media.
Disney's Aaron LaBerge said, "In partnership with Google, DTCI wants to improve the way ads are stitched together into live video for a more seamless experience." "
"We plan to create an advanced video experience for Disney that takes the magic of premium video content to people's minds, minds, and screens, anywhere, beyond devices, platforms, and living rooms," Philipp Schindler, Google's chief commercial officer, said in a statement. "
Finally, the deal is expected to bring in tens of millions of dollars a year for Google, which has found new growth in its advertising business for Google, which specializes in digital advertising services, according to industry sources cited by the Wall Street Journal.
A quick overview of the week
Black Five, online shopping Monday day
U.S. consumers spent $4 billion on smartphones
Adobe, Salesforce, Shopify, and Rakuten Marketing surveyed consumers' shopping habits and transaction volumes during Thanksgiving. The data showed a significant increase in the number of consumers shopping on mobile devices compared to last year, but the exact numbers were not consistent across platforms.
Here are the holiday shopping trends for 2018, organized as follows:
Mobile traffic and sales increased. Thanksgiving mobile devices contribute 68 percent of retail traffic, according to Salesforce. Notably, 54% of this year's trading is on smartphones.
The Shopify platform has a large number of small businesses, mobile conversion rate is higher than the PC side. Shopify says that between Black Friday and Online Monday, 66 percent of Shopify's sales came from the mobile side and only 34 percent from the PC side. Shopify's sales reached $1.5 billion during Black Friday/Online Monday.
YouTube intends to make original content available for free and turn it into advertising
YouTube is understood to be planning to make all future home-made content free of charge from next year and turn to advertising for profit. By then, YouTube Premium subscribers will no longer have exclusive rights to home-made content, resulting in subscribers losing a major benefit, but will still be entitled to ad-free and streaming music. In terms of content, YouTube will also turn to shows such as reality shows produced by more mainstream celebrity stars, and youTube will still provide financial support for some "scripted films" (movies and TV shows based on the script).
Amazon AWS CEO: 51% market share Ali is more threatening than Google
On the afternoon of November 29th, AWS CEO Andy Jassy said aws' market share was now 51.8 per cent, followed by Microsoft and Alibaba, with Google in fourth place.
Andy Jassy also teased Oracle founder Larry Ellison in his speech, arguing that Oracle's market share in global cloud computing is too low. Andy Jassy then presented a global public cloud computing share report that showed Amazon AWS, Microsoft Azure and Alibaba Cloud continued to be among the top three global markets, with 51.8 per cent, 13.3 per cent and 4.6 per cent, respectively.
SuperData Founder: Winter is approaching for the global gaming industry
Specifically, earnings in the entertainment industry are about to stagnate or even decline, an area that has been mentioned in some reports. First, the growth rate of fast-growing companies in some industries began to slow, and the travel industry becoming saturated in various markets, including China. The big players can no longer rely on market volume growth, but instead focus on profiting from existing users to sustain growth. Second, now is the end of the console market cycle, Sony and Microsoft already have a share, and now they are beginning to think about the future direction (such as PS5, cloud games, video game casserica, etc.).
LinkedIn uses email addresses to push targeted ads, the report said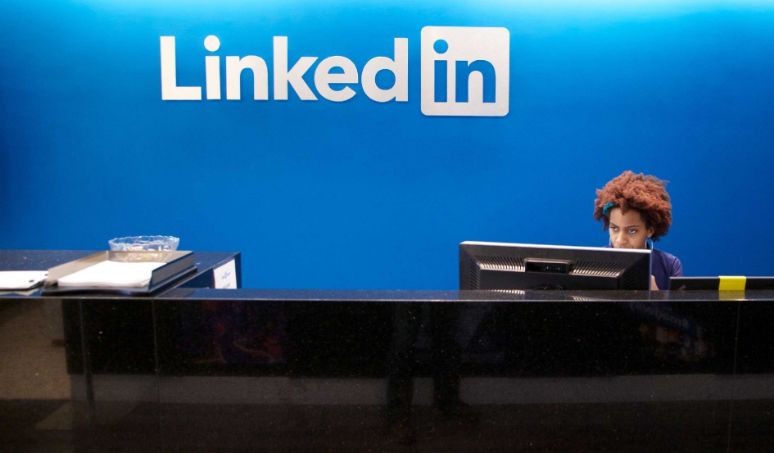 A report released by ireland's Data Protection Commission (DPC) detailed some of the investigations it carried out in the first half of this year, including those related to data intrusions at Facebook, WhatsApp and Yahoo! In addition, the report published an investigation that had never been reported before. The survey involved LinkedIn using 18 million email addresses to push targeted ads. LinkedIn, a professional social networking site, now has nearly 600 million users worldwide. It often recommends highly relevant information to users, although we don't know how it makes these recommendations. Now, some of the conflicts between LinkedIn and European regulators have revealed that some of its practices are not only creepy, but may also violate the EU's General Data Protection Act (GDPR).
Apple has recruited two new creative teams to increase its in-house advertising power
Apple recently "poached" two creative teams from the British advertising agency Abbott Mead Vickers BBDO to strengthen its in-house advertising creative power, with the pair combining Mike Clovey and Rob Mercer, and Cayo Giannea and Diego de Olivia.
It is reported that the two creative teams will move from London to Apple headquarters Cupertino, respectively, the iPhone brand and the overall Apple brand advertising design. The former joined AMV in 2014 and the latter a year later, with both teams creating several well-known ads for the company. For the past four years, Apple has been developing an in-house creative team that helps it take full control of its products.
Media.com:2018 Report on Trends in Connected Children
Media.com has released the 2018 Online Children's Trends Report. Ethics is the most important reason why more than half of British teenagers aged 16 and over are interested in buying or stopping using a brand, but this is still secondary to decision-making factors such as quality and value.
The survey found that 54 percent of over-16s make purchase or use decisions based on the brand's ethics, and 63 percent say they are more likely to buy from a brand if it supports a cause or charity that is important to them.
Even if they don't actively buy these brands, British 16-year-olds and older want them to be ethical. Eighty-five percent of respondents said brands were responsible for reducing their environmental impact, and 71 percent said brands had a responsibility to give back to society.
Jiangnan Chun: More than three or four-tier cities consumption upgrade, video payment will become more and more intense
"Of the 26 categories surveyed so far in 2012, 18 are in the trend towards high-end, " said Jiang Nanchun, founder of Centrest Media. After seeing the economic slowdown, I feel that the wave of consumption upgrading has not been affected. The generation of dodo is also a symbol of consumption upgrading in China's third- and fourth-tier cities, rather than a symbol of consumption degradation. He added, "The wave of video payments is going to grow in the future, and I think it's a big opportunity for video sites to improve their revenue." "
Today's headlines launch e-commerce search
Now open today's headline and enter the keyword "shirt" in the search bar and you'll find more search results in the "Hot Products" column. This is today's headline new online product search function, the final search results point to today's headlines of their own e-commerce platform "rest assured to buy." At present, although the support of commodity categories and brand name search, but the search effect for the input of category segmentation and brand positioning are a bit high.
Fun headline Wang Jingbo: Enter the sinking market, be sure to recognize the difference in order to capture the user
Even after three or five years, it's hard to imagine that the final first- and second-tier crowds and third- and fifth-tier crowds have exactly the same preferences, which can be long-term differences, says Wang Jingbo, the CFO's headliner. Like square dancing is an example, documentary is an example, the next five years may sink people do not necessarily like documentaries, not necessarily like the Sino-US trade war background analysis. So to enter the sinking market, we must recognize this difference in order to capture these users.
Black Friday sales were a record $6.22 billion
More than $2 billion of Black Friday's online sales, which ended last weekend, came from mobile shopping, according to Adobe Analytics. Overall sales increased by 23.6% compared to a year ago. Adobe Analytics also expects Cyber Monday sales to reach $7.8 billion, up 18 percent from last year. However, offline traffic at traditional U.S. stores continued to decline, with in-store traffic down 5% to 9% compared to the same period last year. On Black Friday, traffic in the U.S. also fell about 1% from last year.
The U.S. mission is working on business data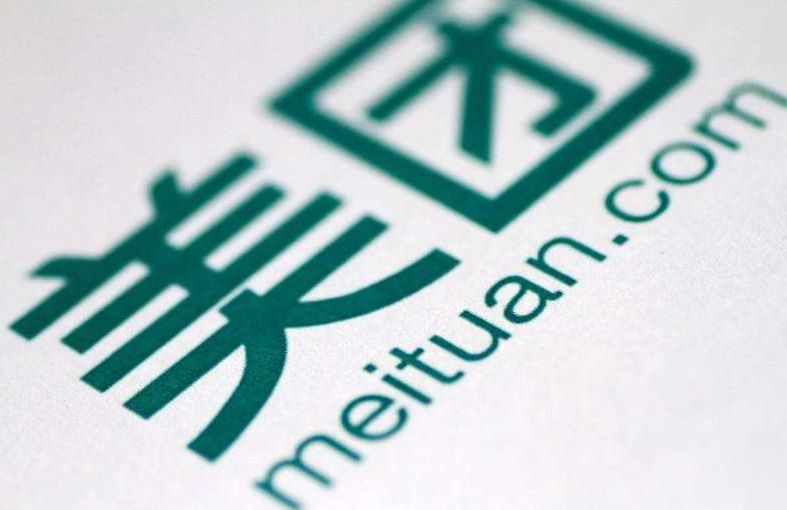 The U.S. mission is currently trying to figure out the data between the various businesses. A U.S. mission insider said that the business that is currently working on the data mainly involves the U.S. mission's entire platform, public reviews and Mobai bikes. Among them, the whole platform of the United States group includes takeaways, wine brigades, shops and so on has been the core business. The insider said that when the data is opened, it can achieve user-side account unification, but also to help with data management in the background.
British parliament seized FB internal documents: privacy loopholes used by executives to attract advertising
In the early hours of November 26th it was revealed that the British parliament had passed an "unprecedented" measure to obtain some of Facebook's key documents claiming to reveal the company's knowledge of the Cambridge Analytico scandal.
The classified documents may contain communications emails between Mark Zuckerberg and other executives, indicating that the company was aware of vulnerabilities in its privacy policy and allowed outside to take advantage of them.
2018 Brand Christmas Ad Hot Topic: Love
Apple has released a Christmas animated ad called Share Your Gift. The Pixar-style ad, which often lasts nearly three minutes, depicts a little girl racking her brains on a MacBook to create a Christmas card, which is then accidentally strewn lying on the street and picked up by pedestrians on the road, and the girl sees passers-by loving the card as a Christmas gift to a stranger. At the same time, only MacBooks and AirPods have left the country.
The Burberry Christmas ad, which retains the usual fashion sense of luxury advertising and brings together British celebrities such as Naomi Campbell, Matt Smith, M.I.A. and Kristen Scott Thomas, is unique in that celebrities dress up in Burberry classics to think about the various scenes of life, switching between reality and fantasy as "Christmas Carols"
After thai and Japanese ads, a big-brained South Korean ad also caught fire on Weibo
If you had been told in advance that a nearly 3-minute video was an ad, would you have watched it?
There are very few advertisements in China have such treatment, netizens generally have such patience with Thai and Japanese advertisements that break through the sky with God's turn and brain hole, but recently, a South Korean advertisement has had such an opportunity.
The story takes place in ancient North Korea guan zhong five years, above the church, the king and ministers for a portrait of the king of the debate: the face is fat or thin, the king eat bubble noodles do not drink soup, eat ramen or dry noodles ... ...
JD.com has launched a small program that makes people "calm"
JD.com launched the life aesthetic e-commerce company "Jing Jane" and launched a small program for it, aimed at "streamlining your life". To this end, JD.com invited the intention of the knife, to create a "expose crazy promotion" the truth of the advertisement, the light red wine green streets, the end of the material desire flow, bombarding promotional information is annoying, the main character in the short film seems out of line, "the whole city in the material desire fever, I want a fever" short film to the hero walking alone in the empty streets as the end, with the back of the silent transmission of "live" concept. In addition to the video, JD.com also released posters for joint publicity.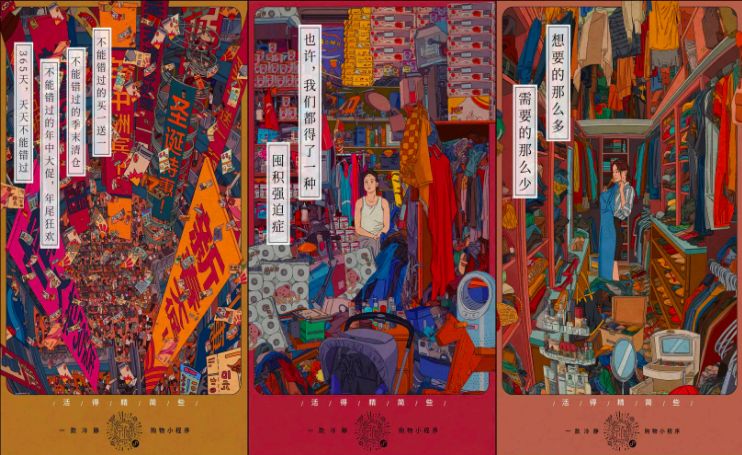 Interactive topics this week
This article is wringed by Morketing finishingRelease.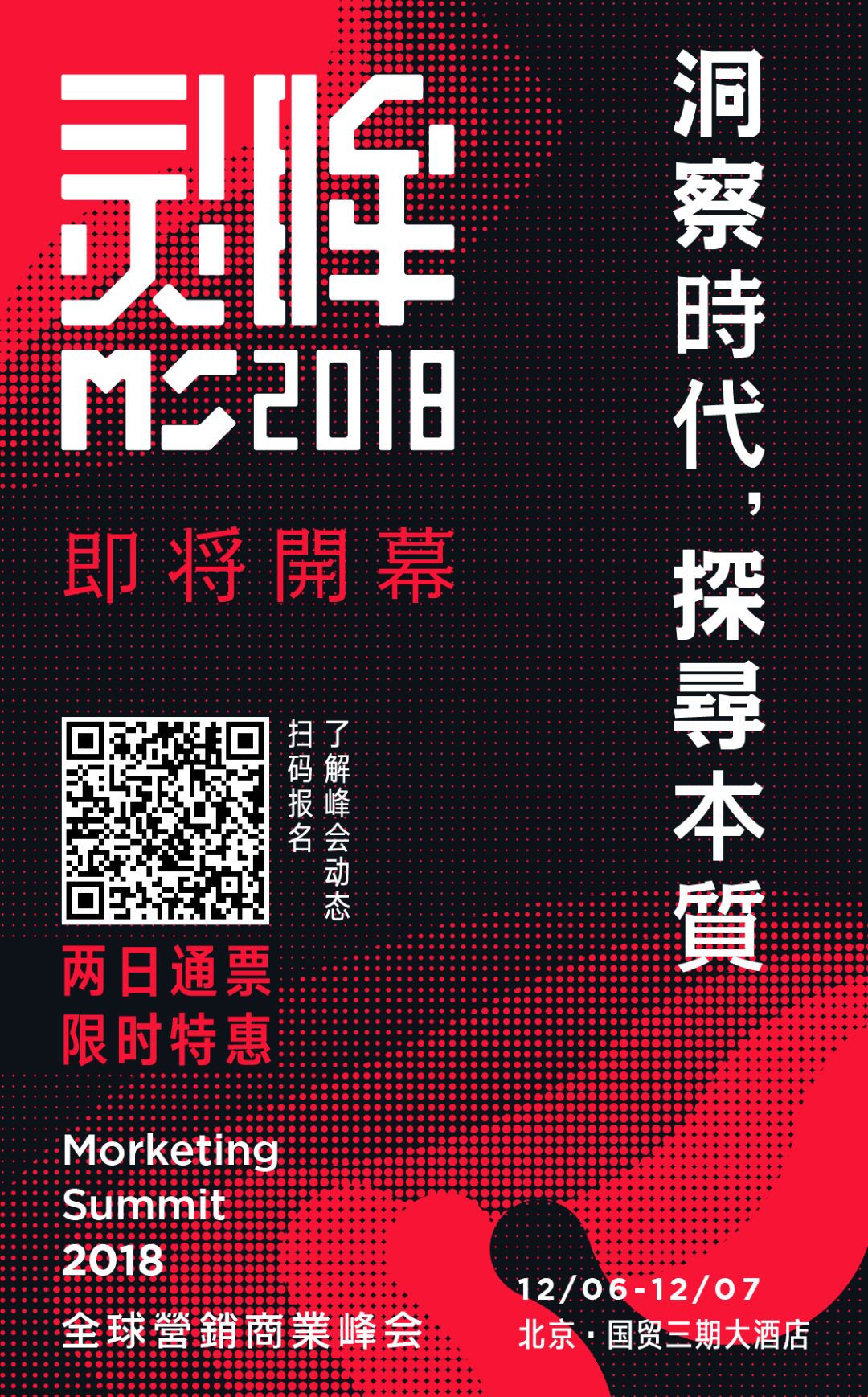 ---