You are your best advertisement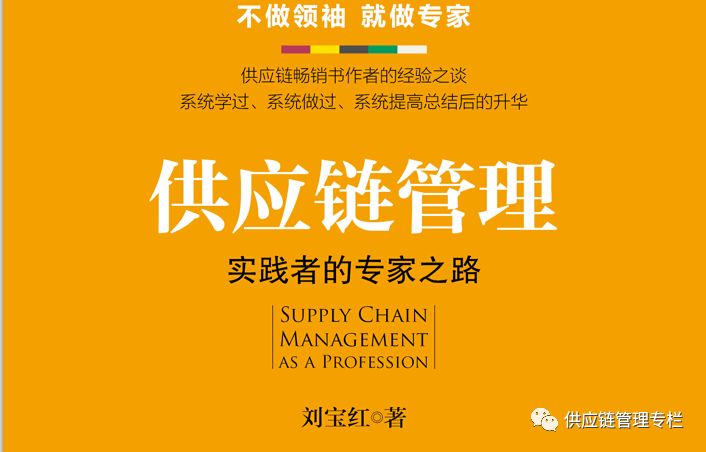 Excerpted from bestsellerSupply Chain Management: The Practitioner's Expert Road, Liu BaoRed.
People sometimes just want to make their resume more exciting, but forget that they are their best advertising.No matter when and where, our words and deeds reflect our personality, cultivation and potential.So it's important to polish your resume, but it's more important to do everything well, treat everyone well, and improve yourself every day.
Do everything well.Most of the career opportunities come from people who have worked together.At the beginning of the business, the first business often comes from the original work of the company, or by old colleagues, old friends introduced;Looking for a job is often the words of the original colleague, boss, acquaintance.It all stems from their trust in you.It's easy to gain the trust of a living person, it's easy to get acquaintances.Why?You can use grandi language to impress a living person, but for colleagues, bosses, friends, acquaintance so long, work together for so long, any false can not stand the test of time.The only thing that can stand the test is to do everything well.Everything, big or small, is really changing or confirming what colleagues, bosses, and friends think of you.Do the right thing and do your best.
Be kind to everyone.People have the rich and the poor, high and low points, but they are all very important, the same worthy of kindness.People around you, know and do not know, as long as contact, are your resources, your success is they up.The success of a professional is like a stock price, and it is impossible to know which factor determines it.But everything you do, everyone you touch, will fit into your success.Stock price is the market's confidence in a company, and your success is actually the confidence of those around you.Be kind to them.Treat everyone as a customer, as a boss, and give them more than they expected.In fact, treating a person well doesn't cost much, as high-quality products don't cost more than inferior products.What is needed is a state of mind.
Improve yourself every day.A lot of people work for a while and there's nothing new on their resumes.Why?Every day is the same work, and every day is the same humble work.Do not learn, do not seek progress, a long time, this person devalued, not only in the eyes of others, but also in their own hearts.So the man is classified as mediocre, even though the work is still good.On the contrary, even if you don't do a great job, as long as you study hard and keep improving, others will judge you differently and have different opinions about you.Just as the stock price depends on the market's expectations of the future of the enterprise, for professionals, especially first-timers, whether people can look up to you, the key is to your future expectations;And the future is largely determined by your current learning, improved attitude, and actions.Look at the people around, success and mediocrity of a big difference is that the former continue to learn, a long time, from the latter stand out, although the starting point of the year is the same.
Excellence is a habit.Do everything well, treat everyone well, day by day know, day by day progress, in fact, is excellent.Hard work, every day as a trial period, everyone to you as the boss's task to do, subtle, your contribution, value is naturally different, your success will be watered down.You don't have to advertise how good you are;You are your best advertisement.
Here's the training information, which you can skip for those who're not interested.
-----------------
Around my four bestsellers, I designed three boutique classes, the following is the September schedule (261 to 267 domestic training), is currently registered.
Demand Forecasting and Demand Management: The First Line of Defense in the Supply Chain
Shanghai, 8March 30Day; Shenzhen, 9June 6Day.
All predictions are wrong, but more mistakes are different. The goal of demand forecasting is to "correct as much as possible and correct as quickly as possible": First, how to effectively match sales and operations, "start with data, end with judgment", make a "most accurate and wrong prediction", and strive for the first life? Second, the prediction is wrong, how to effectively manage the demand, early detection, as soon as possible correction and remediation? Third, how to effectively implement demand forecasting, drive the supply chain to respond effectively?
Inventory Planning and Inventory Control: The second line of defense in the supply chain
Shanghai, 8March 31Day; Shenzhen, 97th of the monthDay.
What if the demand forecast is wrong? The natural response of the supply chain is to set up safety stocks. Setting inventory level scientifically and rationally is the key to putting the right inventory in the right place, improving customer service level and reducing inventory. We will also discuss inventory control in detail: First, inventory is angels and devils, how much is appropriate? Second, inventory has repeatedly dropped, become the "eddy monster", how to deal with? Third, information asymmetry caused the cow whip effect, how to exchange information for inventory?
Supply Chain and Supplier Management: A Practitioner's Perspective
Shanghai, 91st of the monthDay; Shenzhen, 98th of the monthDay.
The goal of the supply chain is global optimization, why is local optimization prevalent? Suppliers are responsible for most value-added activities in the supply chain, how to solve the problem of "selective, un managed"? How to do "big purchase" and focus on suppliers as a strategic resource? The training focuses on the overall view of the supply chain, promoting cross-functional collaboration to optimize design, reduce costs, select and manage suppliers, effectively manage supply chain risks, and systematically improve supply chain performance. This also includes customer-specified suppliers, as well as key sub-supplier management.
Training costs are 4300 yuan / person / class (company fees, VAT invoices), 3700 yuan / person / class (self-expense, or 2 people and above group benefits).For a detailed syllabus and more packaged offers for business groups, please contact my assistant Party Qi: 182 1756 2014 (WeChat, telephone), info@scm-blog.com.
---