Yili, Mengniu, health care 3 dairy enterprises advertising marketing costs total more than 20 billion, brand marketing war is thick
In recent years, due to the continuous decline in the number of newborn babies born, China's milk powder market tends to be saturated, brand high-end has become the main driving force driving the growth of the overall industry.
Major dairy enterprises in order to improve brand strength, increase brand exposure, have increased marketing investment, and through a variety of forms of consumer activities, for channel empowerment, in order to achieve brand and channel win-win situation.
The pace of marketing investment in dairy enterprises has accelerated
According to the 2019 financial results disclosed by major dairy companies, the sales and distribution costs of Feihe in 2019 were 3.848 billion yuan.
5.1% increase over 2018;
Erie 2019

Sales and distribution costs amounted to $21.07 billion

Yuan
Among them, the advertising marketing cost is about 11.041 billion yuan;
Mon

Niu's 2019 sales and distribution expenses rose 14.4% year-on-year to 24.6 billion yuan, which is also Mengniu's expense
For the first time, it exceeded 20 billion yuan;
Aussie sales and distribution expenses accounted for 26.3 per cent of 2019 revenue, down 0.5 percentage points from 2018, but actual investment was $1.77 billion in 2019 due to the increase in Austraz's total annual revenue.
An increase of 330 million over the previous year;
Health Care's 2019 sales expenses amounted to 4.439 billion yuan, of which advertising and marketing activities cost about 1.34 billion yuan, accounting for 12.3% of its revenue, up 1.7% from 2018.
Note: Sales expenses include advertising and marketing expenses

As can be known from the chart, in the overall operation process of these dairy companies in 2019, marketing costs and revenues are positively related, the higher the revenue, the higher the corresponding marketing costs. With the increase of marketing expenses, brand and product exposure, visibility and product image, its market share has also increased accordingly, by more consumers know and recognized. Therefore, we can think that the impact of the increase in marketing costs directly affects the end store's importance to the product, display location, recommendation, consumer attention and repeat purchase rate. Let's take a look at where the money is spent.
Competition is fierce and the marketing war continues to heat up
In 2019, fly crane sales and distribution expenses increased by 5.1% from 3.66 billion yuan in 2018 to 3.85 billion yuan today.
More than half a million face-to-face seminars including Mom's Love Seminar, Carnival and Roadshow were held
, the larger offline activities are: the National Mengwa Games, flying crane milk powder fairy tale town series of activities, "Flying Crane Cup" pregnant baby industry expo, "Flying Crane" 2019 national ten-kilometer road running league and flying crane son MINI marathon. Invite a large number of parent-child families to participate in the radiation area, received a better market effect.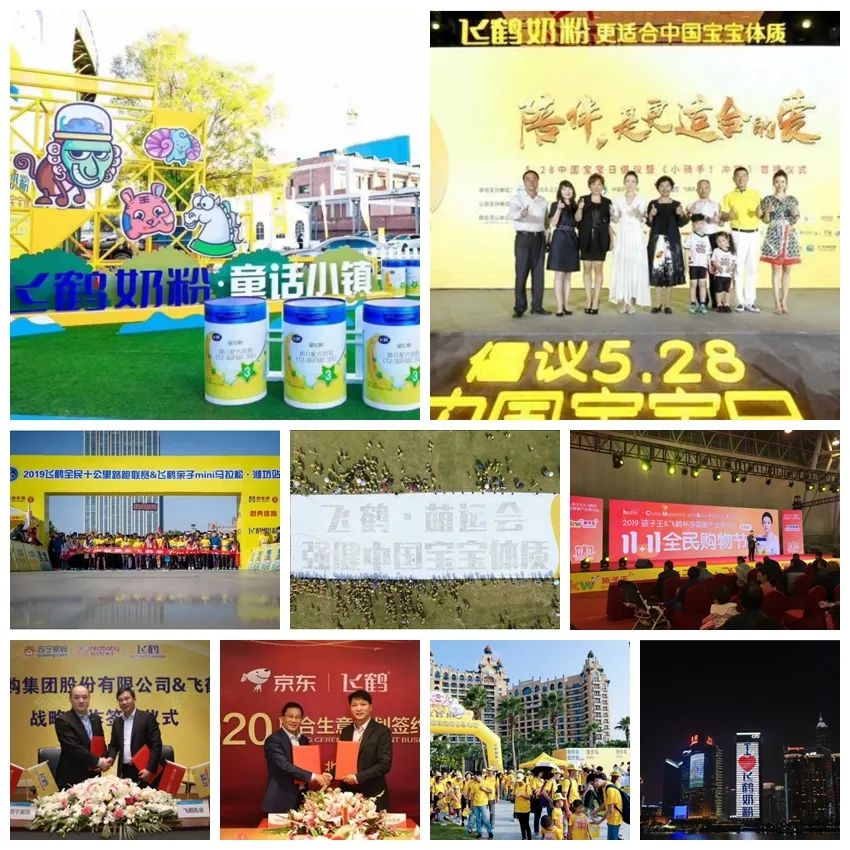 In 2019, Yili's total revenue was about 90.09 billion yuan, of which the main business income of milk powder and dairy products was 10.055 billion yuan, an increase of 2.010 billion yuan over the previous period, an increase of 24.99 percent year-on-year and exceeding the 10 billion yuan mark. The sales cost was about 21.07 billion yuan, of which the advertising and marketing expenses were about 11.041 billion yuan. It is understood that
Yili named beijing 2020 Winter Olympics, 2019 Wuhan World Military Games and a series of large-scale activities, joint Tmall to create a new benchmark for the quality of chinese milk powder, hand in hand with Xie Na for its products and so on.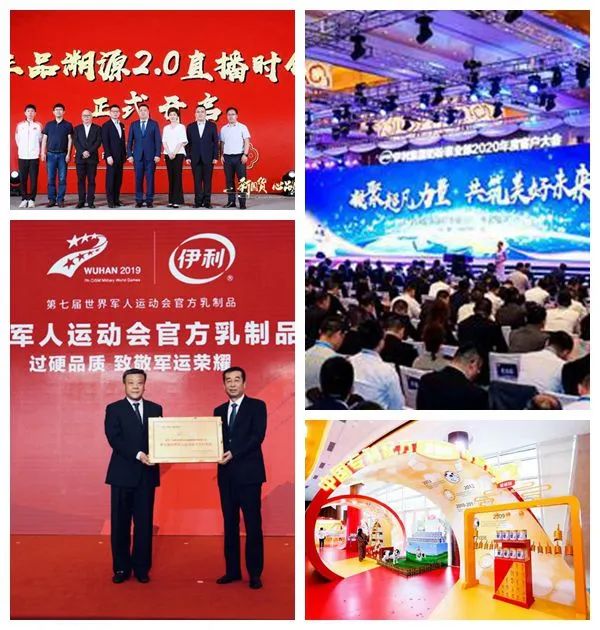 In 2019, Mengniu's 2019 sales and distribution expenses rose 14.4% year-on-year to 21.536 billion yuan, the first time Mengniu's expenses exceeded 20 billion yuan. During the year, advertising and publicity expenses increased by 21.3% to RMB8,499.9 million.
Mainly used for Mengniu and CCTV in-depth cooperation, Yasley continued to strengthen cooperation with CCTV, increase advertising investment in CCTV.
In addition, Mengniu Yashili has announced film and television star Yao Chen as Yasley global brand ambassador, Huang Jingyu as Dora Lamb global brand spokesperson, Li Jianyi for Mengniu adult milk powder high-end brand Yurui series brand spokesperson.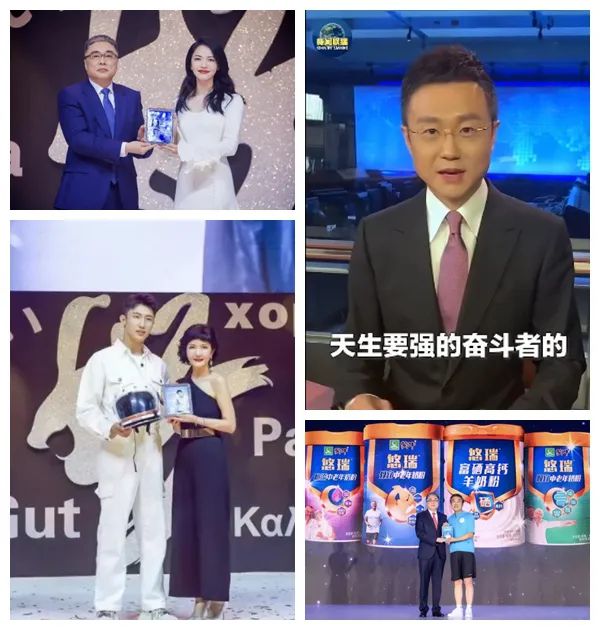 In fiscal 2019, AU's total revenue reached 6.736 billion yuan, of which marketing costs were about 1.771 billion yuan, accounting for 26.3%, and its investment was mainly used for various online and offline membership activities
Such as Hepnokai 1897 Fairy Tale Festival;
With more than 100 high-end hotel cross-border cooperation, the introduction of members of high-end enjoy services to enhance member travel services, can Lido carried out the "pure country to find light" theme park activities, "Le live pregnant mommy" pregnant women yoga activities and "North University experts feeding line" parenting knowledge science activities, hand in hand with Huang Lei, Lang Lang, Lin Zhiying and other products for its products.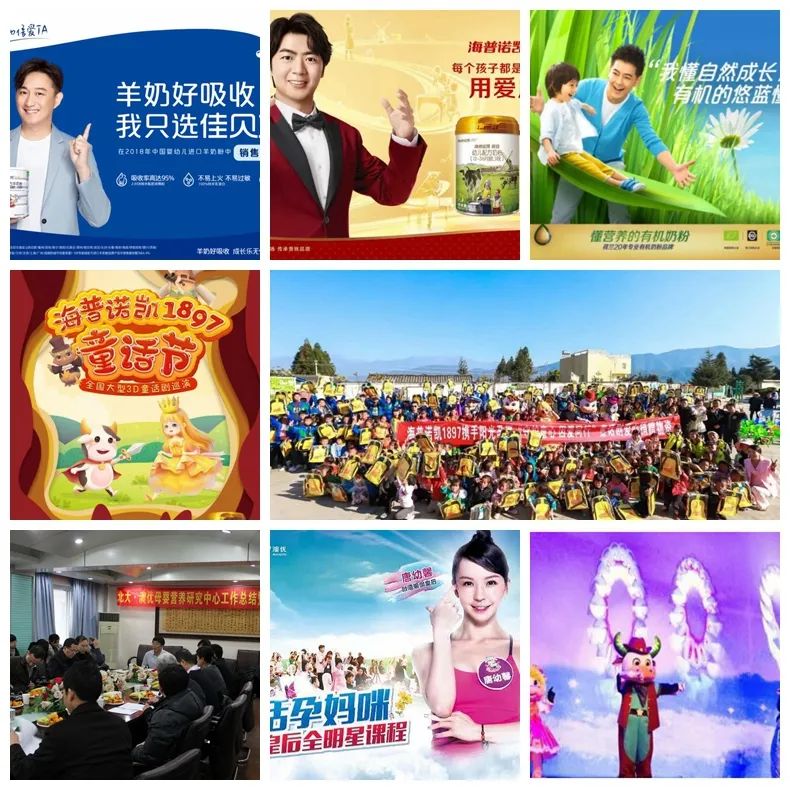 Health's advertising and marketing activities as a percentage of revenue increased from 10.6% in 2018 to 12.3% in 2019.
Together with Miranda Coyle, Liu Wei, Ho Siyan, Guo Jingjing and other endorsements for its products, launched a coverage of Guangzhou, Shenzhen, Zhengzhou, Chongqing, Jinan, Qingdao, Wuhan, Chengdu, Xi'an and more than 20 core cities in the country's trendy elevators, subway smart screen;
To enhance brand influence, quality brand is indispensable
Through the above we can find that the major dairy enterprises in order to seize more market resources, marketing means in a variety of, according to the relevant industry research reports show that, with the network has become an indispensable part of our lives, online voice on the impact of consumer performance is particularly obvious, consumers need to have credibility of the media, public figures, such as enterprises, brand endorsements, consumers need to interact with enterprises, brands. Therefore, many dairy enterprises in addition to traditional media and emerging channels of publicity, but also with the help of milk powder ring and other high-quality industry media link channels to enhance brand exposure.
Online and offline promotion activities have become one of the most effective ways to promote dairy products, which can be seen in the major dairy enterprises spare no effort to increase marketing input.
And for dairy companies in the marketing of a large number of investment, consumer reaction is not the same,
Some consumers think: "Wool out of sheep, we need high-quality products, not star endorsement."
For ordinary consumers, quality in the first place, quality brand double promotion, is the best way to market.
Zhu Danpong, an analyst with China's food industry, said:
At present, a large number of marketing activities in line with the current domestic dairy market stage, domestic dairy enterprises before the silence for many years, during which the major dairy enterprises in milk powder quality, product research and development invested a lot of money and human and material resources.
At present, these measures have received a better effect, and the current dairy enterprises in marketing investment, in fact, the previous product research and development investment brought about by a dividend period of digestion process. "
The author believes that the existence is reasonable, from the current market environment, in order to quickly improve the market visibility of enterprises, marketing input is justified. Prior to the domestic dairy enterprises started late, compared with foreign well-known dairy enterprises, market awareness is not enough, the current emphasis on the rise of national powder, it is necessary to improve the market visibility of domestic dairy enterprises. The investment of dairy enterprises in marketing is conducive to expanding market influence, enhancing brand influence, expanding market share, and helping dairy enterprises to develop better. Of course, marketing investment is based on ensuring product quality, marketing is only one of the tools for enterprises to build brand power, the effective combination of the two is a long-term solution for the continuous development of dairy enterprises.
Look at milk powder parenting, mother and child focus!

Look at sheep milk powder information, on the sheep milk powder think tank!
Look at organic milk powder information, on the organic milk powder think tank!
Look at the sales tips, on the mother and child retail think tank!
Look at the milk powder information, on the milk powder ring headline number!
Look at the industry information, on the milk powder ring a little number!
Look at the latest content of the industry, on the milk powder ring hundred number!
---