What are social e-commerce media? 10 cross-border e-commerce social media marketing agencies
The days of restricting media to traditional marketing channels are gone, and marketing through social media is more cost-effective.
Many businesses lack the skills or time to launch dedicated social media campaigns. They prefer to work with social media marketers to promote their brands. In some cases, this may involve corporate social account operations or PPC social advertising.
With the rapid development of social networks over the past few years, we find that many organizations are serving social media. In this article, we will take stock of 10 social media marketing agencies.
1、Social Media 55
Social Media 55 is a digital marketing and social media management organization. They have become experts in micro-positioning digital marketing, can provide customers with a variety of marketing services.
Social Media 55 recognizes that social media is now one of the powerful marketing tools that enable real-time communication with target audiences, but the challenge for some companies is the ability to develop and maintain these channels.
Social Media 55's social media solutions are enough for businesses of any size. Their "custom" style options are designed to maximize the ability of customers to communicate with their target audience.
They divide social media marketing services into:
Net red marketing;
Social media management;
Social media ads: Facebook, Instagram, LinkedIn, Pinterest, Twitter, SnapChat and YouTube;
SnapChat Marketing;
Facebook Marketing.
2、Social Hire
Social Hire is a professional social media company. They specialize in social media services for small businesses and recruitment teams, helping customers connect organically with ideal customers, business partners, and more on social media. At the same time, Social Hire is committed to transforming the audience they've built into potential customers, event participants, and more. To do this, they developed a successful social media strategy for their clients' business from the start.
Social Hire takes its huge customer ratings and Google's five-star rating very seriously.
All plans include researching content and sharing it on Twitter, LinkedIn, Facebook fan pages, and Google My Business. Additional services provided by Social Hire include tracking active users, support and promotion, posting blogs monthly, creating social profiles, tracking 24-hour social events, social media advertising, researching and tracking goals, monitoring and responding to social profiles, conducting webinars, researching influencers, and more.
3、LYFE Marketing
LYFE Marketing is a comprehensive social media management company. They provide social media services, search engine services and website design services. They create and manage better-performing social media campaigns for customers on Twitter, Facebook, Pinterest, LinkedIn and Instagram.
They offer the following services:
Social media management services;
Social media advertising services;
Website design services;
Search engine optimization services.
LYFE Marketing has conducted more than 2,000 social media campaigns since 2011. They bring 983,287 potential customers through digital marketing.
Their social media marketing services can help customers increase brand awareness (number of fans), engagement, and website exposure (traffic).
They follow 5 steps of social media marketing:
(1) Designate a dedicated social media manager for your account;
(2) Develop a social media strategy for your business;
(3) Develop content calendar and advertising;
(4) Growth optimization and daily maintenance;
(5) Reporting and communication.
4. Thrive Internet Marketing Agency (Thrive Internet Marketing Agency)
Thrive received more than 100 five-star reviews on Google, more than 50 on Facebook and more than 30 on Clutch. They also often provide letters of recommendation, apparently by word-of-mouth marketing believers.
Thrive is a full-service digital marketing organization that has been serving a wide range of customers from all walks of life since 2005. They believe they can take your online image to the next level, including your website design, text, keywords, social media image, and more.
One aspect of their job is social media marketing. Their social media marketing services include the following activities:
Identification and evaluation of target audiences;
Develop and implement effective social media marketing strategies;
Regularly update news and articles;
Continuously monitor social media, including recognition and response;
Continuous research, tracking and adjustment of online trends and resources;
Get attention and support in blog communities and forums;
Target specific keywords, phrases, and topics related to your brand;
Improve your strategy with analytics and data tracking tools.
5、KlientBoost
KlientBoost helps businesses make more money with smart digital advertising and creative conversion optimization. They split the service into three main parts: pay-per-click (PPC), conversion, and design. Much of this work involves optimizing a customer's sense of presence on social media.
KlientBoost specializes in social advertising. KlientBoost can help you run ads more effectively on Facebook, Twitter and LinkedIn. In addition, they have designed custom landing pages that match PPC ads.
According to KlientBoost, Facebook's ads work better when you test your ads and landing pages at the same time. In addition to Facebook ads, they often help customers design and test sign-in pages. It also helps them achieve their goals faster.
Higher conversion rates from the sign-in page test have also made KlooutBoost more aggressive in facebook ad bidding to get more conversions from the right audience.
KloutBoost also provides its customers with custom dashboards with PPC channels, which customers can officially update on Mondays.
6、WebFX
WebFX is a company that provides a full range of online marketing and SEO services, providing innovative online marketing solutions for large and medium-sized companies around the world. Their social media team is an expert in creating and executing social media management programs that deliver the right message in front of the audience you need.
They offer 5 levels of social media management services:
(1) Provide a social network for $900 per month, 15 social posts, 6 custom images, and 2 campaigns per month;
(2) Provide 2 social networks for $1,300 per month, 30 social posts, 8 custom images, 3 campaigns, 2 blog posts, and ad comment monitoring every Monday, Wednesday and Friday;
(3) Provide 3 social networks for a monthly fee of $1500, provide 45 social posts, 10 custom images, 4 campaigns, 2 blog posts, and daily ad comment monitoring;
(4) Provide 4 social networks for $1,800 per month, 60 social posts, 12 custom images, 5 ad campaigns, 4 blog posts, 1 contest per year, and daily ad review monitoring;
(5) Provide 5 social networks for $2,100 per month, 75 social posts, 14 custom images, 6 ad campaigns, 4 blog posts, 1 contest per year, and daily ad review monitoring.
7、PBJ Marketing
PBJ Marketing provides paid media, website design, brand strategy, and a full range of digital marketing services, including social media advertising. Social media, they argue, as a marketing channel, requires a strategic, data-driven approach to activating goals, messages, and KPIs to suit the brand's audience and goals. In the short term, social media advertising campaigns are an ideal way to increase brand awareness, engage potential customers, and drive conversion rates.
They focus their social media ads on Facebook, Twitter and Instagram.
PBJ Marketing leverages Facebook's user data to deliver powerful, central audience targeting, orchestrate Facebook ads, and deliver brand messages to audiences who are more relevant to their brand goals. PBJ Marketing uses a four-pronged approach to targeting a customized audience:
A/B testing;
Fascinating advertising;
Audience targeting;
Analyze traces.
8、SociallyIn
SocialLyIn helps brands achieve different aspects of their social media marketing strategies by deploying results-based services in social strategy, content production, community management, paid social advertising, and online marketing.
They divide services into creative and production, community management, social media strategies, and social pay advertising.
Film, capture, produce, paint, record, bake, build, incubate, write, invent, write, and map all social media content within our customers. They begin their social strategy by conducting in-depth meetings around demographics of the audience attending social media events. The meeting helps creative teams brainstorm content that resonates with the ideal audience.
Once their team has some understanding of the business and brand, they discuss short topics. It can be a campaign, a seasonal holiday event, or anything in between. After a brief discussion, they went to brainstorming sessions, using different brainstorming techniques to come up with unique ideas for various social platforms. Once they are ready to launch the strategy, they continue to test, measure, and optimize.
If you choose community management, SocialIn uses a community manager to represent your brand, keep your pages fresh and actively participate in conversations with fans. At the end of each month, they review their work, including engagement and fan growth. They even offer multilingual social media management in more than 36 languages.
9、Firebelly Marketing
Firebelly Marketing has led the success of social marketing since 2007. Their services include social media channel review, social media management, and social advertising management.
Firebelly's social media review service is an important step toward dealing with social accounts and can be used to guide your social media strategy.
Firebelly's social media management services give you everything you need to succeed on your brand's social media channels. This includes:
Content creation and publishing;
Community management;
Insights and reports;
Manage social accounts such as Facebook, Instagram, LinkedIn, Pinterest, Snapchat and Twitter.
Firebelly has managed more than $1 million in social media advertising spending. Their social ad management services provide targeted social media advertising to increase customer audiences, engagement, traffic, and sales. It consists of three parts:
Audience and creative development;
Daily monitoring;
Reports and recommendations.
10、Bad-Rhino
Bad-Rhino focuses on delivering measurable results through customized social media marketing solutions. They pride themselves on creating and delivering tailor-made programs for each customer.
They use the following social media processes:
Social media review;
Content creation and approval;
Social recruitment;
Strategic evolution;
Identify key strategies;
Implementation;
Monthly analysis.
Bad Rhino creates and implements customized policies specifically for customers. They research the right social channels and create great content that every customer's target audience will love.
According to Bad Rhino, social media advertising is the more cost-effective form of advertising today. They assign an advertising specialist to run social media ads. They develop a clear and concise advertising strategy for each business. Advertising experts write a paper, write a title, and create images for each campaign. They monitor advertising activity on an hourly, daily and weekly basis. If search results drop, they detect and pause underperforming ads. In addition, they will launch new ads to maintain positive search results.
Learn more about new media operations WeChat money-making knowledge please pay attention to Qin Zhiqiang video number.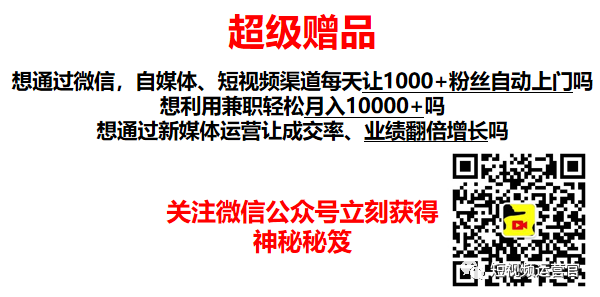 ---