U.S., Japan, South Korea RPG and SLG game resolution and Google advertising strategy - Go Global Developer Summit Salon shared.
Enjoy Out to sea - Mobile developers go to sea service platform.
From July 28th to July 31st, Enjoy held a four-day online cloud salon, which was discussed and shared in four areas, namely, sea-going cash-out, sea-going delivery, sea-going distribution and sea-going services, to help sea-goers ride the waves in overseas markets and help them achieve better overseas results in the second half of 2020.
In this online salon, Claire, head of business from Google's new customer division, brings the U.S., Japan, South Korea RPG and SLG game resolution, as well as the sharing of Google's advertising strategy, as follows:
Let me introduce myself, my name is Claire, and then I'm from Google's new customer division in Greater China, which is responsible for the mobile business.
There are many types of medium-heavy games, and today I'll focus on RPG and SLG strategic games.
U.S., Japan, Korea RPG and SLG Analysis.
RPG is a role-playing game, and many of these mobile games are now moved from the PC side.
In SLG games in Europe and the United States, users focus on several games with their heads, such as Clash of Tribes. But SLG games in Asia, both iOS and Play, are in contention, and users of games like this one in Asia have a wide range of interests.
Globally, the market with the highest downloads of RPG plus SLG games is the United States, which is well ahead of the rest of the world, followed by Russia and India in second and third place.
The market to focus on here is India, which is the only market in which both game downloads and download growth are in the top 10, indicating that the Indian market has great potential.
After reading the downloads, let's look at the revenue of these two types of games, the top three markets for revenue of these two types of games are Japan, the United States and South Korea, of which the United States revenue growth rate can reach 22%.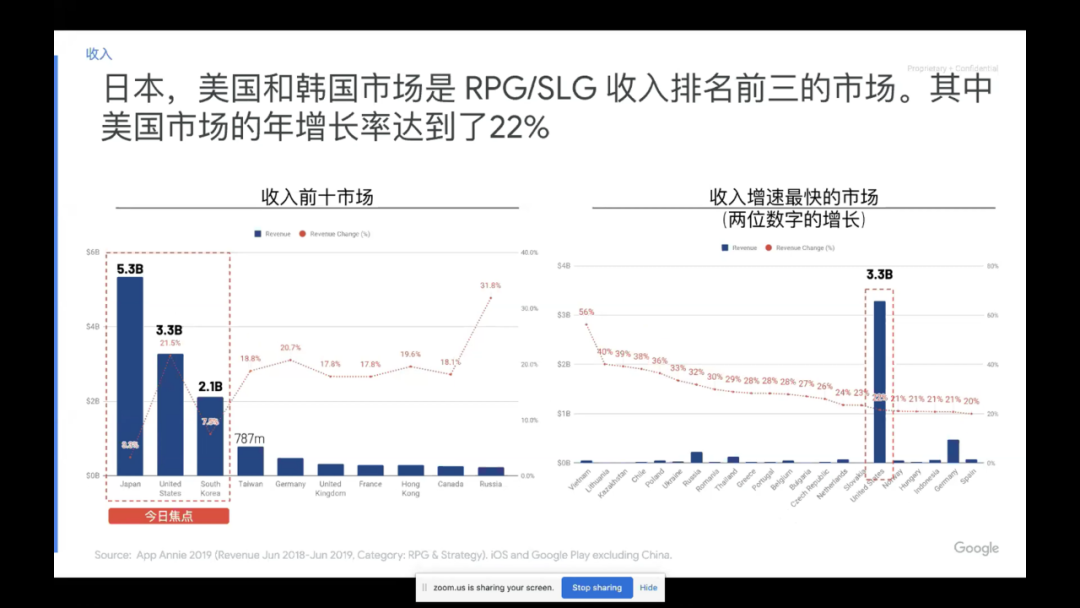 According to this chart above, you can see that the japanese market in these two markets is not as high as the United States, but Japan is the number one revenue list, which shows that the Japanese game market user value is very high. In addition, Revenue growth in Russia could be close to 32 per cent and in Viet Nam at 56 per cent.
Let's take a look at the performance of China's RPG and SLG game publishers in Japan, the U.S. and South Korea. 
On the whole, the Japanese hand tour market is basically the japanese local hand tour company's world, so the Chinese publisher in the Japanese market development is a certain threshold requirements, the temporary proportion of Chinese publishers is not particularly high, on the other hand you can say that in the Japanese market China hand tour has a lot of room for progress.
Japan is one of the world's top three gaming markets, where you can buy high-quality players at high prices.Advertising during the pre-registration period is important for the Japanese market, with advertising in the general pre-registration phase accounting for 20% of the annual budget.
After Japan, let's look at the U.S. market, where Chinese publishers' SLG games account for 50 percent of total revenue from products such as the U.S. market. But in China RPG games in the U.S. market, in fact, there is still a relatively large room for progress. Just mentioned that the U.S. market SLG and RPG game revenue growth rate of 22%, which is the Chinese manufacturers can force the space.In the U.S. market, it is recommended that the threshold for in-game single-payer prices not be so high, lower the threshold for single-payer, and then increase the number of pay-per-view, so that the overall rate of payment can be increased.
Finally, look at the Korean market, the Korean market players for foreign products are more accepting than the Japanese market players. On the other hand, the Korean market users' payment habits are also better, it is worth noting that South Korea's WiFi speed is the fastest in the world,South Korean mobile users spend an average of 3 hours and 34 minutes a day on the mobile side, which is a very high number.
In.Korea.The vast majority of users in the market use it.Android devices.,So in the Korean market Google.the relevant products will be of great help to the publisher.,In.Korea.Be able to focus on it.Hold the bonus period for two weeks before and after the game lines.
After talking about the market profile of these countries, let's look at the age group of 18 to 49 years old, Japan, the United States and South Korea RPG mobile gamers have the same and different points.We look at the different performance of players in the three markets from how these players discover the game, to the interaction that takes place, and the time they make a purchase.
Japan is a harder game market to enter because their users are more picky than their products. Japanese players prefer those easy to get started picture of exquisite products, the function of social groups is very important, Japanese RPG players used to go to the App Store to search for products, they found that the channels of new games are relatively small, an average of only 1.6 channels, they are playing at the same time mobile games will not exceed 5, relatively conservative installation, but because they install fewer games, the average daily use of each game on their mobile devices is more than two hours.
From the in-app purchase point of view, Japan's hand-travel users are more rational in top-up, but once they start gold, the amount spent on in-app purchases is considerable.
In addition, we've seen a rapid growth in the share of Android devices in the Japanese market, and if you want to release games in Japan, we recommend that Android be released with iOS.
Compared to the Japanese market, users in the U.S. market will consider more channels when discovering new products, for example, he will look at the Store's ranking, watch YouTube, and refer to friends' recommendations. It's worth noting that RPG users in the U.S. are more loyal, and they can play the same game for about a year and a half. We've also found that searches for RPG games on YouTube in the U.S. have been on the rise for the past 12 months.
Other than that.U.S. RPG players pay great attention to in-game ranking and social interaction, like to carry out PK. In buying behavior, they tend to buy props and equipment that improve his ranking or interaction.These can be used as a reference when designing in-house purchases.
Finally, let's talk about the Korean market mobile RPG players, they will be through the game forum, all kinds of game rankings and recommendations and friends to contact the game. Chinese publishers are likely to account for about 30% of the game list in South Korea. Compared to the average U.S. user who can play a game for 1.5 years, South Korean users usually play a game for an average of about 5 months, and they especially like to download new games and try them out, but that means new games have more opportunities to enter the Korean market.
In terms of game payment, in fact, South Korean players his top-up purpose is mainly to shorten the upgrade time, which is a habit in the process of playing the game.RPG games in YouTube Korea search, especially mobile search, showing a significant increase in the trend.
YouTube is a very important channel for medium to heavy games, whether they find the game to try, watch game strategy and so on, nearly 50% of heavy players will often pay attention to YouTube's game channels and strategies.
SoWhen we look at SLG gamers, we follow not only what games SLG players play in addition to SLG games, but also what videos they search for on YouTube and how they interact on YouTube.
First of all, look at Japan's SLG players, in addition to playing SLG games, they will also play adventure, strategy, shooting, action, role-playing and so on with these games, which Japan and the United States are basically the same. On YouTube, they focus on the game's strategy and strategy channels. On Youtube, they talk about how the game doesn't pass, and they interact with their favorite channel hosts, and the core users of SLG games appear on YouTube.
So what do SLG users in the U.S. watch on YouTube? They also watch game channel strategies and strategies like Japanese users, and they like to explore game characters on Youtube.
So, what will attract players to play SLG games? First of all, it must have a clear story, with a main line and sideline, preferably an original and interesting story, and easy to get started, simple upgrades, playability is relatively strong. Dynamic picture is best as beautiful as the movie, in terms of character is relatively perfect, what must be missing is that there must be online team social function.
As we've just said, YouTube is a very important marketing channel for these games, and SLG product searches on Youtube are growing at an average annual rate of 12.5%, so upload game videos to YouTube as much as possible to keep the game hot.
About SLG games, must have innovation, must have bright spots, if your product has just passed the pass line, may enter the European and American markets may be more difficult, because the European and American markets will basically SLG users will be more concentrated in the head of a few games. In addition, SLG games must be creative, in terms of art and the culture of the region issued.
So what are the elements of a successful SLG game?
1. Short and engaging game plot dialogue.
2.UA is critical.
3. Conduct research at the artistic level to improve cultural relevance.
4. Simplify the content on the screen.
5. Socializing is the key.
6. Let the player have fun before paying.
Medium-heavy game Google delivery strategy.
Finally, a summary of a medium-heavy game on Google's delivery strategy?
Ads campaign will have different stages, will be divided into pre-release, release and maturity period, each period of use of Google AC products are not the same. If you're in the early stages of a product release, the goal is to specialize in downloads, using AC 1.0. When your downloads slowly start to rise, you need to buy more through events, you need to bid through tCPA, and then you need to use product AC 2.5.
Specifically, what kind of success tips does Google AC have?
First, AC ads are divided into app installation series., app event series and app value series, you can choose different ads according to different goals, at this time you will have some very detailed choices, such as what kind of events to choose, what kind of bid, and what kind of material to do, which ads can get higher conversions.
So what are the in-app events commonly used in RPG games and SLG games?Let's list these events, which include:
Open for the first time.
Level.
Registered.
Login.
Visit the store/in-app purchase page.
Spend gold coins, gemstones and other props.
First-time purchase.
Nods teach to complete.
3rd purchase, 10th purchase, etc.
In the face of numerous in-app events, what are the criteria for selection?
There are three criteria to see if this event has:
1. High conversion.At least 20 unique users complete conversions every day, preferably more than 50, and the more data, the better.
2. High conversion frequency., convert within a maximum of 7 days after installation, preferably within 1 day and 12 days, the sooner the better.
3. High correlation., it must be clear and specific and relevant to business objectives, and the more accurate this data is, the better.
Second, let's talk about the offer again.Bid strategies will be different for different user stages. If your bid is too low, there's no way to find enough people. If you bid too high, your campaign will include people who are less likely to convert. That's when you have to find a balance between the traffic funnel and your bid.
The third is about creatives.In fact, Google's creative materials are divided into fixed ad format and automatic creative ad format, it is recommended that you upload all formats, including text, pictures and videos and so on. Automatic creative ads are based on machine learning, help you make your creatives into ads, then push them to the right people to show, and then increase your downloads.
If you don't upload text, some places won't show up, especially search traffic and traffic within Google Play, and if you don't have text, you won't have access to these customers. In addition, all types of sizes are made and uploaded, including pictures and videos. If your bid is perfect, but you don't upload a particular size, you won't have a chance to show it in a particular location, which is a shame.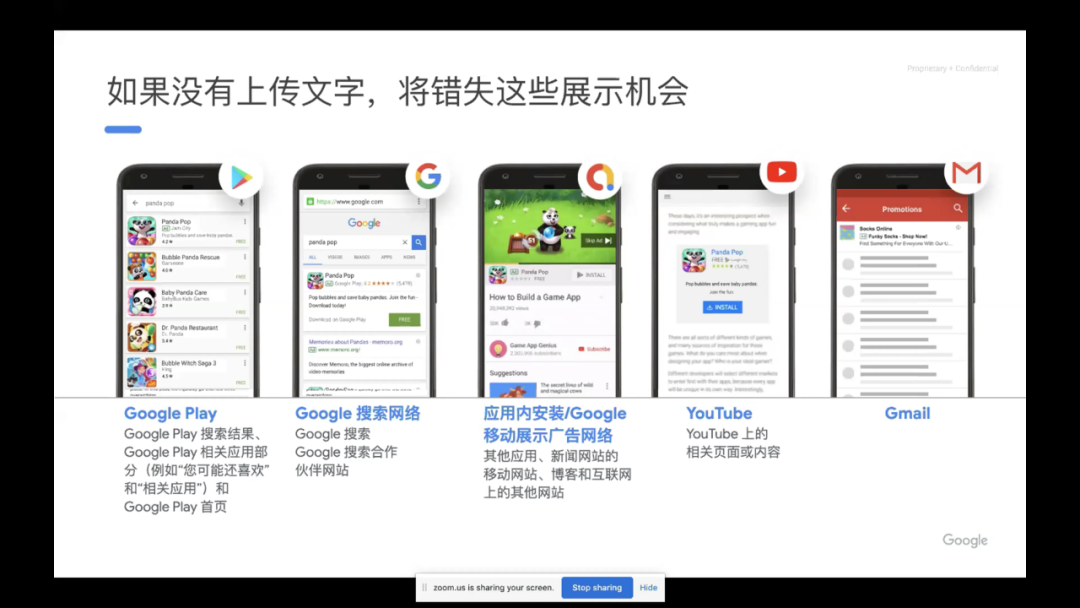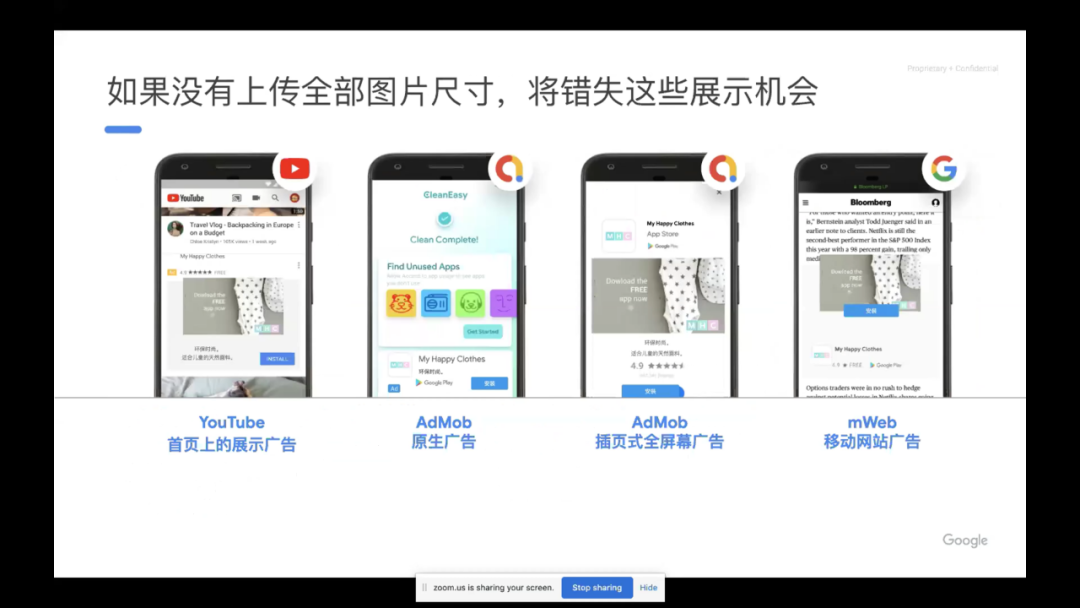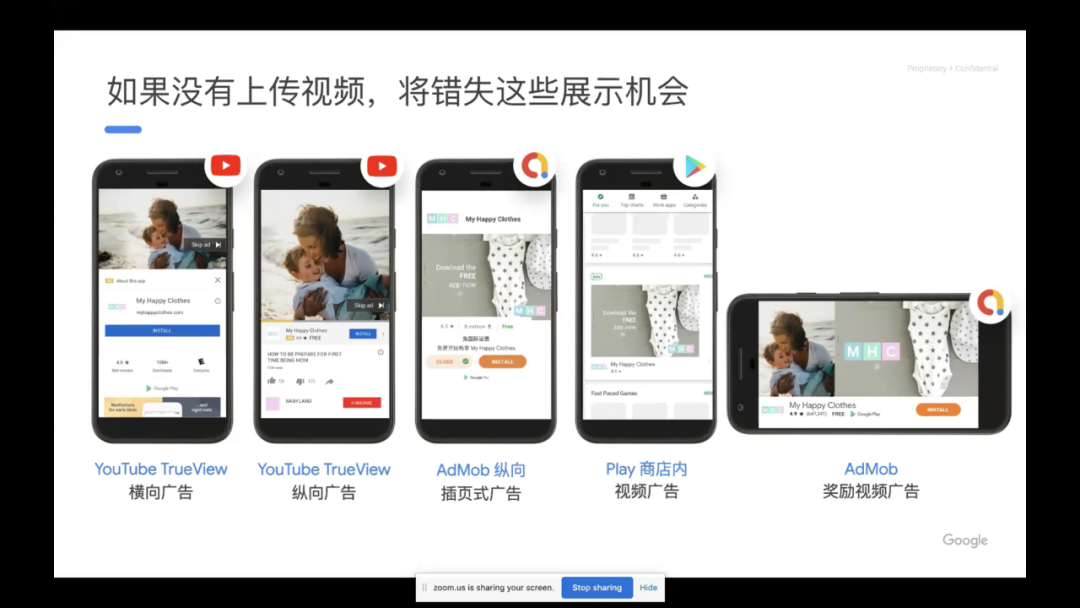 The fourth is about YouTube.YouTube is the world's largest online video site, YouTube's in-site search is the world's second largest search engine, YouTube home page is an important place for image advertising. Youtube video specs are not just 16:9, there are 2:3 and 1:1, these two video sizes are also important. Youtube videos are the most direct way for players to get to know their products, and you can show the core play and content of your game to the best of your possible possible. You can also run your official YouTube account, which is a way for players to get a good understanding of the product and the team.
---
Sweep to join the sea community.
Talk about going out to sea, we are professional.
I know you.I'm watching.Yo.
---