Twitter ad product updates: Top 5 power brands 'win-win'
As the world's largest platform for public dialogue, Twitter is the best choice for overseas brands to use global hotspots to market events and connect overseas users. In the first half of 2020, Twitter continued to step up product development efforts, launching a range of performance and brand advertising products and features to help Chinese brands get through the "marketing funnel" to achieve rapid business growth and effectively enhance brand awareness and influence.
First, the effect of advertising products: to enhance the number of customers, promote sales transformation.
Single-jump media rotation ads (

Single-Destination Image and Video Carousel

)
Brand owners can add 2-6 horizontally swiped images or videos to an ad for product display and set up the appropriate app download or website jump link.
The form of the rotation breaks the limits of the original material display box - advertisers can choose to display a large banner across the border, or implant richer material. This greatly expands the content display space, providing brands with a one-time, all-round display of a variety of products and features, or from multiple angles to detail the details of a single product, in addition, pictures or video footage format, more scene-oriented and visual impact, can effectively deepen the user's impression of the product and brand.
Not only that, the ads embedded in the application download and website streaming links, will help advertising effect not only stay in exposure and touch, but can achieve access and conversion, for advertisers to bring quantifiable delivery results.

Second, brand advertising products: to start cognition, shaping brand value.
1. 

Promotional Trend Spotlight
To complement Promotioned Trend, The trend focuses on footage for 6-second videos, GIFs, and still images, and can be played in full screen on Twitter's mobile app. In addition to the more variety of material, the product can put advertising content on the Twitter platform's golden exposure point -"Browse."The top of the tab (Explore).
"Browse."The tab brings together Twitter's large number of trending trends and hashtags as an entry point for users to explore new things, covering the most commonly used paths for users, with powerful exposure capabilities. Promotional Trend Focus combines immersive advertising with this oversized traffic point.In."Top stream."The entrance tells a wonderful story, for the brand marketing campaign to quickly build momentum at the same time, to build brand memory.
Global Behavior Research Corporation.EyeSeean eye movement.Track research.This shows that users spend more time on trend-focused content than regular trend ads.26%。 Twitter statistics also show that users are three times more likely to click on trend-focused ads. This pair of advertisers."Marketing funnel."The whole process has had a positive impact: increased advertising memory.113%18% more brand consideration and 67% more likely to use the brand in the future.
Disney uses promotion trends to focus on promotion.Disney+to significantly increase the exposure of new products.
2. Brand customization."Like it."Buttons (Branded Likes)
No matter how the marketing environment and media patterns change,"Impressive content ideas."Has always been a key factor in the success of brand marketing. Twitter's latest customization."Likes"buttons, breaking through the traditional interactive style, provide advertisers with more fun and creative space.
With this product, advertisers can personalize their Twitter pages based on the brand's iconic image and marketing needs."Likes"buttons to provide users with fresh experiences and visual effects, attract attention, activate interaction, and thus achieve the ultimate goal of enhancing brand imprints and enhancing taste. Creative experts at ArtHouse, Twitter's online red-betrothed content marketing team, will also provide creative support for the brand's highlight moment.
NASA teamed up with Twitter to customize the animated effects of the rocket's flight during an online campaign to witness the launch of the Mars rover by the hashtag #火星倒计时."Likes"The heart icon sees an animation of the rocket across Mars.
NASA #CountdownToMars活动定制 "Likes"Button.
3. Pre-Streaming Patch Ad Update (Amplify Pre-roll Redesign)
In addition, Twitter has more than 200 partners of premium content publishers around the world, sharing more than 2,000 videos daily via Twitter, covering all areas of sports, news, entertainment, technology and more. Streaming.Front patch.Amplify Pre-roll combines branded advertising with these high-impact video content to bind brand stories to the world's best-known IP.
This update has been added to the ad interface."The video will be broadcast after the ad."The description of the text, dynamic brand avatar display, picture-in-picture content preview, etc., more effectively catch the user's eye, and clearly distinguish between advertising and publisher partner content, so as to enhance the brand recognition of advertising.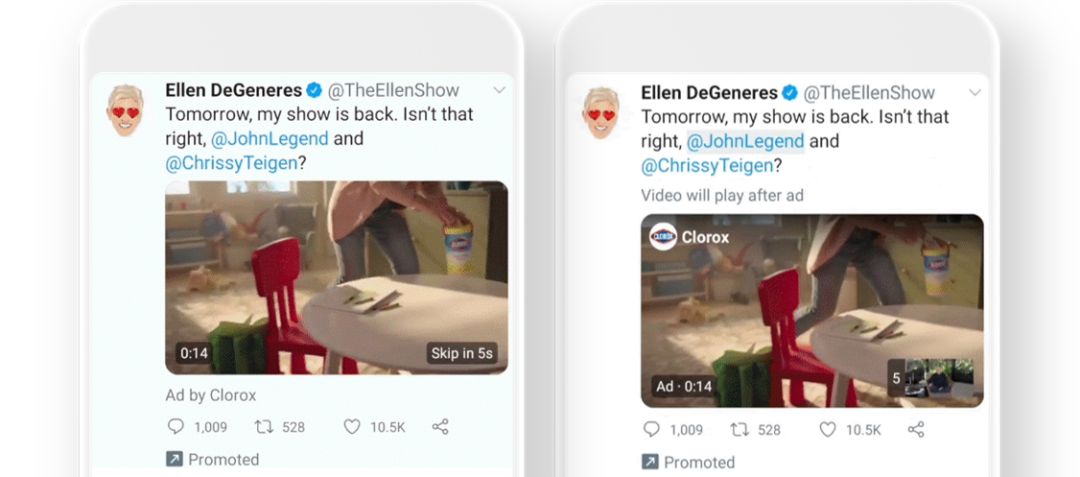 Old Design VS New Design.
This feature is available on Android and will be available on iOS in Q4 in 2020.
Third, other products./Feature updates:
Answer Restrictions (Conversation Controls for Advertisers)
With the support of this feature, brand owners can use the Twitter app to send tweets that they can use."All of them."、"Followers only."And."The user mentioned in the tweet."Select the user in the three categories who is allowed to reply to this tweet.
This feature helps brand owners take more control of the way they talk to consumers, adjusting, guiding, and discussing directions in a timely manner.
Advertisers can choose which ones to reply to when sending a tweet.The user category.
In addition to the above updates, Twitter is also focused on improving the infrastructure of its advertising platform, and completed the rebuilding of its advertising servers and the acquisition of crossInstall, a mobile advertising platform, in the second quarter. In the future, Twitter will continue to optimize its advertising solutions, provide more high-quality and stable advertising products for Chinese brands, and help Chinese brands globalize.
---