The show goes beyond social media marketing: "buy-to-see" focuses on selling and selling
No time has a fashion show or fashion week been so questionable.After entering the era of digital marketing, fashion shows have easily become an excellent means of creating social media hot content because of their Famous Market pop-up effect, style eye-catching and dramatic image dissemination.
In contrast, however, we can no longer sink our hearts and wait for a fashion show like Alexander McQueen and John Galliano, with amazing creativity and craftsmanship.The idea of "doing shows for social media" has gradually become a brand consensusThis has also led to the discomfort of designers with a focus on design itself in the face of changing fashion creative systems and mass fashion consumption in the digital age; as Alber Elbaz said a year ago when he was creative director of Lavin: "We designers were tailors with dreams, intuitions and feelings, and then we became 'creative directors', so we had to create, but mostly to guide." Now, we have to be image creators, to make a splash, to make sure the pictures are great, the picture has to be amazing. "Of course it's not just Alber Elbaz who's holding this view,The fashion show was thus criticized,Fashion itself has become a prop when all the aim is to create a social media sensation.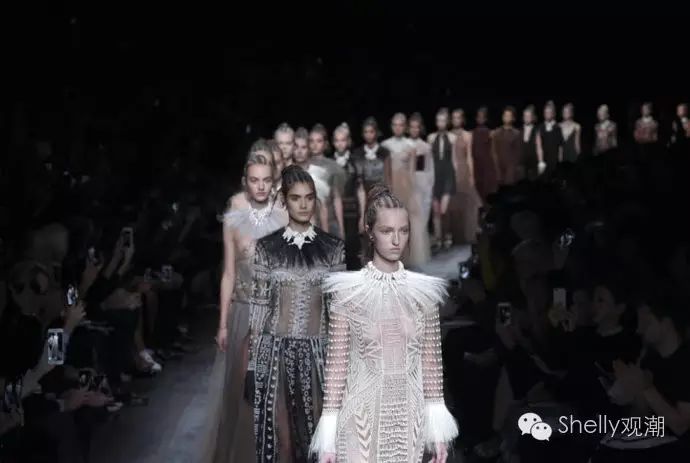 At present, in the luxury brand's latest financial results generally in trouble, this continuation of years of crazy show mode is more like an illusory bubble, sales do not have any substantial help.Many brands are deeply unmotive and unsustainable, and subversion of traditional fashion week, which is routine, seems to be an arrow in the strings.

In recent years, brands have come to understand one thing: the traditional fashion cycle has not changed much compared to the immedicity of social media. Consumers still have to wait at least six months to buy clothes on the show. So in terms of the effectiveness of desire, consumers are more like castles in the air when it's packed up by expensive fashion shows.And when more growth in the fashion industry will come from the mobile Internet and e-commerce, the desire for rapid "realization" of the ability to brand is substantive.So there are brands began to seriously consider the "buy-to-see" fashion show marketing new model.

If you look back, Alessandra Facchinetti, Todd's former creative director, first introduced a new "buy-to-let" model five years ago, with all the styles of its show launch line available online and in designated stores, revolutioning the traditional fashion show and retail model for the first time. Unfortunately, Alessandra Facchinetti was too far ahead, so the pattern didn't stir much water at the time.
More than two years later, in September 2013, Stefano Pilati, chief designer of Ermenegildo Zegna, tried a new release for Agnona's first collection, designing the brand as a season-oriented product that audiences could buy on the spot. But a series of attempts ended in failure because of the brand's poor performance, and Stefano Pilati left Ermenegildo Zegna earlier this year.
The call for "buy-to-see" has been growing in the fashion industry since last year, perhaps because of the industry environment, many brands and designers want to adopt a direct-to-consumer "sell and sell" model.The British Fashion Council launched The Gordon Fashion Weekend to face consumers directly, while Tom Ford opened his long-planned "buy-to-let" collection with a 16-year-old autumn/winter collection at the Four Seasons restaurant in New York a few days ago. Burberry, which has always been at the forefront of digital marketing, is the biggest implementer of the trend, with the brand announcing in early February that Burberry's September fashion show would adopt a "buy-as-you-go" model that would allow customers to buy directly online once it's gone, shortening the time it takes for new collections to get there;This "male-female merger, not seasonal" catwalk is also a compromise exploration of a subversive and post-show pre-order model for traditional shows, which is being tested and adopted by more and more brands.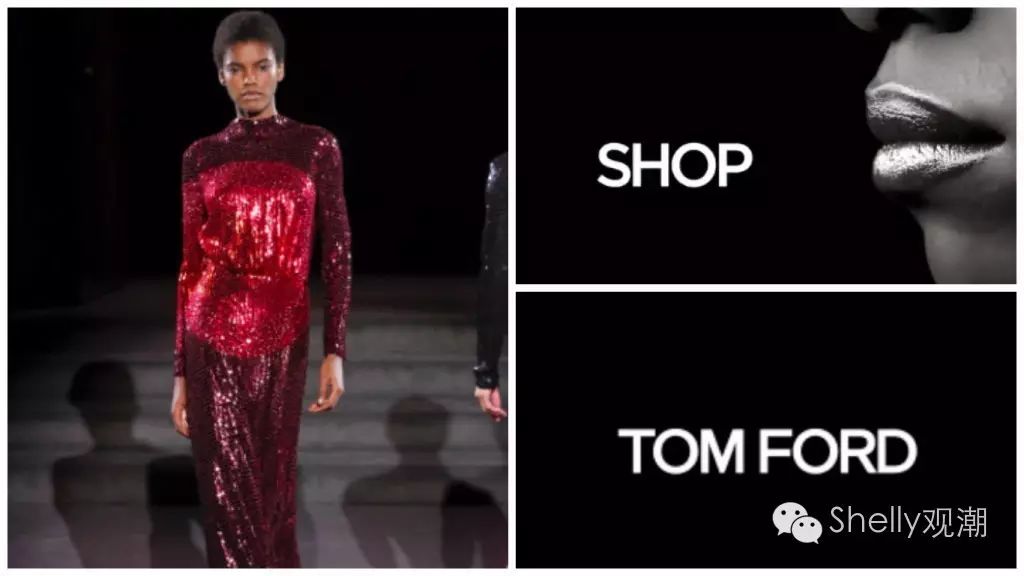 Of course, the opposition has never stopped. A group of French fashion union members, including Chanel, Dior, Hermes and Balenciaga, led by Ralph Toledano, president of the French haute couture trade union, voted against "buy-to-see" on the grounds that France's luxury boom was more in favour of the current model. Kering has expressed a similar attitude, claiming that brands such as Gucci and Bottega Veneta will not join the "buy-as-you-go" ranks and calling it a "smashing dream" army. Seriously, for early "buy-to-see" water testers, this model did not bring them the expected economic benefits. For example, some fast fashion brands immediately after the show to log products on the online sales platform, but the effect is not significant.And for luxury brands, if you buy after reading, for consumers also really need a strong buying motivation and matching power.

However, the tide of the times will only roll forward, facing up to consumer demand is always the brand's primary consideration. Beijing time just finished last night Burberry show to fulfill the brand's previous commitment, combined with digital media dedicated a British romantic fashion show, and immediately launched the online and offline show the same men's and women's boutique purchase. In addition, as a social media marketing, Burberry directly launched a fashion show limited-edition Mahler bag on the official WeChat, men's and women's models sold for 12,000 yuan and 23,000 yuan, respectively. It also reminds us of Dior's seven-night trial water sale handbag on WeChat platform not long ago, which was clearly a success story.

The picture is from Burberry's official website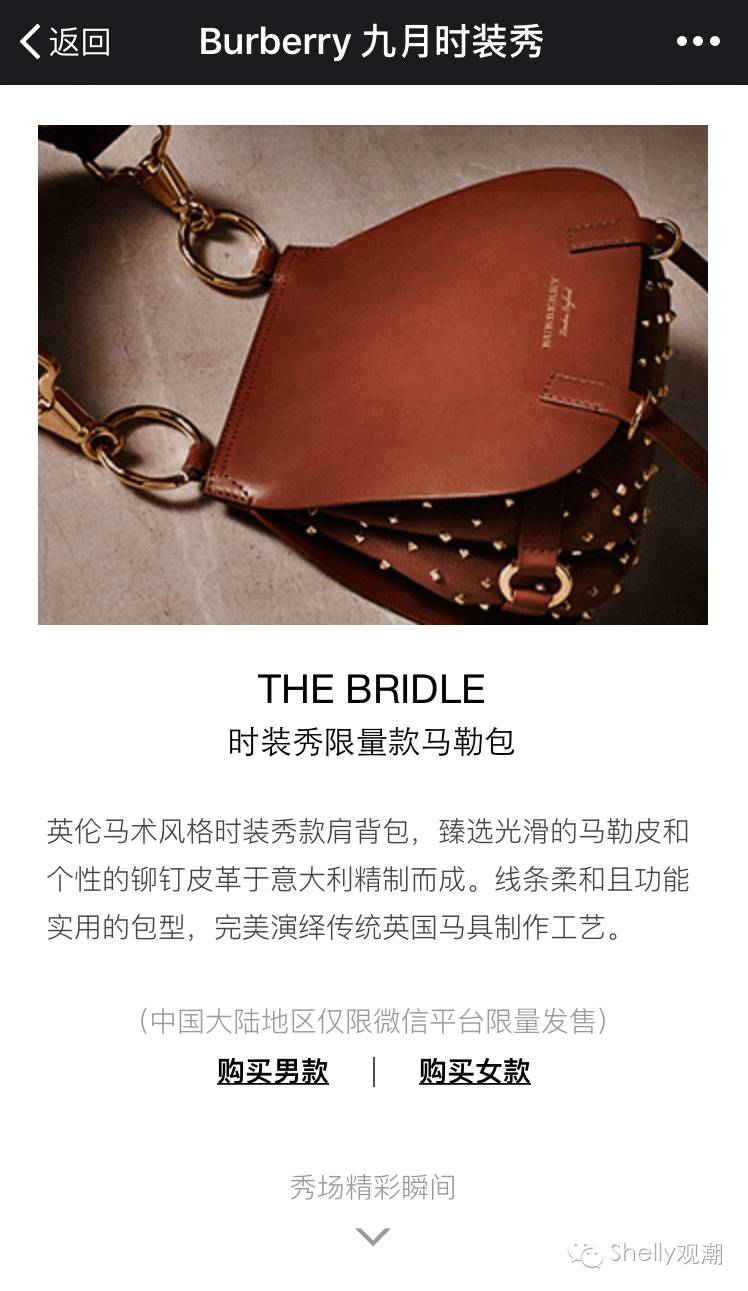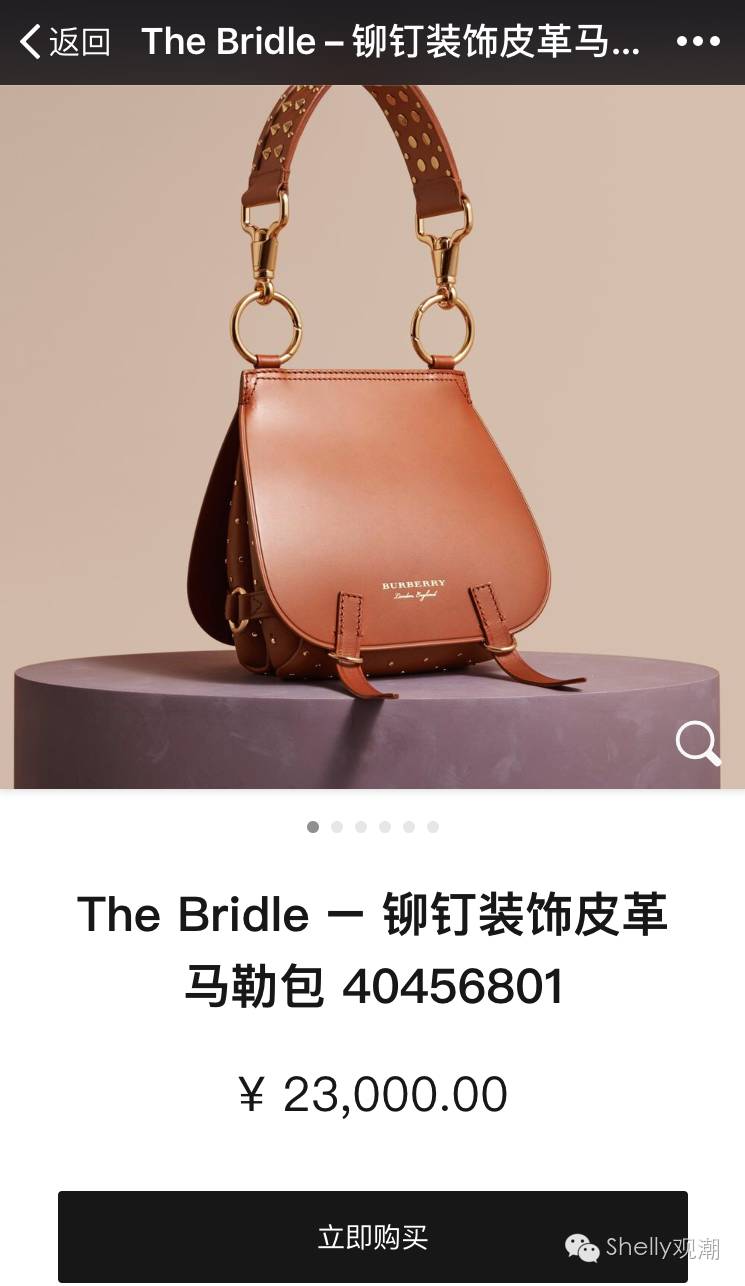 Photo from Burberry's official WeChat
Frankly speaking,Dare to break the industry's traditional mode of operation are great enterprises, which not only need courage, but also need strength.Burberry's seamless link from social media to design marketing to the supply chain is not possible for many brands on a real-world operational level. In the future, this model will open a new era of digital marketing subverting the traditional fashion industry.
In my opinion, everything is worth looking forward to.
All articles in this official number are original, column-specific or compiled. No right to reproduce! Reprint please contact the background.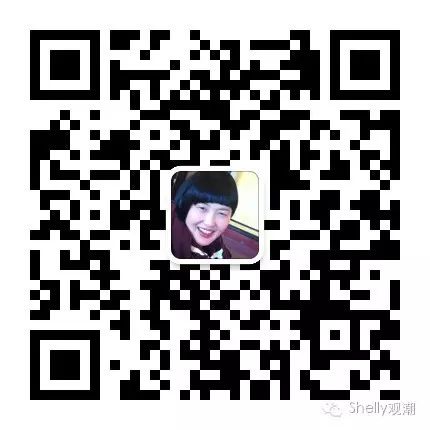 ---