The best advertising campaigns for Valentine's Day this year are probably on this list
The following article comes from the FocusMad Marketing Workshop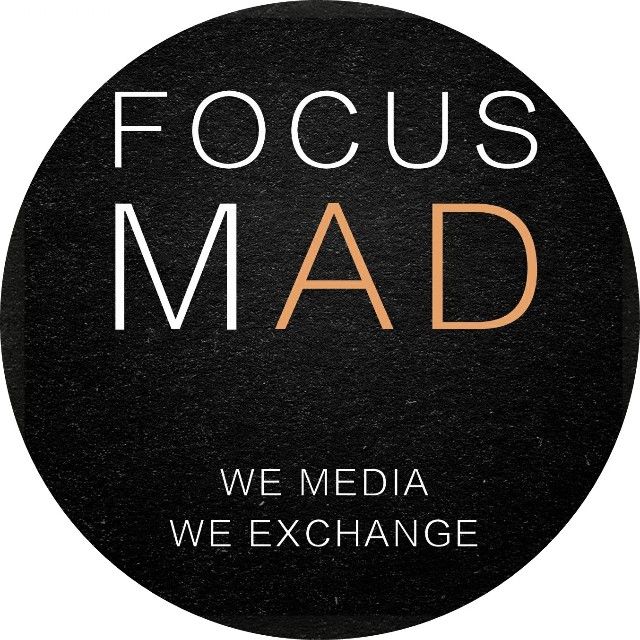 FocusMad Marketing Workshop
Point to LeoBena's Marlboro, in the advertising and marketing of the rivers and lakes, "Write East west to read." If the years turn you into Madman or AdvertisingGirl, we're going to save it collectively.
Source: FocusMad Marketing Workshop (ID: F997659804)
(This article has been authorized to be published, please contact the original author for reprint)
There is never a shortage of marketing creative brands about festivals, but whether creativity can bring high reputation, high transformation, for marketers there is always an escape from the ROI,KPI。Recently looked near30Brand's Valentine's Day marketing campaign, can be said in a word: a lot of love, sentimental few.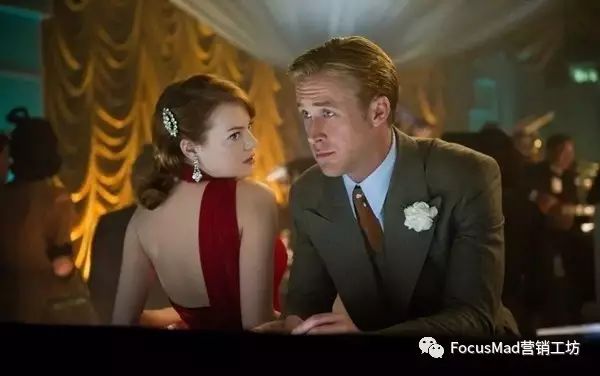 Although this is a festival about love and romance and confession with gifts such as flowers. But with a vulgar kissing contest, a sentimental marriage proposal scene, a manifesto confession, a clever word game, and so on, it's obviously not going to work right now.
Remember before, a song on a spring evening could make us cry, now? But crying and laughing, it became a spitting session. Whether it's sentimental or not, it's the consumers behind it"Moving point"has been raised higher and higher。
And Valentine's Day marketing, like many festivals, escapes two challenges: moving and differing. Based on emotion, mind, but also the need for innovation and even subversion, from the competition to stand out for consumers to come to a novel interactive experience.
Home bacteria through multiple channels, screening out these Valentine's Day activities, and organized a copy of the "Valentine's Day marketing of the most."]List.
McDonald's: Kissing is the answer you like

This Valentine's Day McDonald's filmed a kiss-opening confession story: winter snow, hot coffee white smoke, male to the computer to write resume, the host with the old song in the headset "Give me a kiss" humming up, sudden kiss confession ... ...
Although my sister-in-law did not talk about the way, but look at my little heart but pounced.[The ad is aimed at a group of young students, but looking at other people's stories, memories are also a good medicine]
This is a warm video launched in conjunction with the Valentine's Day sun kissing event. McDonald's also launched a kiss to say love on Weibo and WeChat#。 Just tweet that you're in a McDonald's store and you love itTAA kiss photo or a kiss photo with a wheat coffee, plus#Say love with a kiss#will be available for free1A rose-flavored maccaron.
Your good morning is my good night, say good night with a kiss every day.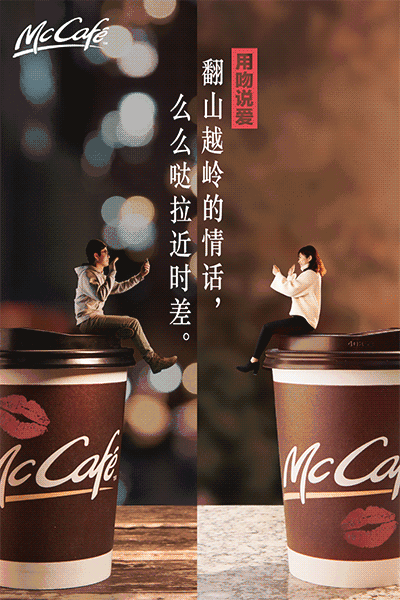 Don't bother tiptoeing, it's the gentleness you give.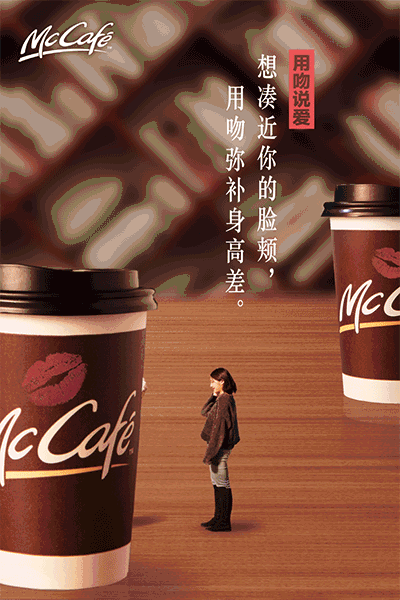 The first second was still gambling, a kiss was thrown out of the clouds.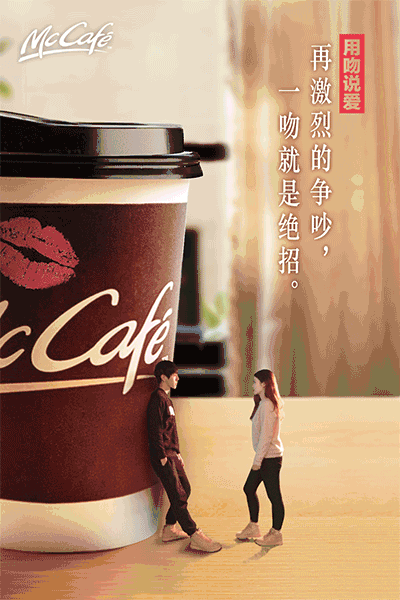 This case is simple, and reference, practical is very strong. For offline stores more brands, the realization of online direct flow to the line, guide the effect of secondary consumption should not be bad!
The most WeChat e-commerce
Givenchy × WeChatKOL: Limited handbags are on sale

Feb3On Sunday, luxury brand Givenchy announced the launch of a Limited Edition handbag for Valentine's Day on WeChat Public. Price.14900Yuan Valentine's Day bag, global limit80Only in Givenchy's official public number and in the fashion world with millions of followersKOL"Mr. Bao" two platforms synchronous pre-sale.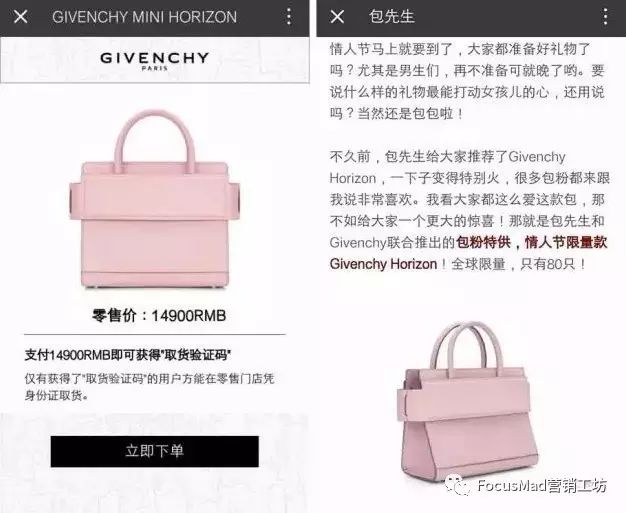 At the event, Givenchy took out his flag-waving bagHorizon, and the number is limited to the district80only, when Mr. Bao blew his whistle, this80Bags will be snapped up in an instant.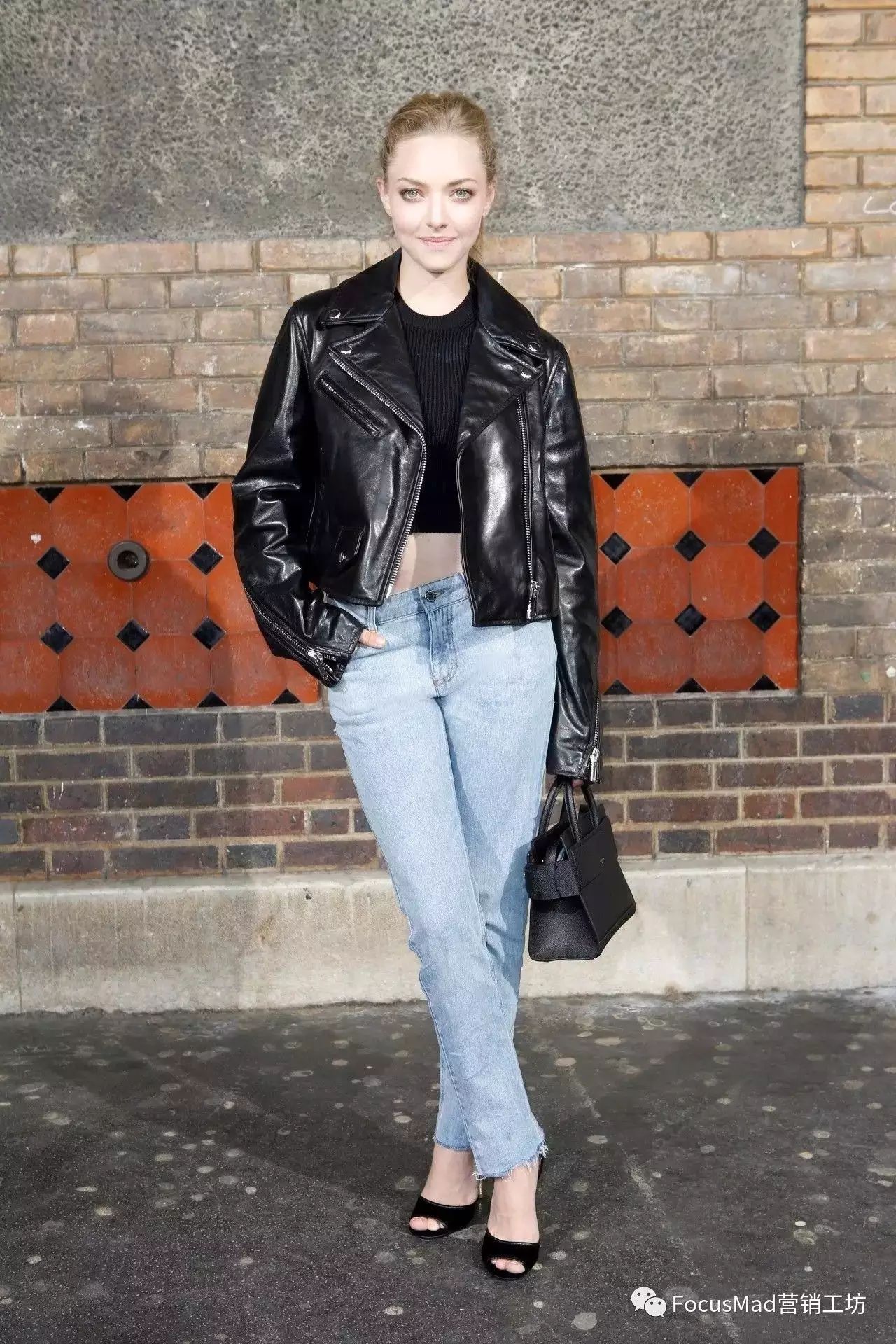 What Gavechy's marketing has taught us:
1. From the media channels. If you don't have enough fans for your own brand, you choose to match the product moreKOLto achieve user grafting, traffic conversion.
2. At the product level.GivenchyTook out his flag-waving bagHorizonAnd limited80Only. It is easy to build momentum and minimize risk without spreading the scale.
3.From the competitive level. Compared with the rich atmosphere thickDiorWeChat Friends Circle ads for millions of yuan to attract more people to participate. This kind of joint fashionKOLThe game is shorter and faster, and more precise and pragmatic.
The most famous confession
Roseonly: If it's not unique, why Valentine's Day?
Valentine's Day, send flowers is a timeless choice, put the heart of the beautiful and sweet into this bunch of flowers, slowly soaked her heart. And Roseonly "sent only one person in her life."sloganRomantic and beautiful commitment, but also touched countless people who fell in love.
This year Roseonly invited Yang Yang to come together to tell the message of love and convey the spiritual belief of love.
If love has a voice
I hope you hear me
If love is a symbol
I hope you can read my heart
If love is the only one
A box of roseonly I knew
In all the unyiring stories
My favorite is about palm print
There is no substitute for a lifetime
It's the same as our palm print
Love is unique
Love is unshakable
The believer has to love love is the only one
The most product grafting
HP Small Print: Every print, fall in love with the moment

HP made an ad for Valentine's Day featuring HP's new product, the Small Print Pocket Photo Printer.
The short film tells the romantic love story of a boyfriend who helps his amnesiac girlfriend regain her good times with a photo recorded by a small print. Even if time can not solidify, but experienced together every moment has long been fixed in the heart.
Memories are still fresh, do not need to think of, because never forget.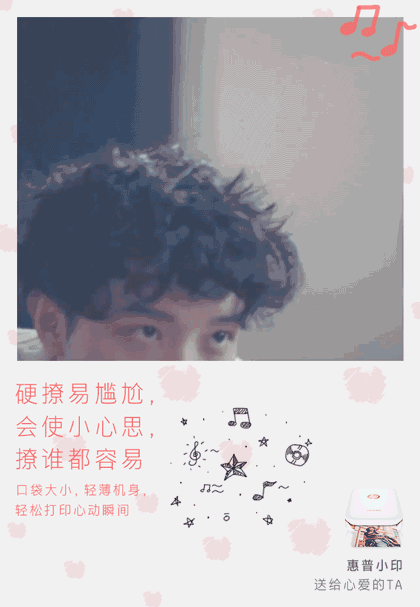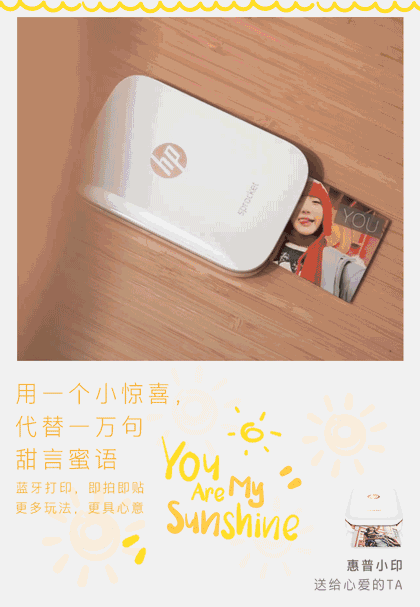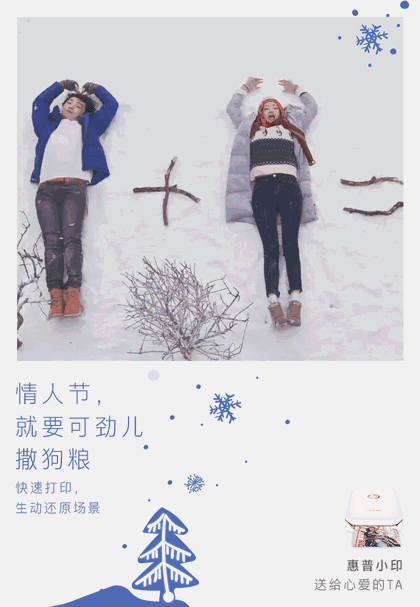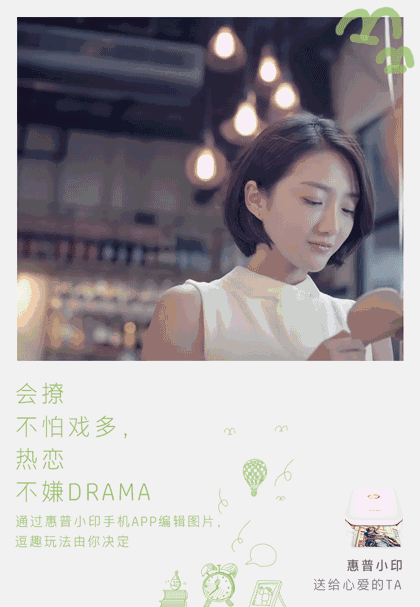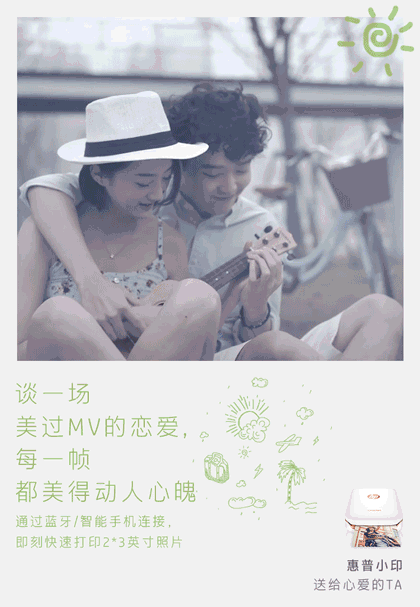 Valentine's Day, HP sweet online "HP small print", not only can take pictures of the record, but also a kind of first love-like sweet.
The most dimensional innovation
JD.com home: Help Mom and Dad have a romantic Valentine's Day

Talking about the love of my parents' time, I suddenly remembered the dialogue in April Day on The World,Liang Sicheng asked: Why choose me ah? Lin Huiying: The answer to this question is very long, I need to spend a lifetime to answer your tears.
When the vast majority of brands will focus on young audiences, JD.com home but to Valentine's Day as the basis for the dimension to extend the dimension to 40 years old parents middle-aged groups, both as a group of young children to resonate, but also to seize the middle-aged group of this huge market. If this activity is enlarged and extended, it is not a Valentine's Day public service.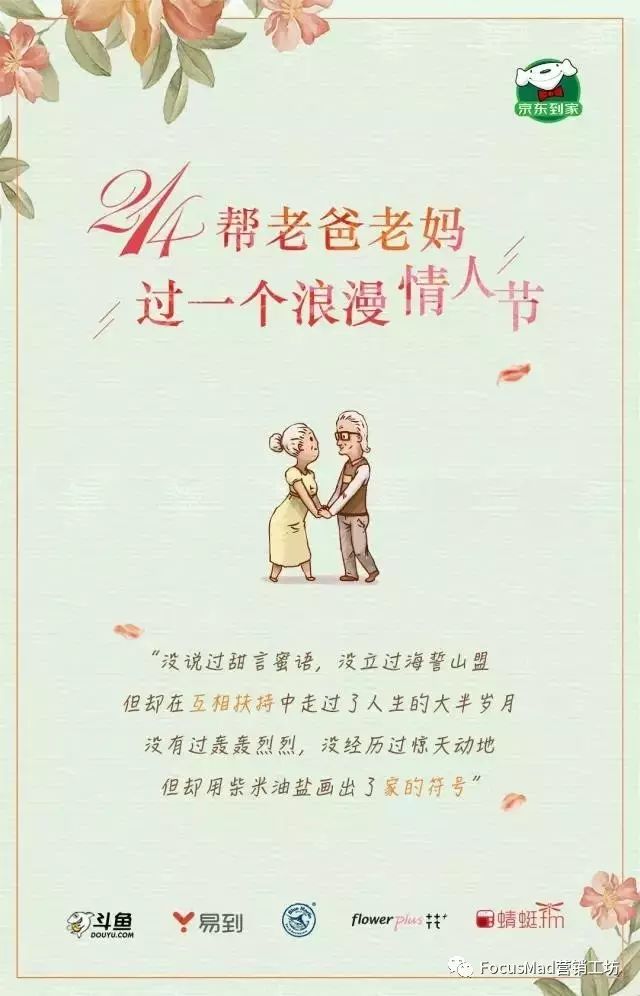 At the same time, JD.com also joined forces with fish fighting TV, easy-to-use car, blue gunfish Western food, slugsFM、FlowerPlusFive partners, connecting the power points of their respective services together.
And the case personally think there isThe second mouth-to-mouth discount festival in the village of Sibei。 As long as the posture is in place, the discount is as low as tears. How many kisses do you dare?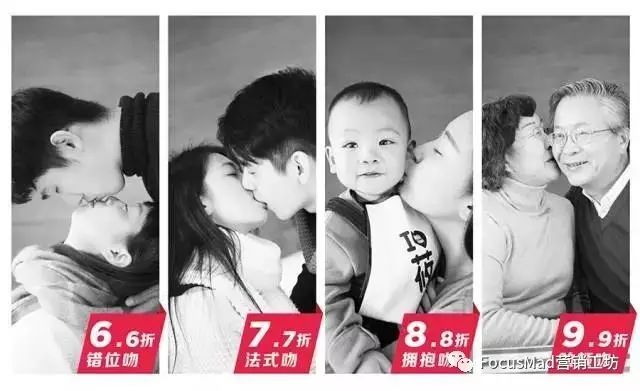 had to serve the marketing of the village of Sibe noodles: "The most powerful show love, not only as money to spend, but also as a meal to eat!

When food and beverage brands encounterEd Valentine's Day promotions, the village of Xibei noodles captured consumers of all ages with a mouth-to-mouth discount festival. The most important thing is that this activity has accumulated a good reputation in the first time, not only in the social media to trigger extensive discussion, but also for the offline store interactive experience laid the foundation.
In addition to the mouth discount festival, the most well-known marketing in xibei noodle village is the "tongue tip" marketing, two seasons of "tongue tip" of the power, so that Xibei quickly into the public eye.
New World Late Night Food Network Drama: Your Taste
Feb7In the evening, "New World" officially launched the late-night food network drama "Your Taste" trailer, and sent out to netizens the first food story collection, said selected10Individuals will receive a free round-trip ticket, re-visit the place, meet the taste of memories, and have the opportunity to become the hero of this online drama.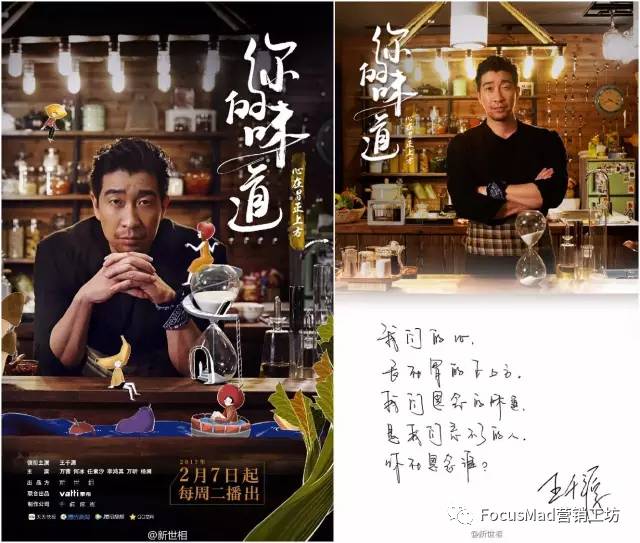 So far, the "New World Phase" has received nearly4000story, and sent it out10ticket.Advertising through the circle of friends, microblogging topics,AppChannel distribution and many other channels of communication, the impact of the event is also gradually climbing.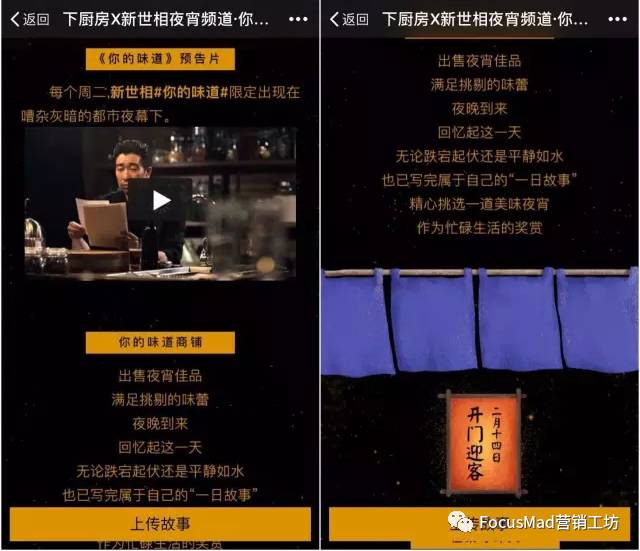 In addition to playing around with the huge user UGC, Xinshi Xiang this time also directly learned from Taobao second floor form, with food classAppUnder the kitchen cooperation, the introduction of consumer functions with "your taste" late-night food channel, users can watch while buying, to achieve the network drama connected to e-commerce.
The link is here in the original text and collection is not supported at this time
The most reverse marketing
Meizu: Love is diverse and equal
The more impressive case of reverse marketing should be 7-ELEVEN. There's nothing wrong with being single, and there's a special ad.Singles taught me7thingTo tell everyone, single can also be very happy.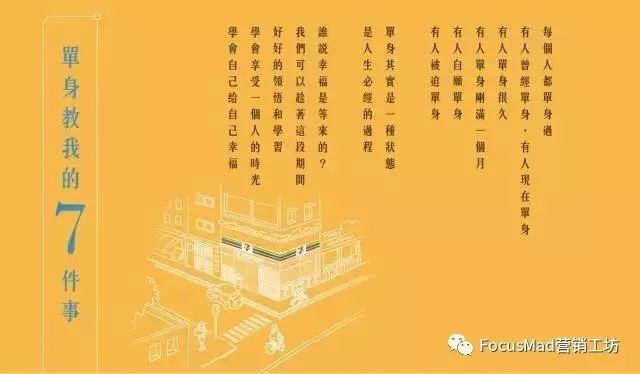 and more bold、The most reverse should be Meizu, invited domesticLGBTSocial activists (of the gay community).@Mr. Wu Youjian, a tricolor, filmed a targetLGBTCrowd-themed short film-Love is plural and equal.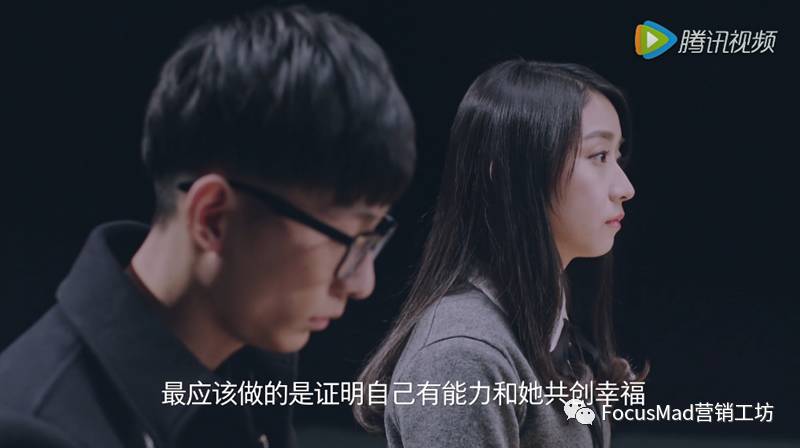 (Identify QR codes, watch videos)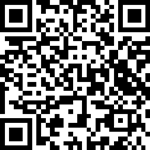 In the short film, Wu Youjian, the first mother to speak out in support of gay children, tells the story of young people, points out that everyone is equal before love, whether heterosexual or gay, and encourages young people to be brave enough to be themselves.
The most cross-border integration
Ali Flying Pig: My 214 Love Offensive
This Valentine's Day Ali Flying Pig launched "My."214Love Offensive" activities, weibo with topics, tell off-site love stories, like the highest5Bit, send the ticket directly, fly to see the twilight thinkingTA。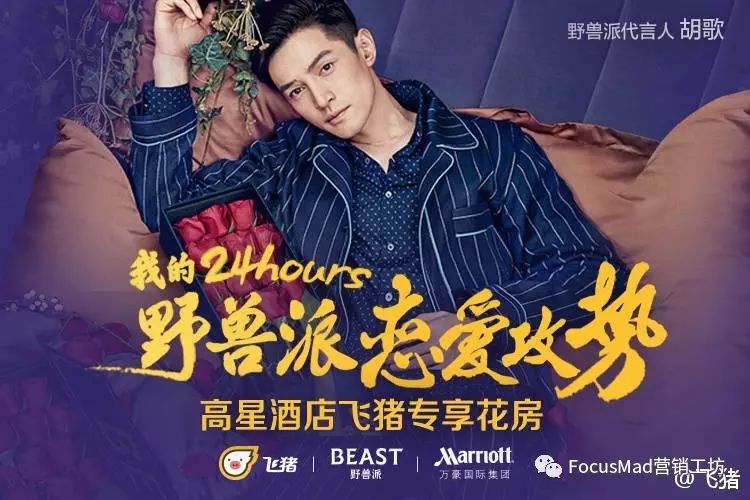 At the same time, Flying Pig teamed up with The Beast and Marriott to create a special Valentine's Day gift, the Beast Pie Decorative Flower Room, and the Zokai Diamond, which was given to lucky Weibo users. It doesn't seem too complicated, but it's a test of the brand's ability to integrate resources.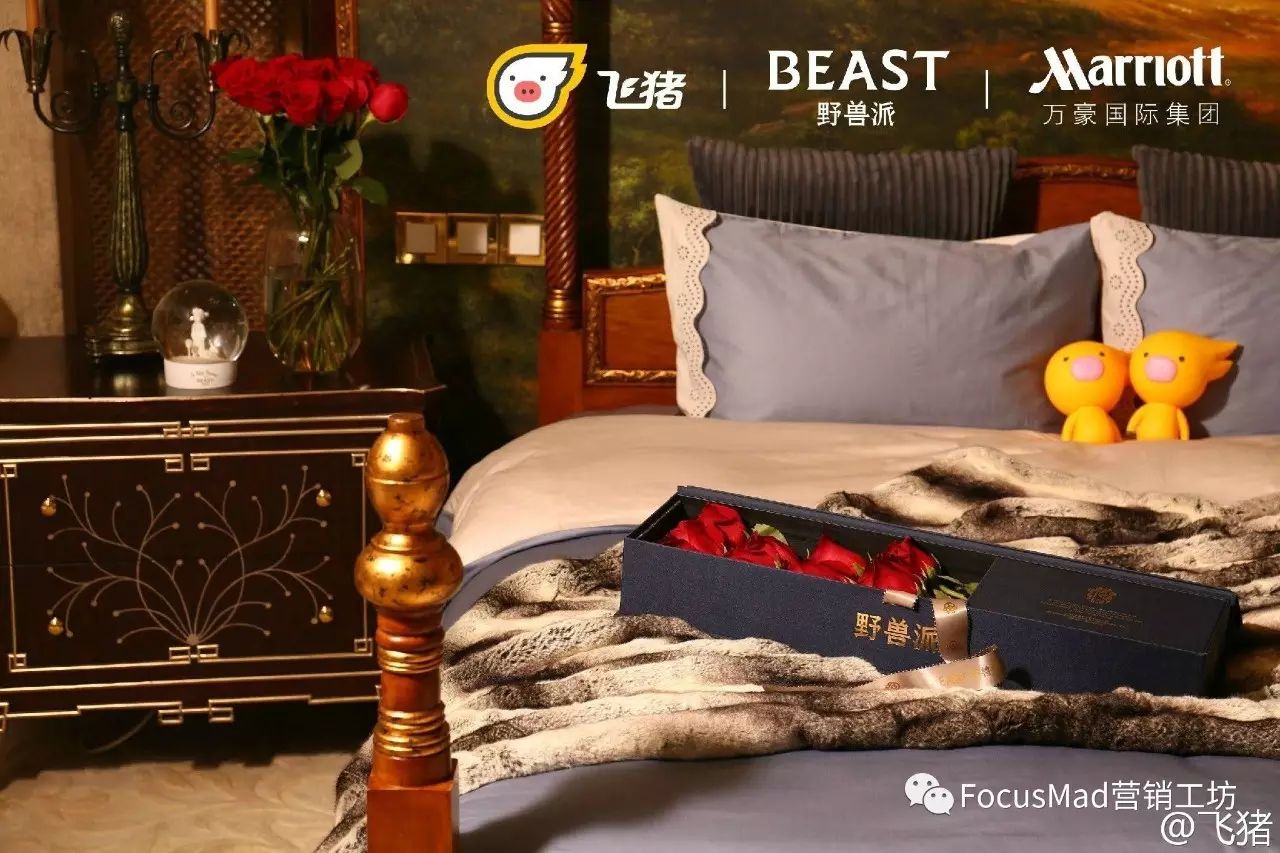 Of course, there are cases of Valentine's Day this yearThe new XiaomiNote X4And the first sound of the future secondary marketing, Suning financial love insurance[Buy Suning399Yuan's "love insurance",3If you marry your other half after the year, you get value15000Meta-heart-shaped diamonds. The financial thing is to calculate,3The years are a little long, just make a gimmick]
All right, this one[Valentine's Day marketing is the most]The list inventory is here, in addition to the case itself content and creativity, activities to achieve such a level of dissemination is also inseparable from multi-channel delivery. The promotion of the above cases covers the advertising of the circle of friends,AppChannel distribution by the network drama connected to e-commerce (New World Phase), micro-blogging topics listed (socialShort and smooth play needs to be on the topic list at a low cost to maximize exposure), WeChat public number+H5Release, self-mediaKOLJoint promotion, information platform release and so on, media integration, the rhythm of communication and so on these aspects are no longer repeated here.
In order to avoid abuse (zi) dog (nue), finally omit the blessing, see you in the next issue!
—End—

Recommended reading:
"2016 high-quality paper dry goods classification summary, after reading the text is not a thing"
Top 10 Advertising Cases of 2016
Spitting blood finishing! 2017 Full Year 300 Plus Borrowing Marketing Node
"Since the pollution, can no longer write a good text"
"WeChat public bonus period has passed, how to plan the explosion online activities powder rise?" 》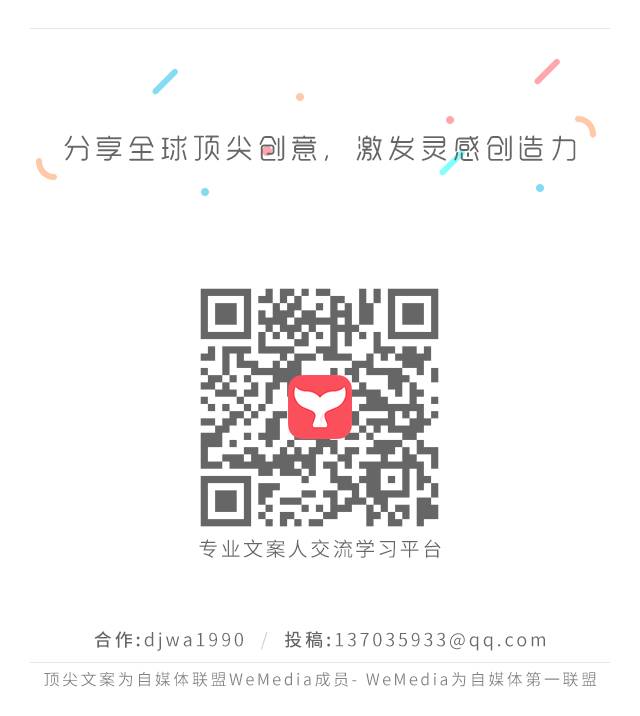 ---