Social media has become the preferred channel for digital marketing for Vietnamese companies

As smartphone penetration continues to increase, consumers' lifestyles have changed dramatically, and consumers are spending an average of more time online each day. With today's trends, Vietnam's advertising market is transitioning from the traditional stage to the digital phase.

Based on a recent survey of digital marketing by Vietnamese market research firm Q.Me, the following information is available:

For digital marketing campaigns, most Vietnamese companies pay more attention to social advertising. Eighty-four percent of businesses choose to advertise on social networking sites, and display ads (including GDN), search engine marketing ads, and online video ads are also the more important advertising channels for Vietnamese companies, with 44 percent, 46 percent and 39 percent choosing these three advertising strategies, respectively.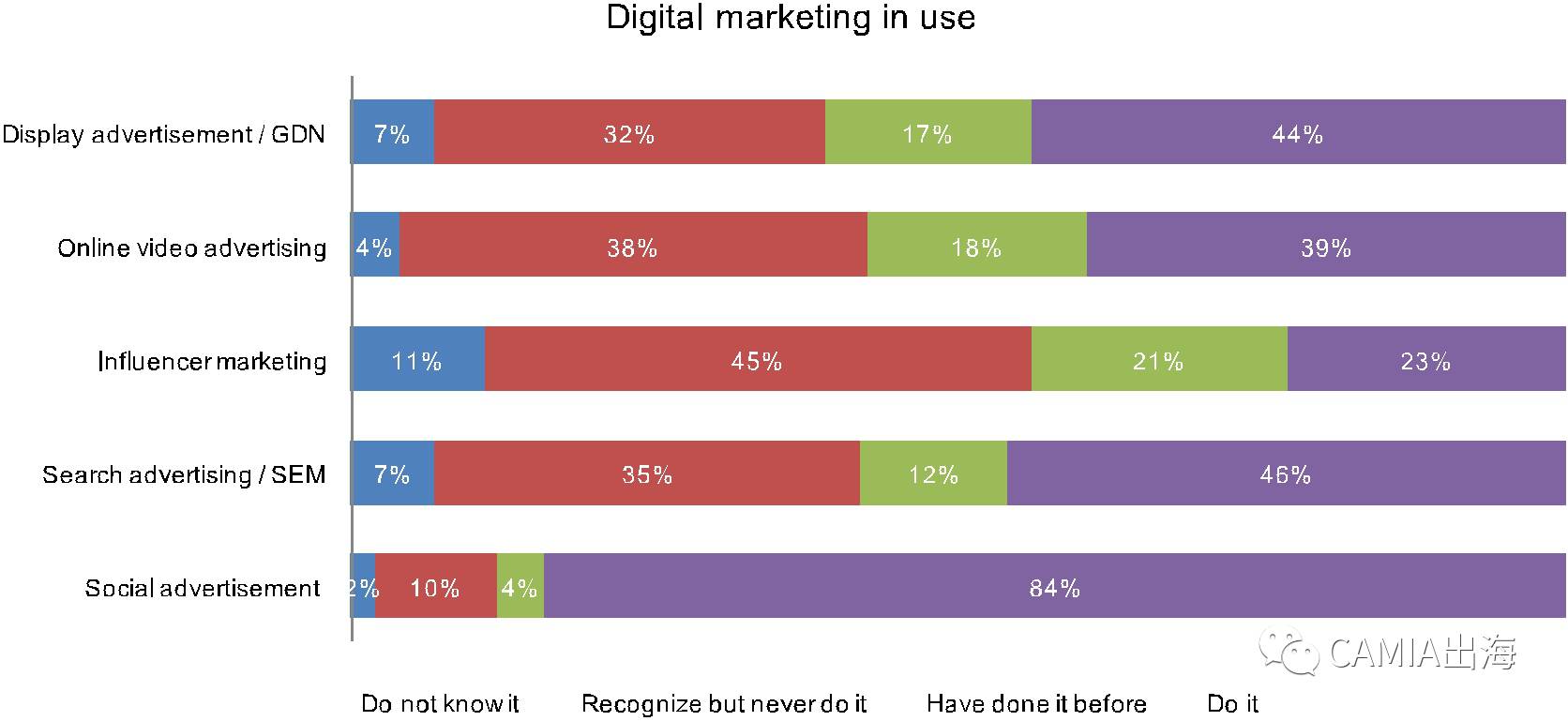 Social advertising is popular regardless of the size of the business. In the survey, 94% of large and medium-sized enterprises invested the most in advertising on social networking sites, while 79% of small businesses also participated.
Facebook is the media advertising channel of choice for most businesses, and almost all have Facebook accounts. Then there's YouTube. Ninety-nine percent of the brands surveyed chose Facebook as their digital marketing tool, while 72 percent chose YouTube as their digital marketing tool. The percentage of companies choosing Instagram and Zalo was not high, at 44 percent and 33 percent, respectively.


Video advertising is a popular digital marketing channel in Vietnam, with 85% of brands choosing video advertising in the survey.YouTube andFacebookIs the majority of enterprises choose the video advertising media. Although.YouTube thanFacebook is more used by businesses, howeverFacebook is used more often than thatYouTube is high.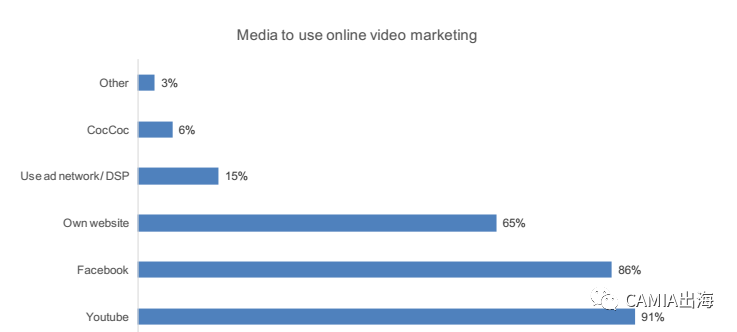 Most enterprises choose internal managementFacebook account。 In the survey, 87 per cent of brands managed their own brand sites, meaning only 13 per cent chose to outsource. But in terms of advertising operations, the outsourcing index is as high as 36 per cent.
Whether it's internal management or outsourcing, the main factor to consider is skill plus cost. Seventy-three percent of internal management brands said they had the skills to run and manage their ads while reducing costs. And most of the brands that choose to outsource (77%It is believed that better technology can be found through outsourcing.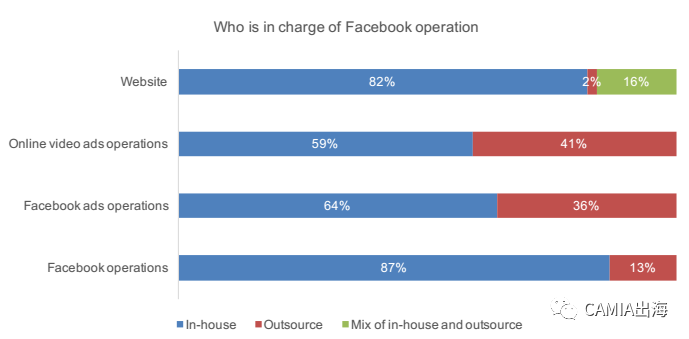 When it comes to satisfaction with digital marketing, most brands say they perform better, but cost consumption and business outcomes are less than satisfactory.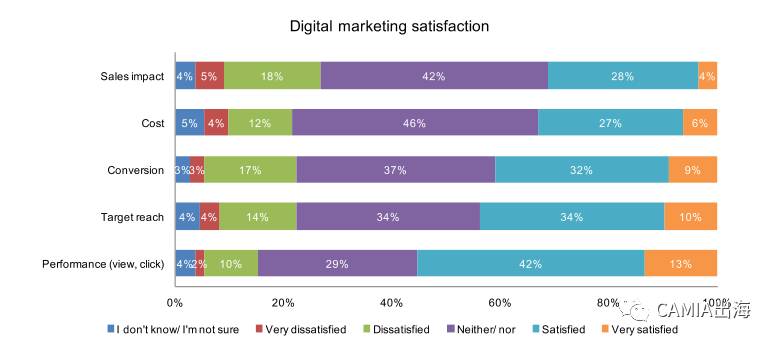 So what's the problem with digital marketing in Vietnam? Most companies say they "lack learning opportunities". They believe that although Vietnam is currently developing relatively rapidly, there are still few learning opportunities for digital marketing in the country. At the same time, "not understanding the relationship between digital marketing and management" is the key to the problem that most enterprises think.

Interestingly, both brands and agents agree that "lack of branding experts" is one of the problems facing digital marketing in Vietnam, but onlyThe difference between the brand and the dealer's point of view is obvious.Only 33 per cent of brands agree, while the index is as high as 63 per cent among agents.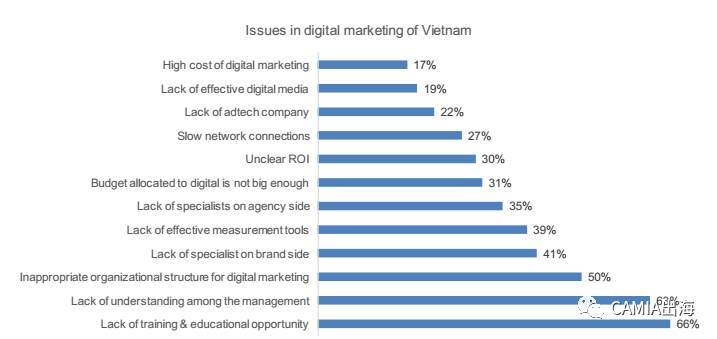 At the same time, most brands are not too satisfied with their agents. Only 10% of brands give their agents more than 8 points (out of 10). The main reason for the low score was that "the dealer's business results were too different from expectations".
So why is the brand so satisfied with the agent? When asked about the problems faced in working with agents, many brands said that "agents have too limited understanding of the company's strategy". At the same timeDealerThink.Brand."The budget is too low to try a new approach."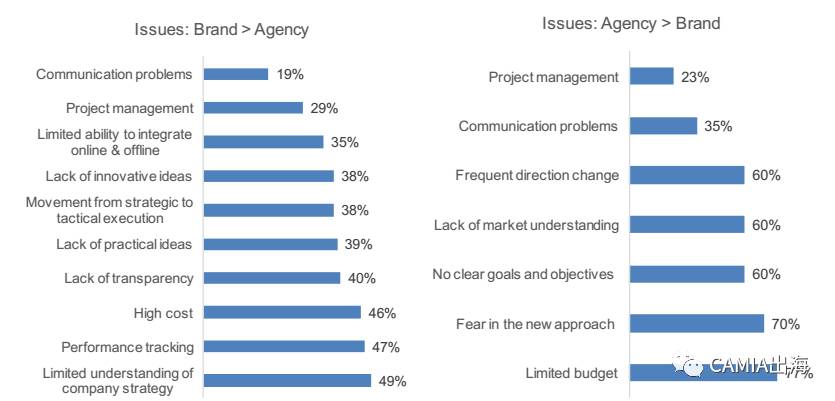 Similarly, the quality of the proposal affects the partnership between the brand and the dealer. Only 19 per cent of brands were satisfied with the proposals offered by their agents, while 44 per cent were confident about the proposals offered by their own agents. The main reason for brand dissatisfaction is "the lack of industrial knowledge of the agent's proposal" and the dissatisfaction index as high as 67%.
Another very important factor is cost. Sixty-three percent of brands think the agency's budget is too high. On the other hand, 54% of agents think the brand's budget is too low. This is a more serious problem between Vietnamese brands and agents. 56% of brands have an 11-20% lower brand budget than they actually are.
(Reference source: Q-Me, etc.)
Microseal: CAMIA Esser
For more information, please visit CAMIA's official website at www.camia.cn
---
ShopBack, a cashback platform in Singapore, received a $25 million investment in Credit Saison, Japan

Xiaomi has officially opened a second retail store, the Mi Store, in Malaysia 

Singapore-based cyber security start-up HORANGI Cybersecurity has completed a $3.1 million round of A-round financing for Hill Ventures

Singapore investment research start-up Smartkarma completed a $13.5 million round of B-round financing for Sequoia Capital

Thailand's Digital Economy Promotion Authority (DEPA) has launched a $3 million start-up fund to promote local digital start-ups

The Indonesian government has stepped up censorship of Internet service providers, including Google and WhatsApp, to remove obscene content from the platform

Vietnam's "Mobile Payments - A Promoter of Cashless Economic Development" e-payment forum was held in Hanoi
---