9 free social media management tools, 2018 marketing must-haves!

Social media management platforms can help you manage multiple social networking sites "one-stop", including pre-set post times, contests, cross-platform data tracking analytics, and even powerful free tools.
The following 9 social media management tools will help you take control of social platform marketing in 2018.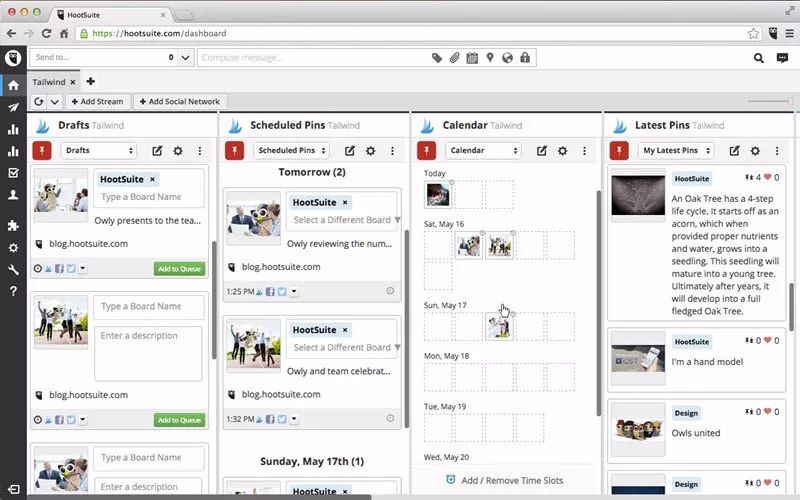 Hootsuite users can use neither the free service of the tool nor pay for a better version. And the free services offered by Hotsuite include:
You can manage three social networking sites in one place;
Can pre-arrange the publication of 30 posts;
Use social contests to develop leads.
The free service also provides basic analysis of fan tracking, various growth changes, content data, and RSS Feed (Premium Content Subscription) integration. In fact, the free version basically meets your needs.
Buffer and Hotsuite have a lot of overlapping features.
With Buffer's Chrome plug-in, the tool makes it easy to arrange content while browsing the web. Buffer will suggest the right time to post based on your fan activity.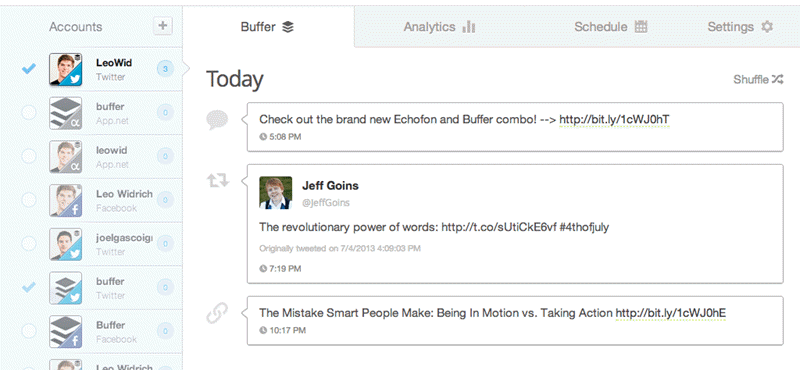 Large companies and institutions have value-added service options, but perhaps free services will meet your social media management needs. Buffer's free services include the ability to manage three social media platforms, timed postings of 10 posts, the use of browser plug-ins and mobile APP features (iOS and Android), and the ability to create and schedule content using Buffer's image-making tools, GIFs/video uploaders.
However, if you need to use features such as short links and tracking, RSS feeds (premium content subscriptions), you'll have to upgrade to a paid plan. Buffer pay-per-view options range from $10 to $399 per month.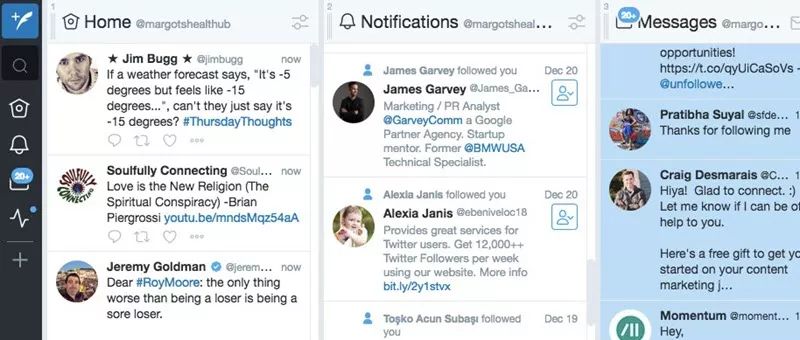 If Twitter is an important part of your social media strategy, tweet Deck may be the social management platform you need! TweetDeck allows Twitter users to customize their timelines, create and manage Twitter group lists and searches, and add team accounts. TweetDeck is free for Twitter users!
While Tweet Deck may not be an all-powerful platform, it's the perfect tool for social marketers to manage multiple Twitter accounts.
In addition to the typical scheduled publishing and analytics features, SocialOomph has some interesting features, such as keeping your Twitter inbox (DM Inbox) clean for growing fan base.
SocialOomph provides social platforms such as Twitter, Facebook, LinkedIn and Pinterest with unique management capabilities, as well as the ability to manage and schedule posts.
SocialOomph also offers free services, but with limited functionality and a preference for Twitter management, such as scheduling, tracking keywords, short links, and the ability to manage up to five Twitter accounts, some of which require a fee.
Friends-Me's free program allows users to schedule simultaneous postings, shorten links, expand browsers, integrate with Zapier, an enterprise-facing affiliated service platform, and standardize service support. The free service is available on social platforms such as Google Plus, Facebook, LinkedIn, Twitter and Tumblr.
Friends and Me also support social platforms such as Pinterest and Instagram, but for a fee.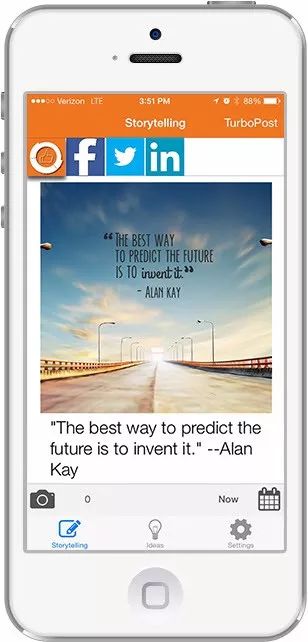 Likeable Hub itself is a social media automation platform with a variety of advanced social media management features to simplify your social media life. LikeableHub not only offers a wide range of paid services, but also offers free APPS. The APP helps you schedule social media content postings, generate creative content, refine strategies, and measure results.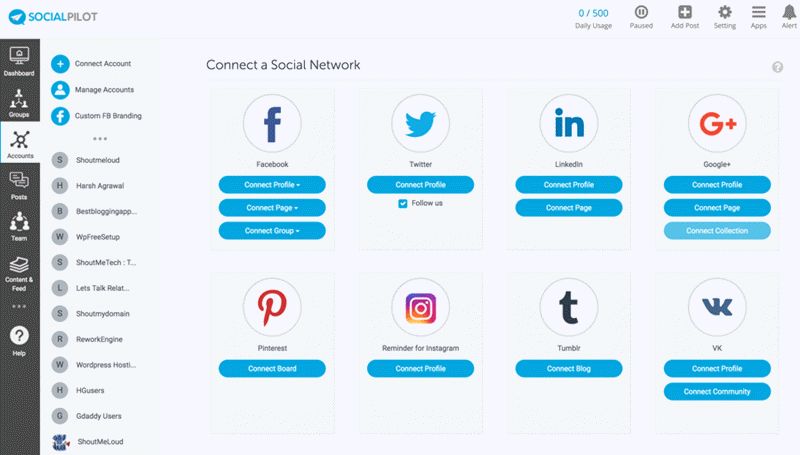 Social Pilot manages multiple social media accounts at the same time, schedules postings in bulk, works with team members, manages customers, expands with browsers, and more. SocialPilot's free service includes connecting to manage three social media platforms, each posting 10 posts a day.
If you're still struggling with how to increase fan activity and wonder what social media means to your marketing strategy... Post Planner may be able to help you.
Post Planner can help you find the right content to engage your audience, plan to publish content, collaborate with team members, recommend "viral" images, hot searches, popular gifs, and more. In addition to the free APP, PostPlanner offers paid items that range in monthly fees from $3 to $49.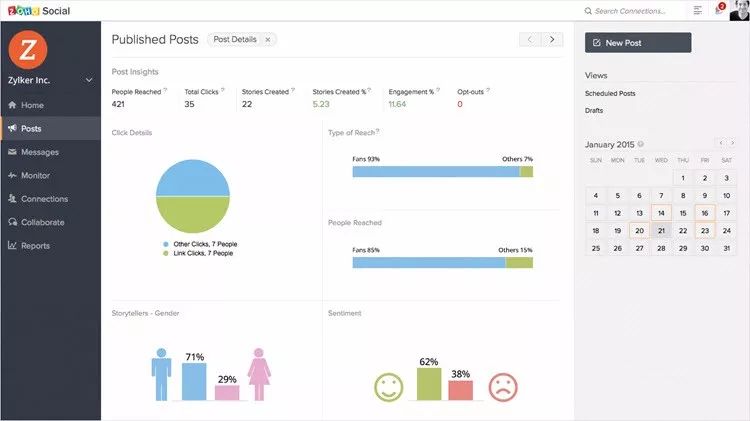 Zoho Social has many features that fit with the other tools mentioned above, in addition to facebook lead ad management, advanced reporting, and a SocialShare browser plug-in, as well as CRM (Customer Relationship Management) integration.
Zoho Social provides value-added services at different price points, from $8.33 to $125. ZohoSocial's free services include managing a social platform, shortening URLs, and providing SocialShare browser plug-ins.
(Source: Hugo.com)
About Star Valley
Shanghai "high-tech enterprises."
SaaS-class foreign trade social intelligent marketing platform - S cloud promoter.
2017 Shanghai e-commerce "double push" project service platform.
2016 Shanghai "special funds for information development" support projects.
Shanghai science and technology-based small and medium-sized enterprises technology innovation capital enterprises.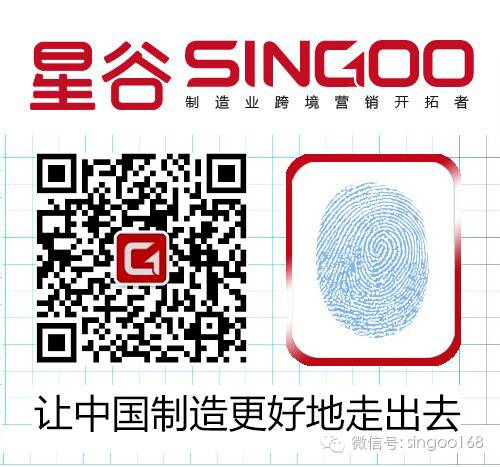 Contact Star Valley: 400-7766-880    
Star Valley Official Website: www.singoo.cc
S Cloud Official Website:  www.91syun.com 
Contact email: marketing@singoo.cc
---